Last night while Caroline was taking a bath, I was in the bathroom putting away clean clothes and examining my eyebrows in the magnifying mirror. (You don't even want to know the state they were in. Like two caterpillars fighting for space above my eyes.)
As I moved around the bathroom and went in and out of my closet, Caroline filled me in on the rules of some kind of game we were supposed to be playing that involved me guessing which side of the bathtub she was on and if she was on her back or her stomach.
I wasn't really in the mood to play this game that didn't really seem like a game so I was just half-heartedly answering "left" or "right" whenever she yelled at me that it was time to choose my answer. So she came up out of the water and told me I needed to be more excited about the game.
Then she said, "You know what, Mama? Some people tell me that I'm high maintenance. And you know what?"
"What, baby?"
"They're totally right."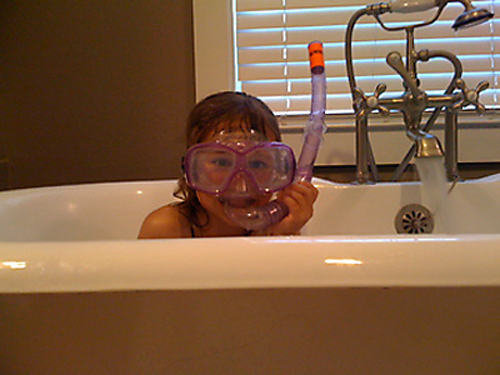 At least she owns it.