About a week ago, someone named Melissa emailed me and asked for my thoughts on the romper. Specifically, how I felt about rompers being back in style.
My mind immediately went back to the times in my life that I've worn a romper. If memory serves (which is debatable) I have lived through three variations of the romper trend. The first was as an infant and toddler when I wore onesies and bubble suits. However, that doesn't really count because the romper never really goes out of style for that age group.
The next memory I have of wearing a romper is sometime around second or third grade. It was terrycloth and I think I wore it with Yo-Yos. I don't believe I need to say anymore about that.
And, lastly, there was a romper stage in my early college years. Although we didn't call it a romper, but rather a one-piece shorts outfit. Frankly, I think that's a better term from a marketing standpoint.
Adult in a romper? NO.
Adult in a one piece shorts outfit? Probably still no, but it sounds better.
The best part is I actually have photographic evidence of the one-piece shorts outfit that I wore in the summer of 1990 during a family vacation to Bermuda. I bought it at The Limited and I was certain I'd never looked more stylish.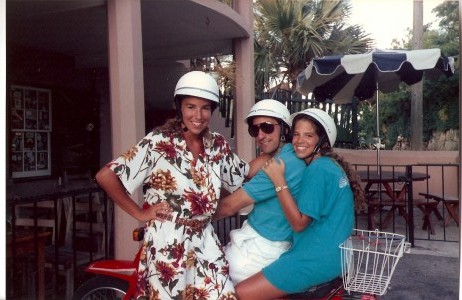 Sweet helmets.
Sadly, there is no record of what I was wearing on my feet. But I'd be willing to bet cash money that there's good chance it might have been some white Keds.
I can't really think about it.
And I'm not sure why I was so dressed up in my one-piece shorts outfit when my sister appears to wearing only a t-shirt and my dad is sporting some seriously high-waisted white shorts. But, to be fair, he's rockin' those shades.
Would I repeat the romper trend? NO.
Would I repeat it if it was called a one-piece shorts outfit? Still a no.
However, the romper is apparently back and if you can pull it off and don't mind having to completely undress to go to the bathroom, then I say more power to you, my friend. Rock on in your romper.
Here are just a few quick fashion notes today because I went out last night and am a little tired.
(I went to an art show because I am cultured and sophisticated.)
(I didn't really understand any of the art and it's probably a bad sign that the piece I loved the most was called "The McRancho" and featured the Ronald McDonald clown riding various bulls across a Texas landscape.)
1. The Limited (home of the 1990 one-piece shorts outfit) has a bunch of really cute dresses on sale right now for $39.90.
This black one-shouldered number totally tempted me until I remembered that my life doesn't call for a one-shouldered black dress.
2. Gap has all their mens' and womens' shorts on sale for $25 for three more days. I told P about it and he said, "Who on earth pays TWENTY-FIVE DOLLARS for a pair of shorts?"
Bless his heart. It's no wonder he believes that everything that comes in this house costs $15. Anymore than that is just highway robbery.
3. Old Navy has some really cute maxi dresses right now.
4. Spanx bras
I've heard through the grapevine that a Spanx bra may be the most comfortable thing you'll ever own.
Maybe that's the secret Victoria doesn't want you to know.
Love this necklace.
6. Kate Spade Wellie Magee Bag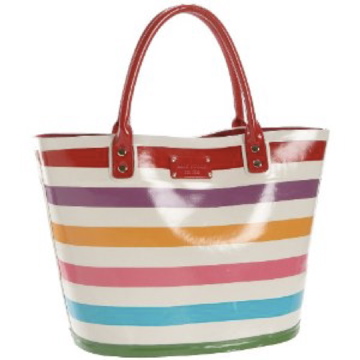 I may not understand why someone would pay $5000 for some old tires and call it art, but I understand this bag.
LOVE.
Y'all have a great Friday.
For more fashion, go visit Jo-Lynne. She's talking about denim today.