Well, well, well. Look who got her computer back.
It's me. I got my computer back.
Just in case there was any confusion.
As it turned out, the Geniuses were able to just pop on a new piece of plastic around my keyboard and a new piece of plastic around my screen and now she's as good as new except for the fact that it sounds like a herd of heavy-breathing gerbils is running around on the inside of the computer. Also, they weren't able to fix my CD/DVD drive without me shelling out substantially more cash than I wanted to shell out on a four year old computer, but a girl can't have everything.
I'm like the Apostle Paul. He totally learned to be content without a computer that could burn CDs.
In other news, P got back in town yesterday. You may be thinking that you didn't even know he was gone and you're right. Thanks to new heightened security measures around here, it didn't seem wise to mention that my husband, the one with several guns, was out of town. But now he's back home and has no intentions of ever leaving again for at least the next three days.
And I'm so glad he's back so I can sit next to him on the couch in the evenings and listen to him complain about his homemade vanilla milkshake while I eat a sugar-free popsicle that tastes like cold, cherry-flavored cardboard.
P said he heard somewhere (I have no idea where, but I'm sure from an "expert") that drinking a vanilla milkshake after dinner helps with acid reflux. And we are ALWAYS on the lookout for something that helps with acid reflux so that we don't have to mine for diamonds to pay for Nexium twice a day. So, as of about two weeks ago, he makes himself a vanilla milkshake after dinner every night.
Also, as of about two weeks ago, I decided it was time for me to start thinking about the reality of wearing a swimsuit in a little over a month. Hence, the sugar-free popsicle aka the dessert of no fun.
As we sat on the couch last week, I turned to him as he slurped down the last of his shake and asked, "How was your milkshake?"
"Fine, I guess. As good as a vanilla milkshake can be."
As good as a vanilla milkshake can be.
Bless his heart.
You know what's better than a vanilla milkshake? NOT A SUGAR-FREE POPSICLE. And do you know which one of us can lose ten pounds in three days just by cutting down to half a box of Nilla Wafers every day? NOT ME.
Then, to add insult to injury, Sunday night he went to the fridge to make his vanilla milkshake and discovered we just barely had enough milk to make half a milkshake. I told him we had chocolate milk and suggested he make a chocolate milkshake, but he said that totally defeats the purpose because the chocolate is bad for his acid reflux. I just nodded my head and murmured something deeply sympathetic and heartfelt about his half a milkshake plight that I may or may not be able to repeat on this website.
And then, AND THEN, he walked into the living room with a handful of Kit-Kats and proceeded to EAT THEM while he waited for his half a vanilla milkshake to melt down enough for him to drink it with a straw. He didn't even catch the glare I gave him as I picked up his Kit Kat wrappers and threw them in the trash. Probably because by that time he was immersed in suffering through his vanilla milkshake.
The vanilla milkshake that helps with the reflux that might, MIGHT, be caused by eating five miniature Kit Kats.
Not that I'm bitter about any of this. The six grapes I had for dessert last night were DELICIOUS.
Anyway, the real point was to tell you that P left on Sunday to go on a quick hunting trip with a couple of friends. This is the same hunting trip that bestowed this gift on our household.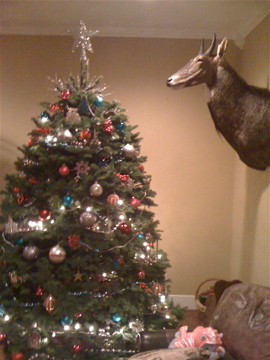 The antelope of the Lord.
Before he walked out the door to leave, I kissed him goodbye and reminded him that our household could not support another large antelope head. I may have said that if he came home with one, he would have to choose between me and the antelope and he said "Ha, ha, you're so funny!" and I had to explain, "I'm not joking around, Marlon Perkins. No more antelope heads."
But somehow I didn't feel any better when he texted me Monday night to let me know he hadn't shot an antelope. Mainly because this picture was attached to his text.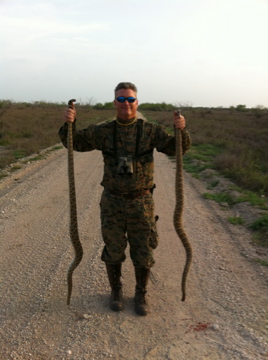 (Those are rattlesnakes. P is six feet tall. Also, he'd already cut off their heads.)
If one of those shows up in some sort of dead animal tribute in our living room, I won't move out. I'll burn the place to the ground.
And then where will P sit and force down his vanilla milkshakes?
Copyright secured by Digiprove © 2011