It has been quite the eventful week around here. In fact, I've spent the last ten minutes staring at a blinking cursor just trying to figure out where to begin. So I'll start at the beginning which always makes sense.
I was born in 1971 in Houston, Texas.
That may be too far back.
Okay. So last Wednesday we drove to College Station to drop Caroline off at Aggie Soccer Camp. I wish I'd thought to take a picture of her suitcase after I finished packing it because I must confess to feeling an inordinate amount of pride over the sheer organization of it all.
P and I got her all settled in her dorm room and then we made the drive back to San Antonio and met some friends for Italian food later that night. It was like we were newlyweds again with our throw caution to the wind attitude about eating dinner after 8:00 at night.
And then the next day I tried to get some writing done while P began to demolish Caroline's bathroom. You know what there's a lot of in a bathroom? Tile. You know what's not quiet and soothing? The sound of tile being shattered with a hammer.
This is what it looked like closer to the beginning of the process.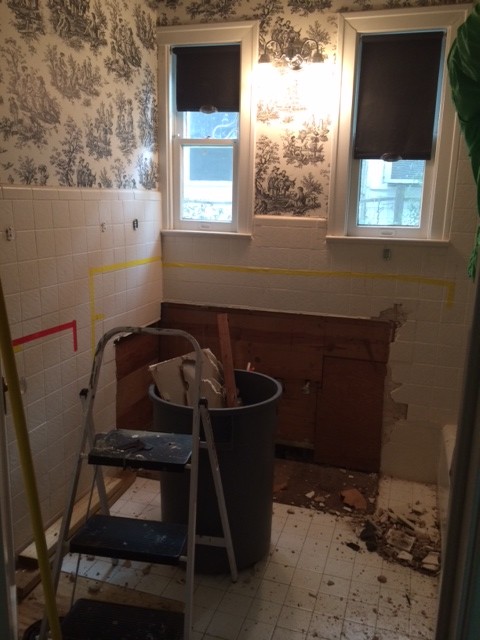 I need to have a moment of silence for that black and white toile wallpaper. I have always loved it so much, but Caroline has declared it looks "like a bunch of old ladies on a farm" and so it's going. Along with the old plumbing that doesn't really work anymore thanks to years of hard water building up in the pipes.
Along the way P discovered this layer of delightful wallpaper hidden underneath several decades of renovations and updates.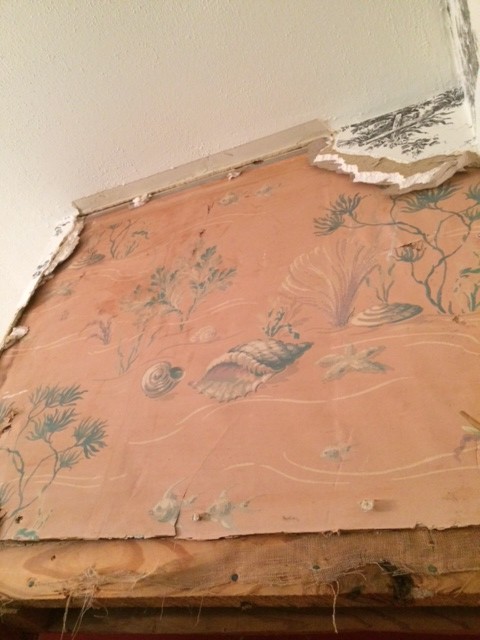 All of a sudden that toile isn't looking so bad.
I'm assuming this decor decision is circa 1950′s because when else have people believed that nothing would quite add to the ambience of a bathroom like a sea life theme on a pink background?
By Friday morning I realized I wasn't going to be able to get much writing done in the midst of all the noise and so I headed to Starbucks to write while P continued to strip the bathroom down to the bare bones. Later that evening all that remained were a few pipes, the wood walls, the sub-floor and a light fixture. P and I mapped out the room and figured out exactly where everything was going to go. We ultimately decided to keep the existing toilet instead of getting a new one which meant that P had to go pull it out of the trailer full of stuff he was taking to the dump. If I have one regret in life it's that I didn't get a picture of P hosing down the toilet in our backyard to clean it up.
Can you imagine what the people driving by must have thought? What havoc hath been wrought on a toilet that has to be taken out to the backyard and hosed down?
On Saturday we drove back to College Station since we had to be back at soccer camp on Sunday morning at 8:30 to watch Caroline play in a few scrimmages and for closing ceremonies. But it worked out because we got to go out for dinner with one of my dearest friends from college and her husband.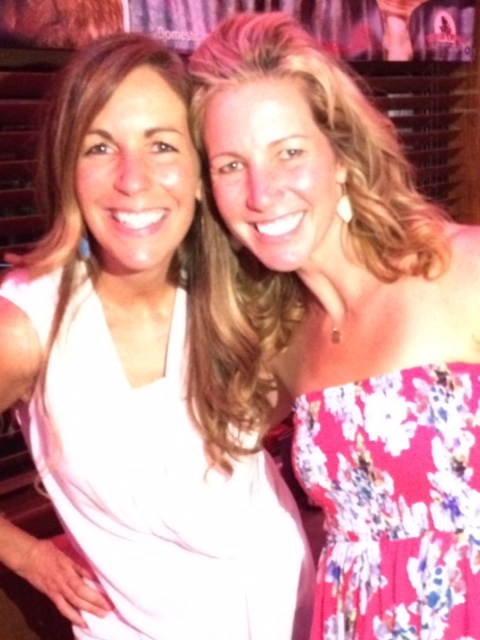 And then we spent the night at Honey and Big's house which was so fun because Gulley and her boys were there too. They'd actually been there all week but I didn't dare let Caroline know because camp was already not her favorite and that would have been the final blow.
We showed up bright and early on Sunday morning to get our girl and watch her play a little soccer.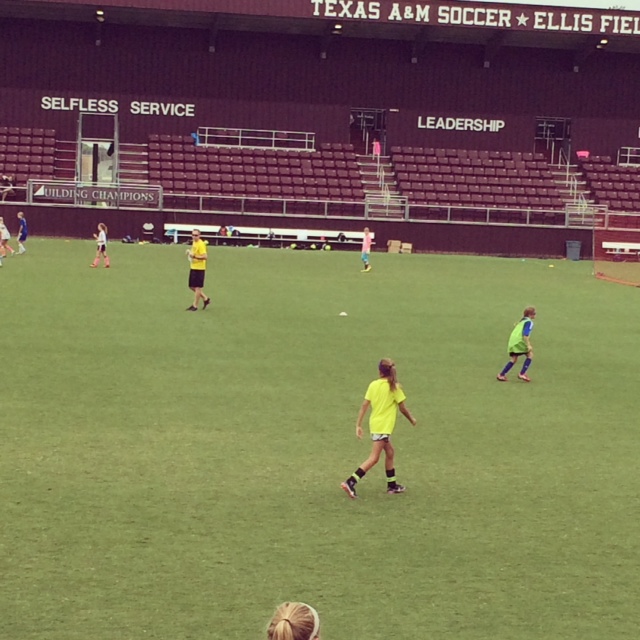 I'm not going to sugarcoat it. Camp wasn't a great experience. And I don't think it really had anything to do with the camp. It was really her first time to be away from home and she wasn't a fan. But sometimes that's just how things go. I just want to be real about it because maybe there are some of you whose kids feel the same way and you might be like me and wonder why it seems like according to Facebook that everyone else's kids love and adore camp and count down the days until they can go again next summer while your kid begs you to come pick them up early.
But hopefully we've learned a little something from the whole experience and we can mark it all down as growing pains and the important thing is she stuck it out and made it to the finish line. It's just been bizarre that one of my hardest weeks as a mom has come during a week when my child wasn't even with me.
And it's shed new light on the old phrase "not a happy camper".
Copyright secured by Digiprove © 2014