Well. Summer Road Trip 2016 is officially over. And I have to say it was a success. Or at least it was everything we have come to love and expect from a summer road trip.
1. Will got carsick.
2. All three kids still think flatulence is a party trick.
3. When it was over, we were all sad to say goodbye even though we already had plans to meet up at the pool the very next day.
Like I mentioned last week, this year was an abbreviated version and so we knew we didn't really have time to make a lot of stops. Especially when you consider how much we've already had going on this summer, it was nice to think about just having a little downtime which for me translates into not having to visit a zoo or a museum.
Earlier in the spring, I'd suggested that we should do a West Texas road trip because that is a land we have yet to conquer. I've always wanted to see the Prada display in Marfa and Big Bend and all of that, but Gulley asked me a hard question that snapped me back into reality. That question was, "Do you really want to be in the car with these dumb dumbs for fifteen hours round trip?" and I searched my soul for two seconds and realized my answer was NOPE.
And so we discussed Houston, Austin, Dallas and the beach until it all proved to be a moo point (It's a cow's opinion so it doesn't matter) because we weren't going to have time to do any of those. We ultimately decided we would just head to Bryan to spend a few days at Honey and Big's house, but Will told us that wasn't really a road trip and so we figured we better come up with a planned activity that would provide the intrigue and adventure our kids have come to expect. I hope you can read the sarcasm in that last sentence.
Caroline and Will both suggested we could make a return trip to the Snake Farm, but I will tell you in my personal opinion that one trip to the Snake Farm is one too many. If I never see a Cobra behind a piece of flimsy plexiglass again then I will consider my life a triumph.
Then Gulley and I realized our kids had yet to experience the time-honored Texas tradition of floating the river in New Braunfels. We'd talked about doing it a few years earlier, but ultimately decided they were still too little and we were afraid there might not be enough Valium and/or wine to survive the experience. But now they are the perfect age to experience the joys of floating an ice cold Texas river in July.
We opted for the Comal River because it's a little more sedate and also offers a two hour float option which we felt was plenty of float time. So on Wednesday about noon, we loaded up the kids and channeled the words of the old hymn and gathered at the river.
Now before I tell you anything else, you need to know about a piece of divine provision. Gulley's husband's father (Why didn't I just say father-in-law? Who knows?) passed away earlier this year and left them a 2000 Suburban. And you know what makes a superb road trip vehicle? A sixteen-year-old Suburban. I drove it the whole way and I will tell you I haven't driven a car that heavy since I drove my Pa-Pa's 1978 Fleetwood Cadillac. Not to mention that they don't make seats in cars like they used to because sitting in that thing felt like sitting on my couch. I could have curled up and taken a nap. Except for, you know, I was driving.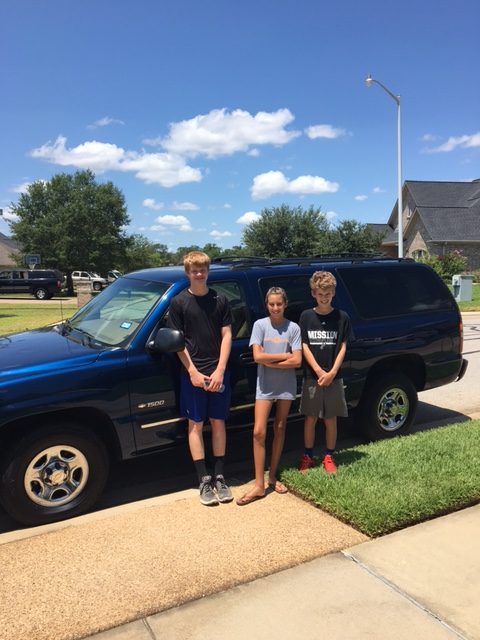 The Suburban provided plenty of room for all our luggage and my pillows and for the kids to be able to stretch out which kept the arguments over space to a minimum. The only downfall was that it has windows that you have to actually roll down, which meant that we had to crank down the windows like in ye olden days every time someone passed some gas. You would think maybe this would make people think twice about their bodily functions but you would be wrong.
Anyway, we drove to the river and rented tubes. They drove us to the drop off spot and as Jackson was pulling his tube out of the pile, we noticed there was a net attached that had a couple of beer cans in it. Gulley asked the guy in charge, "Do we need to get those beer cans out of his net?" and the guy answered, "Nah, nobody's going to care about that." And we both agreed if anything really sums up the floating the river experience, it's the comment that no one is going to think twice about a fourteen-year-old boy being in possession of some beer cans. The river is also perhaps the last bastion for places where it's socially acceptable to wear nothing but your swimsuit and a pair of tennis shoes.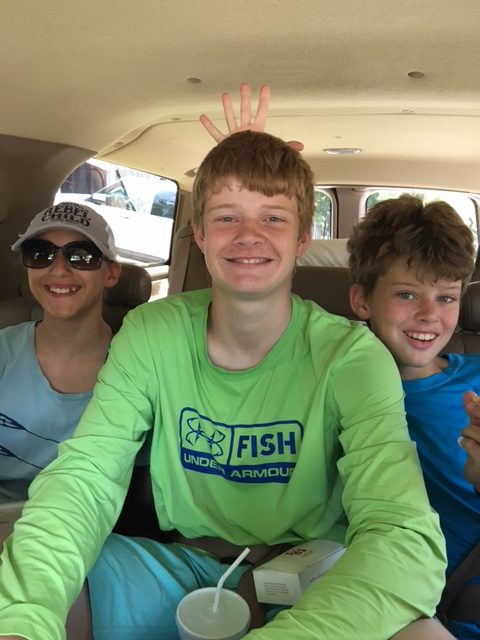 We ended up all thoroughly enjoying the river. Gulley's boys declared it was better than their Colorado vacation so that feels like both an overstatement and a victory. And Gulley and I had forgotten how relaxing it is to float along a river in a tube and decided in that moment that we weren't even going to join the neighborhood pool next year in lieu of just making the quick thirty minute trip to the river to float whenever we felt the need to swim. I believe this what some people refer to as "being caught up in the moment".
After the river, we dried off and changed clothes then headed to the Gristmill in Gruene to eat. And then we made the kids let us get a picture of them in front of Gruene Hall which is the oldest dancehall in Texas. It's also where Gulley's husband, Jon, proposed to her nineteen years ago.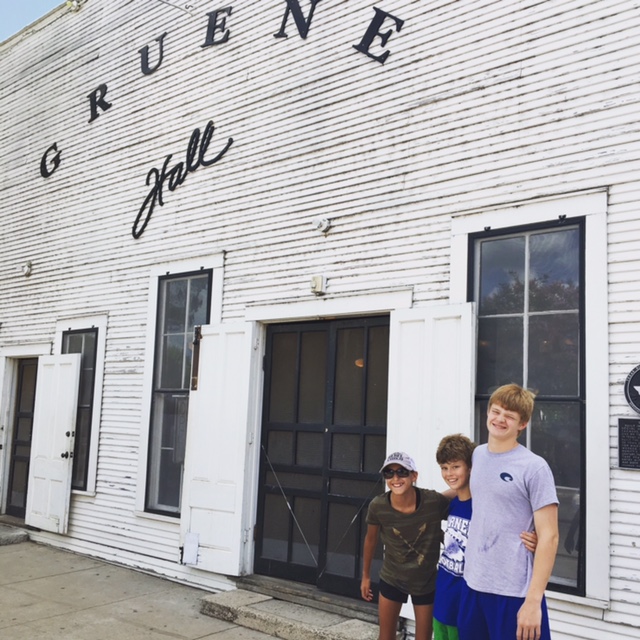 It's safe to say that neither of them could have imagined this back then.
Sadly, we have no pictures of the actual river experience for two reasons:
1. The aforementioned bathing suit and tennis shoes situation.
2. Neither of us trusted ourselves to take our phones anywhere near the river because we are sometimes accidentally neglectful of nice things.
Eventually, tired and full, we made our way to Honey and Big's. And we basically spent the next two days doing not much of anything, except shopping the Nordstrom sale online, eating brownies and talking. In fact, at about 2:00 in the afternoon on Thursday, Honey had taken the kids to run a few errands and when she called the house to check on Gulley and me, Gulley reported we were still in our pajamas sitting at the kitchen table. Honey reported this to the kids and Caroline said, "Well, I can't even." But you know what? When school starts again and we are running from hell to breakfast trying to do a million things, I will think back to being in my pajamas at 2:00 p.m. on July 21st and feel that it qualifies as the best day ever.
Later that night, Honey and Big took the kids to see the new Tarzan movie (They all gave it a five jalapeño rating, which means it was good) while Gulley and I met Tiff for dinner. We had a great time catching up on life, especially because it's just been a hard summer all around and sometimes you just need to laugh and cry with your oldest friends.
On Friday, we took the kids bowling and some people in our group are a little competitive considering it's a sport you can play while simultaneously drinking beer. I can occasionally feel competitive but it's safe to say that I have eliminated bowling from the list of things I care about. Maybe one day we'll all be at that emotional place, but this was not that day.
Suddenly, it was Saturday morning and time to come home. This is the portion of the trip where Will got carsick but he'd also left his seasick bands in his backpack in the very back of the Suburban as opposed to wearing them on his wrist. As Gulley told him, he "didn't set himself up for success". However, we did actually make it to a gas station before he got sick which shows we have all grown as people and travelers, if not bowlers.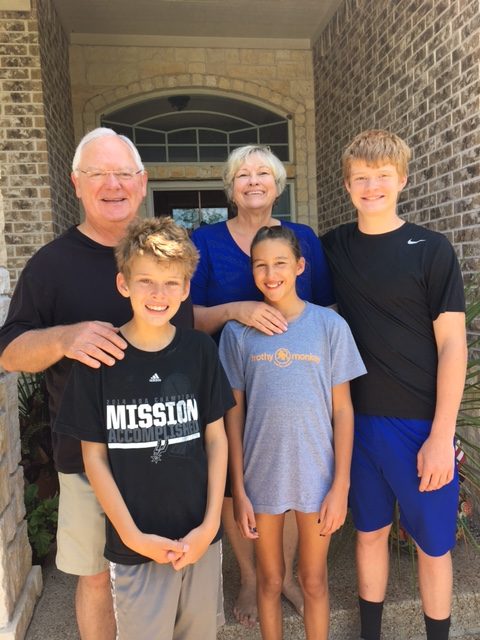 And just like in years past, the kids were already planning when we'd see each other again by the time Gulley and her boys dropped us off at our house. Which is why we will never give up on the road trip, even during summers that it's hard to find the time to do it. In fact, we're even seriously contemplating doing the whole West Texas trip next summer. Because we are nothing if not ambitious.
Or at least optimistic.
In the meantime, Piper was none too happy about Caroline and I being away from home for any length of time and has been keeping one eye on us at all times.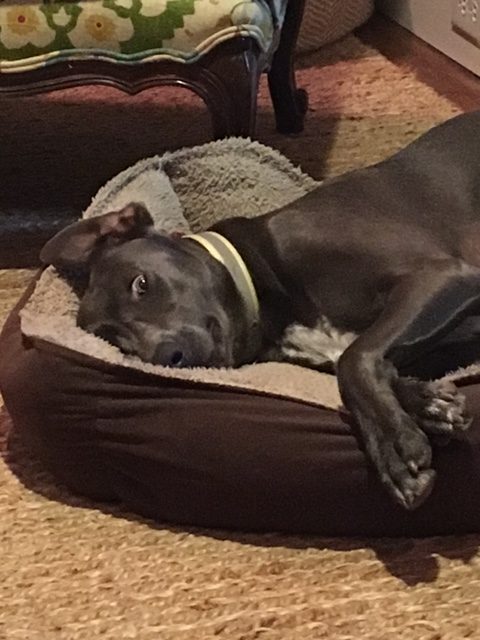 Even while she's allegedly sleeping.
Copyright secured by Digiprove © 2016