Here's a question.
How many chocolate chip cookies are too many?
Because I'm pretty sure I have surpassed my limit for the day. Maybe starting my day with two of them wasn't my best move. I didn't really set myself up for success because the rest of the day I'd attempt to eat something healthier and then realize it didn't taste nearly as good as a chocolate chip cookie so what's the point?
But I'm sure tomorrow will be better. Especially because it's the day I've designated as my "Return to Working Out On A Regular Basis" day. The Christmas holidays derailed me a little bit because I fell into a plate of toffee and couldn't get up. And then I got the flu. And I felt like last week needed to be an additional week of recovery and rest. But now it's the middle of January and I am out of both excuses and abdominal muscles.
We had a nice long weekend around here. P and Caroline went hunting Friday and Saturday. They didn't end up getting anything but they had a good time. The flu kept them from hunting over the Christmas break so they were glad to get some time to go.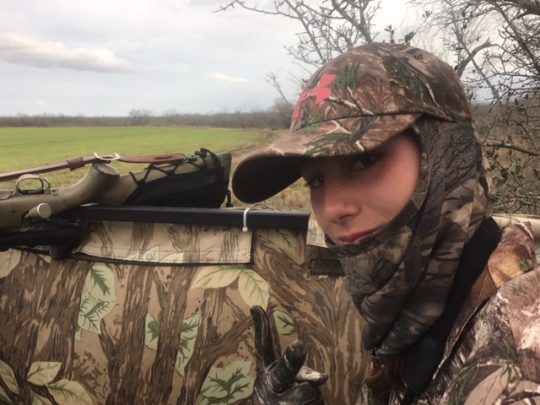 Maybe the problem was their lack of camouflage.
While they were gone I got caught up on T.V. shows and just generally enjoyed the quiet. I'm in the middle of what feels like seventy-four different projects so it was nice to have some down time before life gets as crazy as it will most likely be over the next several months.
Caroline and I went to see Hidden Figures yesterday and I can't recommend it enough. The story was incredible and the movie made us laugh and cry at various points. And, most of all, it makes you so happy that the story of these women is finally being told. I came home and immediately googled them because I wanted to know more and found this article. And now I think I'll have to read the book.
Oh, I also watched the new Masterpiece Theater show, Victoria, on Sunday night. So, basically, it's like I acquired a doctorate in History over the weekend. I liked it (True story: I had to turn on the captions because apparently I have become my grandparents and couldn't understand a lot of what they said. But it was also storming outside so maybe that was the problem and let's hope so because next thing you know I'll be at Luby's at 4:30 every afternoon for "dinner".) but I naturally googled Queen Victoria because I yearn for knowledge and discovered the show isn't really factual at all.
This shouldn't be a problem for me because it's not like I really have high standards or really any standards at all when it comes to what I'll watch on T.V., but now I just know I have to watch it from a pure entertainment standpoint and shouldn't engage in dinner party conversations as an "expert" on the life and reign of Queen Victoria. Of course this would require me to actually attend a dinner party and I can't really remember the last time that happened. Most social events I attend involve some sort of sporting event and chips and queso and I am rarely (never) asked about my knowledge of nineteenth century British royalty. Which, frankly, is a shame.
Here's something I am asked about. (How's that for a transition?) At least two or three people have asked where I'll be speaking this Spring and so here are the events I have scheduled for the first part of Spring in case I'm anywhere near you. I'm not traveling as much as I have in the past, mainly because of the aforementioned seventy-four projects and my main career as Caroline's chauffeur and chief lunch maker, but I am excited about the events I'm doing and would love to see you there.
January 26 – The Well at First United Methodist Church – Grapevine, TX from 7:00-9:00 pm. Tickets are $25, which includes meal and speaker. To purchase tickets and additional information available here.
February 10 – Ladies Night at Brazos Pointe Fellowship – Lake Jackson, TX. For more information and to register, click here.
February 23 – Samford University, Legacy League Scholarship Luncheon, Birmingham, Alabama. For more information or to register, click here.
March 24-25 – Church at Canyon Creek Women's Retreat, Austin, TX. For more information or to register, click here.
Hope you all had a good long weekend! Best part? It's already Tuesday.
Copyright secured by Digiprove © 2017