For my first three books, I had an absolutely wonderful editor. I knew from the first time I met her that I could trust her with my words and it's no easy thing to hand over something you've poured your heart and months of your life in to. But Stephanie Rische not only protected my words, she made them better. She knew how to make what I'd written funnier and sharper and wiser and also was the most patient person in the world as she'd sent gentle emails with questions like, "Did you intentionally write 'TOOT SUITE' ? Because that's not really a thing." Not to mention that she looked up countless obscure references to Coal Miner's Daughter to make sure I phrased them right and that alone deserves some type of medal.
All that to say, I was so excited when she emailed me about a year ago to tell me she was working on a book of her very own because it is so exciting to see someone you admire so much follow their dream. Plus, I figured she'd learn for herself that I wasn't kidding all those times I emailed her things like "WRITING A BOOK IS THE WORST. WHY DO PEOPLE DO THIS?"
A few months later she asked if I'd write the forward for her book, I Was Blind Dating, But Now I See: My Misadventures in Dating, Waiting, and Stumbling Into Love and I was honored to do so. Here's a little of what I said:
"…Stephanie Rische has given us so much more than just a tale of looking for Mr. Right in a world full of Mr. You Are So Wrong. It's a different kind of love story…a story about a God who pursues us, challenges us, and let us wait on what we want most in life because he knows that the journey with him will ultimately teach us so much more than the destination. So even if you are way past your dating years, there is a message for you within these pages about being faithful, staying true to who you are, and not waiting for that "big thing" to happen before you live your life."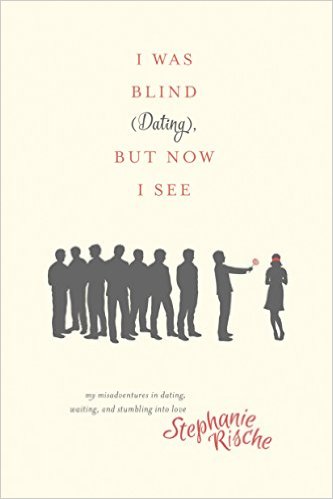 So, because I love Stephanie and I love her book, I want to give away three copies today. All you have to do is leave a comment and whether or not you've ever been on a bad blind date for a chance to win.
I'll leave comments open until Wednesday evening , then pick three winners at random and notify them by email. Thanks so much and have a great Tuesday!