I flew home from Nashville Sunday morning and boy are my arms tired.
What just happened?
Let that serve as a warning as to my current mental state. I've had a lot of fun but I may also be a little tired and punchy.
This is when it would be great to show you a bunch of pictures from my trip and the Dot Mom Conference. Except that I didn't take a single one. You might think maybe I would have thought to pull out my phone at some point to capture some sort of photographic evidence of my travels, but you would be wrong.
The truth is I am now very familiar with the interior of Long Hollow Baptist Church in Hendersonville, Tennessee since that's where I spent the bulk of my time. And I will tell you that they have some very comfortable couches located in various rooms of the church.
The conference was a lot of fun and I loved getting to see some old friends and making some new ones. When I got in on Wednesday night I went with several friends to a restaurant in East Nashville that had really good food although I regret to tell you we suffered from some hipster service. Our waitress was darling, but we were clearly the most uncool table in the whole place because no one in our group was wearing a hat and so no one was in a hurry to take our order or let us choose some fresh baked goods from the bread basket. This restaurant will also be forever ingrained in my mind because it is the place where I discovered I could benefit from some reading glasses.
In the last six months or so I've noticed I have a harder time reading certain things than I used to, specifically menus in restaurants. But decided it was just some sort of restaurant conspiracy to print menus smaller and use dimmer lighting. So when I squinted and tried to read what type of farm-to-table item I wanted to order for dinner, I was struggling. Sophie noticed and passed me her readers to try. I felt certain that wasn't the problem because readers are something my grandmother wore and I am much too young. So you can imagine my surprise when I propped them on the end of my nose and immediately read "LEMON BLACK PEPPER AIOLI" with ease.
And so this is my new reality. On the plus side, it opens up a whole new accessory category for me and the possibilities are endless. On the downside, my eyes. They are old. Now I'm just a bathrobe and three rollers in my hair away from yelling at neighborhood kids to stay off my lawn.
While I was away, P took Caroline dove hunting on Friday evening. This was her first time to really go and shoot birds on her own and she turned out to be a natural. P texted me this picture and proudly announced she shot a limit of birds.
I texted him back and said she obviously got her shooting skills from me since I have managed to shoot one and a half birds total in all my dove hunting expeditions. I find it problematic that they fly at a high rate of speed. But a bird's gonna bird. What are you gonna do?
Mabel and Piper were also very excited about the whole thing.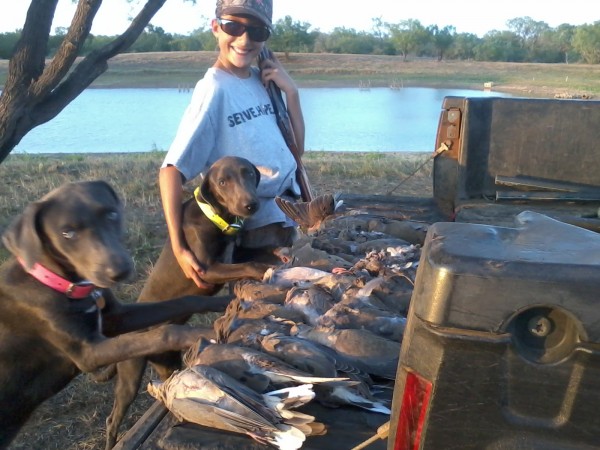 They want you to know they were exhibiting an enormous amount of self-restraint in this picture and weren't even awarded a raw bird for their efforts.
On Saturday night after the conference was over, Sophie and I drove over to our friend MK's house to watch football. I have to explain that MK has this enormous, high-ceilinged screened in porch on the back of her house with a couch and a large T.V. For years we've listened to our Nashville friends talk about the joy of watching football on the "magical porch" and, honestly, I've felt deprived that I'd never experienced it. But all that has changed.
She picked up some amazing barbecue for us and we all piled on that couch and ate homemade corn cakes while we yelled and cheered and lost our minds over the Mississippi State vs. LSU game. Sophie's a State girl so she was thrilled and MK and I were thrilled for her until we realized our teams both have to play the Bulldogs later this season. That tempered a little of our enthusiasm at their greatness, but we were still excited for Sophie and totally understood when she had to leave to watch the game in the other room when it looked like LSU might pull out their LSU voodoo in the last ten seconds of the game. I'm telling you. Lord Voldemort in a purple windbreaker.
And then I got home Sunday around 12:30. I walked into a house that was clean and had a candle burning. P had laundry going and Caroline had even vacuumed. I can't even express my joy about this. It's like everything in my life had led to that moment. It might have been the high point of the weekend.
We spent the afternoon catching up on all that had been going on. I made a list for the grocery store that makes me know it's going to be one of those store trips where you almost need two carts and then picked up Mexican food for dinner because I'm back in Texas and my taste buds needed the reassurance.
Hope you had a great weekend, too.
Copyright secured by Digiprove © 2014