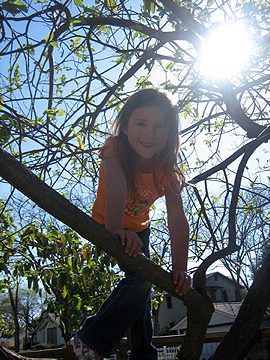 Up a tree.
That's what Caroline decided to do after she got home from school yesterday, but it pretty much sums up how I spent most of my evening last night.
The blog was in the midst of a little facelift and it decided to FREAK OUT. Then, I was trying to send frantic emails to Cathy at Desperately Seeking WordPress and the Yahoo mail decided to FREAK OUT.
And then I FREAKED OUT.
I may or may not have hyperventilated just a little bit.
It was me against the internet. I've never felt so scared or alone because, I'll be honest with you, the internet frightens me with all its technology and world wide webness.
So I spent a large part of the evening clicking over to see if the blog was back up and then typing frantic emails that I couldn't send because the Yahoo mail decided to break up with me without even the courtesy of one last slow dance to "Hard to Say I'm Sorry".
And then, just when I thought things couldn't get worse, that bad guy on "24" shot Senator Mayer and things did not look good for Jack Bauer. Well, at least they didn't until he managed to throw a screwdriver like it was a ninja death star.
(Is that even a real thing? Surely I don't have the wherewithal to make up faux ninja weaponry.)
In summary, I was up a tree. A very stressful tree full of anxiety and a large Special Dark Hershey bar that I broke off piece by piece in an attempt to not actually eat the whole thing.
An attempt that failed, by the way.
The good news is that Cathy fixed the blog. In fact, she not only changed everything over to the new format, but upgraded everything (Who knew you were supposed to upgrade? I feel like George and Weezie Jefferson) and taught me all about widgets, which I mistakenly thought were a group of characters on "Star Wars: The Clone Wars".
(Disclaimer: I've never watched "Star Wars: The Clone Wars" because why? Why would I?)
Anyway, I owe a huge thank you to Cathy who is a WordPress genius and patiently explained various concepts to me while I asked very technical questions such as "Can we move that thingie over behind that whateveritscalled?" and "Are the widgets friends with Luke Skywalker?"
It's a wonder that I can check email.
Well, actually, I'm not sure if I can check email. I'll have to see if Yahoo is ready to take me back. If not, I'll just move on to gmail.
Because in the words of Bobby B., it's my prerogative.
Oh, and Happy St. Patrick's Day! Top o' the mornin' to you.