I think I may have mentioned that yesterday was Caroline's first day of school. Here she is right before we walked out the door. She was obviously giddy with excitement because she actually let me put bows in her hair.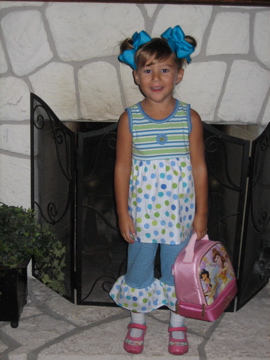 Please note the Disney Princess lunchbox. She is extremely proud of it and the fact that it has "a real jewel" on Sleeping Beauty's crown. And really, how can you not get excited over that?
A little bit of bling can take lunchtime from ordinary to extraordinary.
It was rough to watch her walk into that classroom, knowing that I had a day of blissful freedom ahead of me. But I soldiered on and made the best of it. I met Gulley and my friend Julie at the nail salon for a pedicure and we followed it up with lunch. It wasn't easy, but we tried to enjoy ourselves and even managed to have multiple conversations without one single interruption.
As the pedicure technician (Really? Is that the term?) applied sugar scrub and then massaged my feet, I kept thinking, wow, this is almost as much fun as trying to find Polly Pocket's miniscule purple boot, while Diego rescues some kind of bug-eyed marmoset pygmy or whatever, and Caroline complains about her peanut butter and jelly sandwich because it's a little "too jelly-ish".
Yeah. That's why they call it peanut butter AND jelly. Otherwise, it would just be peanut butter.
Finally, around noon, I became so relaxed that the twitch that started in my left eye sometime in mid-July, began to subside.
And in other significant news…
I GOT MY BRACES OFF YESTERDAY.
It's true. I don't know why I didn't start this post with HEY! I GOT MY BRACES OFF YESTERDAY!!!! except for the fact that it's hard to convey my excitement in words. But I'm giving it my best try by using multiple exclamation points.
I had an orthodontist appointment scheduled for 10:15 and I told P, "I'm either coming home with no braces or I may be calling you to come bail me out of jail." Fortunately for Dr. Kevorkian, he said it was time for the braces to come off.
Remember that episode of "Good Times" when they found out they were moving out of the ghetto? I was even more excited than that.
And seriously, I'd like to say I haven't spent the last 24 hours looking at myself in every mirror I pass by, but that would just be a lie. True confession, a car behind me in traffic today had to honk to tell me the light was green because I had become completely enthralled with my dental appearance in my rearview mirror.
Personally, I thought it was really rude of them to honk because where on earth do they need to be that's more important than how my teeth look?
The best part of getting my braces off, well, other than the grinding noise of the machine that scraped all the glue off my teeth and made my gums feel like they were on fire, was when Dr. Kevorkian praised me for what a good patient I have been. He said he never heard me complain one single time about my braces.
I think P would beg to differ.
And so would the internet, for that matter.
But in the meantime, I'm tossing these babies in the trash.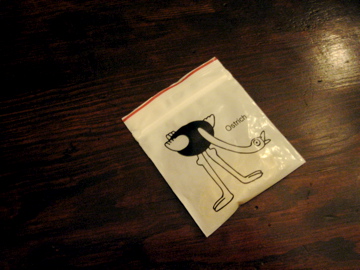 Good riddance, hateful ostrich. I won't miss you at all.