I normally don't post on the weekends, but I felt like there were a few crucial pieces of information I needed to share.
First of all, look who changed her mind about the madras plaid shorts. I could eat her up.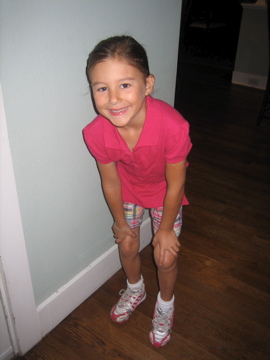 Secondly, I ran by Gap to see if they had put a shirt on sale that I've had my eye on. Sadly, it's still full price. However, they are having a 3-day sale on shorts. All shorts are $25.00 through May 25.
I felt like I wouldn't be a true friend if I didn't share this information.
Lastly, I am saddened for all of you who have never experienced peanut butter Rice Krispie treats and feel that needs to be remedied toot suite so here is the recipe.
(I thought about making some so I could include pictures but then I lost my motivation. Not to mention that it's about as foolproof as boiling water.)
Peanut Butter Rice Krispie Treats
1 cup light Karo syrup
1 cup peanut butter
1 cup sugar
6 cups Rice Krispies
In a large pot combine syrup, peanut butter and sugar over medium-low heat. Stir until thoroughly mixed together and smooth.
Remove from heat and add in Rice Krispies.
Pour into buttered 9 x13 pan and press down with buttered spatula.

Eat them until entire pan is gone which will probably be about six minutes later.