Okay, I'll just go ahead and admit that I didn't do The Shred at all over the weekend. I really wanted to, but then I remembered that verse in the Bible that says, "Man cannot live by shred alone" and decided to take those words to heart. Not to mention that I think I did something wrong during the ab workout on Friday and, as my MeMa used to say, I was down in my back.
The good news is I'll be back on the shred train or wagon or whatever by 9 a.m. this morning. The bad news is I think if I'm honest with myself I have to move up to Level 2. I'm not looking forward to this new adventure in torture, but I completed Level 1 pretty easily on Friday and wasn't even sore, except for the aforementioned back issue which was really just due to user error.
Yesterday I stayed home from church because I had a headache and just didn't feel that great. Part of me thought that maybe it was the swine flu, but then I remembered that our entire yard is covered in yellow pollen which is my personal kryptonite. Seasonal oak allergies aren't really newsworthy and certainly don't get you any sympathy, although P did come home from church and cooked me a delicious breakfast taco using leftover tater tots from Saturday night's dinner.
We are a people with a very sophisticated food palate.
And we ate tots while watching the Nascar race on Saturday night.
Then we bought four new tires for our house.
Anyway, later in the day I started feeling better and had the insane notion that it would be a good time to clean out my closet. I faithfully reorganize my closet twice a year and get rid of all the things I haven't worn from the previous season, but I have been woefully late in taking care of that chore because I have been very busy figuring out who should play the lead role in the remake of "Footloose" now that Zac Efron has dropped out.
When I walked into the closet, I realized it was in need of a major overhaul. The whole thing just felt dusty so I decided to completely empty it of every piece of clothing I own. Here is our bathroom after I completed that process.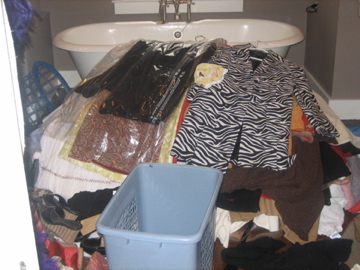 I swept it all out, dusted the shelves and then sat down and cried when I realized I'd have to put all that stuff back in there. And did I mention I also decided to clean out all my dresser drawers? And that I had a helper?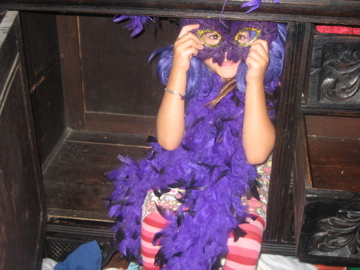 A helper who discovered a purple wig, mask and feather boa that I wore to a Mardi Gras party back in the days when we used to do more on a Saturday night than eat tots and watch Nascar.
After it was all said and done, I have three huge bags of clothing and shoes to give away. It's the last vestiges of my corporate America wardrobe, some poor attempts at finding a denim skirt, some gauchos that I really can't even discuss because I'm ashamed, and eight dozen t-shirts that seem unnecessary since I wear the same four t-shirts all the time.
Oh, and I had to throw out my favorite pair of pajamas EVER because they have a giant hole in the bottom. I tried to keep wearing them anyway, but P shamed me into letting them go. He has no appreciation for festive Hula girl prints.
I guess they weren't classy enough for Nascar and tater tots.
As I packed up all the bags, I kept feeling like some things were missing that I'd just put in the pile. What the heck? Where are those leopard-print ballet flats that no longer have any fur on them? Where are those black ropers that I've worn exactly none times in the last twelve years?
Oh, here they are.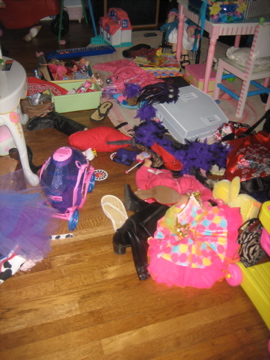 Apparently there was a mass exodus to the playroom via a five-year-old in the market for some new dress up clothes.
Now she and her friends can dress up as Sleeping Beauty or as Pharmaceutical Rep.
Many hours and chocolate chip cookies later, I had a completely organized closet.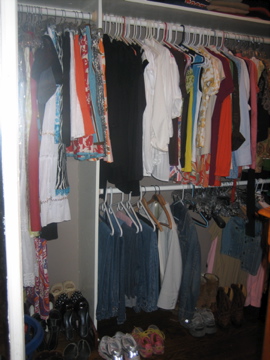 And even more hours and cookies later, the playroom was clean and semi-organized if you don't count the fact that I just threw random Polly Pocket shoes, Barbie accessories, and dried out playdough all into one bin.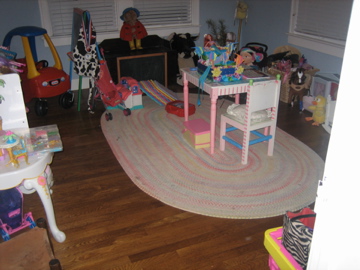 And if you count that, I'm not sure we can be friends.
Unless, of course, you're a fan of Nascar and tots.