Well we are gearing up around here for the 4th of July weekend. By which I mean we may go to our neighborhood parade, the pool and grill some hotdogs. Maybe light some sparklers if we're feeling especially festive.
And we've reached the point in the summer where there just isn't much going on around here. Caroline decided to do a sports camp in the afternoons this week and so I dropped her off yesterday and decided to run all the errands I've had on my list that I know she has no interest in doing with me because, frankly, I have no interest in doing them either but I don't have a choice because I am a grown up.
I ran to the Tax Office to renew my vehicle registration but left when I realized I was the 115th person in line. That's not even an exaggeration. And the line was moving at a glacial pace. Check, please. I decided to mail in my registration even though it's already expired. I'll take my chances with getting a ticket rather than growing old and dying in a line at the Tax Office.
Then I ran by HEB, Target, the dry cleaners and then went to an auto repair shop to get four burned out lights on my car fixed. I just have to tell you I couldn't have been more proud of my productivity if I'd performed open heart surgery on someone.
And while I was waiting in the auto repair shop, I noticed they had one lone picture hanging on the wall. It perplexed me.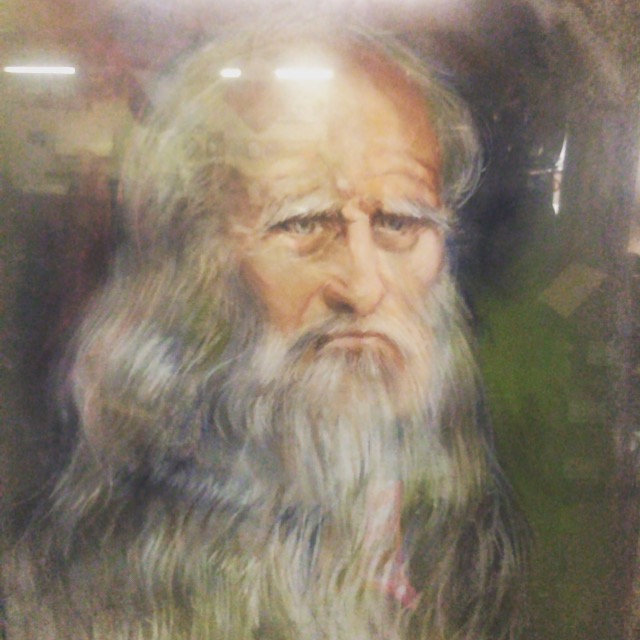 Who is this bearded man and why is he a prominent display in an auto repair shop? I racked my brain. Is it God? Gandalf? Dumbledore? Vincent Van Gogh? Some patron saint of auto repair?
So I posted it on Instagram and shared my dilemma. And my friend Sally Lloyd Jones was the first to say it was Leonardo Da Vinci.
YES!
I knew he looked familiar.
And also like Gandalf, Dumbledore and maybe Vincent Van Gogh but I can't say for sure because I can't see his ears. Or lack thereof.
Anyway, I feel good about patronizing what is obviously a sophisticated auto repair shop to get my brake lights fixed.
After that it was time to pick up Caroline from camp and we spent the rest of the afternoon just hanging out before we went to a meeting to discuss this Sunday's Community Worship Service.
As for tomorrow, I'm taking Piper and Mabel to the vet for their annual vaccinations. Leonardo Da Vinci and God, be near.
_______________________________________________
On a book related note, Nobody's Cuter Than You is now just TEN DOLLARS (and some change) here on Amazon and here on Barnes and Noble online.
I'm no mathematician, but I think that's the lowest it's been since it came out. And I happen to have some book plates left. So if you order three or more copies to give to friends, I'd love to send you some signed book plates as a thank you. Just email me at melanieshankle@yahoo.com with proof of purchase, how you'd like them signed, and a mailing address and I'll get them in the mail. Offer lasts until I run out!
Copyright secured by Digiprove © 2015