So I flew into D/FW yesterday afternoon because I'm speaking at a luncheon in Fort Worth on Friday. And the bonus was that my friend Jamie was able to come meet me. We spent about three hours catching up on life in my hotel room before we finally headed to Mi Cocina for dinner. And then as we were leaving dinner, we decided we needed to check out Sundance Square and inadvertently found ourselves in the midst of some sort of TCU pep rally.
What else do you do in that situation besides take a quick picture with an inflatable horned frog?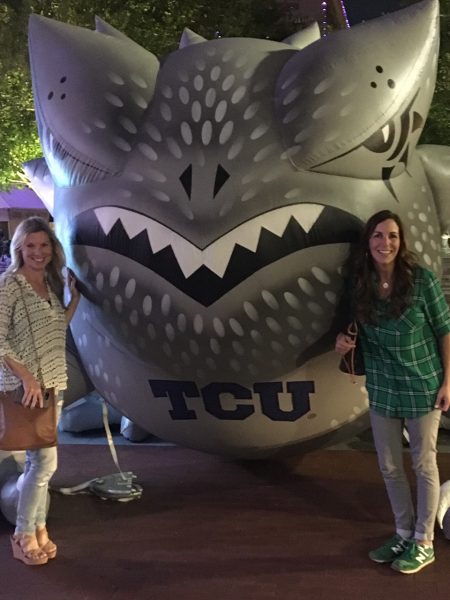 And I promise that before we walked away I heard that horned frog whisper, "Beat the hell out of Alabama". That's my story and don't try to convince me otherwise.
Here are some cute things I found this week: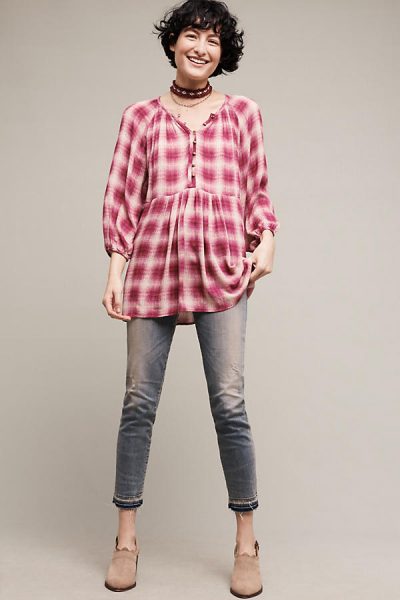 I love the way this top is cut and am also a fan of the cute pattern. It also comes in blue and is on sale for $49.95.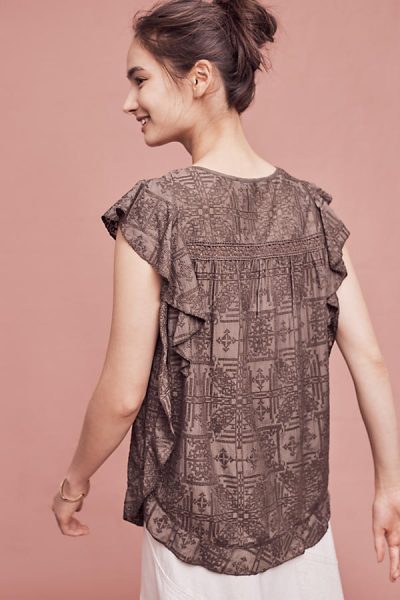 I featured this top earlier this fall when it was still full price. I tried it on in the store and fell in love with it because it is so much prettier than it is in this picture and perfect for a Texas fall. It's now on sale for $59.95.
3. striped oversize pullover sweater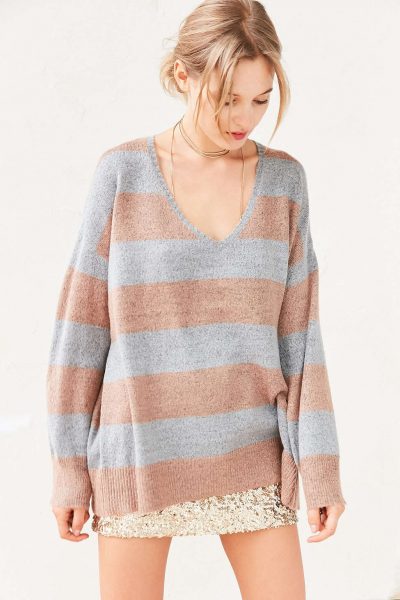 I used to always check online at Urban Outfitters to see what they have in stock but had kind of forgotten about it. I think it's because I prefer their winter clothes like this striped sweater. I'm a little bit in love with it and it also comes in hot pink, yellow and red stripes.
In the interest of full disclosure, I think I like the hot pink the best.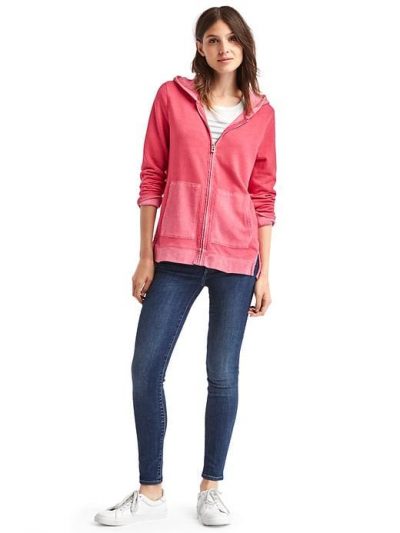 I saw these hoodies in Gap and like that they don't have elastic at the bottom. They hang down just a little bit longer and that makes them good for wearing with workout leggings or even a pair of sweatpants.
If I never wear elastic at my waist again, it will be too soon.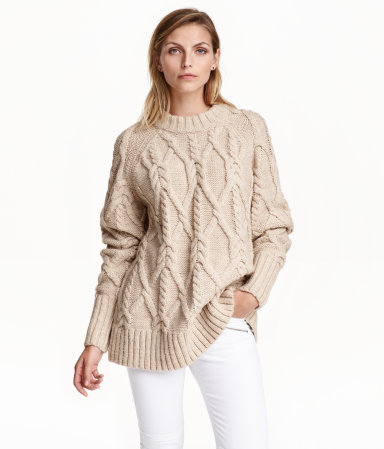 I love a simple cable knit sweater with jeans and boots. This one is a great price and looks perfect.
6. loft cuffed rib trim sweater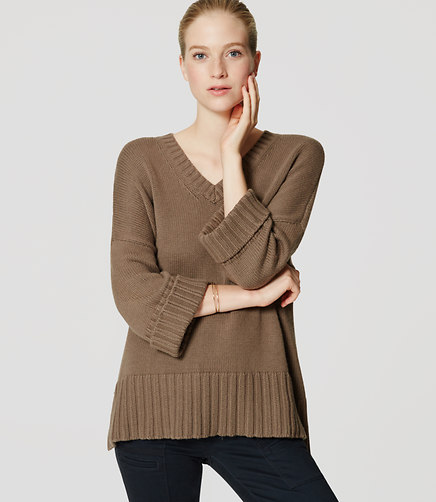 I like the sleeves on this sweater and that it's more lightweight. It comes in a couple of different colors and it's on sale for $25.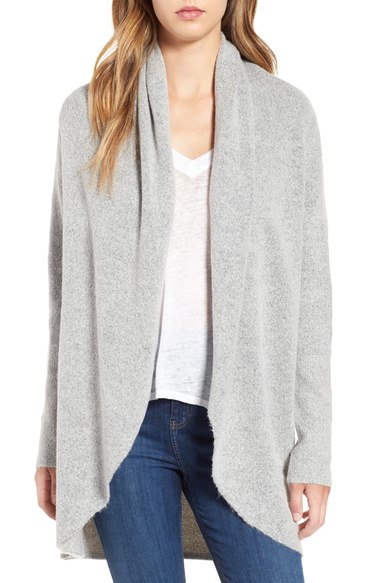 These cocoon cardigans completely sold out and I don't know if they'll get more in stock. But they have added two new colors, this light gray and also a pale pink.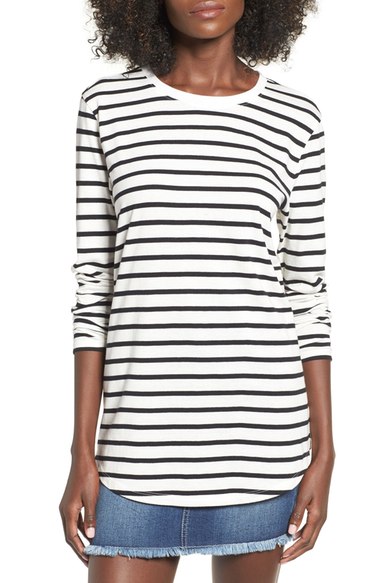 This tee is just $19 and also comes in navy. It sells out every time they get it back in stock, mainly because it's a great length and good either on its own or layered under a jacket or sweater.
9. stripe sleeve tunic sweatshirt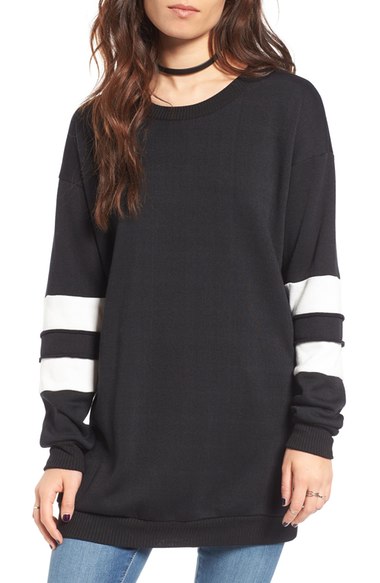 A tunic length sweatshirt? YES PLEASE. This is basically my dream weekend outfit paired with leggings and tennis shoes.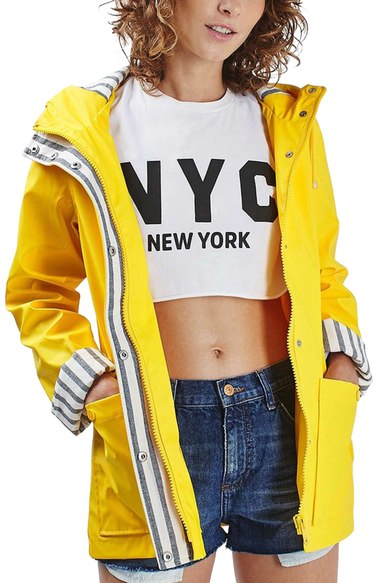 How cute is this rain jacket? I love the striped interior and am partial to this bright yellow color (although I'll refrain from wearing a cropped t-shirt under it) It also comes in light blue, red, and white.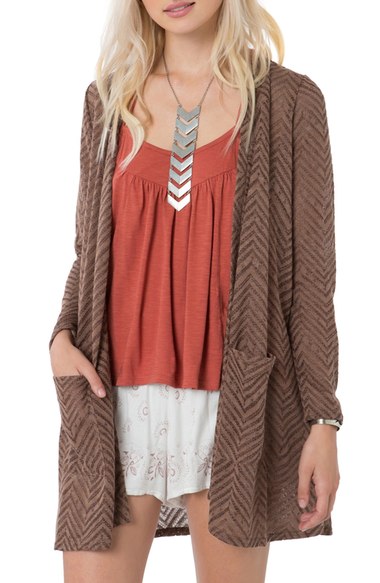 This is a great piece and also comes in charcoal gray. However, I think I like this color the best. It would look cute thrown over that striped tunic tee with jeans.
12. camo print jeans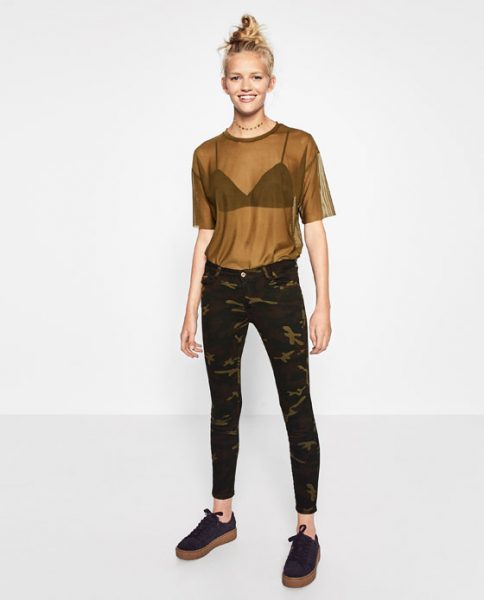 Several people have emailed to ask me about camo jeans and I hadn't really seen any I liked until I found these at Zara. They are a good print, very stretchy and flattering on. An additional note on Zara jeans, I've had a hard time finding jeans that fit Caroline because her legs are long and thin. Zara makes jeans in a size 00 and 0 that are perfect if you're in the market for jeans for a teen who has a hard time with fit and is past the age of being able to find jeans with an adjustable waistband.
That's it for today.
Have a good Friday.
And Gig'em Aggies!
I am the danger. #bthobama pic.twitter.com/kBuZdJ8diN

— cuppycup (@cuppycup) October 20, 2016