Monday is our first day of school and so I'm sure I'll be writing soon enough about packing lunches and how Algebra homework is the reason I can't quit drinking wine on weeknights, but I realized that I never really wrapped up our summer vacation. This summer was so different in a lot of ways. Gulley and I were lamenting last week that we never even spent an entire day at the pool with the kids or had a day where everyone was so bored and stir crazy that we actually considered something insane like taking them to play putt-putt golf. And so we made it our goal to get to the pool this past week, but it rained all week long and so, alas, au revoir pool days of 2016, we hardly knew ye.
The truth is this was a weird summer. Caroline's getting older, our schedules are busier, the road trip had to be shortened, and we lost Jen. But the one constant was our annual family trip to Port Aransas. We always go at some point in August and this year Caroline wanted to go the week of her birthday, invite a friend and celebrate there. So that's what we did. And I figured I better recap it for posterity before it's September and I'm busy ranting about Aggie football, finding the right no show socks to wear with my new booties, and how much I want to wear jeans and boots even though it's still 106 degrees outside.
And this is basically going to be a lot of pictures for my own benefit so I can look back someday and remember that time we went to the beach in 2016. I realize this may be a little boring and like Gulley says when someone overposts vacation pictures on Instagram, "Back in the 1970s we used to make fun of people who invited you over to watch a slideshow of their vacation." Basically, what I'm saying is there may be a minimum of 6,403 more interesting things on the internet today than this post.
We arrived at the beach on Monday afternoon and immediately unpacked and headed down to the water for a couple of hours.
This is the Port Aransas version of Perry.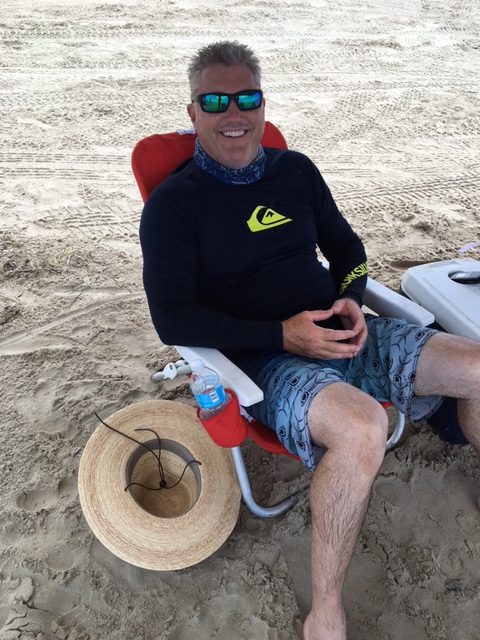 He is perhaps the best version of himself at the beach. He's like a beach cruise director and is always finding fun things to do like catching crabs, finding sand dollars, riding waves, and fishing for sharks. Which is perfect because the beach version of myself likes to read books and listen to the ocean. (I can't really think about the fact he fishes for sharks just a little bit further out from where people are actually swimming.)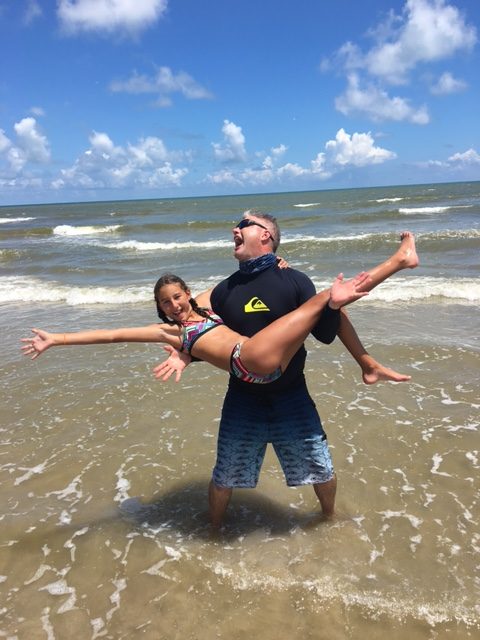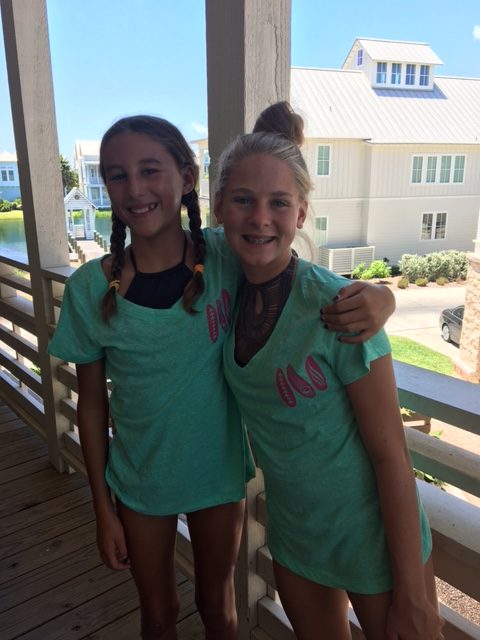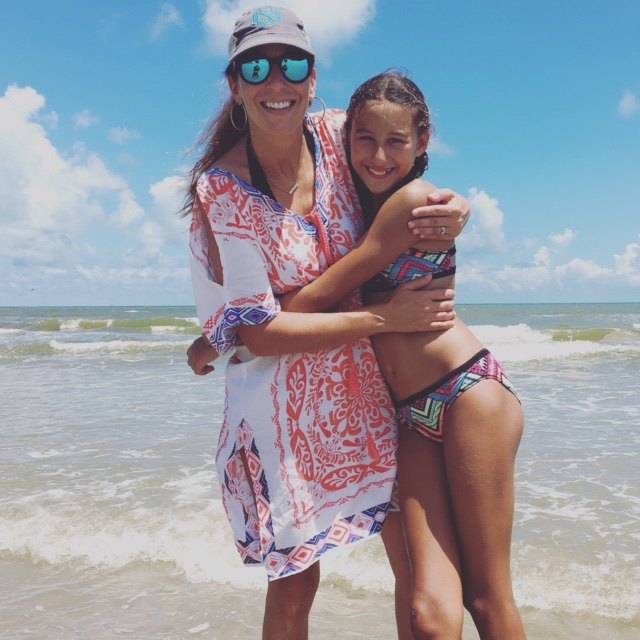 On Tuesday we spent the whole day at the beach and then P had arranged for us to go out with a guide to flounder gig. You essentially go out on a boat after dark and look for flounder then gig them with a pitchfork type thing. The girls thought this was basically the most fun thing ever.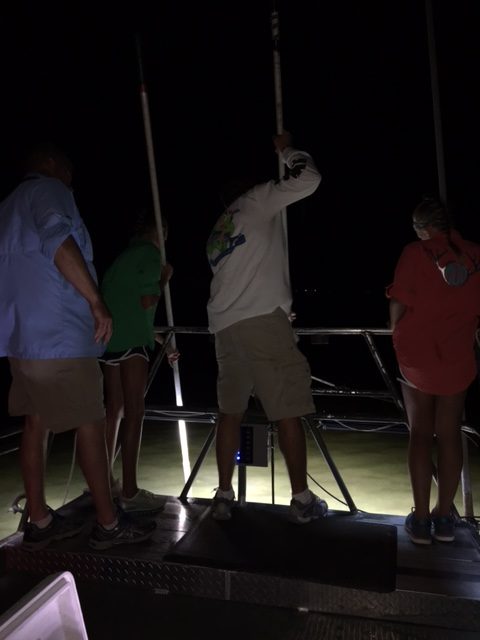 I know that picture is dark but, well, it's dark out on the ocean at nighttime. But I wanted to give you an idea of what it looks like. You're on a flat bottom boat that can get in shallow water and then it has lights on the front so you can see all manner of sea creatures swimming around. I kept wondering to myself how much money it would take to actually get me in the water and decided there is no amount high enough.
This is blurry but the girls were doing their best version of King of The World from Titanic on the front of the boat as we traveled to a new spot.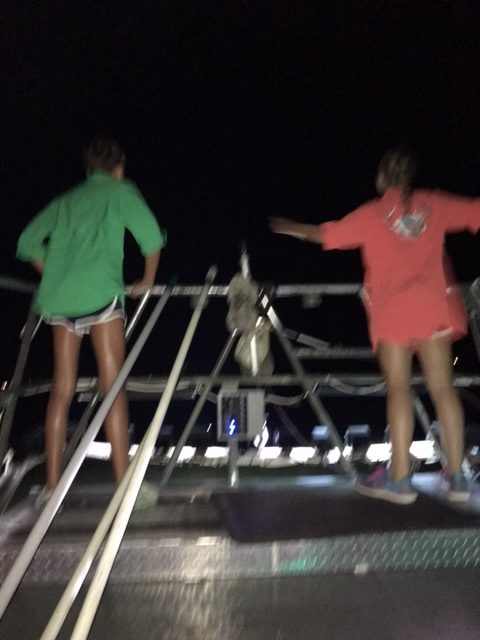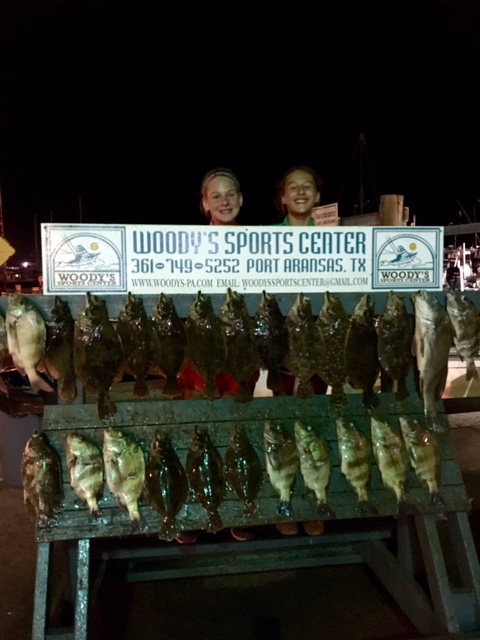 The next morning was Caroline's birthday and so we went to eat breakfast at The Island Cafe because she loves their pancakes. And her friend, Maddy, broke a wire on her braces so we spent some time after breakfast trying to find an orthodontist or dentist in Port Aransas. Thankfully, we found the only dentist on the island.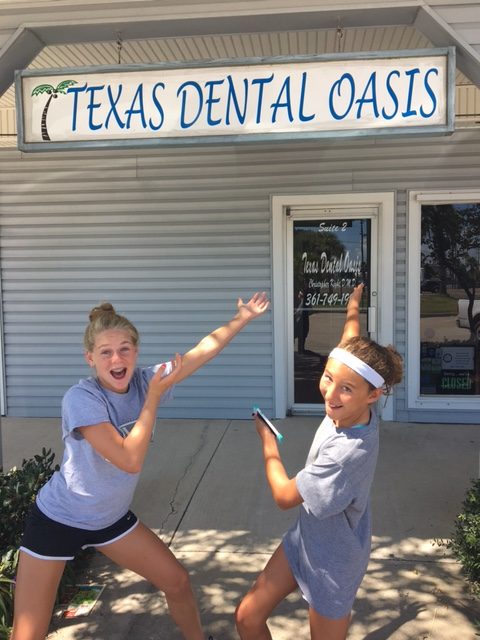 What could possibly go wrong at a place called Texas Dental Oasis?
The truth is we showed up only to find out it was the dentist's day off, but either his housekeeper or dental technician happened to be there and said she could cut the broken wire for us. Desperate times and all. But, whoever she was, she did a lovely job and didn't charge us anything.
After spending the rest of the day back at the beach, we had a little birthday party for Caroline that night complete with a crab boil featuring crabs we caught that day. I have no pictures of the crabs because they asked for privacy.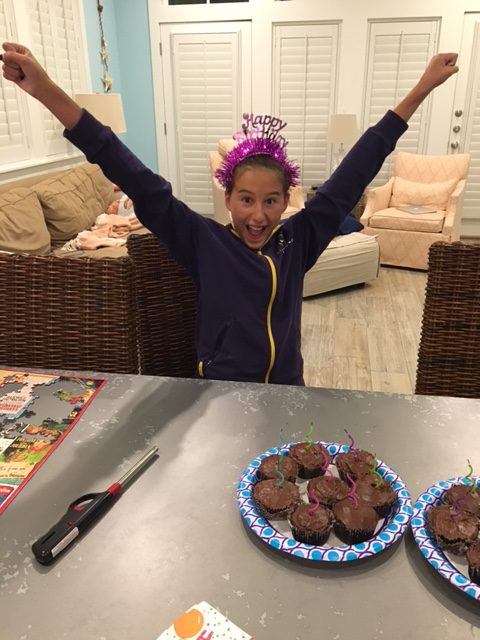 One of her gifts was a sweatshirt that basically sums up thirteen.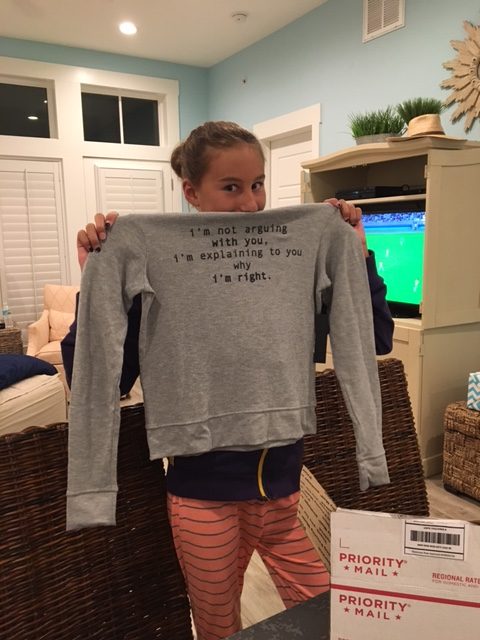 On Thursday we did a little shopping in the morning and took the obligatory Port A picture inside the shark.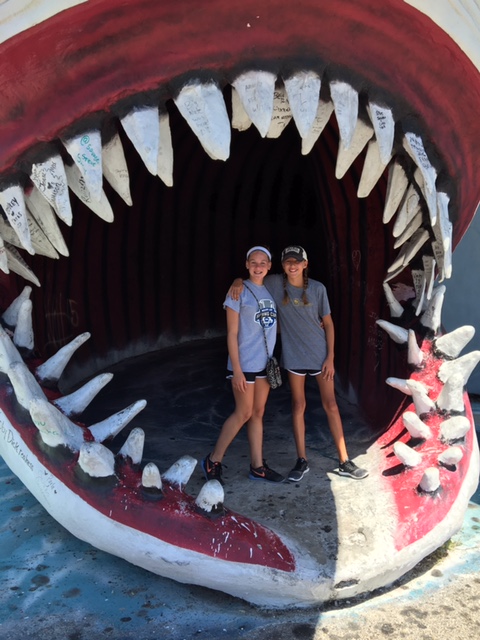 And then we spent a little more time at the beach before packing up, saying goodbye to Port Aransas for another year and heading home.
On Friday morning I picked up Piper and Mabel from the vet where they spent their vacation. We'd tried to tell them it was going to be just like camp, except not fun.
Mabel wrote a haiku about it:
No, no, no, no, no
No, no, no, no, no, no, no
This hurt my feelings
Piper also wrote about it:
THE FOOD AT THAT PLACE WAS NOT GOOD.
And now, much like The Olympics, summer is over. I'm sure I'll feel differently when the alarm goes off tomorrow morning, but it'll be good to get back into a normal routine. Even if that means having to figure out what to put in Caroline's lunchbox every morning.
(Disclaimer: I'm not sure I really believe any of that previous sentence but it's what I keep telling myself.)
Copyright secured by Digiprove © 2016