The Cotton Bowl.
That's all I have to say about that.
Well, except for this. I immensely enjoyed the first twenty minutes. The first twenty minutes were glorious and filled me with hope and joy.
Caroline and I went over to Gulley's house to watch the game with them and eat a little barbecue for dinner. (If you live in San Antonio and have never had the creamed corn from the Barbecue Station then I feel bad for you. Your life is a shadow of what it could be.) I'd brought lunch to Caroline earlier in the day and was telling Gulley that she'd requested Subway and how I am not a fan of Subway but I've discovered that I can tolerate a Veggie Delight on wheat bread with spicy mustard. Gulley remarked that I seem to be into my vegetarian dishes lately and I agreed that I could probably give up meat altogether. However, I feel the need to disclose that I was piling my plate high with brisket at the time. And didn't really even get the irony until about five minutes later.
So, probably not going to be a vegetarian as long as cheeseburgers and brisket exist.
Anyway, we all gathered around the T.V. in all manner of Aggie paraphernalia with great big maroon high hopes. We yelled and cheered and texted our various LSU acquaintances with a little good-natured smack talk. And then, midway through the second quarter, the game and the kids all came crashing to the ground at the same time. Jackson was close to passed out on the couch because he was so tired, while Caroline and Will began to request that Gulley and I referee their argument over some sort of Bakugan toy because they can't just accept that they're exhausted and feel the need to fight over minutiae.
By half time it was clear that Caroline and I should just head home for the second half of the game. This proved to be a good decision as evidenced by the fact that she began to cry over the death of my Nanny's cat, Rascal, during the drive home. It seems less tragic in light of the fact that Rascal has been dead for about three years now. That's what you call MANUFACTURED DRAMA.
I put Caroline to bed and finished watching the game even though I was exhausted and just wanted to go to bed. I held out hope for a comeback long after logic would have said to just go to bed already. Gulley and I texted back and forth and ultimately agreed that watching the Aggies lose the Cotton Bowl in the comfort of our homes was far preferable to January 1, 1992 when we were actually there to watch them lose the Cotton Bowl to Florida State and nearly froze to death and had to share one hot dog between six friends because we were a bunch of idiot college students that had spent most of our money on New Year's Eve festivities which resulted in having to pool together our remaining cash to purchase one community hot dog.
(I know what you're thinking. One hot dog? Freezing cold? Six friends watching our team lose while suffering the after effects of too much New Year's Eve fun? What's not fun about that?)
On Saturday we stayed in our pajamas almost all day. It was cold and dreary and the perfect day to listen to Caroline read some classic literature aloud to me while we sat by the fire. Or maybe we just watched way too many episodes of Phineas and Ferb. I can't really remember.
P got home from hunting by mid-afternoon and then it was time for our big event. Caroline's first basketball game. I don't know when anything has brought me more joy. She'd never really mentioned basketball, but then several of her little friends all decided to play and now it appears that we are into basketball. Her first practice was last Thursday and she came home and announced, "I already know everything about basketball." Which is so impressive considering she'd never even dribbled a ball until about two weeks ago. She's a basketball prodigy.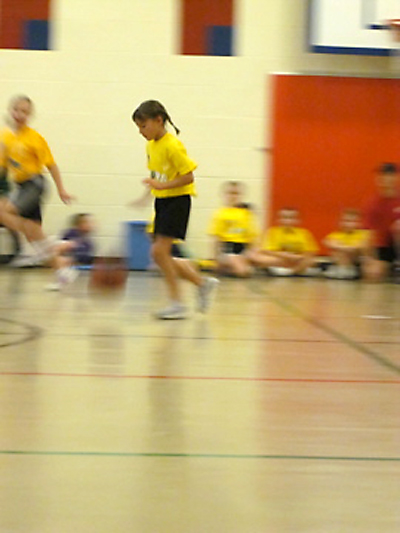 The game was hilarious. In large part because none of the girls have ever really played before and it took them a while to get the concept. For her part, Caroline moved around the court and guarded her opponents in a manner reminiscent of Anthony Michael Hall trying to dance with Molly Ringwald in Sixteen Candles.
In the end our team won 12-8. So I take comfort in the knowledge that at least one of my teams won this weekend.
And I didn't have to share a hot dog with six people.