So last week was all about the ARCTIC BLAST hype. Temperatures in the teens and twenties. ICE. SNOW. PERIL. WRAP YOUR PIPES. FROSTBITE. HUMANITARIAN CRISIS.
At first I didn't believe the talk of snow because I've lived here long enough to know that it's an annual winter tradition for the weathermen to talk about the possibility of snow and then crush your hopes and dreams to the ground. It's also rumored they tell kids the tooth fairy isn't real in their spare time.
But as the week went on and they continued to talk about 3-5 inches of snow, my ice cold, cynical, grinchy heart couldn't help but melt a little. And I rang my little bell and whispered, "I believe, I believe, I believe" to myself over and over again. Suddenly, I had no doubt that we would see snow by the end of the week even though there hasn't been an accumulation of snow in San Antonio since 1985. I was in eighth grade. And didn't even live here. I lived in Beaumont and remember feeling bitterness towards all the San Antonio children who were experiencing a snow day while I toiled away diagramming sentences in Mrs. Cohen's English class.
By last Thursday night, the weathermen were starting to back off their 3-5 inch snow predictions like rats leaving a sinking ship. They all changed their estimates to a trace to 1/2 inch of snow. And we all know that "trace" is just fancy weatherman speak for "covering our rear ends".
We went to bed around 10:30 that night, just as icy rain began to fall. That's all fine and good, but icy rain isn't snow. No one has ever built a snowman out of icy rain.
Friday morning I woke up early and looked out the window. At first glance I couldn't really see anything that looked like snow, mainly because there wasn't really enough accumulation from BLIZZARD 2011 to cover the grass. But then I checked the Twitter and saw that school was cancelled. About that time, Caroline rolled in and said, "PLEASE TELL ME THERE'S NO SCHOOL TODAY. NO! WAIT! I DON'T WANT TO KNOW!"
I walked her to the kitchen windows and showed her that there was, in fact, snow covering our sidewalks, the street, my car, and a few little patches scattered in the grass. And that was how we ended up dressed in our version of South Texas snow attire by 7:30 a.m.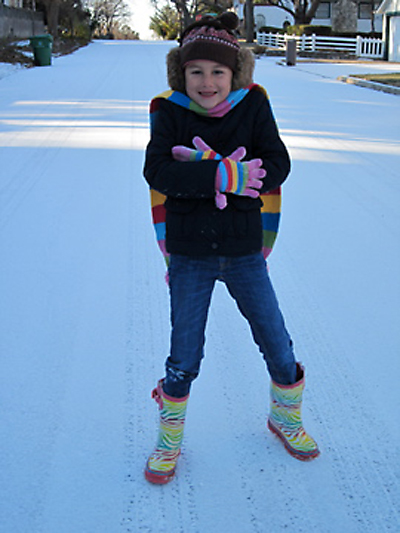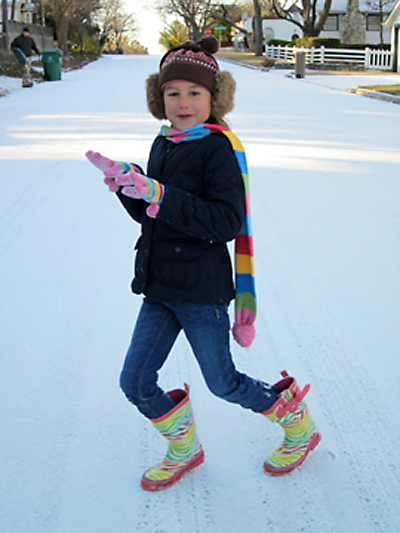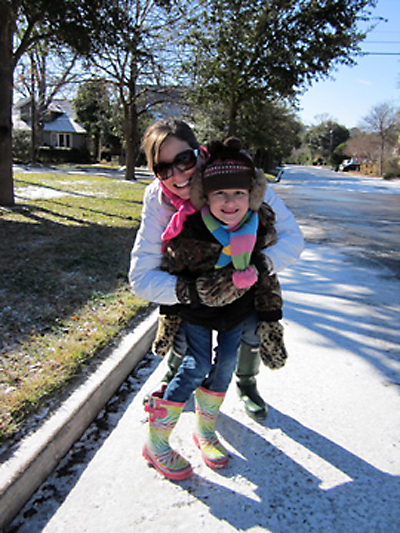 We made snow angels.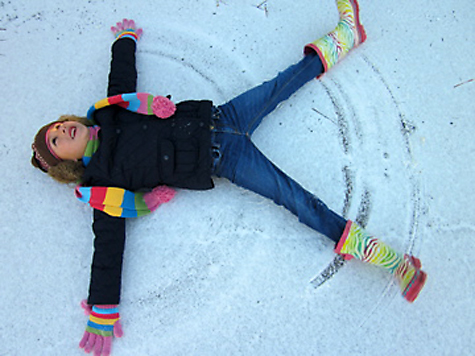 We threw snowballs.
And, of course, we used a plastic washtub as a sled.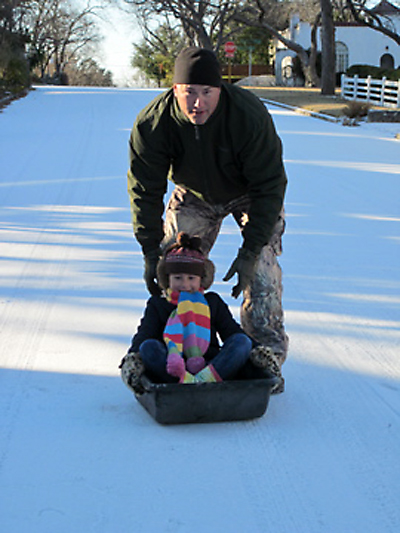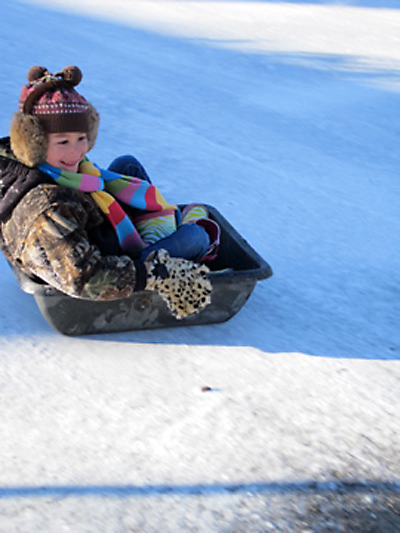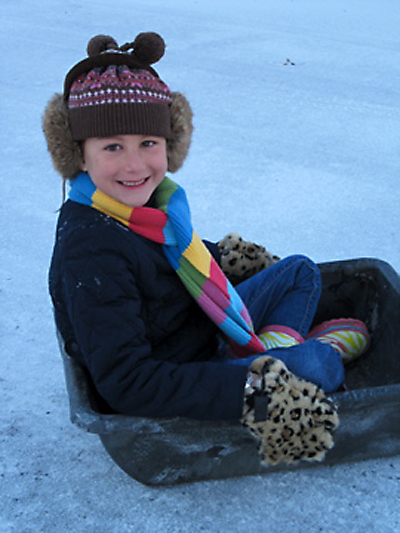 Finally, we made a snowman.
He was a very jolly, yet diminutive, snowman.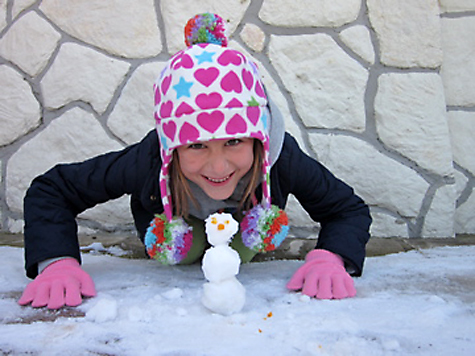 Caroline named him Stanley. His facial features were made of jalapeno Cheetos.
Which seems fitting since Stanley was only hours away from the Mexico border.
And finally, before the snow melted away, we took a walk down to the creek by our house and Caroline spent the next thirty minutes using her boots to break the shallow layer of ice.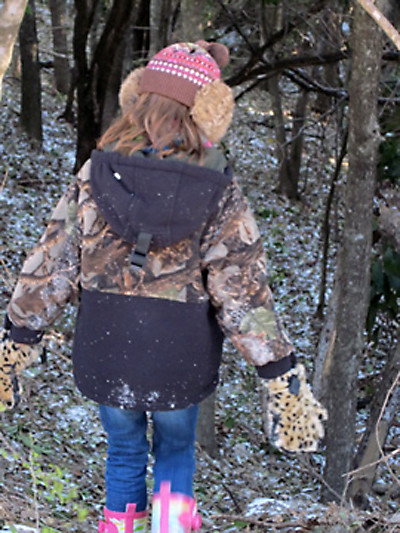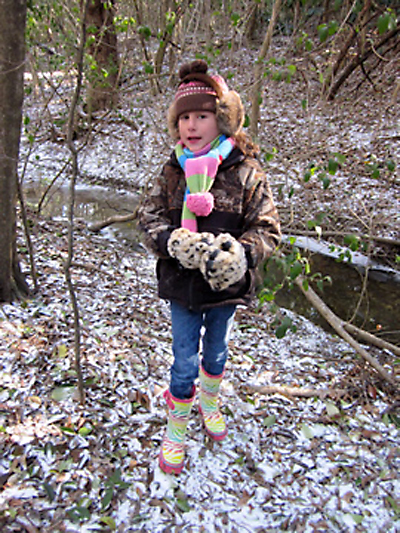 It was all fun and games until she found a patch that was slightly deeper than three inches and the water splashed over the tops of her rainboots. And then it became all ICE. SNOW. PERIL. FROSTBITE. HUMANITARIAN CRISIS.
We took that as a sign it was time to head back to the house to thaw out, drink some hot chocolate and maybe eat some jalapeno Cheetos.
Ultimately, Caroline summed it all up when she declared it "ONE OF THE BEST DAYS OF MY LIFE, EVER!"
It was a great day.
And I'm glad we made the most of it because, at the rate San Antonio normally experiences accumulated snowfall, she'll be twenty-five years old the next time it happens.
But I can't think about that or I'll have to go climb in bed with a box of Kleenex and a bag of jalapeno Cheetos and cry.