On Friday morning I packed up Caroline, my bangs and myself and drove to Houston for the weekend. Yes, I have bangs.
Again.
I blame Reese Witherspoon and her perfect bangs that aren't hindered by a cowlick and an overall spirit of stubbornness.
And I count the bangs as their own entity for the weekend because I am constantly aware of them right now. Where are my bangs? What are they doing? Have they rebelled and gone two separate directions while I wasn't paying attention?
It's not that I don't like them. In fact, I've been plotting to get bangs all summer long. I was just waiting for the humidity to drop somewhere below 152%. I think I just need them to grow out a tad bit longer which is my fault because my sweet hairstylist cut them perfectly the first time and I said I thought they needed to be a little shorter.
I bet Reese keeps her mouth shut when she's getting her hair cut. I bet she doesn't offer her own amateur opinions to a professional.
So, not only does she have better bangs than me, she's also smarter than me.
But enough about Reese.
The trip to Houston has been on my calendar since sometime around last February. Several of Sophie's college girlfriends wanted to get together to celebrate her birthday and decided to have the festivities in Houston where one of them lives. And they invited me to join them for all the big fun.
I'm so glad they did. Not only did I get to spend the weekend celebrating Sophie's birthday with her, but I got to hang out with seven other sweet girls that made me laugh until I cried as they told stories from their college days. And you know what I have to show for it?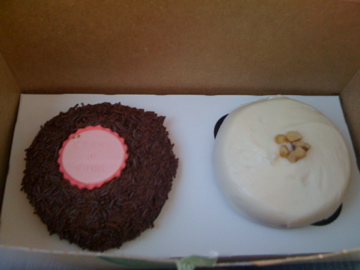 A picture of the cupcakes I bought on Saturday afternoon from Crave Cupcakes. I think the banana one may have changed my life. And I'm not even normally a huge fan of the banana flavored baked goods, but I took a risk. A risk that totally paid off.
Sometime last week I saw something on T.V. that showed how your heart beats after you eat a meal that's high in fat and I'm so sorry I saw it. Because it's a wonder my heart didn't just up and stop after everything I ate this weekend. But there are probably worse ways to go than sitting around sharing massive amounts of the beef fajitas from Lupe Tortilla while singing Total Eclipse of the Heart with eight other girls.
The whole weekend was so much fun. There were pedicures and cheeseburgers and college football games and shopping. Oh the shopping. We debated the merits of various booties and the practicality of the open-toed bootie. And Sophie's friend, EK, found a dress at Marshall's that I'm still thinking about. The only thing that soothed my disappointment over the lack of additional dresses was the fact that I bought a really cute shirt at Nordstrom Rack for $4.00. FOUR DOLLARS.
In the meantime, I'd dropped Caroline off at a hotel where she spent the weekend with Mimi and Bops. She told me she "wasn't sure how she was going to make it until Sunday" without seeing me, but I think she felt better after she bungee-jumped at The Galleria for about her fourth time. Bless her heart, it makes me so sad to think of how she had to endure being spoiled rotten all weekend long.
And so on Sunday morning, I said goodbye to my new friends and went to meet Mimi, Bops and Caroline for breakfast. You'll be glad to know she survived the weekend and found comfort for her soul by jumping back and forth between the beds in their hotel room.
We headed back to San Antonio and I was so tired that the only thing that kept me going was a steady rotation of 80's Hits on Pandora. I owe Eye of The Tiger a debt of gratitude for giving me a little pick me up sometime around Seguin when I hit the wall and felt like I couldn't go on anymore.
Now I plan to sleep for about four days. And dream about banana cupcakes with cream cheese frosting.
And to my dear friend, Sophie. I'm so glad I was able to spend your birthday with you and some of your oldest friends. Thanks so much for including me in all the fun.
Even though it sounded like we found each other through EHarmony every time we told the story of how we met.