Stop.
Seriously? Third grade.
How did that happen? Especially considering she was born two days ago. And I'll blink and it will be time for Christmas vacation and then she'll be packing up her car and heading out for college.
Oh I know. I'm being dramatic. But not nearly as dramatic as I was last year. My word, I went back and read last year's post about second grade and wanted to tell myself to REIGN IT IN LUCY. However, I do think all my initial instincts about last year proved to be mostly right. Second grade will not go down as my favorite.
(Smiling is my favorite.)
(That has nothing to do with anything but I had an Elf moment and went with it.)
(Also, P is watching some show called The Blue Planet about what lives in the Deep Sea and I'm having a hard time keeping a train of thought going for all the freaky things that live way down deep in the ocean.)
(It has solidified my goal to never scuba dive. It's just asking to be a part of the food chain.)
Okay, third grade. I believe I mentioned that we found out at the end of last year that Caroline was going to get to have her first grade teacher again this year. And that brought much joy and happiness to our house because she is the kind of teacher that you wish could just follow your child all the way through twelfth grade. So I had absolutely no anxiety about this new school year. Which is remarkable considering I can work up some anxiety about which kind of bread to buy at the grocery store.
And Caroline was beside herself with excitement to begin another year with Miss C. In fact, while I made her pose for an interminable number of pictures yesterday morning, I asked "Are you ready for third grade?"
And in response she struck this pose and yelled "GIDDY UP!"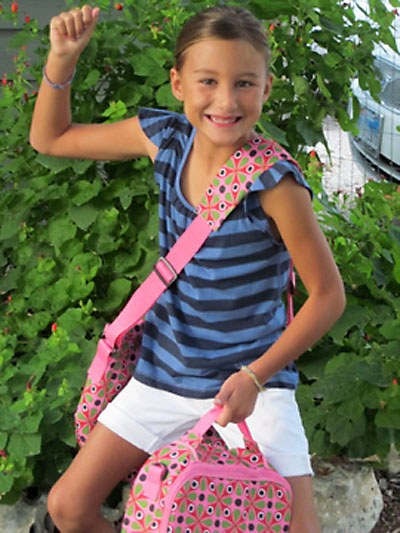 I believe that means yes.
P and I walked into school, kissed her goodbye, took a few more pictures and walked away with nary a tear. Because it all felt great. Until I realized it was time to pay the summer piper and Couch to 5K some of the bean and cheese nachos I ate for the last three months at the pool.
But then I met Gulley and we did some shopping and ate some lunch and discussed multiple topics of conversation without one single interruption. It's amazing the ground we can cover when not refereeing arguments or doling out snacks. After lunch I made a quick trip to HEB and engaged in a sport I like to call HOW FAST CAN YOU GET HOME BEFORE THE MILK GOES BAD BECAUSE IT'S SO HOT THAT STANDING UNDER A HAIR DRYER MIGHT SEEM REFRESHING?
Finally it was time to go pick up Caroline from school. She bounced out with her arms around two of her girlfriends and declared it "THE BEST FIRST DAY OF SCHOOL EVER" especially because they "hardly had to write AT ALL today". Yes, that's the best measure of a good day.
We met some friends for ice cream, then came home and I spent the rest of the afternoon watching her tear around our house with a degree of energy that would make a tasmanian devil on amphetamines wish he had that kind of zeal for life. At one point she actually stood on top of the dining room table and I had to ask if she'd lost her mind.
She told me she couldn't help it but she was just SO EXCITED about school.
And that makes me happy.
But I'm still going to need her to get off the dining room table.
Copyright secured by Digiprove © 2011