Well the first thing I need to tell you is that I found my power cord after an exhaustive search. And it wasn't in the trash which I'm going to claim as a victory. Instead, it was safely tucked away in an outside pocket of my suitcase. A pocket I didn't even know existed except for apparently I did because I decided it was a good place to put my power cord when we left for the beach last Thursday. Honestly, I don't even know why I checked my suitcase one last time, but I think it was related to the sheer agony I felt every time I thought about doling out $80 for something I already owned.
But, now! Just think of all the cute stuff I can buy with the $80 I saved by finding my power cord in my suitcase. It's like I just found free money.
(I'm not sure why my version of economics frustrates P so much. Clearly, it's very sound and logical)
In other news, Caroline had her first day of school yesterday and it turns out she was totally ready for second grade.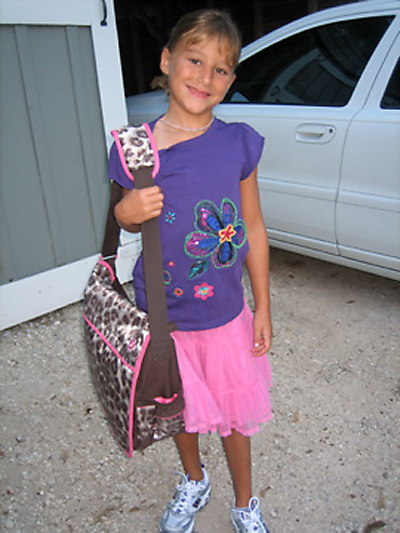 And it turns out that I wasn't.
I truly thought I was ready. We got home from the beach on Sunday afternoon, packed and labeled all the school supplies we bought a month ago, and discussed what she wanted in her lunch the next day. We'd even gone through her closet trying to find an appropriate first day of school outfit that we both deemed acceptable. The whole wardrobe issue was filled with drama and tension and "WHY DON'T I HAVE MORE CLOTHES WITH SEQUINS?!", but we ultimately reached a compromise. However, in the end, I should have just dressed her in sackcloth and ashes to match her pathetic mama who spent the rest of the day after drop-off in a state of mourning and wailing and hand-wringing.
P woke us up about 6:45 and I staggered into the kitchen to fry an egg and heat up a frozen waffle. Caroline ran in her room to get dressed and brush her teeth, then came back out holding her hairbrush and asked if I'd curl her hair with a curling iron. So I meticulously curled her hair only to have her decide it was too poufy and request that I pull it back in a ponytail even though P tried to convince her that the humidity would cause it to fall after about two minutes outside. (How much do I love P and his ability to be in touch with the issues that face women?)
By the time I finally got her dressed and ready, I had approximately twenty-eight seconds to pull my hair back and throw on the first thing I found. We walked to her new classroom, met her teacher, kissed Caroline goodbye and headed back home. As soon as we walked in the back door, P took one look at me and said, "You'll feel better after a good cry". And then I just fell apart like a big old sentimental sap that I would have totally made fun of less than ten years ago because PULL YOURSELF TOGETHER, NANCY. IT'S SECOND GRADE, NOT VIETNAM.
I'm not sure why second grade hit me so hard. I have theories that involve things like getting a teacher that we don't really know anything about, only knowing one other child in the class, and the way Caroline seemed so apprehensive when she kissed P and me goodbye, but I think the ultimate cause may be more related to the perfect storm of getting home from a fabulous trip to the beach, my ever present hormonal fluctuations, and OH MY WORD MY BABY IS A SECOND GRADER AND I'M NOT SURE HOW THIS HAPPENED AND I AM GOING TO NEED TIME TO STOP IT.
Because when I picked her up yesterday afternoon, she could not have been happier. She hugged her old friend and a new friend goodbye and strolled to the car while announcing it had been a great day. Although she did tell me that during reading time she traded books with one of the other kids in the class because the teacher didn't say they couldn't trade books. But then her teacher said they couldn't trade books with each other and Caroline told me, "I wanted to tell her, 'Then you should have told us that in the first place, GIRL'." Which probably would have been an opportune time to explain why you shouldn't refer to your teacher as "GIRL", but I didn't want to kill her first day of school buzz.
And so it begins. Tomorrow I'll drop her off again and we'll wash, rinse and repeat for the next I-don't-really-want-to-think-about-how-many days.
Here's hoping I can get through the rest of them without crying every five minutes.