So Gulley and I were talking about a variety of topics yesterday, everything from our favorite contestant on American Idol to the American involvement in Libya. Because we pride ourselves on being well-rounded.
(In case you're wondering, Paul McDonald is my favorite on Idol right now. He just has that whole quirky, raspy-voiced thing going on that I adore. Also, Gulley and I got really tickled because one of the kids in her pre-school class told her he loved American Idol because that funny-looking grandma always says hilarious things. The funny-looking grandma would be Steven Tyler. I'm not sure that's the look he's going for.)
Anyway, one of the things we discussed was how late Easter falls this year. It's April 24th for those of you playing along at home and that is WAY LATE compared to all Easters in my recent memory. Our discussion led us to this question: if it's already 90 degrees outside but Easter isn't until April 24th, when is it okay to wear white pants?
I'm not as concerned about white shoes because I fundamentally don't believe in white shoes for females over the age of ten. Don't hassle me about it. It's just a personal opinion.
And I realize that we are living in 2011 and people really have bigger concerns (like Libya) than when to wear white pants. I am aware we live in a world where people wear white pants all year round. I just need to know that my great-grandmother won't be turning over in her grave if I decide to break out the white jeans sometime around mid-April instead of waiting until the day after Easter.
Any thoughts or advice would be appreciated.
Speaking of Easter, I thought it might be fun to look at some good options for Easter attire today. If you don't agree with me, please don't let me know. It took me a long time to find ten dresses I actually liked.
They just don't make them like Leslie Lucks used to with big sailor collars that require you to turn sideways when you walk through a doorway.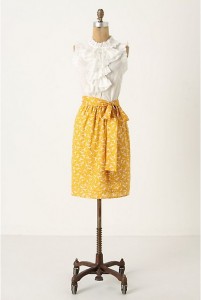 As usual, Anthropologie has my heart. And, honestly, this dress is pretty reasonable for Anthropologie who generally likes to charge you $300 and the right to name your first born child.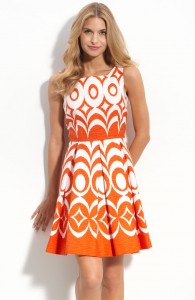 I'm always looking for anything besides a floral print because I struggle with floral prints. I love that this is bright and feminine without flowers.
3. square neck matte jersey dress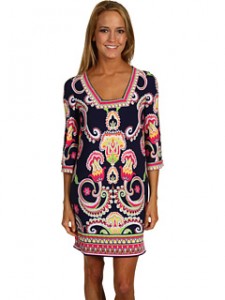 Love the colors and I bet it's so dang comfortable.
4. bell sleeve paisley empire waist dress
I really love the hot pink and black together and this style of dress is usually flattering on everyone.
5. brilliant in bolds floral skirt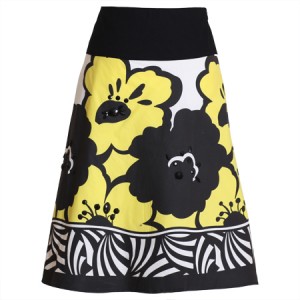 What? A skirt? For Easter? MADNESS.
But how cute would this be with a pretty shrunken yellow cardigan? Very Betty Draper.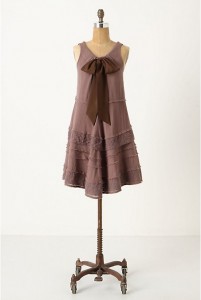 This is definitely non-traditional but I really like it.
7. hot pink sleeveless with flared skirt
Love the hot pink. I think it would be darling with some turquoise accents to spice it up.
8. yellow sleeveless printed dress
See? Another bright, pretty dress with no flowers.
I love this tunic and it would be great paired with some white skinny, cropped pants. Plus you could wear it all summer long.
I'm also a big fan of this ibiza tunic. Might be cute worn over cropped leggings with some pretty bejeweled sandals.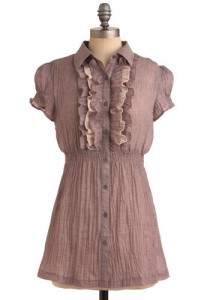 You can't go wrong with a pretty top. I really like this one. Or maybe something like this printed ruffle top which is about as close to a floral print as I'll ever get.
BUT WAIT. THERE'S MORE.
Here are a few cute dresses for little girls I've found in my search for Caroline's Easter dress.
I love these vintage dresses from Boden. Caroline nixed this one though because she's trying to kill me.
2. kissing kumquats knot dress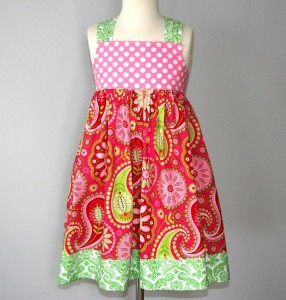 I adore this. ADORE. Just so cute and they come in some many fabric combinations.
3. blue church flowers knot dress and peasant pants
There again, I love this. But Caroline would rather kick the Easter bunny than put on anything this ruffly at this point in her life. However, if she were three years old, this would have been a contender.
4. eyelet pillowcase dress with monogram
I've always loved pillowcase dresses. Just so old-fashioned and pretty.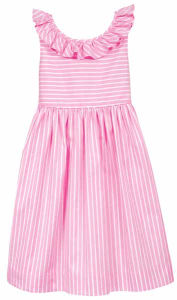 I love this. And I would love it more with a big monogrammed "C" on the front.
That's it for today.
Y'all have a great Friday.