I've already started this post once and then WordPress decided to delete it just about the time I was halfway finished. Or maybe I pushed the wrong button. I'm not sure, but it feels better for me to blame WordPress.
So I never talked about what we did last weekend. And now it's Wednesday which is almost the next weekend and it seems kind of pointless to write about something we did almost a week ago. But given that there is nothing new and exciting going on here, I'm going to go with it. Plus, what if a day comes when Caroline pulls up the blog because she is desperate to know how she spent the weekend of February 11, 2011 and is left with lingering questions regarding her whereabouts.
The San Antonio Stock Show and Rodeo is in town right now. Otherwise known as one of my favorite times of the year. Normally the kids get out of school at some point during rodeo season, but that isn't the case this year for reasons known only to some bigwig administrators who probably scoff at the thought of chicken-fried bacon and moon pies. Fortunately for Caroline, P and I believe strongly in the importance of teaching our child the merits a good ferris wheel ride, the proper way to eat a funnel cake, and a hands-on example of why you don't want to grow up to be a carny.
(Carnies. Circus folk. Nomads, you know. Smell like cabbage. Small hands.)
We picked her up early from school on Friday under the guise of an appointment. Yes, she had an appointment. An appointment with fun.
Every Friday is dollar day which means admission and all rides only cost a dollar. This helps offset the sting of paying $50 for a couple of corndogs and a lemonade. I'd complain more about the rodeo food price gouging, because I may not be a smart man, Jenny, but I know the cost of making a corndog, but I have to admit that those corndogs are worth every penny.
After a quick stop for a nutritious lunch of corndogs dipped in diamonds and rolled in gold, Caroline wanted to check out the rides. She decided to start small.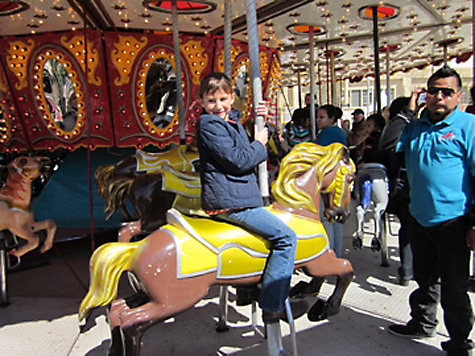 The inclusion of the carny in this picture is just a bonus.
She quickly realized she was ready to move on to bigger and better things and pointed out the Gravitron, intrigued by the spinning and loud music coming from the inside. P and I were quick to regal her with horror stories involving the loss of recently eaten corndogs because there was no way either of us was going anywhere near that sucker. If I wanted to be spun around so fast that gravity becomes a non-issue, I'd have been an astronaut.
We all decided to ride the ferris wheel instead and I hung on for dear life as we moved around and around at two miles per hour while P kept telling me to look down at how high we were and I tried not to hyperventilate while I wondered why we were married. I'm not sure what's happened to me since my childhood days riding the Texas Cyclone repeatedly at Astroworld, but I've become a bit of a ride coward. They mess with my equilibrium or inner ear or something. Caroline and I rode the Tower of Terror last year and I wasn't right for about six days after the fact.
I decided to be a carnival spectator while she and P went on a series of rides that featured things like spinning around in circles at terrifying heights.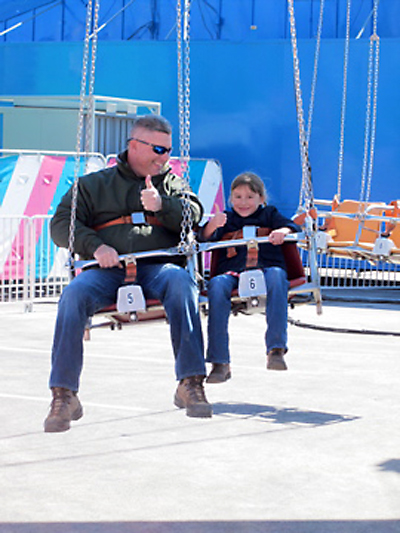 I feel sick.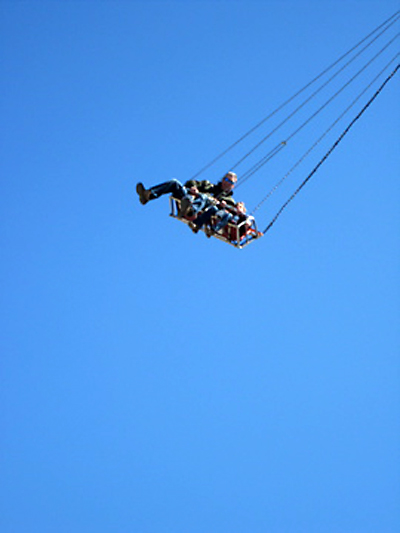 I can hardly bear to watch.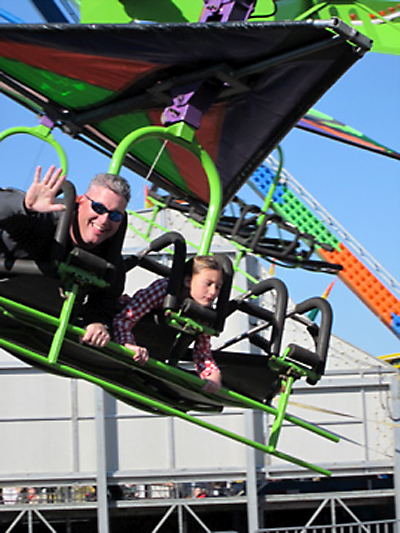 After they rode several more variations of rides that go fast and defy gravity, including one called Crazy Mouse, we decided to move on to my area of rodeo expertise. Eating funnel cakes and walking around through the barns to look at the cows and the pigs and the baby chickens. Which is where Caroline totally scored a set of pig's ears.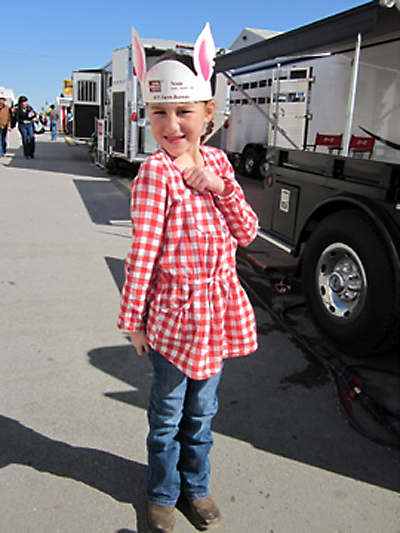 We finally headed back home after a big day of fun and all went to bed with stomachs that felt just a little bit off. I'm sure it had nothing to do with the corndogs or the funnel cakes or the rides that spun us upside down.
The next morning I went to HEB because we were having some friends over for dinner and we believe that food is an important element of any good dinner party. And then I came home and Caroline helped me clean the house before we left to attend Will's birthday party. I'm sure it will come as no surprise that he had an Ugly Doll birthday cake.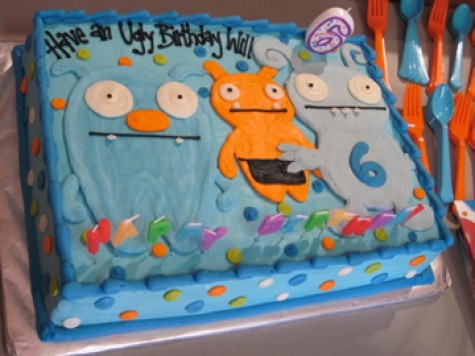 After a big time at the party, we went straight to Caroline's basketball game where she scored two goals. And then she smiled so big her face was probably sore the next day.
Our friends came over for dinner later that evening and we had a great time. And then I fell into bed where I could have stayed for the next three days.
But instead I got up for church the next morning. Ate Chinese food for lunch and spent the rest of the afternoon helping P work in the yard because our yard looks like a testing site for nuclear weapons. It would be nice to call a landscape company to come take care of it for us, but P owns a landscape company which meant we had to rake it all ourselves.
On the plus side, I believe we worked off a little funnel cake.
And that's what we did last weekend.
**Don't forget that tomorrow is Book Club day. Can't wait to hear y'alls thoughts!***