We are now thirty-six hours out from the stomach bug and the rest of us have remained unscathed. I can only attribute this to prayer because there is no good reason why all of us shouldn't be hanging over a toilet.
But instead, Will popped out of bed yesterday morning like nothing had ever happened. Which you have to admit is impressive because I'd have been in bed all day if I'd been as sick as he was on Tuesday.
By the end of the day, we'd made a trip to Target where the kids amused themselves by trying on sunglasses.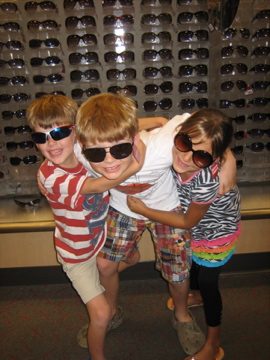 But right now Gulley and I are in the middle of a serious discussion which may or may not result in us solving all the world's problems.
I'll keep you posted.