1. Before I say anything else I just have to say thank you for the encouraging comments yesterday. Sometimes it's hard to know how vulnerable to be on the world wide web and I wish we could all have a group hug.
I can't remember if I read this somewhere or heard it somewhere or if I just thought it up on my own (let's pretend it's the last one), but I think the world would be a kinder place if we kept in mind that all of us have some cracks in our hearts, even if they don't show on the outside.
2. Speaking of things that are broken.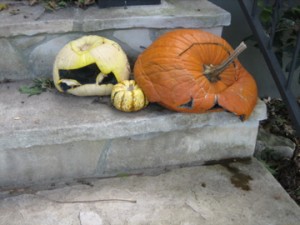 Something has gone terribly awry with our jack-o-lanterns.
P and I have been involved in the Great Pumpkin Standoff of 2010. Neither of us wanted to be the one to go shovel those suckers off our front steps so we both pretended they weren't there.
But I finally caved yesterday.
I blame the fruit flies.
3. I would pay $50 for a box of Hot Tamales right now.
4. Last night we were eating family dinner and P told Caroline and me about a snake he'd seen earlier in the day while he was working at the ranch. Apparently it was only about eleven inches long and looked just like a baby rattlesnake but didn't have a rattle. And when he picked it up, it coiled up into a tight little circle and stayed that way even when P tossed it from one hand to another.
Please take a moment to process that last sentence. WHY WOULD HE PICK IT UP? WHY?
So I asked, "WHY DID YOU PICK IT UP? HOW DID YOU KNOW IT WOULDN'T BITE YOU? HOW DO YOU KNOW IT WASN'T A BABY RATTLESNAKE THAT WAS MISSING A RATTLE?"
He looked at me as if I were the crazy one and replied, "I knew it wasn't poisonous because it had a pointed tail".
Oh, well sure. It had a pointed tail.
And then Caroline said, "DID YOU KNOW IF YOU DIE IN THE JUNGLE THAT ARMY ANTS WILL EAT YOUR ENTIRE BODY?"
I am a stranger in my own home.
5. I downloaded Dave Barnes' new Christmas album, Very Merry Christmas, yesterday and it is delightful. And it's only $6.99 on iTunes right now.
That's a lot of Christmas for not very much money.
6. The door guy still hasn't shown up to replace the window in the new front door. And yesterday P asked me if I paid him in full. Which, YES, I did.
And so now I'm worried that I might be stuck with a piece of plywood in my new door until I actually call a glass company. I think we all know that may never happen.
7. Does anyone have any suggestions on where to order some cute and unique Christmas cards? I know about Shutterfly and all those places, but I was hoping for something a little different.
8. Swanson broth is giving away a $500 gift card right now. Click on over to my giveaway page to find out how to enter. It couldn't be easier.
9. I'm adding this one late, but I just read this post by Jon Acuff this morning and adore it.