We were at the pool for five and a half hours yesterday. And while that's not a personal record, it comes pretty darn close. It also explains the sunburn on my shoulders and my inability to form proper sentences at the moment.
But here I am anyway.
I'd also like to give a shout out to whoever decided to add soft pretzels to the pool menu. Before this summer I never sat around at the pool and thought about how much I'd like a soft pretzel, but now that they're available I'm not sure how I survived without them.
So, where was I when I realized I was over my self-imposed 1,000 word limit and ended yesterday's post?
We went to a wedding. Actually we didn't just go to the wedding, but P actually performed the ceremony because he is a licensed minister. Like a real licensed minister, not just some type of internet licensed minister. He can marry people or bury people or landscape your yard. He can also bring home the bacon and fry it up in a pan. P is what some folks may call a renaissance man.
Anyway, about three or four weeks ago, our friend, Stewart, called P to let him know he'd proposed to his girlfriend, Hannah, after three years of dating. This was especially significant to us because P is the one who set up Stewart and Hannah in the first place. So, oh yes, P can also add successful matchmaker to his resume.
Stewart asked if P would be willing to perform the ceremony and, by the way, they were planning to get married in less than a month. It would seem that after three years of dating each other, they didn't feel there was much point in wasting any more time.
And that is how we ended up making the forty-five minute drive to Comfort, Texas on Sunday afternoon for one of my favorite weddings ever. Stewart and Hannah knew they didn't want to do anything big, no Bridezilla or Brides Gone Out of Their Minds or Whacked Out Brides, just a simple wedding surrounded by their immediate family next to the Guadalupe River.
After P and Caroline picked me up from the airport, we picked up breakfast tacos so I could get a quick Mexican food fix. Then went home so I could unpack and repack. Caroline decided to help me and critiqued my choice of wedding attire by informing me, "All that dress says is 'I LIKE BLUE AND GREEN AND THAT'S IT'." But it was the only dress I had that was ironed and ready to go so I packed it anyway. Along with the Spanx I have to wear under it. Which Caroline referred to as "Mama's bloomers".
Yes.
Mama's bloomers.
(Also, spellcheck doesn't recognize the word "Spanx". Clearly spellcheck has never had to worry about creating a smooth silhouette when you're on the precipice of forty years old and have had a child.)
We dropped Caroline off to spend the night with a friend and we made the quick drive to the Haven River Inn in Comfort. The rest of the afternoon was spent swimming in the river with both families, including the bride and groom. Except the bride didn't really swim because she didn't want to get her hair wet and have to mess with washing and drying it before the wedding.
See what I'm saying? That is a relaxed bride.
Eventually it was time for us to all get ready and we went to our rooms to get dressed so we could meet back down by the river at 7:00 p.m. for the ceremony. This is where I regret to inform you that I have no pictures of the ceremony because I served as the videographer.
What? You didn't know I had videographer skills?
That's because I don't.
A fact that I repeatedly told the bride who insisted, "How bad can it be?" A question that we'll be able to answer after watching the video I took with a borrowed flip video while I prayed that the Lord would perform some type of fishes and loaves miracle on my paltry video abilities.
The ceremony was simple and beautiful. In fact, I told P that it's exactly how I would do it if I found out tomorrow that we weren't legally married and had to do the whole thing over again. I'm going to ignore his reference to a GET OUT OF JAIL FREE CARD.
He is hilarious.
And, also, we are very much legally wed. I double-checked.
But in all seriousness, of all the weddings I've ever attended I don't know if I've ever seen a more joyous bride and groom. There is something to be said for simplicity.
After the ceremony, the bride's parents had planned a beautiful dinner at Riven Rock Ranch. It was unbelievably beautiful. The food was amazing and the scenery was even better. Oh, and look! I actually have a picture of our tables.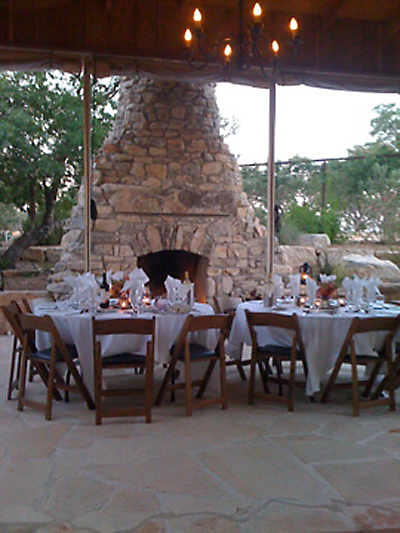 Please notice there are no people seated at those tables. I am a whiz at capturing the real moments.
But I did manage to get one quick picture of the bride and groom with my phone. Heaven forbid I should use a real camera that takes a high-quality picture.
On the way home the next day, P and I talked about how blessed we felt to be a part of such a special day. There are just some moments you know you'll never forget and this one was even better because we've been a part of Stewart and Hannah's relationship from the very beginning and we love each of their families so much. To see them all brought together was evidence of one of God's best plans.
And here's where I'd normally wish them all the happiness in the world.
Except I think they've already found it.
Copyright secured by Digiprove © 2011