Well.
It is with great regret that I inform you a member of our road trip crew succumbed to a stomach virus yesterday morning. Specifically it was Gulley's youngest son, Will.
If you'd told me the night before that one of us was going to get sick, I would have placed bets on myself because I made the questionable decision to wolf down those three Taco Supremes. I told Gulley I felt certain eating lettuce from Taco Bell in these questionable bacterial times was a foolhardy choice.
I woke up feeling fine yesterday morning. At least as fine as you can feel after being wedged into the top bunk of a simulated log cabin with a child who likes to practice high kicks in her sleep. However, Will woke up and wandered out to the main part of our hotel room looking a decidedly pale shade of green and shortly began his day of throwing up every thirty minutes.
Which basically solidified all my theories about water parks. They are just Chuck E. Cheese in aquatic form.
When it first began we hoped it would just be a fluke thing. So AJ and I took Jackson and Caroline back down to the water park to play until it was time to check out. But first, we took pictures in the log cabin.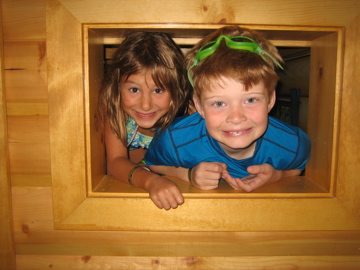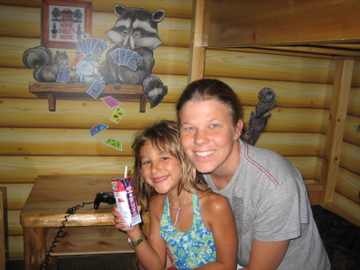 Then we went downstairs and rode all the different slides because the lines are surprisingly short at 9:30 a.m. When we got back up to the room we discovered Will wasn't any better. Our plan was to head to Bryan to see Gulley's mama, so we called to tell her we were coming and bringing the plague with us. And, bless her heart, she told us she couldn't wait to see us.
So we dropped AJ off at home, loaded up plenty of plastic bags, and headed to B/CS. Gulley sat in the back seat with Will and made good use of those plastic bags every 20-30 minutes. Not even Sonic ice helped him.
Eventually, we had to make a restroom stop and there was Buc-ees in Madisonville shining like a bright beacon of hope and comfort. Gulley stayed in the car with Will while I took the kids in to use the bathroom and fortify ourselves with Buc-ees snacks.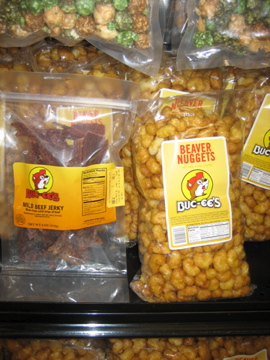 And maybe get a photo op with a stuffed beaver.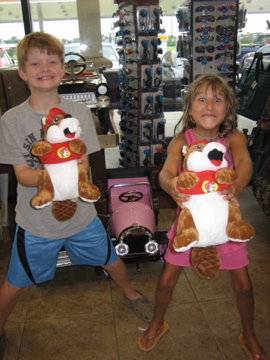 Can we examine why my child has to make the same facial expressions as stuffed things?
Exhibit A: Queen Esther puppet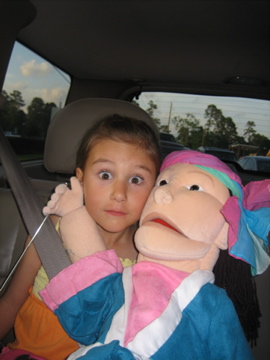 It's like a compulsion.
Anyway, we loaded back into the car and I passed the beef jerky to Gulley. We decided there is really no better indicator you're a mother than the ability to catch throw up in a plastic bag, disinfect your hands, and ask your friend to pass the beef jerky and the Beaver nuggets. It's like a unique skill set.
About that time AJ texted us to let us know she'd come down with the plague. Which serves to confirm that no good deed or visit to a water park goes unpunished.
We finally arrived in Bryan. Will officially reached the twelve hour mark of not holding anything down so Gulley took him to the med clinic where they administered anti-nausea medication and, ultimately, a therapeutic mixture of Gatorade and Sprite. They knew he was feeling better when he looked at the nurse and said, "You're gonna need to get me some more of that".
As for the rest of the crew, we have thus far dodged the stomach bullet and are taking intermittent baths in Purell while saying our prayers.
I'll let you know tomorrow if it works out for us.