I knew going into this past weekend that we had absolutely no plans other than Caroline's first soccer game and I could not have been more delighted at the lameness of our social calendar. And I'll have you know that it lived up to my expectations. It was everything I dreamed of and so much more. There were naps on the couch, movies, rain, college football, Mexican food, naps on the couch, college football, more rain, and barbecue.
And more naps on the couch.
Other than the fact that the Aggies came within minutes of losing to Florida International University, it was perfection.
(If you're thinking to yourself, "Florida International University? I've never heard of them." Yes. That's my point.)
On Friday afternoon I pulled up to pick up Caroline from school and noticed that the Kona Ice Cream truck had descended on the premises. It's not that I begrudge the Kona Ice Cream man the American dream and capitalism in the form of school children begging their mamas for snow cones. I admire his business savvy. I bet he got an A in his Marketing 301 class, unlike someone else I may know.
The problem is that the Kona Ice Cream truck only takes cash. And I never have cash. And so I'm forced to dig in every corner of my purse and the floorboards of the stay wag in the hopes of coming up with $2.00. Fortunately I had a stockpile of quarters hiding out in my makeup bag because Caroline was so excited to see the truck across from the playground playing "Don't Worry, Be Happy" that she tripped and fell as she walked out of school. Normally this would turn into a scene out of a Greek tragedy but SNOW CONES.
We met up with some of her other friends at the truck and somehow I ended up with a car full of four seven-year-old girls all hyped up on snow cone syrup and the thrill of a Friday afternoon. They came over to the house where they spent the next two hours ridding my pantry of Halloween Oreos and trying to break the sound barrier. At one point they were loud enough to scare our dog Scout. Which is saying something because he didn't even hear me open a bag of Sun Chips last week.
Saturday morning marked the fall debut of the Cheetah Girls. You will notice that we are sporting some sassy maroon uniforms this year.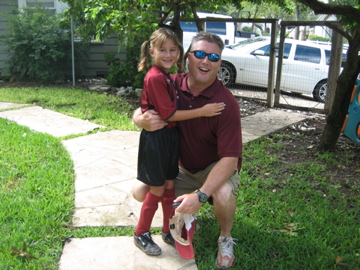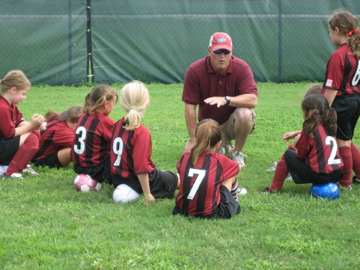 Some people thought we chose maroon on purpose because we're Aggies, but the truth is that P went to the meeting and the other coaches grabbed the pink and the purple first.
And it turns out the maroon fits us this season because the Cheetah Girls came to play. They were fierce.
The game ended just as the rain started and we spent the rest of the afternoon hanging out at the house. Which gave me a lot of time to look at my turquoise kitchen and contemplate all my complex feelings regarding both the color and if I had the strength to paint it all over again because OH THE TRIMWORK AND CABINETRY THAT HAS TO BE TAPED OFF.
Ultimately I think the turquoise kitchen has been like a summer romance. It was good in theory, but we just didn't have what it took to make it last. We were too different. We wanted different things. We were headed different directions.
We were like Sandy and Danny.
"I'm going back to Australia; I might never see you again"
"Don't talk that way, Sandy"
"Is this the end?"
"Of course not; it's only the beginning"
Except it is the end because the turquoise kitchen, no matter how pretty the color may be, doesn't fit with the rest of the house. And part of me wishes I could change the rest of the house to match the turquoise kitchen but who can afford all those hot pink neon signs that say "TACO TUESDAY!" or "CERVEZA!"
So I'm all "What happened to the turquoise I met at the beach?" and "You're a fake and a phony and I wish I never laid eyes on you".
And then I throw down my pom-poms, stomp off in tears and end up spending the night with the girls where I let Frenchie attempt to pierce my ears using only a needle and an ice cube.
Except none of that actually happened.
Instead, I took Caroline with me to Home Depot yesterday and I bought sixty-four rolls of painters' tape to tape off the entire kitchen and a gallon of Martha Stewart's chocolate truffle paint. Then I spent part of the afternoon removing switch plates and taping off everything that I didn't want to become chocolate truffle.
And now it looks like this.
Because you didn't actually think I got to the painting part, did you?
Looking at that photo makes me realize I should probably take the pictures off the wall before I get started.
Which will happen later today.
Because today?
We rumble.
Or we paint.
Or whatever.