On Saturday morning Caroline and I have an 8:30 a.m. flight to Alabama where we will be picked up by Sophie and Alex and we'll all head to the beach. Needless to say, my last few hours have been spent in a fury of strategic packing because I am determined that we will make this trip with one carry-on bag and a backpack. It's an ambitious goal, but so is drilling for oil in the Gulf and look how well that's turned out for everyone.
And, seriously, if P asks me one more time if I'm packing HazMat suits for Caroline and me, it will cease to be mildly amusing.
The truth is that I grew up going to the beaches in Galveston in the 70's and 80's. I didn't even know there were beaches without tar and oil until I was fifteen years old. I thought everyone picked out their oldest bathing suit to wear to the beach and had to wipe themselves down with gasoline at the end of the day. It was the price you paid for lounging in the sun eating Fritos and bean dip and then going out to ride the occasional wave.
Anyway, as I've packed I've thought about the essential beach items. And even the non-essential beach items. Basically, I've thought about things I think are great for the beach and thought I'd share them here.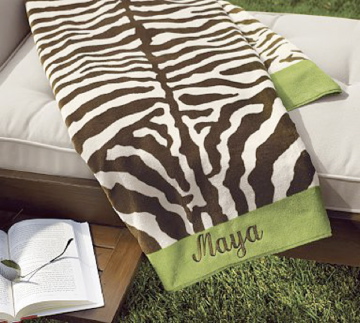 A good beach towel is a must and I'm a big fan of the chocolate brown zebra print.
Of course if you want something more understated, you might prefer the Regatta stripe towel. It would be perfect for attending a Regatta Gala.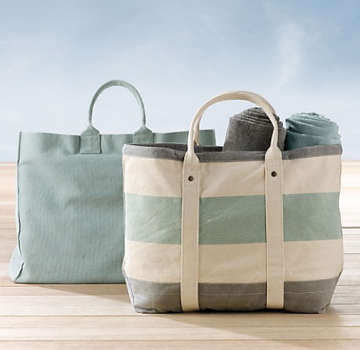 3. Neutrogena Ultimate Sport Sunblock SPF +70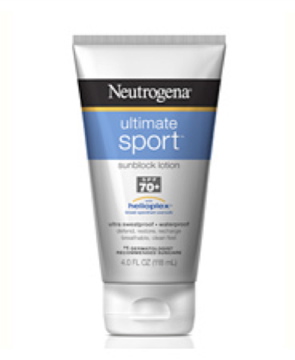 I could write several paragraphs about how particular I am when it comes to sunscreen, but I will spare you all the details of my sensitive skin and the BURNING, my word THE BURNING, that happens when I use the wrong product on my face.
That's why I have fallen in love with this Neutrogena sunblock. It's gentle enough for my face, but strong enough to use everywhere.
I think I sound like a commercial.
4. Ruched guard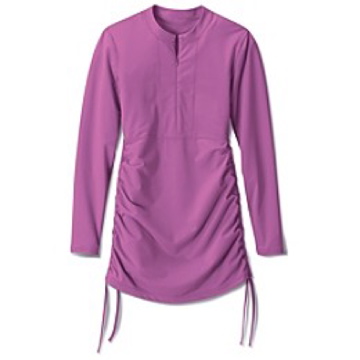 I have a regular rash guard that I wear sometimes, but I like this one so much better because the zipper keeps me from feeling like I might suffocate. And the ruched sides are just cute.
I love these smocked dresses from Victoria's Secret. They're the perfect thing to throw on over a bathing suit.
I'll admit that I haven't always been faithful to the Reef flip-flop. There have been others along the way. But I always come back because they are so comfortable.
8. Maxi jersey dress
This maxi dress is perfect because it provides a little more coverage than the normal maxi dress and it comes in this delightful hot pink and green combination.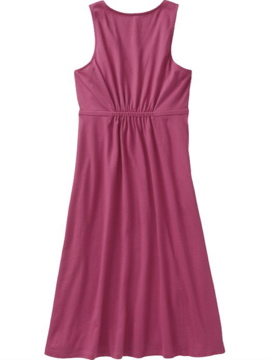 How many comfortable dresses are too many for summer?
11. Turquoise banana shell necklace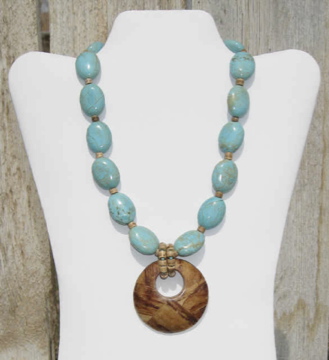 This would look so great with a simple white shirt. Or with a maxi dress. Or really with anything.
Now I'm off to go cram a few more things in a suitcase.
Also, I'm probably going to take a summer hiatus from Fashion Friday. I reserve the right to change my mind on that, but there are only so many times you can show a pair of shorts or flip-flops or cotton dresses.
What I'm trying to say is it's hot. And it's summertime. And the living is easy.
Y'all have a great Friday.