So last week was supposed to be our week of nothing. This wasn't an official designation or anything, just a vague plan that we would spend the week doing nothing but sleeping late and listening to the occasional refrain of "I'm bored" since Gulley's boys were out of town along with most of our other friends. Not to mention that I front loaded all our VBS and Day Camp activities for the month of June and we're officially out of scheduled/paid fun for the rest of the summer.
But then we got a call on Wednesday morning from some friends asking if we'd like to drive down to Port Aransas and spend a few days with them at the beach. Umm. YES. It took us all of ten minutes to pack up like the Joad family heading for California.
Caroline was so excited that she engaged in a little truck dancing while we made the trip.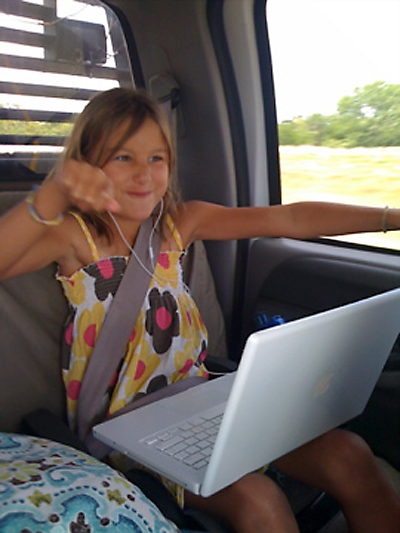 That would be my body pillow that you see on the seat next to her. Because, yes, it has come to that. If I had my way I would never travel anywhere without it.
We made it to Port Aransas in record time. Not even one bathroom stop which has to be some sort of personal record. Our sweet friends had a little gift bag waiting for Caroline filled with all the beach essentials; a towel, a small net, a starfish necklace and a Port Aransas koozie.
After a quick change, she was ready to head to the beach to enjoy what was left of the day.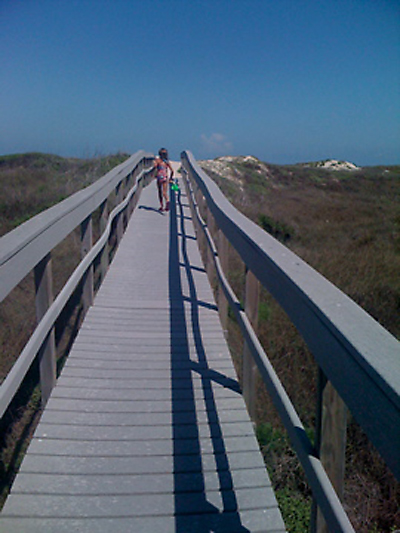 I had the nerve to ask her to stop and pose.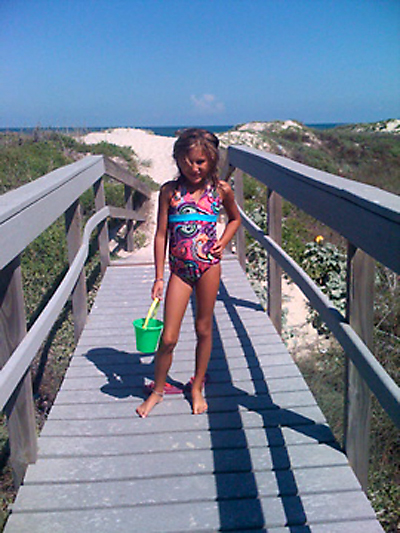 She and P spent a few hours on the beach while I sat and visited. Once they made their way back, we changed clothes and went for a little evening walk.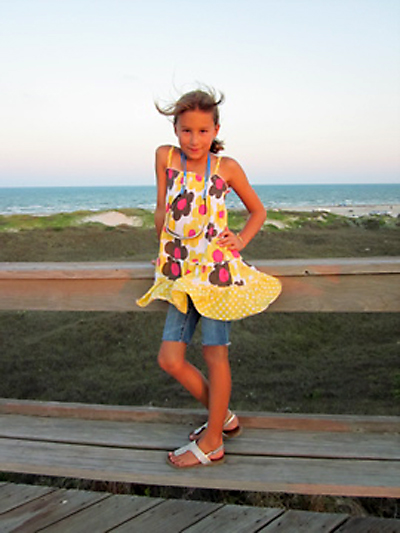 Umm. When did the fifteen year old start posing with her hand on her hip all the time? Has she been watching the Kardashians behind my back?
We spent the next few days playing in the waves.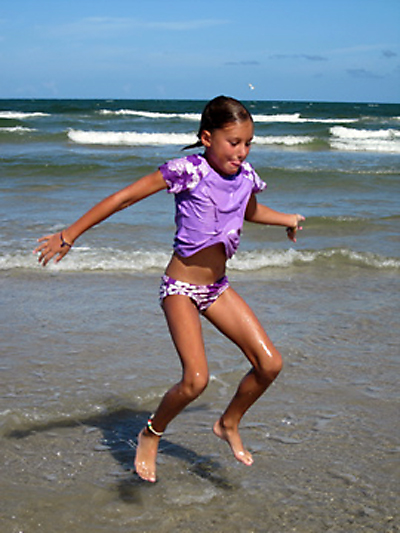 Including the day P went fishing and I had to be single mom at the beach. But I pushed down my memories of Jaws and Shark Week on the Discovery Channel and forced myself to go into the ocean beyond my comfort zone. Which, by the way, is somewhere between my ankles and my knees. After all, like our friend Stewart was so sweet to remind me, if a shark decides to eat you for dinner there's really nothing you can do about it.
Someone should stitch that on a beach-themed pillow.
We were also overjoyed to discover that a semi-shady ice cream man braved the sand to peddle his frozen wares.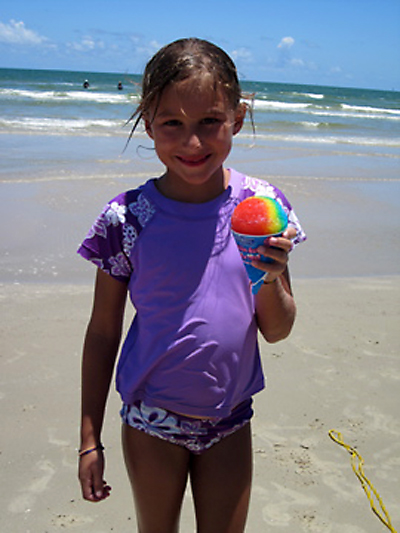 Do you remember the snow cones you get from the ice cream truck? The kind with the piece of bubble gum at the bottom? I'd forgotten all about them and the fact that they just become one solid chunk of rainbow colored ice with a disintegrated piece of gum. Delicious.
Before it was all over, Caroline created her very own sea creature habitat.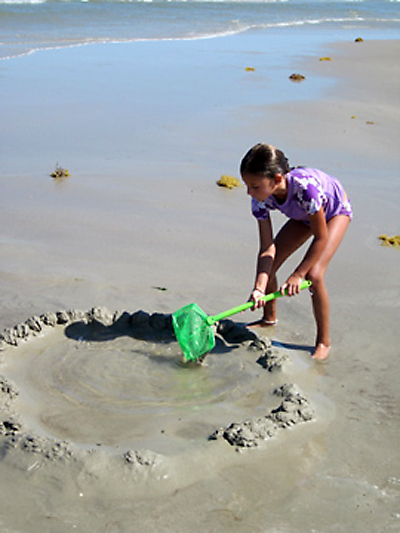 And spent a large portion of her time doing this.
It was just the best couple of days. And I think it was made all the sweeter because it was totally unplanned and unexpected. I didn't have time to over-think or over-pack (except for my body pillow, but that's a necessity) or worry about rearranging things on the calendar. I just went to HEB, bought the necessary beach staples (Fritos and hot bean dip) and off we went.
We laughed and played and just enjoyed being with friends. Ultimately, we got home late Friday night a little sunburned and a lot grateful.
And the best part of summer is it means we have another week of nothing ahead of us.
Unless something better comes up.
Copyright secured by Digiprove © 2011