Does anyone remember when I went to New York back in April? (It's fine if you don't. I certainly have no expectations that anyone is keeping up with my lame schedule.) Somehow I ended up in first class and I'm about 82% sure that I was sitting next to Javier Bardem. He was wearing a tweed sport coat with a red bandana sticking out of the pocket. Which I thought was a little odd, but totally makes sense now that I realize it was Javier Bardem. Everyone knows how all the Hollywood types like to wear red bandanas as pocket squares.
Anyway, I mentioned it to Ree and Sophie that night at dinner, but didn't feel totally sure about it so I didn't want to walk around claiming that I sat next to Javier Bardem on a plane when it might not be true and three people might care. But a little while ago I was watching David Letterman and he had Julia Roberts on and they showed a clip from Eat, Pray, Love with Javier Bardem and my certainty increased from a mere 43% to 82%. And now I'm just sick that I didn't engage him in some sort of conversation because, next thing you know, we could have been vacationing with he and Penelope Cruz.
Assuming they are big fans of the beach at Port Aransas and wouldn't mind spending all day hanging out under P's version of a beach cabana.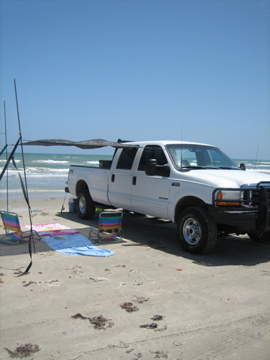 You can only imagine my delight at the thought of Javier and Penelope being photographed hanging out under that piece of tarp and featured in US Weekly under the "Stars! They're Just Like Us!" section.
I don't know why I'm telling you this, other than the fact that I am functioning on about three hours of sleep and desperately need to go to bed but also desperately need some quiet time to myself where no one is asking me to help them put on their new roller skates for the thirty-eighth time or to assist them as they weave a potholder. P can be so high maintenance.
So, Caroline had a pool party this year. She was originally against the pool party idea which is unfortunate because she was born in August and that means she can either choose a pool party or something that involves air-conditioning. But at some point she came up with the idea to give all her party guests disposable underwater cameras as party favors so they could all take pictures of each other while they swam. I immediately agreed to this since I was ready to do anything to avoid Chuck E. Cheese.
The cameras were a big hit once I showed all the kids how to use cameras that aren't digital. They kept trying to see the picture and I had to explain that back in the 1900's all cameras required you to wind the film after each picture. And they looked at me wide-eyed and asked, "What's film?"
Which may explain why later on that night at the slumber party, as we watched Mary Poppins and I explained that suffragettes were women who fought for the right to vote because women weren't allowed to vote until the 1920's, Caroline said, "DID YOU HEAR THAT? WOMEN WEREN'T ALLOWED TO VOTE WHEN MY MAMA WAS A LITTLE GIRL!"
I'm like a walking, breathing antique.
We took Caroline and some of her friends to dinner at The Magic Time Machine. They were so hyped up on cupcake icing that not a one of them remembered that there is such thing as an inside voice. P said he kind of felt like we ought to offer to buy dinner for the table that had to sit next to us, but I don't feel like anyone can complain about the noise if they choose to dine at a restaurant where Batman is your waiter and Indiana Jones leads you to a salad bar made from a car.
And the slumber party.
Who knew that four little girls could be so loud? And have so much energy? And be so particular about all the different colors they need for their pedicure?
I did. I discovered it at Caroline's birthday slumber party last year, but had blocked the memory from my mind because I knew we'd have to do it again. And again. And again.
And again.
I think it was about 1 a.m. when I officially turned into what Caroline described as "Miss Hannigan". It was at that point that I may have made a vague threat about no more sleepovers for a long time if everyone didn't get quiet and GO TO BED. And then I sang a song about little girls and took a drink from my flask while demanding that they scrub the kitchen floor until it shines like the top of the Chrysler building.
They all fell asleep and woke up around 7 a.m. asking what I had planned for the morning. The answer was NOTHING. I'm serving breakfast, calling your parents and then stumbling to the couch to lie down for the next three days.
And then I'm done with socializing for about a week.
Unless Javier and Penelope call.