You know how sometimes you have a great weekend with your girlfriends and get home and someone immediately asks, "What's for dinner tonight?" and you kind of wish you could get back in the car and go back from whence you came? Or at least hand someone the menu for Papa John's Pizza?
Re-entry is tough. Just ask an astronaut. Granted, you probably don't know an astronaut in real life and I don't really know that re-entry is tough for them, but it might be. All of this is just my way of explaining why I didn't bother to write anything yesterday. After a wonderful weekend away, I had a re-entry fraught with drama levels rarely seen outside of Southfork Ranch.
It wasn't really that bad. Just piles of laundry and a family that hadn't seen me in two days and a daughter who likes to be attached to my hip at all times and no food to speak of in the refrigerator.
But I'm not complaining. (It sounds like I'm complaining. I'm not. I'm just observing.) I had the best weekend away with my friends and Tropical Storm Don turned out to be a bigger dud than several people who sat next to me in the Finance 201 course I took in college.
On Thursday night I was a little concerned about Don and P didn't help by throwing around words like "storm surge" and "widespread power outages". Fortunately, he packed me an army green tactical bag full of flashlights and glow sticks and even a head lamp in case I needed to reenact a scene from Coalminer's Daughter.
The girls and I headed out around 11:00 a.m. on Friday in an attempt to beat the storm and get at least a little time on the beach. We made it there in record time, grabbed a quick bite to eat and checked into the condo.
Then it was time to unload the cars which was precisely the time we discovered none of us have the gift of minimalism. We are a group that believes it's not worth the trip if you can't bring your own blanket,fan, and sixty-eight bags of various types of potato chips.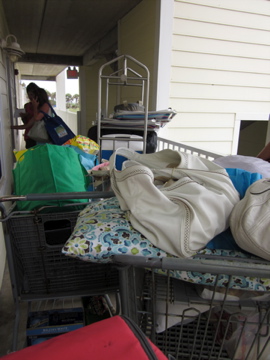 And down the next part of the sidewalk.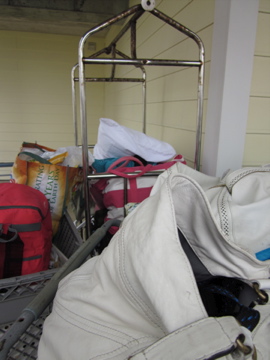 Embarrassing.
But not as embarrassing as it would have been if I'd actually lost my grip on the luggage cart and it flew into the parking lot with suitcases and fans flying willy-nilly. Which was almost a reality save for my cat-like reflexes.
After we unpacked our eighty-two bags of assorted chips and forty-nine cream cheese based dips, we made our way to the beach.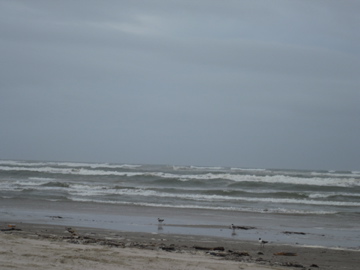 The sea was slightly angry that day, my friends. Less like an old man trying to send back soup in a deli and more like the mildly irritable feeling you might feel if you really wanted to watch The Bachelorette this season but couldn't deal with the way Ashley says everything is "PAR-FACT".
But we sat around in our beach chairs while it sprinkled occasionally and discussed a variety of topics including, but not limited to, the debt ceiling crisis and our hair. Eventually we made our way back inside because we thought Don was on his way. The storm, not some random man named Don.
We changed into pajamas and settled down to enjoy our dips and that's when four of the girls left the room and came back singing Happy Birthday to me. But it wasn't just any birthday song, they sang it while holding up these masks.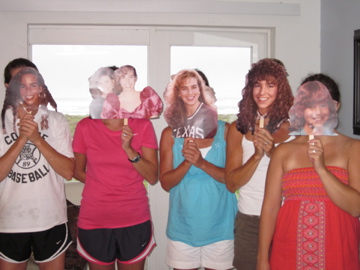 Those would be images bearing various hairstyles and time periods throughout my forty years. There is a lot of perm solution represented there. And then it was Julie's turn to be haunted by the ghosts of hairstyles past.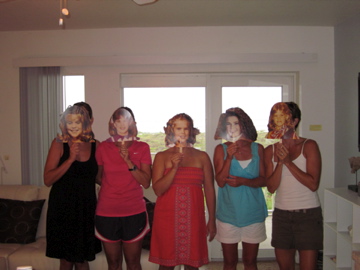 After that they gave us each a darling hand-painted wine glass with our initial on one side and 40 on the other. Which will help to remind me how old I am when I drink to forget how many gray hairs I have now.
It was just the sweetest thing and confirmed what I already knew. I truly have some of the best friends in the world. Our little group has been together and drama-free for over six years and that's a gift I don't take lightly. Not to mention that we make each other laugh until we cry. I adore them.
Saturday morning we attempted to hit the beach early until Julie's car got stuck in the sand and she had to be rescued by a group of families that call themselves "The Pigs". The Pigs ended up right next to us on the beach that day and we became honorary pigs for a day. And they even gave us all matching straw cowboy hats that we wore proudly. I'd post a picture but we're all in our swimsuits and, PLEASE, never gonna happen.
When Sunday rolled around, we all hated the fun had to end so we decided to eat lunch before leaving Port Aransas. And then we made the ill-fated decision to take the ferry which is always a bad decision. NEVER take the ferry. The ferry is for children and people who enjoy shutting off the A/C in their car when it's 108 degrees outside. In other words, it's for people who lack good sense.
But we got in the ferry line and one of us who will not be named in order to protect the innocent got a ticket for allegedly getting in the ferry line when it wasn't her turn. Even though it TOTALLY was her turn and the officer had even motioned for her to go. As it turns out, he was motioning her aside to give her a ticket.
And that's how we all ended up in the Port Aransas jail.
Not really.
But that would be such a good story.
Instead we took the ticket and spent the rest of the drive home vowing to fight for our legal rights. Just like Norma Rae. Except we weren't trying to unionize a mill. We were just wanted to get on the ferry.
And get home to our families.
So they could ask us what's for dinner.
Copyright secured by Digiprove © 2011