Well, we did not spend our Valentines Day Eve watching Lady Gaga hatch out of an egg. Instead, we watched The Great Outdoors because P really enjoys few thing more than movies from the 80's starring John Candy. God rest his soul.
(John Candy's soul. Not P's soul. P is still with us. He's sitting right here next to me in his gingerbread pajama pants.)
Anyway, we've had a great weekend full of rodeo carnivals, birthday parties, basketball games, and yard work. In other words, I am exhausted. And, as I thought long and hard about something meaningful to share with y'all on Valentines Day, I went back to my archives and looked at what I'd written over the last several years on Valentines Day. Only to discover that, for the last two years, it's fallen on a Saturday and Sunday and I haven't posted anything. But then I found this gem from February 2008 and decided to repost it. Because you know what never changes? The songs that define the angst of your teenage years.
So here it is. A repost. Because I have reached new heights of laziness tonight.
I thought long and hard for about five minutes about what I'd write about today. I mean, after all, it is the high and holy day for the Hallmark corporation and I felt like it needed the proper respect. I finally decided to present my list of the Best and Worst love songs ever.
But then, the more I thought about it, I decided that list would be entirely too complicated. Obviously the list of the best would include classics like "Crazy" by Patsy Cline and "At Last" by Etta James and "Two Out of Three Ain't Bad" by Meatloaf.
It just didn't seem fair to poor Sergio Mendes who was destined to end up on my Worst List with "Never Gonna Let You Go".
What to do? What to do?
I hereby present my list of songs that were extremely meaningful to me during my teen years, otherwise known as The Time I Cried in My Bedroom and Lip-Synched Dramatically in Front of the Mirror for Seven Years.
And remember, this is back when I looked like this.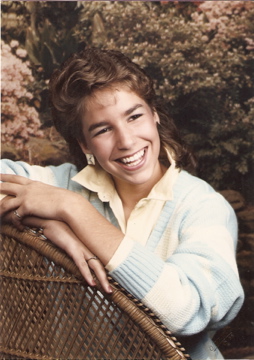 And this.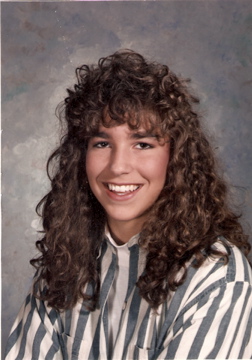 (I don't know if Slash was aware that a sixteen-year-old girl in Beaumont, Texas was copying his hairstyle)
There were days when the only thing that got me through was the Chicago 17 Album. God bless you, Peter Cetera and David Foster.
Here is my list.
1. "You're the Inspiration" by Chicago
I didn't actually have a boyfriend who was my inspiration when this song came out. However, my best friend, Tracy, and her boyfriend, Wade, had been going together for like two whole weeks and this was their song.
I could only dream that I might find that kind of true love for myself.
2. "Open Arms" by Journey
It wouldn't be fair to my fifth grade crush, Phillip, if I left this song off the list. There were so many Friday nights at The Magic Skate when they would play this song and I would giggle with my friends about how cute he was with that comb sticking out of his back pocket.
But, like the song says, "we drifted apart", mainly due to the fact that we ended up attending different junior highs.

3. "All Out of Love" by Air Supply
If you didn't love you some Air Supply in the 80's, then I don't know if we can be friends. Why can't I quit you, Air Supply?
4. "Keep on Loving You" by Reo Speedwagon
I kept a portable cassette player next to the radio at all times so any time this song came on, I could instantly press record and play. And maybe, just maybe, it would be the time I'd get the entire song without the DJ talking over it.
5. "Stuck on You" by Lionel Richie
Oh, I know Lionel had other songs that were more popular. You know like, "Hello", when he dated that blind girl that sculpted that weird-looking bust of him.
But this song was special because it was the song we were dancing to when a boy named Danny asked me to go with him. Of course, we were twelve so we never really went anywhere or did anything. However, just knowing that I could draw his name in a big, puffy heart on my bookcovers was enough.
6. "Total Eclipse of the Heart" by Bonnie Tyler
I won't even lie to y'all. To this day if this song comes on the radio I will turn it up and sing along complete with hand gestures.
You would think I'd be embarrassed to admit that. And I should be.
7. "Crazy for You" by Madonna
This was back in the good old days when Madonna wore lace hose, fingerless gloves and those huge bows in her hair. I can't remember who I was crazy for when this song came out, but it might have just been Madonna.
Who knew she'd still be around at 75?
8. "Glory of Love" by Peter Cetera
"Karate Kid II", anyone?
This song played a crucial role in my own personal love triangle the summer before my sophomore year in high school. Neither one of those boys ended up traveling to Japan to use their Ka-Rah-Tay skills to fight for my honor.
And if memory serves, that love triangle ended the same way Kelly Taylor decided between Dylan and Brandon. I chose me.
Or maybe I just chose another boy. I can't really remember.
9. "Tonight I Celebrate My Love" by Peabo Bryson
This will always remind me of Bo and Hope on "Days of Our Lives". Now that is true love.
I mean, their love has survived eight fake deaths, three remarriages, several brain-washings and multiple misunderstandings caused by Stefano DiMera.
If that isn't love worth celebrating, then I don't know what is.
10. "Separate Lives" by Phil Collins
This totally summed up how I felt when my crush of over two years had to move away. I was devastated. I related so much to the movie "White Nights" and this song, except that we weren't apart due to the Cold War and my need to be a ballet dancer.
We were apart because his dad got a new job in another city.
But still, the similarities were uncanny.
I realize I have left out many, many quality songs. It is hard to narrow down the quality music from the 80's and I already feel bad that "Heaven" by Bryan Adams didn't make my list. Not to mention "Babe" by Styx and "Is This Love?" by Whitesnake.
However, I tried to limit it to songs that meant something to me. Songs that reflect a time in my life when real love wasn't measured by superficial things, but by the proximity of your locker to the one you loved and whether or not he had a driver's license.
So, what about y'all? What are the songs that made you want to couple skate every time you heard them?
I wish you all a Happy Valentines Day complete with chocolates filled with mysterious varieties of nougat. Or, better yet, a few packs of Valentines M&Ms.
***Oh! Also a quick reminder that the book club discussion for Half Broke Horses will be this Thursday, the 17th. Can't wait to hear y'alls thoughts on it.***