Well I cannot thank y'all enough for all the oven advice. I haven't actually done anything about my oven yet, but I feel like I will approach the matter with confidence when I decide the time is right. Your guess is as good as mine as to when that time will be because I have a tendency to feel like something is very urgent and then forget all about it. It's a gift really.
However, yesterday morning I decided the time was right to clean out Caroline's closet. It was a dreary, rainy day, P was home from work and asked Caroline if she wanted to go to Bass Pro Shops with him. Naturally she didn't turn down that offer because she knows there's a good chance they'll come home with some new fishing lures and an industrial size bag of Circus Peanuts.
So they left on their mission to wander aimlessly around Rednecks 'R Us and I got started on the closet. Five hours, three trashbags, and a huge pile of things to donate later, I was finished. And I only stopped and cried as I held all the baby clothes about four or six times. Of course there was one unfortunate ugly cry incident when I discovered the mobile that used to hang above her crib, but I got past it.
And in the end it looked like this.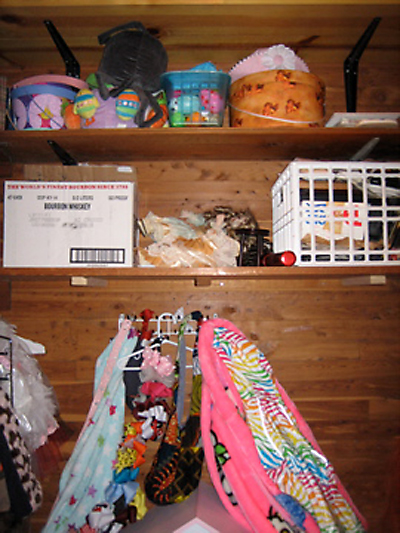 I didn't take any before pics so you just have to trust me when I say it looks so much better. Plus, we finally have a good place to store our case of bourbon.
I'm kidding. We'd never store bourbon in our child's closet. She might drink it all.
Actually, that box is from my Nanny's house and it's full of my dolls from other countries.
I also cleaned up the book shelves and am willing to bet it will look this neat and organized for upwards of five minutes.
As I went through boxes I found a few pictures that brought me too much joy and horror to not share with you.
This is P and his mullet. I think the plaid tie and navy blazer add a nice touch. It's like prep school meets Nascar.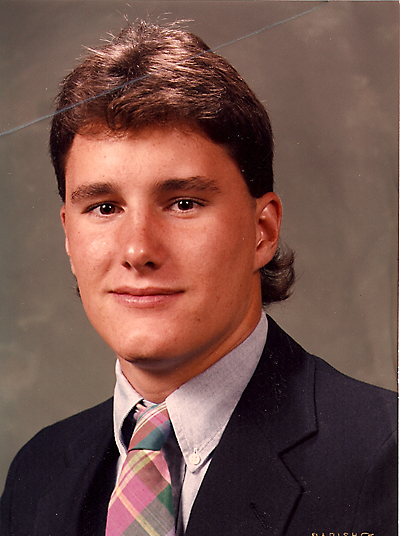 Of course, in all fairness, here's a picture of me with my dad from my senior year in high school.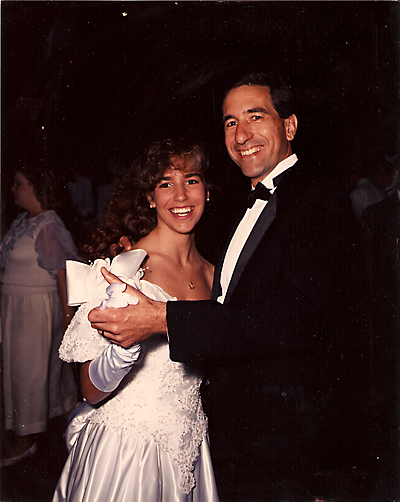 I don't really know what concerns me more, the size of those sleeves or the thickness of my eyebrows. Or maybe it's the bangs en masse on my forehead. Clearly, those who lived in late 80's glass houses should not throw stones at their spouse who sported a mullet.
And finally, look at these two skinny kids in love sans mullet and eyebrows that look like caterpillars.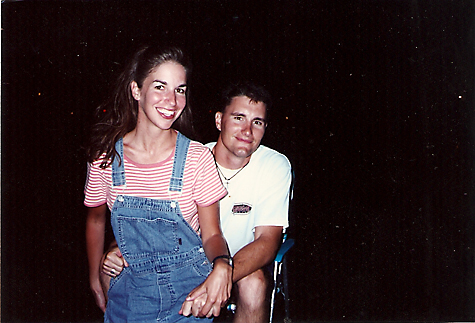 That picture was taken fourteen years ago on the Fourth of July. I don't know why I'm wearing overalls but they seem to be a common theme in pictures taken of me during this mid-1990's time period. That's unfortunate. Especially considering that I weighed about 98 pounds.
Anyway, the closet is now clean and I have a deep sense of accomplishment coupled with shame over my eyebrows. And the overalls.
Y'all have a good Friday.