I'll just go ahead and tell you that I haven't really shopped in weeks. Maybe even a month. First, I was derailed by the bronchitis episode and then I spent a week at home catching up on things I hadn't done while I complained about my bronchitis the week before. And then this week just flew by with the road trip to Houston and the sleep I needed to catch up on and the T.V. I needed to watch.
Not to mention that I've unofficially placed myself on a spending freeze until I start Christmas shopping. There isn't one thing I need right now. Except for maybe a few good long-sleeve t-shirts in solid colors but I can buy those DIRT CHEAP at Old Navy so that doesn't really count as shopping as much as stocking up on necessities.
While Gulley and I were in Houston on Tuesday night (Did I mention we went to Houston? Am I ever going to quit talking about it and move on?) we spent a little bit of time checking out various outfits at Bible study. Clearly this was before the actual Bible study part began because we are deeply spiritual and would never let ourselves be distracted by a great pair of boots once we were immersed in the word of God.
But prior to that, we made note of several cute outfits and some darling boots. There were boots everywhere in spite of the fact that the temperature was well into the high 80's. Which just goes to prove that Texas women are resilient. We are descended from hearty pioneer stock and certainly aren't going to let the summer that will not die put a damper on our October spirit and our need to wear boots. Hot weather be danged.
Another big thing we noticed were the belts. There were several belts being worn with various sweaters and tunics. And Gulley and I launched into an extensive discussion of the belt and the pros and cons therein.
Which leads me to the first item on my list today.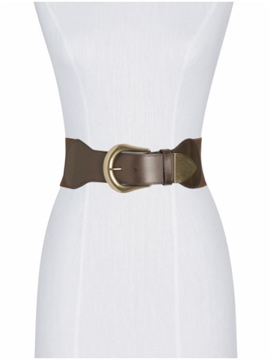 I really am a fan of the belt. I think it can take a shapeless tunic and give it some structure. It can take a sweater dress from drab to fab. It can add pop to the right outfit.
However, you will never see me in any sort of wide belt unless it is slung low across my hips or something because I suffer from a condition known as waist-impaired. It's not that I don't have a waist as much as it is that I am short-waisted and anything that cinches in at my true waist just doesn't work for me.
I really can't even talk about several painful years in the mid-90's when I desperately wanted to own several dresses from Ann Taylor but couldn't ever make them work because the waist hit me somewhere around my ribcage.
Wait. Does that mean I'm short-waisted or long-waisted?
I'm so confused. All I know is I haven't worn a belt since the days of high waisted jeans and braided Brighton belts with shiny silver buckles shaped like an alligator.
But if you can make it work, then I think a good belt is a great thing to own. I also really like this Westchester pullback belt.
2. Vintage floral headband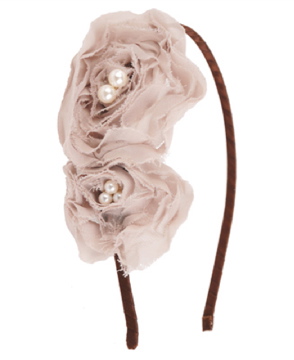 About a week ago, someone emailed me to ask if I thought women in their thirties were too old to wear headbands with flowers on them. My official answer is no.
In fact, I know several women who wear them and look absolutely darling. But, much like the belt, it's not a look I can pull off. I've just never been a headband kind of girl even though I love them on other people.
Plus they make my ears hurt.
This crimson floral headband is super cute and makes me wish I was a floral headband girl.
But I think I'm more of a knit pom and splendor hat or a plaid newsboy cap kind of girl. Even though I don't know that I'd wear either of those in reality. I just like the idea of them. The knit beanie is very Rachel Zoe.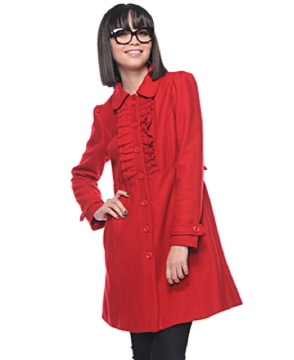 I know I featured a ruffled coat last week, but I saw this one and it is so inexpensive and just so adorable.
Or maybe I just like that girl's bangs.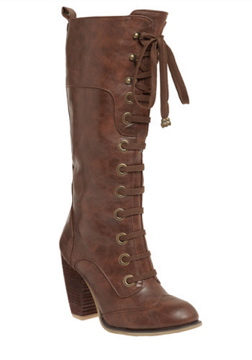 I love these.
5. Yellow cable knit scarf
I love the fringe detail on this scarf and keep picturing it paired with a gray wool peacoat. Wouldn't that be adorable?
6. Gap leggings
I have officially decided that while you can't beat the price of leggings at Old Navy, I far and away prefer the ones from Gap. Mainly because they are as soft as butter and feel like pajamas.
What in the world? A sequined tank top? That is so fancy!
But it's almost holiday season and there might be parties galore in your future. Or you may be like me and have no social calendar to speak of but what if something comes up and you end up wishing you had a sequined tank top to wear? It could totally happen.
Picture it paired with skinny black jeans and a black blazer or even a velvet blazer if you're feeling extra fancy.
And then you could top it off with a spritz of J. Simp's Fancy Nights perfume. And please pronounce that as FAYN-CEE.
(Also, did I just type J. Simp and leave it there? Am I twenty years old all of a sudden?)
(I think I got carried away with the sequined tank top.)
8. Haylie bootie by Chinese Laundry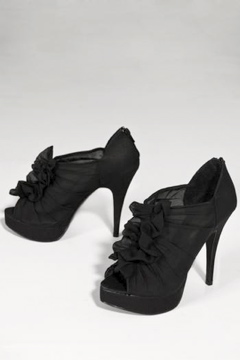 Listen. These are just a party in shoe form.
9. Antique pocket watch necklace
I am loving long pendant necklaces right now and so I have spent much time on Etsy looking at all manner of them. And something about this pocket watch one just drew me in. I love the vintage feel of it.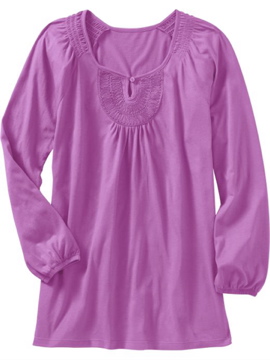 I was looking for something on the Old Navy site the other day and stumbled across this shirt which says it's only available online. Which probably explains why I've never seen it even though Old Navy is one of my regular stops.
But it looks so cute, comes in several different colors, doesn't have to be ironed and costs $15.00. That's some kind of garment trifecta. Except that it's four things instead of three. Which makes it what? A golden sombrero?
I'll go with that. It's a golden sombrero.
Which means you can't lose.
Y'all have a great Friday.
____________________________________
There's a new chance to win a $100 gift card on my Kellogg's giveaway page. Click over there to enter.
Copyright secured by Digiprove © 2011