Y'all.
I'm am, right this moment, sitting in the Minneapolis airport. I just ate a Whopper with cheese for dinner and I think my face is starting to break out from the combination of stale airport air and processed fast food. (So much for taking twenty years off my life.) Needless to say, it's all just as glamorous as what you're imagining it to be.
And I'm not trying to be mysterious about why I was in Minneapolis for less than 24 hours, but I don't think I can talk about it. I feel bad about that. But I also don't want to not mention that I was in Minneapolis because I've never been in Minnesota before and it kind of feels like a milestone in my quest to someday visit all 50 states.
I didn't even know I had a desire to do that until I just typed it. I will visit all 50 states. Maybe. Unless I change my mind and decide I don't really want to because I'm not really a fan of airports and airplanes. Not because I'm afraid of flying, but because I'm afraid of the stale air and the bad food.
Okay and now I'm writing this part hours later and I'm finally home on my couch and I must go to bed. I could tell you tales of woe about lack of internet on either of my flights and how I had to stick my carry on bag in the overhead compartment in Aisle 32 when I was sitting in Aisle 14 because American Airlines is stingy with overhead bin space, but I'm going to assume you don't want to hear about my first world problems.
And so I will now just show you ten cute things. You will note there are no pictures this week. Why? Did you not just read the part about midnight and flights with no internet and American Airlines and that I have to go to a book fair tomorrow?
Okay, you probably didn't read the part about the book fair because I didn't mention it until now.
Oh and make sure you read all the way to #10 to find out about the giveaway.
Love this. Love the stripes and the fact it could be worn all year round.
A friend of mine emailed me and mentioned that Sundance Catalog has some really cute things and she wasn't lying. Not that I thought she was lying. But, still, she was TOTALLY RIGHT.
How cute is this? And it's on sale. LOVE. Perfect with jeans or shorts or whatever.
Ree at Pioneer Woman (as if I need to clarify) linked to these a few weeks ago and mentioned how comfortable they are. And I was skeptical because I don't really think flats are that comfortable. They make my feet feel claustrophobic.
But I went in Gap later that week and tried them on. And they are SO COMFORTABLE. And they come in several great colors. An array, even.
It's time for me to pick my annual summer hat that will have the misfortune of being completely ruined by summer's end. This one is in the running.
Have I featured this before? Or do I just think that because it's a white tunic?
Well, these are really cute.
8. roberta roller rabbit classic kurta
This would be a perfect cover up or would look darling with white jeans. Or blue jeans. Or blue jean shorts.
Versatility is a virtue.
9. calypso st. barth straw tote
I haven't had time to visit my local Target in at least four days. Thus, I haven't seen this in person. But it looks really, really cute. Perfect for the pool.
And now for the GIVEAWAY. Ruche is sponsoring a great giveaway for this scarf. How cute is this?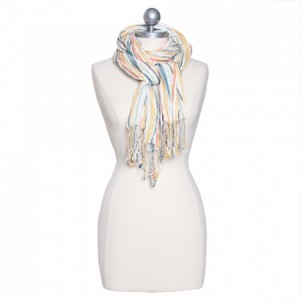 Put that baby on with a plain white tee (or a yellow tee or a blue tee or an orange tee) and you have got yourself a fun summer look. To enter, click on over to my Nautical Stripe Scarf giveaway page and leave a comment there to enter.
Y'all have a happy day after Cinco de Mayo. I'm going to go collapse into my bed.
__________________________
Tropicana is also offering a chance to win $100 gift card. Click here to enter.