If I measured our Fourth of July fun based on the level of pain I'm experiencing from the sparkler-induced blister on the bottom of my foot, then it's safe to say that we had a grand old time. But, hypothetically speaking, if you ever decide it might be fun to light two Morning Glory sparklers at the same time and hold them together to create maximum fireworks excitement, you might want to rethink that decision. Apparently this generates an excess amount of gunpowder or whatever and can cause sparks to shoot in eleven different directions, one of which might be the inside of your flip-flop.
Our weekend started off on a sad note. P took our dog Bruiser to the vet on Friday morning because let's just say Bruiser had been experiencing some digestive unpleasantries that made me want to hose down the backyard with Clorox. Caroline and I were at a birthday party when P called to let me know our vet couldn't figure out the problem and it didn't look good. I spent the rest of the party worried about Bruiser and debating whether or not I should prepare Caroline. When we left to go home I explained Bruiser was very, very sick and may not come home from the doctor and then I prepared myself for the tears. She looked into my eyes and said, "Mama, if he doesn't make it can we get a kitten?"
Clearly she was all torn up about it.
Anyway, by Saturday morning the vet called to let us know Bruiser was doing much better after a night of I.V. fluids and could probably go home on Monday. But then he called yesterday and said they wanted to keep him one more night for further observation. So the good news is Bruiser is going to make it. The bad news is, after we pay his vet bill, he will probably be the only member of our family to go on a summer vacation. Meanwhile, as I write this, our vet is probably booking a trip to some swanky resort in Colorado to get away from the Texas heat.
But back to our non-dog related portion of the weekend.
Our neighborhood has a Fourth of July parade every year except this year it was on the Third of July. P brought the Polaris home from the ranch and he and Caroline spent Saturday morning getting it all decorated to take part in the festivities.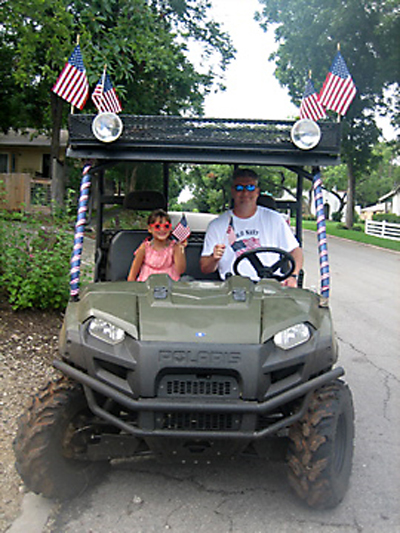 And then they met up with a bunch of Caroline's friends and they all piled in the back to wave to the crowd.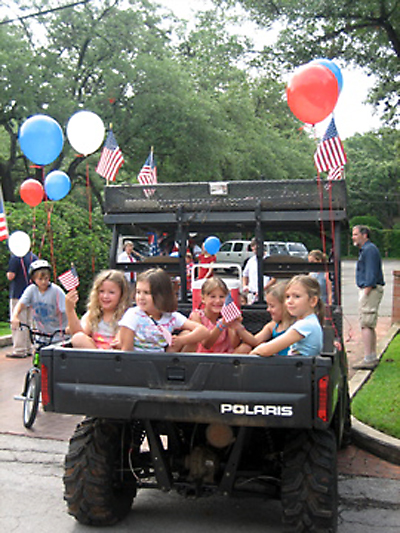 I walked down the parade route with some friends so we could wave and cheer as they passed by.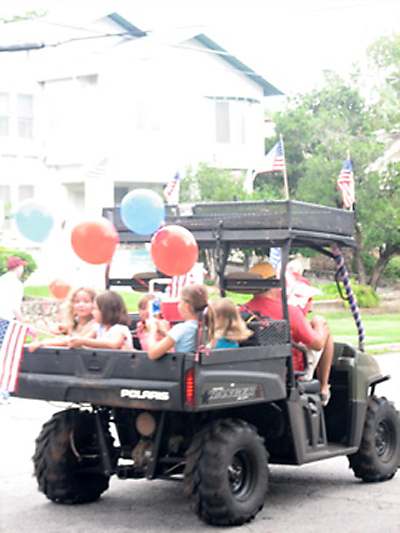 The parade ended about ten minutes after it started and we all met at the park for cookies and lemonade and to be led in a few patriotic songs by a man wearing red socks that came up to the middle of his calf. It doesn't really get more American than that.
Later in the day we went over to Mimi and Bops' house because they were having a little pool party to celebrate the 4th on the 3rd. (I don't know why I wrote "little pool party". It makes it sound like we were all hanging out around one of those plastic pools you get for $6.00 outside of Walmart.) Caroline decided she wanted to spend the night with them and so I went home and fell asleep for the next hour and a half. God bless America.
On Sunday afternoon we headed up to the pool to enjoy the Fourth of July festivities. Rumor had it there was going to be some line-dancing later that evening, so our plan was to get there and get out before all the fake dancing ensued. Fortunately, we arrived just in time for the belly flop contest which is Caroline's favorite event.
She walked slowly down the board.
She executed the perfect flop.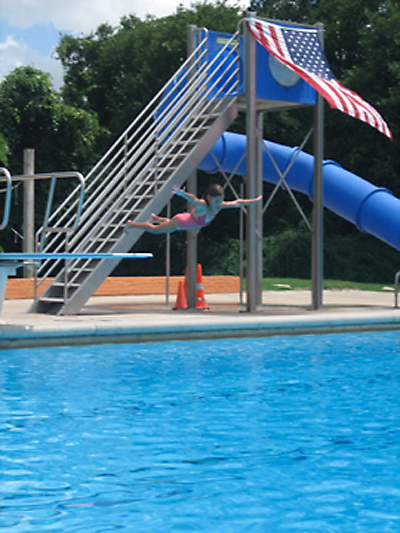 Can we please pause for a moment and discuss the odds of me getting that mid-air shot with my sad little point and shoot camera and horrendous photography skills? A million to one shot, Doc, a million to one shot.
And she won fourth place.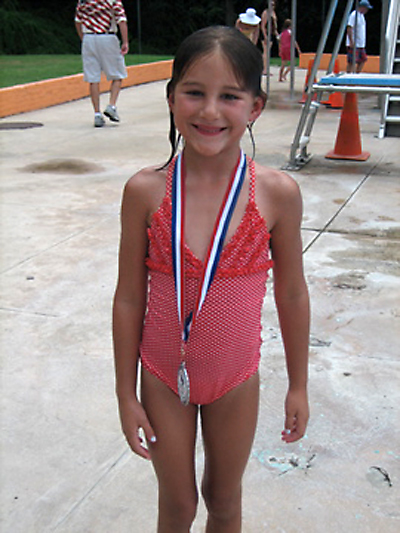 Personally, I think she was robbed. Especially now that I've seen the photographic evidence that her execution was flawless. But she received a medal and that was her ultimate goal. She is all about the medals.
After the medal ceremony our champion belly-flopper relaxed with a cookies and cream ice cream sandwich.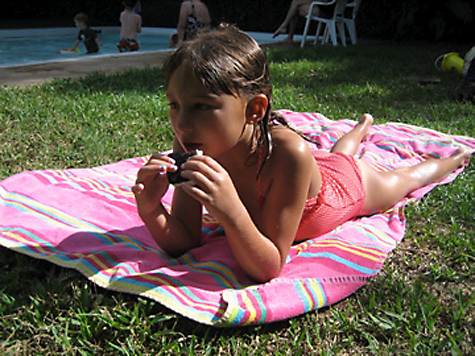 Later that night we came home and cooked hot dogs on the grill because we believe in our fundamental right to pursue liberty and happiness in the form of processed meat covered in sweet relish. While waiting on it to get dark outside we turned on the July 4th celebration at the Capitol to watch the fireworks. We explained why we celebrate the Fourth of July to Caroline and stressed how fortunate we are to have the freedom we have and how men and women fought and died for us.
A few minutes later she asked, "So is today the day that England celebrates the Day of Shame?"
The Day of Shame.
I can think of several days in my own life that should be referred to as The Day of Shame (like the day I permed my bangs in 1987) but as far as I know it's not an officially recognized holiday in England or anywhere else.
Once it got dark we went outside with our enormous supply of sparklers.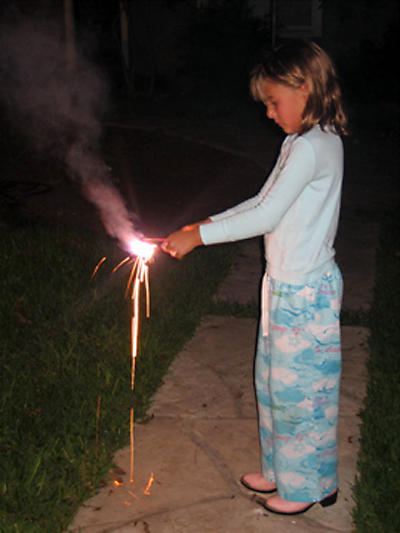 And a few other pyrotechnics that might have been against the law.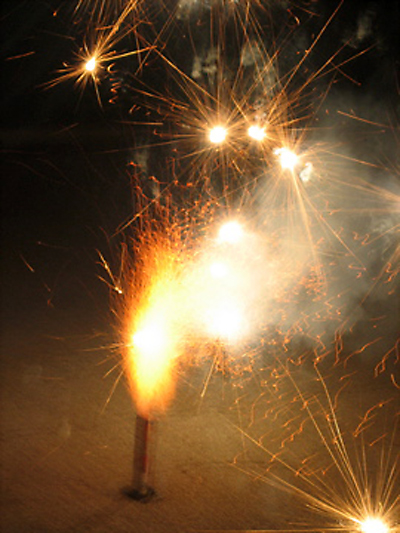 And before that night was over, P had a big blister on his hand and I had one on the bottom of my foot. So I guess it ended up being our Night of Shame.
And aloe vera.