So the big news around here is that one of Caroline's top front teeth is on the verge of coming out. The fact that she's held onto them for seven and a half years seems pretty remarkable considering most of her friends lost their two front teeth at least a year ago and are already sporting the big permanent awkward teeth that are a right of childhood passage. It would appear that Caroline is a late dental bloomer.
Her front tooth has been loose for about a month. And for the last month I've talked about getting her picture taken while she still has her baby tooth because PRECIOUS MOMENTS FLYING BY. But like with all things in my life, I procrastinated until it was too late.
She got in the car after school yesterday and immediately showed me how loose her front tooth had become during the day. I mean the thing is literally twisting in the wind. (I'm using Rachel Zoe's definition of literally here. The tooth was not, in fact, actually twisting in the wind. But it could have been.) As soon as we got home, I made her stand in the yard so I could take one last picture of her with her top baby teeth intact because I'm a sentimental sap and the whole thing made me feel a little emotional because I'm going to be forty this year, I have a new wrinkle above my eyebrow and my baby is going to have big teeth.
(Yes. I also have PMS. Why do you ask?)
Here is what could possibly be the last picture of Caroline with her baby teeth.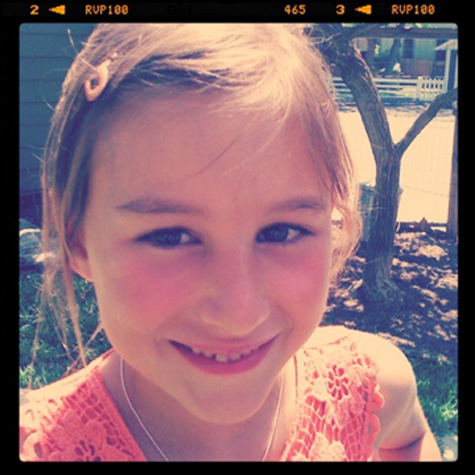 I don't know if you can tell but the tooth is so loose that it kept getting caught on her lower lip when she talked. Essentially she spent the rest of the day looking increasingly like a hillbilly.
A very cute hillbilly, but a hillbilly none the less.
You may also notice that we are in the midst of an attempt to grow out her bangs. It's taking every ounce of restraint for me not to grab the nearest pair of scissors and go to town, but instead we're resorting to various clips and bobby pins that don't really work so well by the end of the day.
I have only myself to blame because I was the one who suggested it might be a good idea to grow out her bangs for summer so they'd be easier to keep out of her face while she swims or whatever. After contemplating my suggestion for a few moments she said, "Well, the thing is, I know I look adorable with my bangs so I'm sure I'll look adorable without them."
If only I could walk in that kind of bangs victory.
Anyway, by dinner time her Billy Bob tooth was hanging by a thread but P and I didn't want to anger it. And by "it", I mean Caroline and/or Billy Bob. So we took the advice of The Beatles and let it be.
Personally, I'm hoping she'll run into someone at recess or during soccer practice and it will literally get knocked out.
And this time I'm using literally in its literal sense.
Copyright secured by Digiprove © 2011