I can't believe that I totally missed that yesterday was 9-02-10 days. Get it? It was September 2, 2010. Which translates to 9-02-10. Which translates to West Beverly High and the show that I watched long after it was age appropriate for me to be so invested in the lives of Kelly, Brandon, Brenda, Donna and Dylan.
But I've never been good with numbers, so I didn't even realize it was 9-02-10 until I began to see people posting it on Twitter and Facebook and whatever. One thing led to another and the next thing I knew I was googling "Donna Martin Graduates" and "David Silver sings 'You are so precious to me'" and "Brenda Walsh's prom dress". Because, y'all, if there was ever a dress I coveted besides Princess Di's wedding dress, it was the dress Brenda Walsh wore to prom.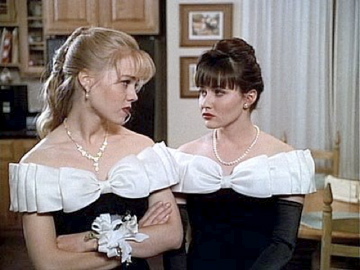 I am so ashamed.
Ultimately I came upon this picture.
And this one.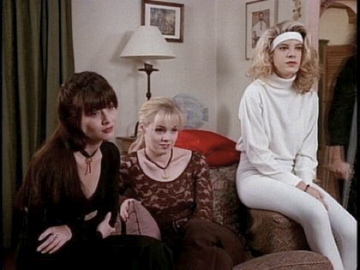 Oh sure. We can laugh and mock. But we aren't that far away from seeing all those things come back around the fashion bend.
Except for maybe that shirt David Silver has on. Please don't let that ever come back around.
On a totally different note, several of you asked if I really bought a pair of camo leggings. Yes. Yes I did. I'm still not entirely sure what came over me but they were $12.99 and I felt like they held some possibilities. Chiefly, the possibility that I'll put them on and P will ask, "What in the hell do you have on your legs?"
But also the possibility that they might look cute with the new oversized white boyfriend shirt I bought and my tall brown boots.
It's a risk I'm willing to take for $12.99. Worst case scenario, I just bought myself some camo loungewear.
Now for some more fall trends:
1. Jewel tones
Rich colors are definitely in for fall. When Gulley and I were shopping last week I felt like we saw teal and purple everywhere we went. Mainly because anytime I see teal and purple I cringe a little bit because there was a time that I owned a pair of teal flats. Teal was a very important color for me back in the late 80's.
Which is why I'm not sure I can go back to that place again. However, I do love the rich color of this magenta tunic dress although I'd never wear it as a dress.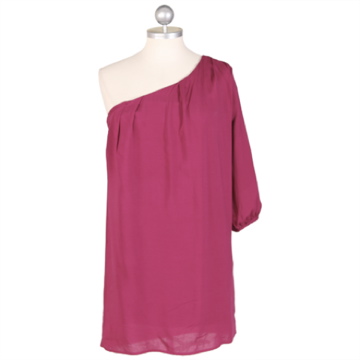 I also love this wrap tunic and twist waist sheath dress.
And, oh how I love this From the Poles jacket from Anthropologie. The built in ruffle detail has stolen my heart.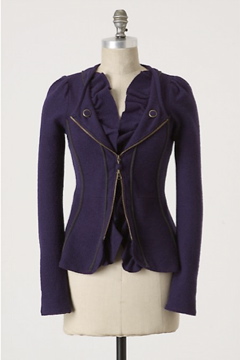 I also have a big crush on this washed velvet coat. How great would that be with jeans or black pants with boots?
And if you don't carry the scars of teal around with you, there is this washed cord skirt in teal.
The good news for me is that it comes in other colors.
2. Leather
Leather is everywhere right now. Of course the majority of what I can afford isn't actually real leather, but rather faux leather that smells reminiscent of my grandmother's collection of GENUINE LEATHER handbags that she kept stored in the top of her closet.
The big style for leather right now is the motorcycle jacket. One of my college roommates, Meredith, had the best black leather motorcycle jacket. I cannot tell you how I coveted that jacket and she was kind enough to let me borrow it on occasion. One of those occasions was the day I decided to go break up with a guy I'd been dating for a few months. It had been a tumultuous relationship and I felt it needed to go out with me clad in leather and slamming his front door as I left.
I was a treasure at twenty-one years old.
Anyway, I really like this Manderson leather jacket.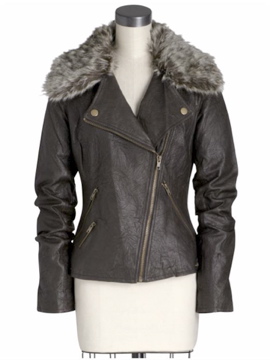 But there are many other options, such as this Hydraulic faux leather motorcycle jacket. Or this faux leather ruffle jacket.
If you're really feeling edgy, there are even faux leather skinny jeans. All I can think about when I look at those is that episode of Friends when Ross wore those leather pants and went to the bathroom to splash his legs with water to cool off and couldn't get his pants back up.
Needless to say, I'm going to pass on the leather pants.
3. Feminine shapes
On a totally different note, there is a return to clothes that have a feminine shape. Things that actually show your waist as my grandmother would say. "Why don't you show your waist? You have such a cute figure."
I'm such a fool for coats and I particularly love this fresh coat in print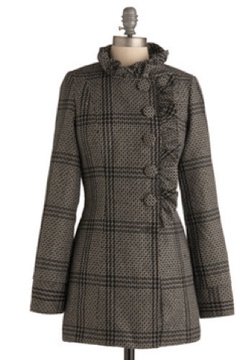 There is also the Anything but ordinary dress.
And I'm so sad that this All vest up with someplace to go vest is sold out, but it looks like they may get more in at some point. I can just see this with jeans and boots. Of course I can see everything with jeans and boots.
If you're looking for a pretty feminine blouse, you might want to find something like this blouse from Anthropologie. So pretty. Although I struggle with the word "blouse".
4. Animal prints
I went to breakfast the other day with Steph and Gulley and we got into a conversation about how animal prints shouldn't necessarily be listed as a trend because they have really become a timeless classic. We also talked about the fluctuations in the stock market and our thoughts on the global economy, but those conversations aren't relevant to this post.
We all agreed that we can't remember a fashion season in the last several years that didn't feature some sort of animal print. It's become as ubiquitous as khaki or denim or black.
And, yes, I just used the word ubiquitous. I didn't even have to look it up on spell check. I'm going to tell Caroline about this the next time she's studying for a spelling test and wants to argue with me about the correct spelling of "sandwich".
I believe the use of animal prints in a wardrobe is a personal decision. You can go big with something like this Glendale top.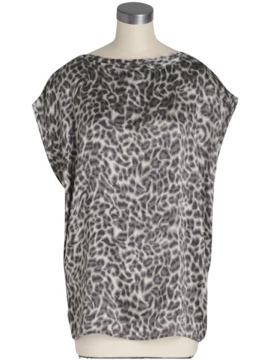 Or you can just have one outstanding piece like this Street Car Darya bag by Kate Spade. Even though that particular bag costs the equivalent of fifteen years of my wardrobe combined. But I included it anyway because IT'S DIVINE.
There are always these cute leopard clogs or a pair funky leopard flats.
Best of all, you can always find the budget version. Like these Merona leopard ballet flats or these leopard rain boots.
That's it for today.
And, in the words of David Silver, you are so precious to me.
Or in the words of Dylan McKay, "I loved you more than I ever thought I could love anybody. Maybe that was the problem."
Y'all have a great Friday.
Copyright secured by Digiprove © 2011