Well. The time has arrived.
Gulley and I loaded up the kids yesterday and have officially embarked on Summer Road Trip 2011.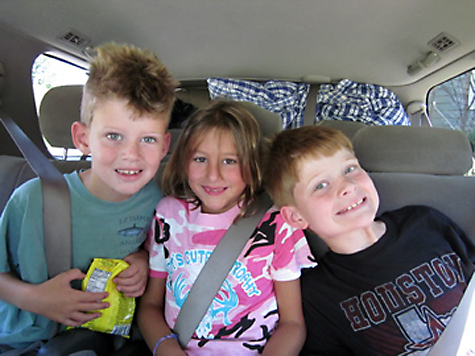 Here are my top ten moments from the road:
1. Gulley called yesterday morning to tell me Will was running a fever and questioned whether or not we should go. Caroline overheard our discussion and said, "I've been with Will through a stomach virus. A fever is nothing. Let's go."
2. A quick trip to the pediatrician confirmed it was no big deal, just a little virus and so we decided THE SHOW MUST GO ON.
3. We are loaded down like the Clampetts. I've even resorted to traveling with my own comforter. High maintenance much?
4. I don't know if I've ever loved the kids more than when they sang along to Dude Looks Like a Lady. Will gives Steven Tyler a run for his money.
5. The Triple Chocoholic Blizzard from Dairy Queen. Thank you and amen.
6. We only threatened to turn the car around and go back home three times. It's a new personal record.
7. However, there were two separate threats involving staying home from the baseball game last night and hiring a babysitter for anyone who couldn't be kind to their back seat neighbor.
8. The moment in Whataburger when Jackson hugged Caroline and told her they'd always be BFF (best friends forever). Oh my heart.
9. The kids dancing to the Cupid Shuffle in the back seat.
10. Looking in the rear view mirror at three smiling faces and knowing I wouldn't trade it for anything. We're making some good memories and, at the same time, giving the kids plenty of reasons to make fun of Gulley and me for the rest of our lives.
And that's what childhood is all about.
Copyright secured by Digiprove © 2011