I always say that the posts I write on Sunday nights are the hardest ones to write. Of course now I'm wondering what I mean when I say I always say that because no one really asks me that question since, odds are good, nobody really cares. So I guess it's just something I tell myself. And P has to listen to it because he has the misfortune of sitting next to me on the couch while I lament about my inability to come up with anything interesting to say. He usually says something helpful like, "When has that ever stopped you?".
He's hilarious.
So I went to Virginia this weekend. Originally I thought I'd never been to Virginia before, but then I remembered that I took a class trip to Washington D.C. when I was in eighth grade and we went to Arlington National Cemetery. I also think we may have visited Mount Vernon, although I'm not totally sure since my motivation to go on the trip leaned more towards the social benefits, as opposed to any type of yearning for historic knowledge. However, I do have vivid memories of seeing Fonzie's leather jacket and Archie Bunker's chair in the Smithsonian, so it's not like I didn't have any grasp of important moments in U.S. history.
Anyway, I left on Friday morning and arrived in Richmond about 3:00, headed to the coliseum, passed out approximately 15,043 copies of Homelife magazine at the LifeWay booth, wished I'd worn my hair back in a ponytail because I was so hot, listened to Beth teach an amazing lesson from John 1, went back to the Marriott, realized I'd forgotten my sound machine, panicked, remembered I had a white noise app on my phone, tried unsuccessfully to sleep for the next six hours, got out of bed, went back to the coliseum, drove my rental car back to the airport, ate a terrible cheeseburger, bought the new InStyle magazine, and got on the hottest plane I've ever been on to fly back to San Antonio.
It was a lot of stuff to cram into an twenty-four hour time period and I was exhausted.
P and Caroline picked me up from the airport. They'd spent the day at the ranch and were full of stories involving blood and gore and snakes. We stopped at California Pizza Kitchen to pick up dinner (I'm not sure why you need to know this. We ordered the Sicilian! And the Pepperoni Mushroom!) and as soon as we got home I rolled my suitcase into our bathroom to unpack and change clothes because I suffer from some sort of sickness that compels me to unpack my suitcase the minute I walk through the door. But when I walked in my closet, this is what I saw. Actually, I didn't see it as much as I just stepped on it because I wasn't paying attention.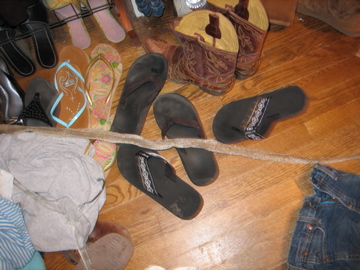 In case you can't tell, that's a huge snakeskin.
Clearly my family wants me dead.
To say that I screamed and began to hyperventilate and had a complete out of body experience seems like a bit of an understatement. I ran back into the kitchen in time to see my sweet, precious baby girl doubled over and laughing hysterically. It was all her idea. Honestly, I don't know that I ever seen her more proud of herself.
Which is great.
Except for the fact that I may have to burn down my closet.