Wow.
It has taken me a sweet forever to write about the last five trends of Spring and Summer. Originally it was all due to my master ability to procrastinate and waste time, but then I almost deleted the entire post last Thursday night around midnight and had to take a sedative.
Ultimately, I think the month-long lapse between the initial Spring trends post and this one explains why I have a map of Texas that needs to be framed sitting in a corner of my living room and a chandelier that needs to be hung sitting in a corner of my bedroom and a closet full of clothes in Caroline's room that need to be sorted through and all other manner of projects that I have started and neglected to finish. I am good with the starting, not so much with the follow-through.
However, here are the final five trends of Spring/Summer.
6. maxi dresses and skirts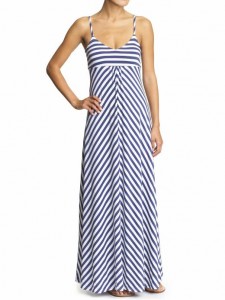 The maxi dress is a sneaky little thing because I thought it was out and then it was back in. And then it was out again and now here it is. In reality, maybe it never really left and I'm just projecting my own feelings about the maxi dress to the trend in general. I don't know.
But that was yesterday. Or last week. Right now I am a fan of the maxi dress. I particularly like this ella moss stripe maxi dress even though I think I'm past the age of wearing it without something over it, not to mention what I'd need to wear under it. Still, it's so cute and I adore the stripes. Something like this accidentally in love stripe maxi dress might be more practical and it's certainly more affordable.
Speaking of affordable, Forever 21 is a great place to find inexpensive maxi dresses which is perfect because you don't have to feel guilty if you only wear them for one season or decide to use it as a swimsuit coverup and it has an unfortunate encounter with a rainbow popsicle. Hypothetically speaking. I really like this one shoulder maxi dress or this rope straps maxi dress or a simple short-sleeved maxi dress
Old Navy is also a great place to find a maxi dress for a good price.
And I love this sleeveless halter paisley print maxi dress and this mocha daisy print from Boden.
Or maybe you're looking for something in a leopard print. Rawr.
You also can't go wrong with a maxi skirt like this jenny han maxi skirt or this tiered paisley maxi skirt or this knit stripe maxi skirt might be a cute casual option
7. Denim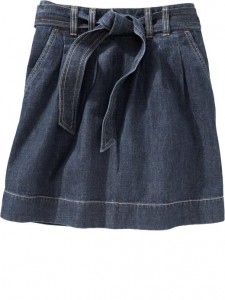 Denim. The fabric of our lives. Or is that cotton? Either way, you can't make denim without cotton which means it is also the fabric of our lives and the clothing of our ancestors.
I have no idea what I'm talking about. I just know that I love denim. In fact, in high school I had this denim dress that zipped all the way up the front with enormous shoulder pads and it was a sad day when I had to admit it was over. I think I threw it out at the same time as my Swatch dress. The 1980's were hilarious.
Anyway, there is denim to be had in every style imaginable. I really like this denim skirt or even this denim dress.
There are also cuffed cropped jeans or wide legged jeans.
And I'm on the search for just the perfect pair of denim shorts. I'm hoping I might be able to just make these from a pair I have in my closet.
I also really like this denim button up with a tied waist and I wait all winter long to wear my white jeans.
Personally, I don't know if I can go back to the sleeveless denim shirt because I had about seventy-five of them in college. All of which I wore tied at the waist with denim shorts and my favorite Brighton belt. Oh, and Cole Haan tassel loafers. With socks.
Bless my heart.
8. prints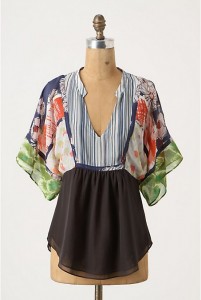 Prints are a big trend but they're tricky for me because I'm generally not a fan of the floral print. It can take a bad turn towards Aunt Edna's couch, but don't let me keep you from a love of florals. I just have issues.
I really like this swatch book top.
And I adore this little jersey beach dress from Boden. I want to go to the beach and I want to wear this dress.
This spanish nights dress is also really pretty and I LOVE this celestine paisley tunic.
Something like this tropical daydream tank would be cute with cropped jeans or shorts.
And, naturally, Anthropologie has some adorable print dresses like this cornellian dress or this tuileries dress.
9. bracelets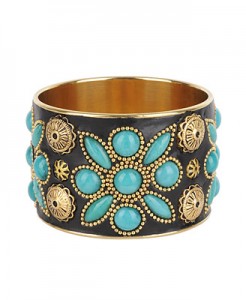 The nice thing about accessories is they are a cheap way to add to an outfit. Or at least they are for me because I'm a firm believer in the inexpensive jewelry. I love this beaded flower bracelet because I'm a sucker for turquoise.
There's also this turquoise cuff bracelet or a textured gold cuff or maybe an elegant stone bracelet. Although I question the elegance of those stones.
I also like this curved bangle or a leather cuff bracelet or how about some metal bangles or these stackable bangles in multi-colors?
See? Cheap and fun. I want to make an inappropriate joke here but I'm going to let the moment pass by.
10. Crochet details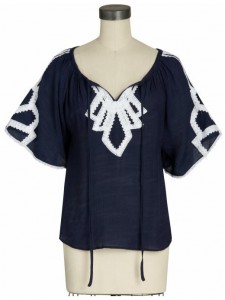 This isn't your granny's crochet. Or maybe it is. I don't know your granny and I shouldn't presume.
There are so many ways to incorporate this trend. Like this crochet trim dolman top or the point of view peasant top.
This breaking loose crochet sweater has potential and I think this sunflower sensations top would be such a fun pop of color with some white jeans.
And then I have to add this lace blouse with tie because I am a fool for a lace blouse with a tie.
So, there you have it America. Your next American Idol.
Wait, that's not right.
Your final five trends for Spring and Summer 2011. I hope it didn't disappoint.
Also, writing this entire post felt like deja vu. Probably because I did the exact same thing last week.
Y'all have a great Friday.