Today is a big day at our house. It's P's 40th birthday. I am married to a forty-year-old man. Which means I must be getting old.
But I can't think of a better way to grow old than with someone who makes me laugh every single day. It's part of why I love you, P. Along with these forty other reasons:
1. The way you never really panic about anything. In fifteen years, I've never seen you panic.
2. The way you talk me off the ledge when I work myself up into near hysteria.
3. Your ability to recall movie lines from a movie you saw one time back in 1983.
4. Specifically, The Warriors. Which I'd never even heard of until you referenced it about four years ago.
5. The way you get so excited about hunting season EVERY SINGLE YEAR.
6. That you have all your camo clothing arranged by pattern in the guest bedroom closet.
7. The fact that you don't mind keeping your camo clothing in the guest bedroom closet because it usually smells like dirt and would make our shared closet smell like dirt and you realize I don't want to smell like dirt.
8. Your ability to just sum up a situation in two words. For example, "COMPLETE NONSENSE".
9. The way you never hesitate to be completely honest about anything.
10. That you know me well enough to ask me how honest I want you to be when I ask a question like, "Do you like this dress?" or "Do these jeans look okay on me?"
11. You never question my sanity. Even when I paint the kitchen twice in six months. Oh, you'll mock me for it. But you don't question my mental capacity.
12. The way you occasionally get sucked into something I'm watching on T.V. and start to ask about the characters or plot before you remember that you have absolutely no interest in Rachel Zoe or how she styled Demi Moore for a photo shoot.
13. Your constant safety lectures. How else would I know I should NEVER, EVER stand on the very top of a ladder that's not securely on the ground?
14. Or that it should be my natural impulse to immediately lock my car doors THE VERY MINUTE I get in my car?
15. The way you can get on the phone with your friends and discuss all manner of weaponry and ammo with the same passion and intensity that I talk to my friends about The Bachelor or Real Housewives.
16. You know how to fix just about anything. And if you don't know how to fix it, you will find out. Or make something up.
17. That you actually believe I'll allow you to hang a third deer mount in our living room.
18. The way you clean out the backhouse at least once a month and always find new ways to organize everything.
19. That you tell me we're out of everything and then give me a grocery list that contains two items. Usually York Peppermint Patties and Nilla Wafers.
20. How you sometimes add things to the grocery list just to make me laugh. For example, "toilet paper not made of sandpaper".
21. The way you love the Doodle.
22. And how you never get tired of answering all her questions even when I am way past done.
23. Seeing the two of you dressed up in your camo, loading up your guns and heading to the ranch for an adventure. Oh, she does love her daddy.
24. The sweet mullet you had in high school.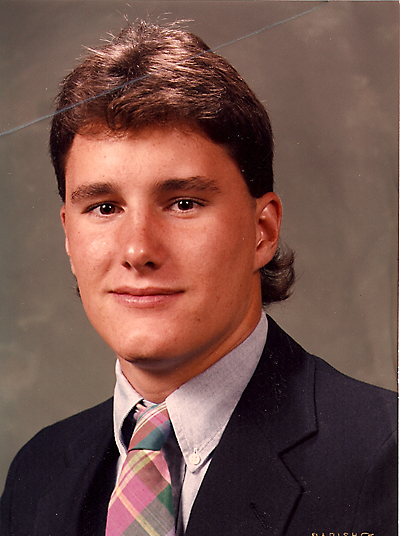 25. That you weighed all of 155 pounds when we first met. And that when you got sick after we'd been married for three months you went to the doctor where they weighed you and you discovered you weighed 185 pounds. You told them their scale must be broken.
26. That you rode the city bus to a Tea Party gathering about a year ago. And packed heat.
27. The way you believe in me even when I don't believe in myself.
28. How you know when I'm being too hard on myself and when I'm not being hard enough.
29. That you make me want to live up to the person you see in me.
30. You never question me when I tell you something only cost $15.00.
31. Although you do laugh at me.
32. That you carry a weapon at all times when you're down at the ranch. Even when you're playing pool.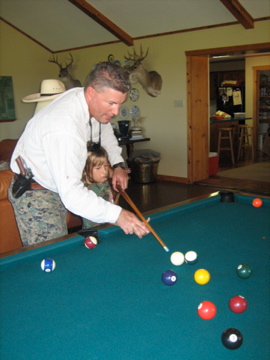 33. The way I never feel safer than when I'm with you. You are a man that can handle some things.
34. You aren't too proud to say when you're wrong.
35. Or to let me know when I am.
36. That you're man enough to help Caroline dress her Barbie dolls or let her give you a makeover or to always compliment her on a new outfit and tell her how pretty she looks.
37. The heart you have for God. And how I know that you're always in prayer over anything that involves our little band of three.
38. The way you provide for us even though it means working long, hot days in the South Texas sun.
39. The fact that you told me last night at dinner that you've lost six pounds since Friday. Actually, I don't know if I love you for that as much as I envy you for it. And am slightly bitter about it.
40. Your hair that's almost entirely gray. Because I've always had a thing for a silver fox.
You are everything I ever wanted and so many other things I never knew I needed.
Caroline and I love you so much.
Happy Birthday! from Big Mama on Vimeo.