The air-conditioning is working again.
I repeat, the air-conditioning is working.
The guy showed up around noon yesterday to install the new motor. He also checked out our other unit to make sure it wasn't circling the drain and said everything looked good. Then, on the way out the door, he said, "Just make sure you call us this winter before you turn on your heat. Your unit is over seven years old and that's around the time it can crack and cause carbon monoxide to leak throughout your home and you'll go to bed one night and never wake up."
Wow. I was not expecting that.
Needless to say, all my neurotic tendencies kicked in and I turned to November 1st in my planner and penciled in, "Call to get heat checked so we don't all die". You have to admit he knew his audience.
Anyway, I'm feeling much better today and not just because it no longer feels like I'm sitting on the equator. Gulley knew I needed a little time to myself (mainly because I might have called her crying yesterday and said, "I just need a few hours to myself.") and offered to pick up Caroline from soccer camp and let her play with Jackson and Will for a little while.
I felt so bad saying I needed a little time to myself but ever since summer began Caroline has been in love with me. She wants to be everywhere I am and there is no such thing as personal space. And while I am so thankful and love her more than life itself, we've been inseparable for the better part of a month and the introvert who lives inside me just needed a little time to breathe. (Yes, I am a little bit of an introvert. I just play an extrovert on the internet.)
Later on in the afternoon, I met Gulley and the kids at the pool. We swam and watched the kids jump off the diving board and caught up on important current events like General McChrystal's resignation, the earthquake in Canada, why the local sportscasters only talk about the Spurs and not the College World Series, and which bachelor we think Ali should choose. (Chris L. is the frontrunner with Roberto at a distant second.)
After we were worn out from swimming, we ate dinner at the pool and while we were finishing up we heard Coach announce that it was time for "almost moonlight bingo". Listen, we had no idea that it was bingo night at the pool. It was just a gift from God.
Will was beside himself and immediately yelled "YAHOO BINGO!!" and hit Gulley up for a dollar so he could play. He had his game face on and repeated everything Coach said with great enthusiasm. "I-64!!! G-7!!! N-22!!!"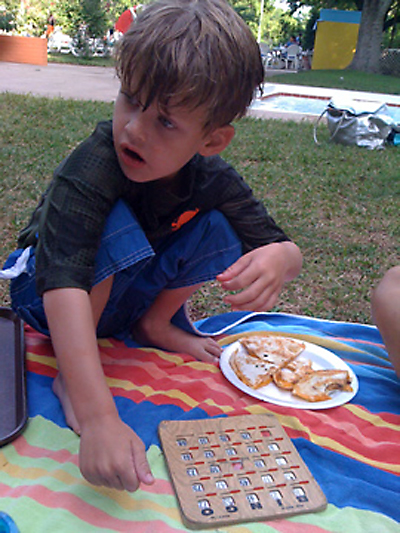 Then P got up to go refill his water and Coach saw him walk up and started calling his name over the loudspeaker, "P! COME AND GET YOUR BINGO CARD, P! TIME FOR P TO PLAY A LITTLE BINGO!"
Caroline thought it was the most hysterical thing she'd ever experienced.
When Jackson and Caroline saw how much Will was enjoying his game of Bingo they decided to play as well.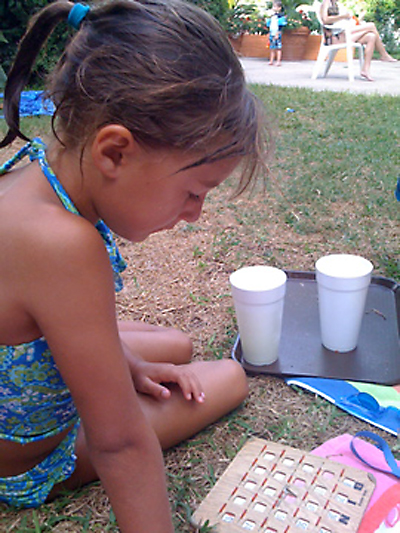 Although they lacked a little of his passion for the game. Ultimately they got up and wandered back off to the pool to swim a little bit more. Then Will decided to follow them.
So there Gulley and I sat, just the two of us, playing our Bingo cards. She looked at me and said, "I guess this is a glimpse of our future at the retirement community."
And then we laughed until we cried.
It was a good day.