Yesterday morning I drove Caroline to school while simultaneously rejoicing that we only have seven more Monday mornings left until summer. I hope I survive them because Monday mornings contain an abundance of I WANTED TO WEAR MY KHAKI SHORTS and I DON'T LIKE THAT SKIRT ANYMORE and DID YOU REMEMBER I HAVE TO BRING TWO BAGS OF MINI-MARSHMALLOWS TO SCHOOL TODAY?
Yes, of course I remembered that even though you never told me because my whole entire life is devoted to keeping extra bags of mini-marshmallows on hand JUST IN CASE.
After I dropped her off at school I came home and procrastinated for about the next hour in the form of laundry and unloading the dishwasher until I could put off the Shred no longer. I put on Jillian Michaels, muted the T.V. because it's the only way I can tolerate her, and made it through Level One even though I'm pretty sure my quads started screaming for mercy around the fifteen minute mark. I guess they should have thought about that before they tempted me to eat that Amy's ice cream Sunday night. (Dark chocolate with Reeses' peanut butter cups aka the ice cream they will serve in heaven)
Ultimately, I ended up cleaning out my closet because all my warm weather clothes were still up at the top of my closet and that doesn't really help me when the temps are in the 90's and it might feel good to wear something besides a sweater.
And since I have nothing more exciting to talk about than cleaning out my closet, here is a list of things I learned throughout that process.
1. I own approximately 52 white shirts. None of them happen to be ironed.
2. Yet I keep buying white shirts that need to be ironed. I believe this is what the experts refer to as "denial".
3. I have a pair of Levi 501 jeans that I've owned since P and I were dating over fourteen years ago. They are terribly high-waisted and completely out of date. But they still fit and so my pride and I like to keep them around even though 1995 may call and tell me it wants its jeans back.
4. I still own a paisley dress from Harold's that I bought to wear to my ten year high school reunion that I can't bear to let go of even though odds are good I'll never wear it again. Especially since I attended my twenty year high school reunion two years ago.
5. I have several outfits that could benefit from a pair of gold sandals.
6. Cleaning out my closet brings out the Joan Crawford in me and I suddenly need to have all plastic hangers. Specifically, I need them to either be white or clear. NO WIRE HANGERS EVER.
7. Gulley let me borrow a shirt the other day and I even replaced the hanger on her shirt with a white plastic hanger. And then threw her wire hanger away.
8. Those of you who think you might want to be my friend in real life might want to rethink that decision.
9. I ended up with two bags of stuff to give away. Yet I still own a denim vest, a black business suit, a Christmas Formal 1993 sweatshirt, a ten-year-old pink t-shirt from Banana Republic with a small hole in it and a pair of wicker shoes that were a bad idea when I bought them eight years ago and remain a bad idea to this day.
10. After I got the closet completely organized and neat I walked back in there no less than fifty times throughout the day to admire my work. I even took a picture.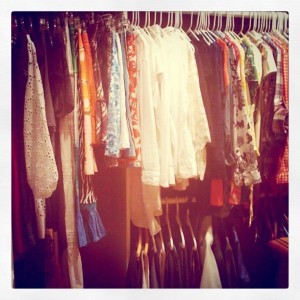 It might be time for me to look into the possibility of finding a hobby.
Maybe you could make me feel better and tell me something in your closet that you hang onto in spite of all logic, reason, and good taste.
Copyright secured by Digiprove © 2011