Friday was Caroline's last day of day camp and so P and I drove up for the closing ceremonies. We were able to meet her counselors and hear all the songs and cheers she'd learned over the last week, but unfortunately did not get to witness the dance party for ourselves. Which is a shame because there is really nothing better than a dance party where you have to dance or feel embarrassed. Plus I was looking for a chance to "turn around on y'all".
I also need to tell you that I spent two hours on the phone with AT&T Customer Service (and I use that term loosely) before we ever left for camp because our internet fell and could not get up. There is no reason you need to know this other than my need to complain about it. And to let you know that they finally sent someone over to fix it on Saturday and managed to not only NOT fix our internet, but to break our home phone. Stellar.
Caroline's counselors at camp were these two darling high school girls. They presented each little girl in their small group with a certificate filled in with the word that best described them during their week of camp. Caroline's word was COOPERATIVE.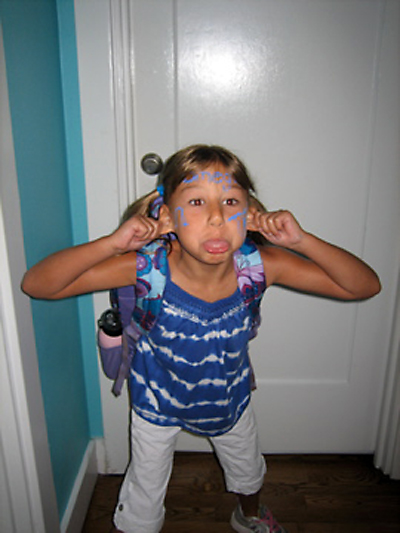 Of course it was.
Most likely because those girls have never had to get her dressed for church on a Sunday morning.
Her fellow campers also wrote four adjectives on a sheet of paper they sent home with us.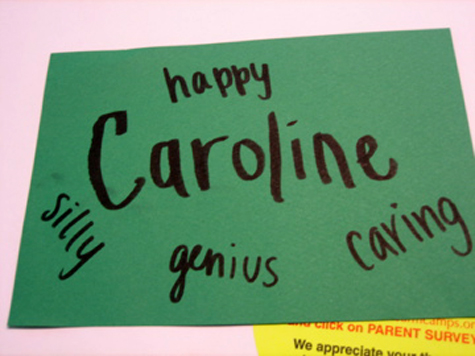 I told her I was so proud of her for being happy and caring and asked for a little clarity about the genius part. She said, "Oh, I told them all I was a genius and they saw I was right".
I don't even know what to say.
We spent most of Saturday recovering from camp and getting ready to leave on our road trip the next day. That's right. Gulley and I packed up the kids yesterday and headed out for our SECOND ANNUAL TEXAS TOUR ROAD TRIP EXTRAVAGANZA.
(That's not necessarily the official name, but it's kind of catchy. I'll refer to it as the TTRTE, pronounced "tart")
After we got home from church, I began to throw some things in our suitcases and asked Caroline which pair of tennis shoes she wanted to pack. She said all of them. To which I replied, "There is no need to bring all those shoes" and then proceeded to throw five pairs of flip-flops in my suitcase. Seriously, physician heal thyself.
Around 1:00 p.m. Gulley and the boys pulled up, we packed the car like we were the Joads heading west and ventured out on the open road. Our first stop was the Capital Building in Austin.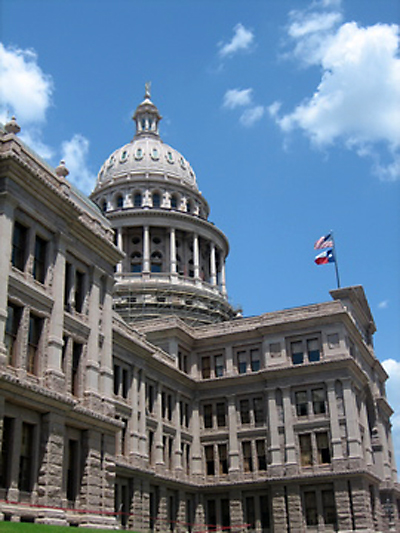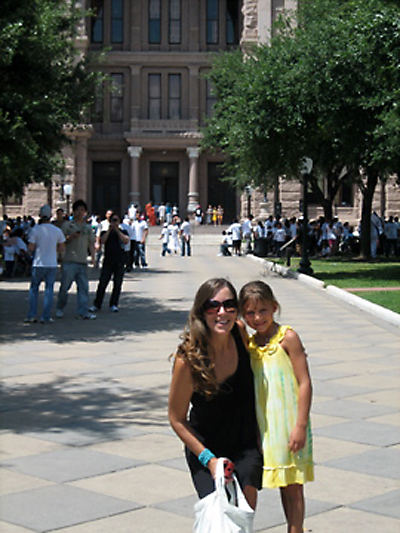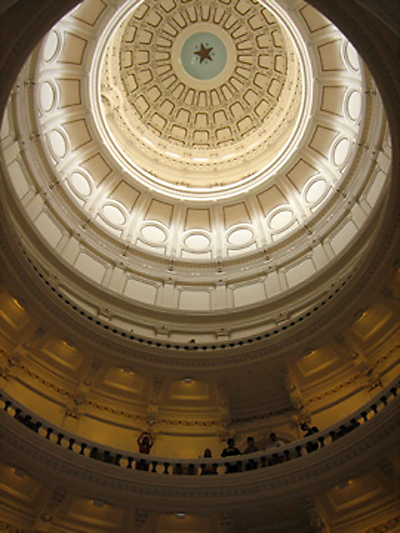 We climbed the stairs to get as high in the rotunda as we could and then took a look around the Senate Chambers.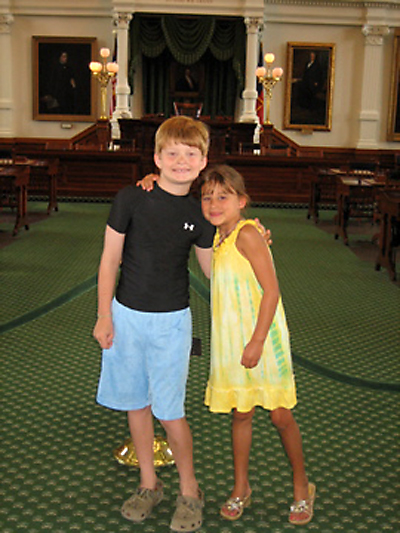 And discussed how a bill becomes a law. Or maybe we just talked about if we could all get milkshakes later on. I can't really remember.
All I know is our next stop was for milkshakes.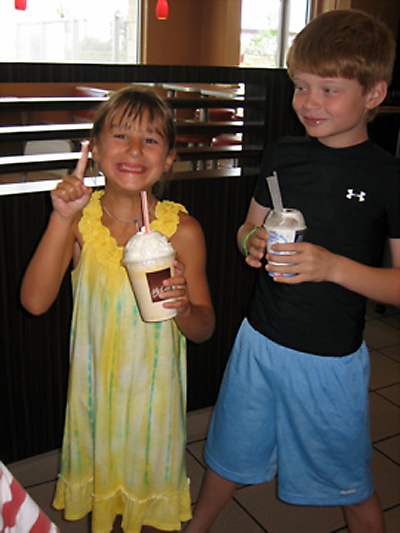 After four more hours on the road, we arrived at AJ's house in Dallas. Now I have to go to bed because we're surprising the kids with a day of BIG FUN tomorrow. They have no idea what we have planned, but are hoping against hope that it involves riding the Dallas Area Rapid Transit, better known as the DART. But since we did that last year and felt like there was a 98.3% chance that our lives were in jeopardy, we've decided on something even better than public transportation.
I know it's hard to imagine that such a thing exists.