Yesterday morning we woke up after a night that included several bouts of coughing. And as we sat in front of the T.V. to watch the U.S. women's soccer team play in the semi-finals (USA, USA, USA!), I made the executive decision to go ahead and take Caroline to the doctor because her cough sounded worse and I knew I was leaving for Nashville today. I didn't want to leave her with thoughts of bronchitis dancing in my head.
And now you may be wondering why I'm going to Nashville.
So I'll tell you.
I've finally decided to pursue my lifelong dream of becoming a country singer and owning some sort of dress with roses made out of rhinestones.
The only thing standing in my way is a complete lack of musical talent.
In reality, Sophie and I are going to be a part of a new Lifeway Women's conference called .Mom. It's pronounced DOT MOM in case you just thought I put a period in the wrong place.
.Mom isn't until September 23-24 in Birmingham, Alabama, but they're bringing us in to Nashville to work on our script and some video-type things over the next couple of days. Because we're going to emcee the entire event. And so we might need to have an idea about what we're supposed to say in advance. Unlike our podcasts where we just ramble endlessly about The Bachelorette and our hair.
You might be wondering if I'm a little frightened at the prospect of getting up in front of 2,000 women and making an attempt at witty banter. The answer is no. I'm not frightened. I'm merely completely terrified and feel like I might throw up just thinking about it.
So I'm sure it will all be FINE.
Especially considering the last time LifeWay entrusted us with any sort of speaking/emcee duties it turned into me standing on the floor of the Alamodome asking how everyone slept last night. It's a moment I refer to as my own private Alamo. As in REMEMBER THE.
But if you're a mom of any age and stage of child, then you should think about joining us at .Mom in September. You can find out more here. If nothing else, you can be a witness to the moment Sophie and I either begin a new career as emcees or solidify decisions to never put us in front of a group of people again.
Good times.
Anyway, that's why I decided I needed to take Caroline to the doctor. Because MOM OF THE YEAR if you leave town to work on your role in a conference on mothering and leave your child at home with an untreated respiratory illness. But by the time her 3:40 appointment rolled around, I began to suspect I overreacted and she was definitely feeling much better as evidenced by this series of pictures I took with my phone while we waited for the doctor.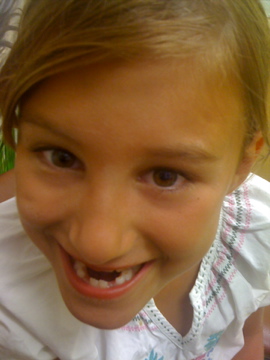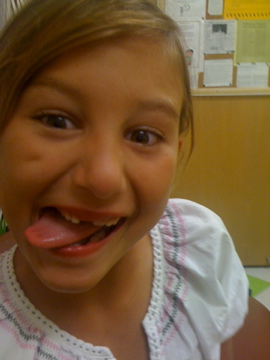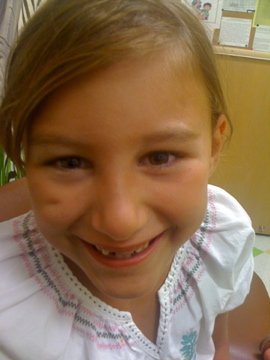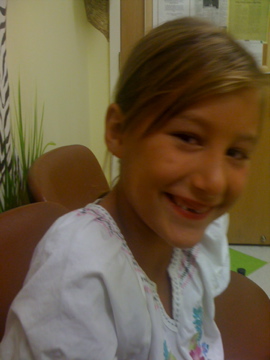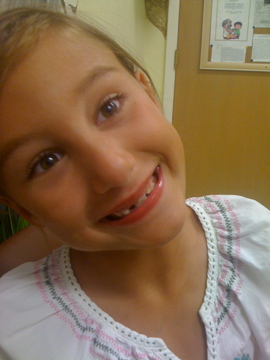 I think it's obvious that I felt really good about spending the $35 co-pay by the time we left. Especially when the doctor said, "She seems completely fine" and then fought the urge to hand me a pamphlet on neurotic mothers.
But in the meantime, P had taken our other child, Bruiser, to the vet because his ear flap had become very swollen over the last several days. At first we thought he'd just been stung by a bee or something, but then I got on the Google last night and began to suspect that he had an aural hematoma.
What did we do before Google? How was any illness ever diagnosed before we could just type in "My dog's ear is all puffed up and swollen" and be rewarded with more information about dog's ears than we even knew existed? Sure there were other methods of research, but I never would have known an aural hematoma was a real thing and, even if I did, I would have probably gotten sidetracked reading about Austria when I tried to look it up in the A volume of the encyclopedia.
As it turns out, the nice folks on Google were totally right and Bruiser had to have his ear drained. So when Caroline and I walked through the door after her doctor's appointment, we found Bruiser looking like this.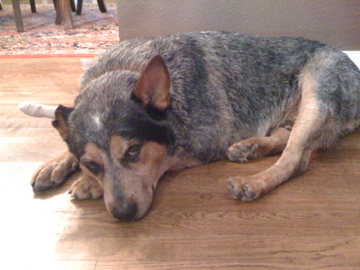 I think he was annoyed with me for taking his picture while he's not at his best. P said they stuck a needle in his ear flap to drain the fluid and then wrapped it up. All for the bargain price of not anywhere close to free dollars. But the good news is Bruiser won't end up with an ear like a professional wrestler and that makes me feel so much better because he can be so vain.
Speaking of vain, I spent the rest of the afternoon attempting to pack my suitcase and then showered and went through my entire good hair routine. Amplify shampoo, vinegar rinse to get rid of hard water, conditioner, cold water rinse, Amplify serum, mousse, blow-dry, hot rollers, flat iron. I'm exhausted just typing it all out. But I tried to skimp on my hair routine before I went to Louisville, KY for Deeper Still last month and I had hair regrets the entire weekend. I felt like it was important to start off on a good hair note this trip.
Even though I'm sad to say I'm not sure I rinsed the vinegar as well as I should have and am noticing I smell a little like salad as I sit here and type. I'm sure the people sitting next to me on the plane won't mind.
Or maybe it will just make them crave a Greek salad and they won't even know why.
I'll see y'all tomorrow for Fashion Friday. Fingers crossed I find a dress in Nashville with roses made out of rhinestones.
Copyright secured by Digiprove © 2011