Caroline and I went to Target yesterday for several reasons, but while we were there I decided she needed a least one more swimsuit for the summer and then she found a maxi dress on sale that she felt like she must have in order for her life to be complete. And I totally understand that. Plus, it was only $7.00 which is 50% of my normal $15.00 price point.
(I realize it's not exactly half, but close enough. Work with me.)
So we were headed back to the dressing room when she saw one more dress that she wanted to try on. A dress that I did not like AT ALL. A dress that I could tell was made of cheap material and wouldn't fit well. But I told her she could try it on because, let's be honest, there are some battles you don't feel like fighting in Target at 4:15 in the afternoon.
Once we got in the dressing room she tried on the 184 swimsuits she'd picked out until we found one that we both agreed on and then she tried on the first dress. It really was cute and I felt good about it because did I mention it was only $7.00? And she is ALL ABOUT the maxi dress this year which kind of cracks me up but that fashionable apple did not fall far from the tree.
But then she tried on the other dress, looked in the mirror and said, "OH, NO WAY!" I acted surprised and asked, "What's the problem?" She replied, "This material is CHEAP and I don't like the way it fits AT ALL."
And in that moment I felt a little bit like Obi Wan Kenobi as he realizes that he has taught young Luke Skywalker well. Well done, young Jedi, well done.
Also, we have watched a lot of Star Wars at our house in the last three weeks.
So here are a few things that hopefully aren't made from cheap material and will look good on you. I have no explanation for why so many of them have stripes. I guess I was in a striped frame of mind.
1. dolce vida dress in kaleidoscope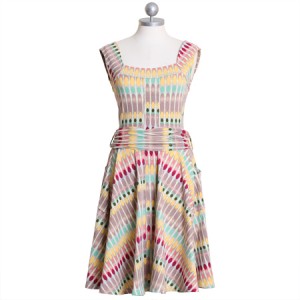 This is awfully pretty and bright. Love all the colors.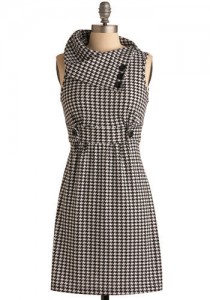 Back in the days when I worked for corporate America schlepping drug samples in and out of doctor's offices in the blazing heat, this would have been the perfect addition to my business wardrobe. It looks professional and pulled together, but it's sleeveless and seems like it would be fairly cool.
As in temperature. But maybe like the Fonz cool too.
Plus when the weather turns cooler it would be perfect with a sweater or jacket over it.
3. franco sarto carnival wedges
Nordstrom is in the midst of their semi-annual sale right now which means these shoes are a pretty good deal. I bought a pair of Franco Sarto wedges at the beginning of Spring and they are so comfortable. I'm assuming these would be too.
Not to mention they're really cute and come in great colors.
Someone emailed me this week and mentioned she was struggling to find a good pair of shorts. Which is so funny because I'm struggling to find a good pair of legs to wear with my shorts.
Speaking of, did anyone else notice Carrie Underwood's legs during the American Idol finale? Sweet mercy. It made me want to do 1,000 lunges a day to make my legs look like that. But then I went to bed and the feeling went away.
Truthfully, shorts are hard to find and I think they're a very personal decision. But I bought these sanctuary peace shorts a few weeks ago and really like them. I also have an old pair of shorts similar to these denim bermudas that I'll still wear every now and then.
But what I wear the most are my Nike running shorts. They are cool and comfortable and come in handy if I feel inspired to do a lunge or six.
5. 7 for all mankind bootcut jeans
I know. I know. I won't let the jeans thing go. But it's all out of love. OF LOVE.
I believe a great pair of jeans can change your life. Or at least your closet.
And I LONG RESISTED spending a lot of money on jeans. I thought it was ludicrous. But then I gave in and it was the best decision I've ever made. I still wear the first pair of expensive jeans I ever bought and they're almost six years old. Which, if you average the cost out over the number of times I've worn them, they now make me money.
Anyway, Nordstrom has a lot of jeans on sale right now so it's a great time to get a nice pair of jeans for much less than they normally cost.
The end.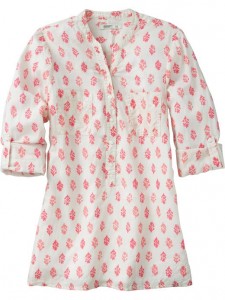 I liked this tunic the first time I saw it. But I liked it even better when I found it on the sale rack at Old Navy last week for EIGHT DOLLARS AND NINETY-NINE CENTS.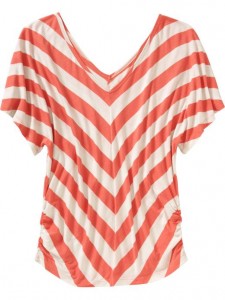 Like this striped top because the stripes aren't straight across. Makes it more flattering.
8. emcee tee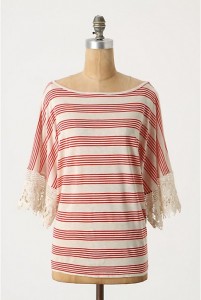 This is so pretty and different. Love the detail on the sleeves.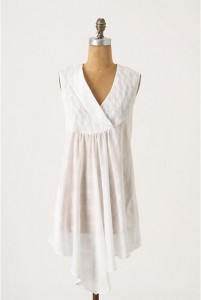 This is another top that I loved at first sight. And now it's on sale.
10. big buddha chloe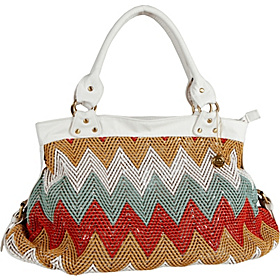 Apparently some part of me is really wanting an aztec-striped handbag because I am drawn to them. I love the colors in this one by Big Buddha.
But for something different, I also think this Big Buddha fiesta bag has the potential to be cute. Although I haven't seen it in person.
That's it for today.
Y'all have a lovely Memorial Day Weekend.
Of course it would be a lot better if we didn't have to go back to school next Tuesday. Ridiculous.