I can sum up my day in two words:
Pretzel M&M's.
Sophie mentioned them a few days ago and I'd just seen them that morning at Office Max. They seemed to be the culmination of every PMS dream I've ever had and I finally bought a bag at HEB. I never knew heaven had a taste.
The unfortunate thing is that I've spent most of the summer vowing my workout and eating healthy regimen would begin again as soon as school started. So I'm going to have to eat the pretzel M&M's in moderation.
Right.
It reminds me of a story my family used to tell about my oldest cousin. When she was a little girl and got in trouble for doing something wrong she immediately began to wail, "But just yesterday I gave my heart to Jesus."
That's kind of how I feel about the pretzel M&M's. Just yesterday I gave my heart to pursuing some physical fitness goals.
It's going to take some willpower.
Mainly because we spent most of last week at the beach. The beach experience isn't complete for me unless it includes Fritos and bean dip. And apparently a variety pack of Corn Nuts. I didn't even realize that was an odd thing to haul down to the beach until my friend E looked in the pantry and asked, "Who in your family can't live without Corn Nuts for four days?"
That would be me. Not on normal days, just beach days.
That makes it better.
Anyway, early in the summer, our friends W and E invited us to come stay at the beach house they'd rented for a week. They also invited our friends Cat and Dave and we were all excited to get to spend a few days together with our kids.
So last Thursday we loaded up P's truck, along with the Polaris and everything else we own, and headed to Port Aransas for a long weekend. I'm not kidding when I say we looked like the Clampetts, but not as refined.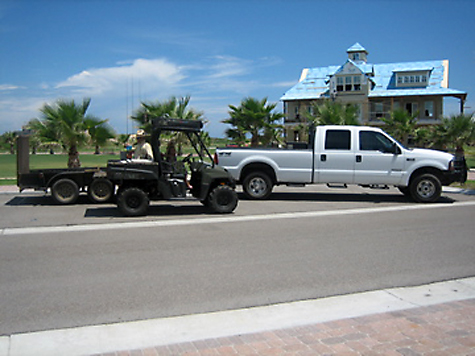 When I went to HEB on Wednesday to buy groceries for the trip, my cart was so full that the bag boy asked if I had a lot of kids. Yes. Yes I do. Kids who eat a lot of Corn Nuts. The back seat of the truck was piled so high with groceries that every time P made a right turn I was concerned Caroline might get knocked out by a rogue can of bean dip.
As soon as we got down there, we hit the beach. And look! We upgraded our accommodations this year!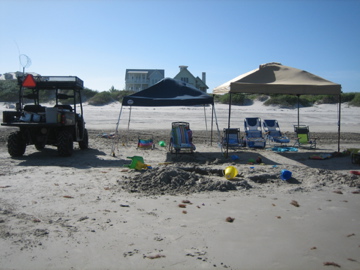 Granted, it still looked a little like a refugee camp, but it was an improvement over last year's tarp held up with rusted rebar. What I really wish I could show you is the moment the brown canopy caught a big gust of wind and began flying down the beach. We watched with a mix of horror and wonder, yet no one thought to grab their camera.
The fun thing about the trip, other than the canopy flying with reckless abandon down the beach, was that we've known W and Dave since they were fifteen years old and began attending a weekly Bible study that P led after he came back to San Antonio from College Station. And we've known Cat since she was about ten. We first met E six years ago when she visited the ranch with some friends who thought she might be a good match for W. Is any of this making sense?
The bottom line is that we've watched them all grow up, become real people, fall in love, get married and have babies. And now we're just all friends that take vacations together.
And watch our kids dig big holes in the sand.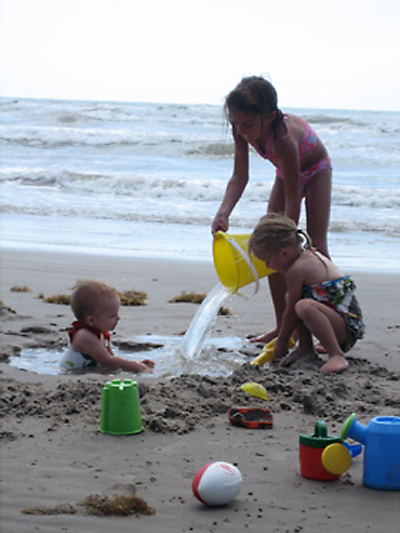 So that they can make a baby pool for one of the littlest ones.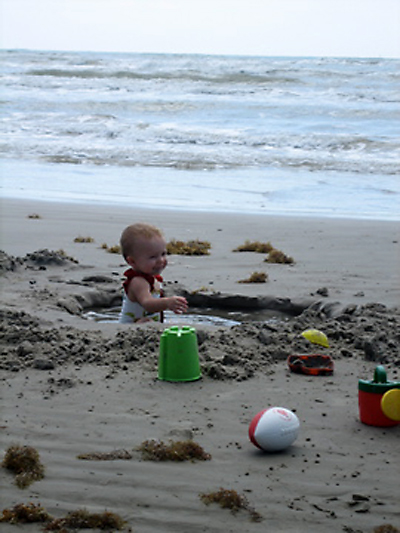 Shortly after, they crashed her pool party and she decided to make a getaway.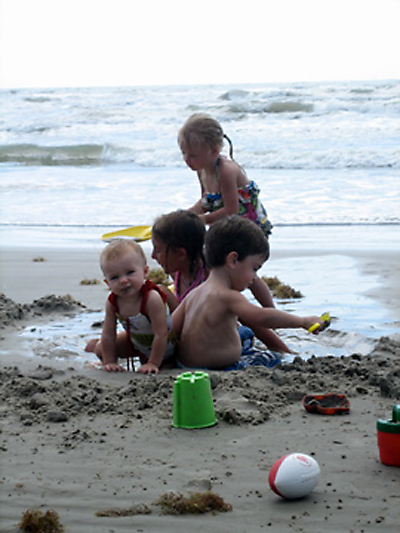 To go in search of bigger and better things.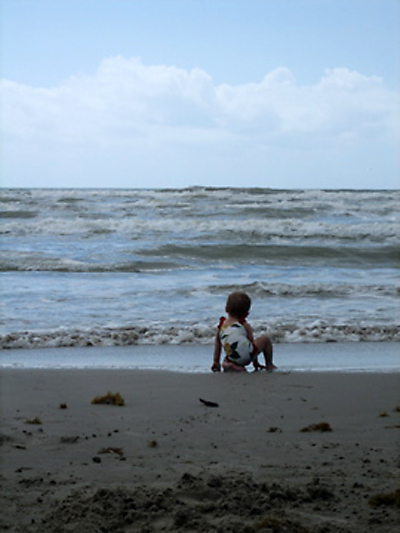 There were water fights.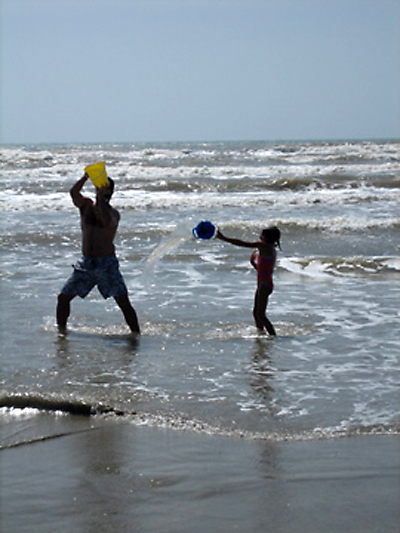 And trucks.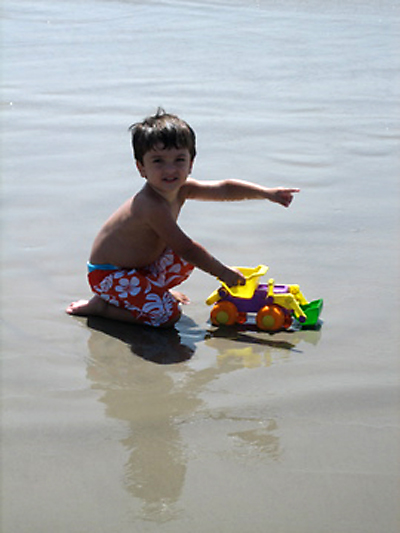 And running down the beach.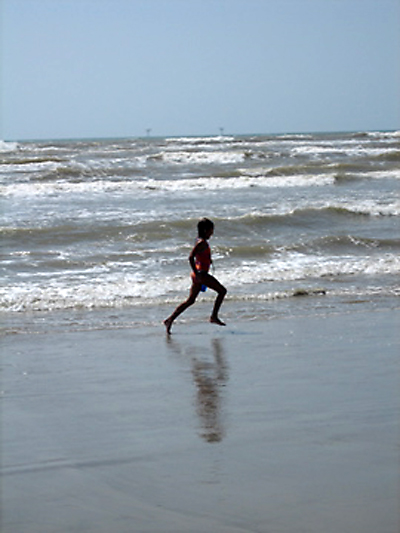 And much borrowing of Caroline's fancy goggles to make a fashion statement.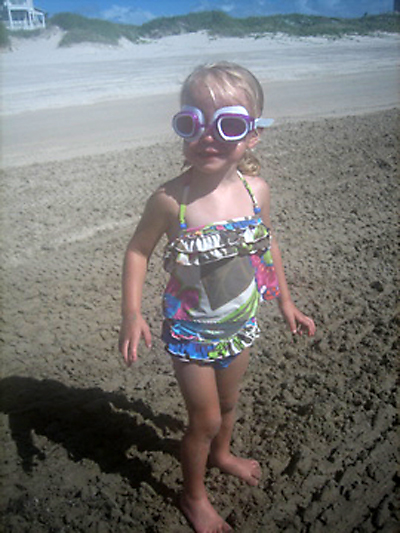 The majority of the time I looked up from my lounge chair and magazine, I saw Caroline attached like a little sea monkey to her daddy.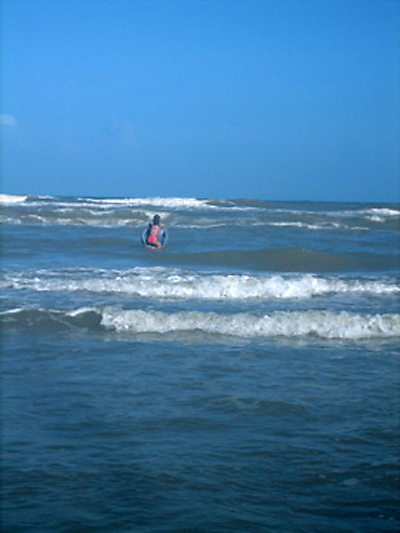 The fish we caught weren't quite as impressive as the sharks we caught last year.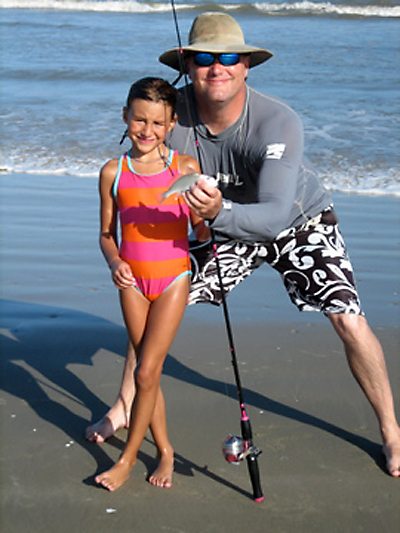 And by we, I mean P. I don't really believe in putting bait on a hook and heading out to become part of the oceanic food chain.
It was the perfect way to end the summer. Friends, laughter, sun, Fritos, bean dip, Corn Nuts, sun and seaweed.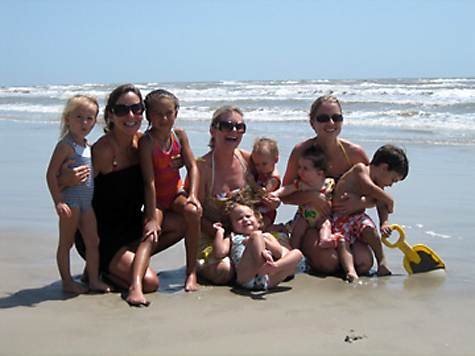 And jumping because we were just so happy to be there.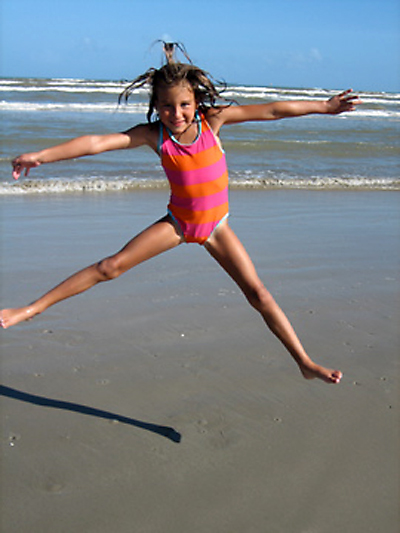 (This is how I'll always remember Caroline at age 7. All arms and legs. All energy. All the time.)
________________________________________________________________
There is a new Kellogg's post up on my giveaway page. Click over there to leave a comment for a chance to win $100 gift card.