Well, as it turns out, P was able to fix the power cord. I'm not sure exactly what he did, and I hate to bore you with all the highly complicated jargon, but it seemed to involve disconnecting the whozeewhatzit from the flux capacitor and, TA DA, let there be light. Or power to my computer.
Technically I should probably still take the power cord back to the Apple Store and get the whole thing checked out, but I'm going to Scarlett O'Hara it and think about it tomorrow. Or the next time it quits working at an inconvenient time and I curse myself for not just taking care of it in the first place.
So our weekend kind of started on Thursday night because we attended Caroline's school musical. She gave a riveting performance as Wednesday Addams of The Addams Family. It basically consisted of her class singing the theme song while they all snapped on cue.
But she got to wear stage makeup and a pretty black dress and that was enough to make her supremely happy.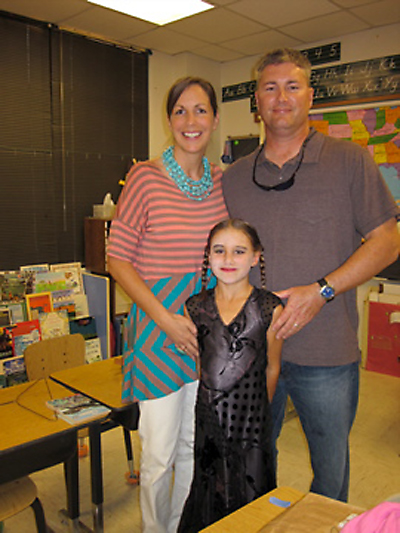 Even though she did experience some serious envy over the class who got to perform "Footloose". And, let's be honest, who can blame her?
After the performance, Caroline was ready for a star-studded after party but since it was already 8:30 all she got was the option to go home and go to bed because Friday was still a school day. Have I mentioned that I am so ready for this school year to be over? Because I am so ready for this school year to be over. Only twelve days left.
Not that I'm counting down the minutes until we can enjoy a big schedule full of nothing.
By Friday night I wasn't feeling that great. Mimi and Bops called to invite Caroline out to eat with them but she told Bops, "Let me get back to you on that" and ultimately decided she'd rather stay home and eat the barbecue P had picked up for dinner since I wasn't feeling so good.
About a month before, she'd watched the original Star Wars movie that's now called something else because of the three newer Star Wars movies. I could tell you all their names but that would require two things of me:
1. Some internet research.
2. For me to actually care what they're called.
So let's just go with the original Star Wars movie. And then she'd watched the first part of The Empire Strikes Back after her Uncle Chris (who is slightly obsessed with all things Star Wars and may have named his son Luke just so he can say "Luke, I am your father") loaned her his complete set of Star Wars DVDs.
But she'd never finished The Empire Strikes Back and decided Friday night was the ideal time to watch the whole thing. So she and P went back in the bedroom to watch it while I laid on the couch and read a book and thought about how much my throat was bothering me.
Two hours later they emerged from the bedroom. I could tell Caroline had been crying and still had tears in her eyes as she exclaimed, "MAMA! YOU WILL NEVER BELIEVE THIS. DARTH VADER IS LUKE'S FATHER! AND THEY FOUGHT AND HE CUT OFF LUKE'S HAND EVEN THOUGH HE'S LUKE'S FATHER!"
It was the shock of her life.
Almost as much of a shock as it is to me that I have a daughter who is now obsessed with all things Star Wars. And who may have attempted to perform several Jedi mind tricks on me throughout the remainder of the weekend. Does this mean she might end up attending conferences where people dress like Obi Wan Kenobi and Darth Vader?
Naturally, (or not, depending on your level of fanaticism) we spent Saturday night watching Return of The Jedi, only to discover that Princess Leia is Luke's twin sister. Consider Caroline's mind OFFICIALLY BLOWN.
I woke up about 5 a.m. Sunday morning with a cough that wouldn't quit and ended up staying home from church because people at church are usually funny about someone in the seats behind them hacking like they're on their last legs with a bad case of the tuberculosis. Caroline stayed home with me where we remained in bed and watched Return of the Jedi for the second time.
Later that day she tried to convince me she'd had a dream the night before about the neighborhood swimming pool and thought maybe God was trying to tell her that we should go to the pool. But I wasn't buying into it because I knew the water would be too cold since our nights have been a little chilly (like 65 degrees but we are Texans) plus I am in desperate need of a new sun hat for the pool because my old hot pink one has totally lost all shape and, like I told Gulley, makes me look like Dumb Donald from Fat Albert.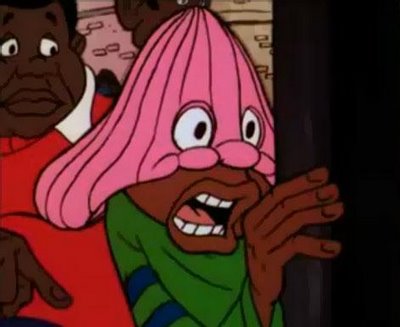 I wish I were kidding.
Which begs the question, is it worse to attend conventions dressed like a Jedi Knight or to wear a hat that makes you look like a marginal character from a 1970's cartoon?
I guess either way our family may have it covered.
_____________________________________________
I have a new post up about the Real Women of Philadelphia Community and your chance to win $25,000. There's also a recipe for jalapeno bacon-wrapped duck (or chicken) (or turkey). Click here to read more.
Copyright secured by Digiprove © 2011