I know y'all probably think you have problems, but you have no idea what I've been through this week. The temperatures have been in the high 70's every single afternoon. To make matters worse, the mornings start off in the high 50's with precipitation that won't commit to being full on rain, but is instead somewhere between a drizzle and a mist.
I think it was Tuesday morning when I had the best of intentions to resume my Couch to 5K regimen (which has become the longest journey to a 5K of all time) when I looked out the window and remarked, "Oh, that is actually drizzle I can see. I can't run in that."
Clearly I am very committed to my fitness goals.
Anyway, the problem with the warm weather is it's February. Which is technically still winter. And it's hard to know how to dress in a seasonally appropriate fashion without wanting to die by noon when the sun comes out. Such is my plight as a Texan. I should be used to it by now considering I've lived here my entire life.
I've been meaning to share the links to a few of my favorite fashion bloggers and today seems like a good day to do it.
First up, is Kendi at Kendi Everyday. My friend, Amy, told me about Kendi a few months ago and I've been reading her blog ever since. She is a fellow Texan and posts daily photos of herself in various outfits. While I cannot totally replicate her cute, funky twenty-something style (mainly because I am not a cute, funky twenty-something but rather a late thirty-something) I love seeing the outfits she puts together and how she uses colors in ways I wouldn't normally think about. She inspires me to think outside the box.
Secondly, is Lindsey's style column, She's Still Got It. I've followed Lindsey from the beginning and she always finds great deals on things and helps me keep up with the latest trends.
And, lastly, it was through She's Still Got It that I discovered Rebel Attitude. I adore Edurne's sense of style and her use of scarves and the way she layers things and puts the whole look together. She lives in Spain and is impossibly glamorous, but she puts clothes together in ways that I could totally imitate if I'll take a shower and get out of my workout attire.
In other news, here are a few things I like right now.
I walked in Target earlier this week and this tote stopped me in my tracks. It comes in a pink or black stripe and both are equally adorable. There's no way to choose.
It took everything in me not to buy one right then because it would make the best pool bag. I reminded myself it's absurd to buy a pool bag in February. But now I'm worried they might sell like hotcakes and I probably need to make the long journey, with six extra stoplights, back to Target to get one.
There's a girl in my Bible study who has a great sense of style and she had on an orange cardigan the other day. I don't even remember what else she had on with it, but I saw that orange cardigan and felt like my life may not be complete if I don't get one.
Banana is calling this one autumn sunset. Whatever. It looks orange to me.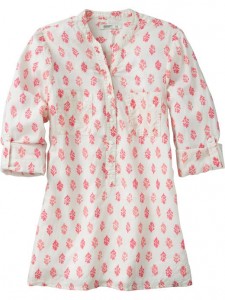 Oh, now this, this is my springtime love language. I can just envision this tunic with a pair of cuffed jeans and my silver flip-flops.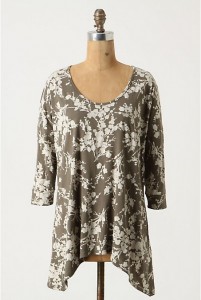 Floral prints are big right now. HUGE. Floral, floral, floral.
And I'll be honest, I don't know how I feel about floral. It can take a quick leap to Mamaw's bedspread for me. But I love this shirt because it's floral-y without being too precious.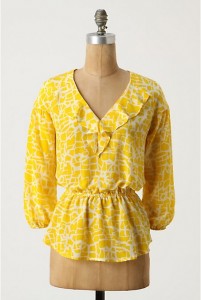 See how the springtime has just sucked me in? And I guarantee we still have at least one more freeze in front of us.
I think this top would be darling with white jeans. Or blue jeans. Or a skirt. I don't know how I feel about that elastic at the waist, but it could be covered with a cute skinny belt.
6. teelicious roll sleeve hoodie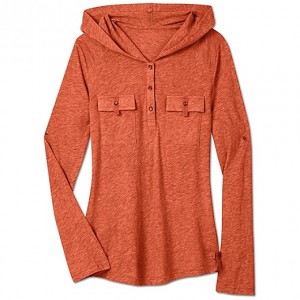 I'm all about orange right now. This looks deliciously soft and comfortable. Or teeliciously soft and comfortable.
7. working daze seersucker tunic
This would be so great with leggings. I love the collar and the sleeves.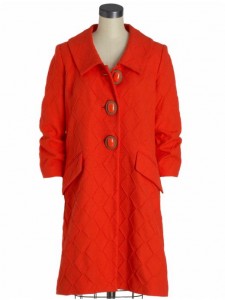 Umm, so this coat is WAY out of my budget. WAY.
But if someone could find me the $50 version of it, I would be much obliged. Check out the buttons. ADORE.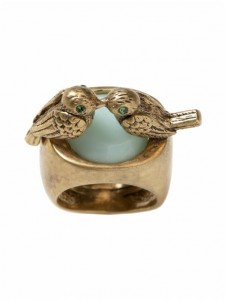 So this is kind of funky and different, but it appeals to me.
The other big trend for spring? Navy and white stripes. You know why I just wrote it that way with the question mark? Because I couldn't decide if it should be "are navy and white stripes" or "is navy and white stripes".
This polo shirt is a perfect way to incorporate the trend into your closet and, best of all, it's on sale for $11.99.
That's it for today.
Y'all have a great Friday.