After four Easter Egg hunts and stuffing over eight dozen plastic eggs with candy, I don't care if I never see another brightly colored, plastic egg for the rest of my life. However, I just spent ten minutes opening up all of Caroline's eggs in search of a Reeses Peanut Butter Cup, not to be confused with a Reeses egg. It's a controversial topic to bring up, but I find the holiday version of the Reeses don't compare to the regular version. There's something awry with the peanut butter to chocolate ratio. Feel free to tell me I'm wrong, but I know I'm not.
We had a great Easter weekend even though I'm pretty sure that I never quit moving until 5:00 p.m. yesterday afternoon when P took one look at me and told me to go take a nap. So I did. For two hours. When I woke up I had no idea where I was or what was going on. Which isn't that much different from most mornings but was a little disconcerting at 7:00 p.m. on a Sunday night. He'd already gotten Caroline in the bath and fed her dinner. That's why I keep him around even though he tears paper towels in half and leaves the unused half on the kitchen counter for days and is also incapable of throwing away a Band-Aid wrapper. A fed and bathed child covers a multitude of Band-Aid wrappers.
Friday was actually a pretty relaxing day. P took Caroline to the ranch with him and I went over to Gulley's house to work on a little project. She made homemade chicken salad for us to eat for lunch and even used all white meat just for me because she understands my issues with dark meat. We spent the day catching up and listening to Will voice his concerns that the Easter Bunny might get tired from all that hopping because it's a long way to hop from Africa to Texas. The whole discussion just confirms my theory that the Easter Bunny is a hard sell because the whole idea of a giant rabbit is difficult to swallow. I mean, is it an actual bunny with floppy ears or is it a person dressed in a bunny costume because, if so, that's kind of creepy.
The Cheetah Girls had a game on Saturday morning and Caroline scored her first goal of the season. We played the team from last season with the coach who wears track pants and blows a whistle so I was a little intimidated, but we held our own. And I think it goes without saying that we had the best snacks.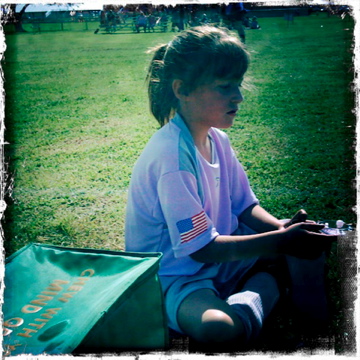 After the game I asked Caroline if she was tired and she said, "I was so tired but I wanted to beat that other team so I just kept running." Ladies and Gentlemen, I think we have ourselves a fierce competitor.
We left the soccer fields and went to eat lunch at P's mom's house with the rest of his family. The cousins all hunted eggs and ran around the backyard smashing cascarones on various heads. No one was safe. Not even Gigi.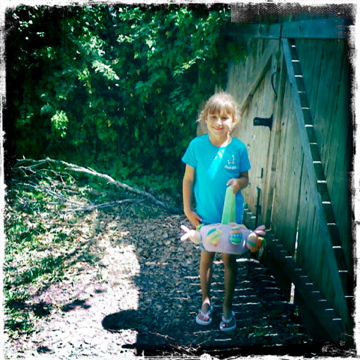 (Yes, I'm currently experimenting with about three different photo apps on my iPhone. Why do you ask?)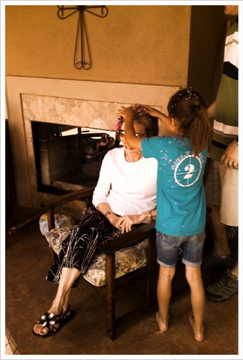 Eventually we headed back to our house because I had to cook and clean to get ready for Easter brunch the next day. Fortunately I have a cute assistant who is fascinated by our new Shark vacuum that replaced our sad Hoover after it confronted one too many Polly Pocket accessories and an assortment of hair clips.
On a totally unrelated note, the Shark vacuum works much better when it's actually assembled properly. I put it together completely backwards (I have a gift.) and couldn't figure out what all the fuss was about because it didn't seem easy to use AT ALL and barely got my rugs clean. After P intervened and perhaps mocked my assembly skills a little bit, it works like a dream. In fact, I'm saddened to realize how dirty my rugs were before the Shark came along.
Anyway, I cracked approximately sixty-two eggs to go in various breakfast casseroles and spent a sweet forever trying to find enough room in the fridge to store them overnight. We have a fridge in the back house that I'd normally use but it is currently filled with about 600 pounds of the antelope that P killed last week and EWW.
By the time I finished cooking and cleaning, it was time to shower and get ready to attend a friend's wedding that evening. Are you exhausted yet because I kind of want to lay down and take another nap just thinking about it. The wedding was beautiful and I cried a little bit because I've known the bride since she was thirteen and where does the time go?
Later on, I met P and Caroline at another friend's house and we dyed Easter eggs and also the tips of our fingers just in time for Sunday morning.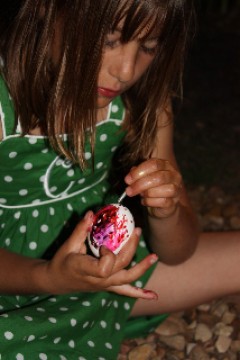 Exhausted, we all dropped into bed and slept peacefully knowing a large rabbit/person in a rabbit costume was going to break into our house in the middle of the night to drop off some plastic eggs and a few treats. And, sure enough, the next morning there were eggs and treats aplenty.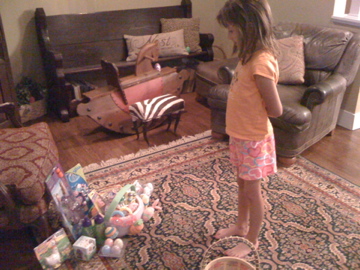 Fortunately, the only thing missing was sufficient lighting to take a decent photograph of all the precious memories.
The Easter Bunny brought us another chicken that poops bubblegum this year because he thinks those are hilarious.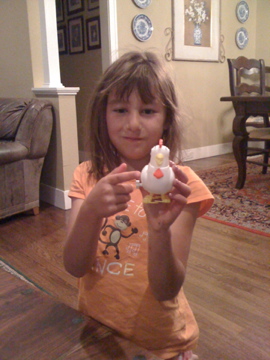 And he also made a strategic error by hiding one of the plastic eggs in the chandelier. I was getting dressed for church when P came in the bathroom and told me he smelled something burning. What kind of moron forgets about a plastic egg hidden in a light fixture and then turns it on? The same kind of moron that finds pooping chickens to be hysterical.
(Sidenote: I would guess that the smell of burning plastic filled with Reeses Peanut Butter Cups will be one of the smells in hell.)
Finally, we all managed to get dressed and get out the door to church even though we were running late and I only had time to snap one quick picture.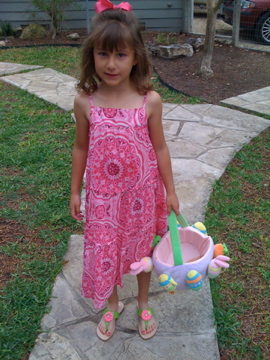 Shortly after this photo was taken, two things happened:
1. I twisted my ankle walking down the driveway and said a decidedly un-Easter like word when I did it.
2. Caroline decided those cute sandals hurt her feet and they were dead to her. They now fall under the category of $19.99 I'll never see again. She wore plastic Gap flip-flops to church instead. Classy.
However, we did have time to take more pictures once we got home from church even though the humidity had taken a toll on our hair by then. Well, except for P. A monsoon couldn't take a toll on his hair.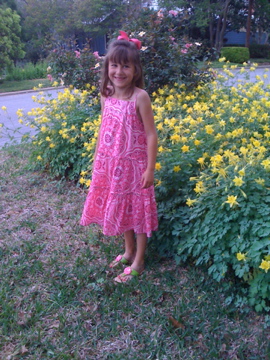 (The sandals made a reappearance for the pictures because CUTE trumps pain.)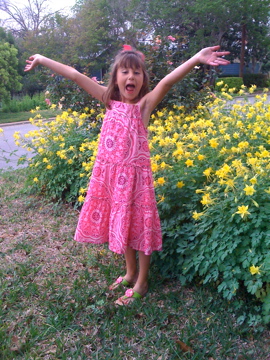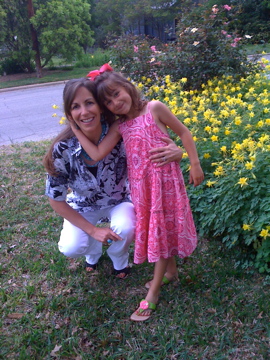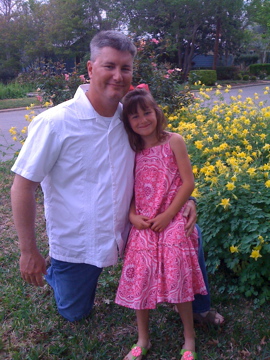 Then we hunted more eggs because everyone knows the sixth time is the charm.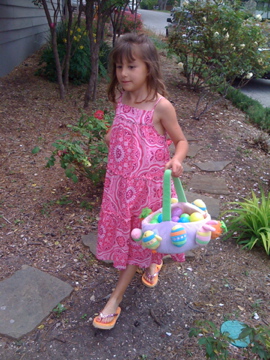 And my nephew Luke wore madras pants that made me so happy.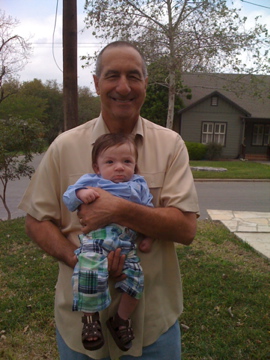 And then Caroline spent the rest of the afternoon sorting her candy and negotiating how many pieces she could eat.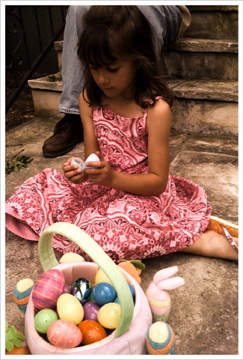 So, yeah, it was a good Easter.
And now I'd like to sleep for five days. Thank you for your cooperation.