Wow. How boring was yesterday's post? When I looked at it again it was very reminiscent of Will Ferrell in Old School.
"Well, um, actually a pretty nice little Saturday, we're going to go to Home Depot. Yeah, buy some wallpaper, maybe get some flooring, stuff like that. Maybe Bed, Bath, & Beyond, I don't know, I don't know if we'll have enough time."
In case you've been dying to know how yesterday turned out, I'll tell you. I forgot to buy paper towels and milk. And by "forgot", I mean that I didn't feel like going to the store. I did, however, make it to Nordstrom and feel confident about my decision to go with a pair of rainboots in green. I know you're so relieved.
But enough about that because I have BIG EXCITEMENT today. BIG EXCITEMENT. It's another giveaway. A fashion-related giveaway.
The nice people at Ruche, which is one of my favorite online stores and purveyor of all things darling, contacted me and said they would love to give away the uptown elegance red cashmere scarf that I featured a few weeks ago.
But wait!
There's more!
(I'm sorry if I've led you to believe I'm about to offer a set of Ginsu knives.)
They'd also like to add this fly away home indie necklace in sterling. Which I didn't feature but I totally would have if I'd seen it.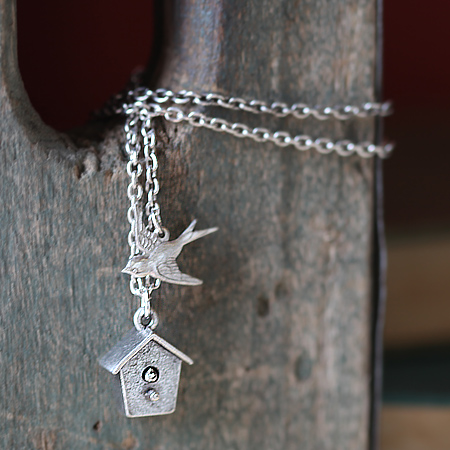 To enter the giveaway, you'll need to click over to my giveaway page and leave a comment there for a chance to win all the cuteness.
And, oh, I had big plans to do another scarf video tutorial about how to wear an infinity scarf, reminiscent of the one I did a few years back. But then Caroline got the croup and I have been exhausted and it just seemed like a lot of effort to put on makeup and look presentable. I realize we're all friends here but no one really needs to be subjected to the sleep-deprived version of me sans makeup. It might make children cry. Or cause them to make comments about the lady with the mustache on the internet.
So, here are a few cute things I've seen this week.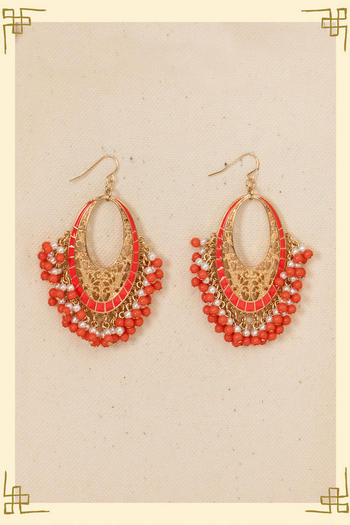 Well these just look like spring.
I love this. So delicate and feminine. It would look great with jeans and cowboy boots.
3. tie-back cross-front jersey dress
I was leery of this dress but I tried it on yesterday and actually really liked it. I don't think I'd wear it by itself, but I'd definitely wear it over leggings. I like the gray.
I'm such a fan of the Old Navy tank top. They're cheap and come in an array of cute colors. And this year they have some fun patterns as well, including a stripe that I LOVED. But I can't find a picture of it online.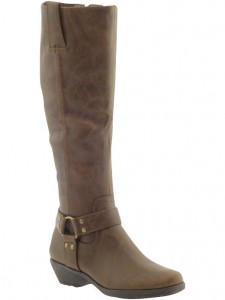 Several people have emailed me recently about boots. It's so hard to suggest a pair of boots because boots are kind of like a husband. You don't really know exactly what you're looking for until you find it and then you may think it looks different than what you thought you wanted, but then you try them out and think MAN, THAT IS COMFORTABLE and maybe he won't continue to ask me to try to purchase Zyrtec D even though there's a good possibility I'm going to get arrested for manufacturing meth.
What was I talking about?
Oh, the boots. These are cute and they come in black and brown and they're on sale and they're Aerosoles so I bet they're comfortable.
Something about this appeals to me. It looks cozy.
7. winter cabin sweater leggings
I nearly featured these last week but they were sold out. But now they're back and I just think they are the cutest. I would ADORE a pair of these with some sort of sweater dress and tall boots that don't ask me to go buy Zyrtec D.
A ruffled tank is just a great piece. It can be worn alone or under a cardi or a jacket for a little bit of flair. Love it.
That's it for this week.
Don't forget about the giveaway! Click here to read more about it.
Y'all have a great Friday.