It officially hit 100 degrees here yesterday. Of course I didn't need a thermometer to tell me how hot it is because, while sitting by the pool a few days ago, I have never been more certain that I might spontaneously combust. My skin felt like it was on fire. Not even my hat that's the circumference of a large Domino's pizza provided any relief.
And the good news is the weatherman just reported that there is no relief in sight. It's just going to be hot with more hot for the foreseeable future. We've officially reached the point where the bloom is off the summer rose. I knew it was coming a few weeks ago when we ordered chicken fingers at the pool and the teenage employee paused with her pencil poised over the order pad, looked up at me and said, "Yeah. We don't really want to have to make chicken fingers right now. They're hard."
Or a few days ago when Caroline ordered a grilled chicken salad and, after they delivered it to her, announced "Oh. We're totally out of salad dressing. Sorry."
How far we've fallen from the month of June when the pool was a happy oasis where the teenagers were happy to serve up all manner of chalupas and popcorn shrimp. Actually, happy might be a stretch, but they did it anyway because summer was their oyster. But now it's August and it's dreadfully hot and summer has become more like a rotten oyster that someone stole the pearl out of and left in the sun too long.
Needless to say, I don't think we're going to the pool today.
But last night we drove out to Waring with Gulley and her kids to meet our college roommate, Meredith, and her family for Steak Nite at the Waring General Store. We had so much fun.
We'd never been to Steak Nite before, but I have to say I'm a fan. You drive out to the middle of nowhere, pay $20 per adult for a ribeye, mashed potatoes, salad, rolls, cupcakes bigger than your head, and drinks. Oh, and that also includes these amazing gorditas and quesadillas that they make right in front of you. I'll dream about them tonight.
And kids eat hot dogs for free. Hot dogs that come wrapped in a tortilla, which they thought might be the greatest invention of their lives with the exception of Doodlejump on the iPhone.
Then you take your plate of food, find a picnic table and listen to a live band play some Texas Country music while the kids run around like banshees. If it had been twenty degrees cooler I might have never left, but instead we arrived home around 10:30 and I took my second shower of the day.
There may have been some dancing on the tables after the crowd left.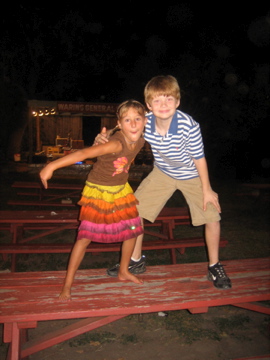 Best of all, we had the chance to laugh and catch up with old friends.
Seriously, if you find yourself in Waring, Texas on a Wednesday (I don't know why anyone would just happen to be in Waring. It's the kind of remote location that takes some effort.) then you really need to go to Steak Nite. I definitely plan on going back.
Sometime around October.