Earlier today I was trying to figure out what on earth I could write about because, while our weekend was lovely and peaceful and serene, it was also very uneventful. And then I realized I had a few things to share but lacked the energy or the inclination to put them into any sort of narrative format. Thus, the following list was born.
1. I tried the baking soda on my hair and it worked like a charm. A charm I tell you. My hair had tons of volume and curled the way I wanted it to and the whole thing. It was absolutely perfect until I walked outside in the 100% humidity and it ruined it all. But that's not the baking soda's fault.
2. After much deliberation, I ended up buying a bottle of Amplify shampoo. I nearly went with Pureology because of all the love in the comments from last week, but it seemed to be geared more towards women that color their hair and I don't color my hair. Yet.
As of now, my method of removing gray hair is to pluck them out with my tweezers. However, I think my hairline is beginning to recede so it may be time to reconsider the whole hair color thing.
So I bought Amplify since it seems to offer what I'm looking for, maximum volume. I also bought some Moroccan Oil and loved the way it made my hair feel. I'll keep you posted on my thoughts after I've had a chance to see how my hair does when humidity isn't a factor. Rumor has it there's a cold front coming through on Wednesday and temps will PLUMMET to the mid-70's.
3. On Friday night, P and I ended up watching Pretty Woman because there was nothing else on. I mentioned several times how I just absolutely coveted Julia's hair and wardrobe in that entire movie back in 1990. (The brown polka dot dress? The orange walking shorts ensemble when she and Kit are talking by the pool at the Reg Bev Wil? Oh did I long for those outfits.) And then I said, "I think there were times I succeeded in getting my hair that big."
P responded, "I think there were times you exceeded getting your hair that big."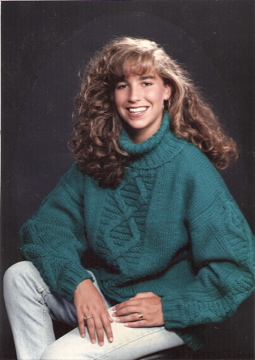 Well played, P. Well played.
4. Caroline and P went fishing again on Saturday. Here's a little video of her with her fish if you're interested.
Catfish from Big Mama on Vimeo.
In case you were wondering, P left his big hat at home.
Also, a few of you asked about the ranch last time. It's a piece of property that belongs to P's godfather and he lets us go down there whenever we want. I just wanted to clarify in case you had visions of us being like the Ewings with crystal decanters full of whiskey and outwitting Cliff Barnes every time he tries to take over our oil company.
5. I bought a bunch of fruit at the store yesterday in the hopes that I'll actually, you know, eat it instead of a Hostess Cupcake next time I want a snack. I'll let you know how that goes. The problem with oranges is their lack of chocolate with creme filling.
Y'all have a great day.