I'm sure that y'all have been on pins and needles wondering what we did this past weekend. Good news. The wait is over.
It was actually a long weekend for us because Friday was a school holiday. What holiday, you ask? Battle of Flowers.
No, you didn't miss a memo. It's only celebrated here in San Antonio as part of the ten day extravaganza known as Fiesta where faux royalty zoom at high speeds down neighborhood streets with a police escort to get the faux king to various elementary schools on time so he can hand out faux medals. Viva Fiesta.
Anyway, there's a big parade and a lot of whoop-de-do, but we missed all that because P and Caroline headed down to the ranch for their annual helicopter hunt. For those of you who may be new, I should probably explain that P has a good friend who's in the military. This friend makes it into town about once a year and a rancher friend of P's always takes this opportunity to rent a helicopter so they can do a big helicopter hog hunt because wild hogs can turn into a big problem on ranches if the population isn't controlled. They tend to party way too much and tear things up and wear lampshades on their heads while wandering around looking for their beer bong.
I know it will shock you to learn that I usually choose to stay home.
Plans for the helicopter hunt began to take shape a few weeks ago when P confirmed that his friend was going to be able to make it into town before he gets deployed next month. There were emails and phone calls and strategies about ammo and weaponry. P heads up a small group geared towards hunters for our church. (Is it just me or can you guess he also watches Nascar just from that last sentence?) A large part of their purpose is to use the wild game they kill to provide meals for the homeless so P invited the sportsmans' group to the ranch for the hunt to help out. One of my happiest moments of last week was when I read an email he'd sent out to the group. I'll spare you the whole thing and just share my favorite excerpt:
"As soon as the hogs break cover we will take a knee and ready ourselves. On command we will rise and shoot. WE WILL ONLY SHOOT OUT IN FRONT OF US. AS SOON AS THE HOGS BREAK THROUGH OUR LINE OR TURN OFF, THE FIRING WILL CEASE. AT NO POINT WILL YOU BE ALLOWED TO SHOOT AT HOGS IN THE FIELD!!!! The reason for this is we will have LOTS of people, livestock and vehicles out and about. This not negotiable. If this rule is broken we will shoot you, process you and feed you to the homeless!"
And he signed it "Grace and Mercy in the name of Jesus, P".
Not really. But it makes me laugh to think about it.
It would appear though, that for all our differences, we share a love of the ALL CAPS to make our point.
Caroline was able to be a part of the helicopter experience for the first time last year and she's been begging to do it again ever since then. Naturally, she was FIRED UP about the whole thing. I would really prefer that my dear family remain on the ground the way God intended when he gave us feet and not wings, but I realize I cannot let all my irrational fears rule our lives or there's a good chance we could all end up living inside a bubble like John Travolta did in that movie. Providing that bubble had access to reality television.
So I spent the week taking deep breaths and reading Psalm 91 and, really, I was feeling okay about the whole thing.
Until Thursday night.
You may remember that I attempted to bake a cake with an antiquated cake mix and then had to resort to cookies only to discover I was out of vanilla. I was not going to be deterred from my cookie mission so Caroline and I walked across the street, bowl in hand, to borrow two teaspoons of vanilla from our neighbors. They invited us in and Bill asked Caroline what she was going to do this weekend. She answered, "Ride in a helicopter and shoot hogs."
Well, sure. I have no doubt that's exactly what he was expecting her to say.
He replied, "Wow! I've never even been in a helicopter. Does it have doors and seatbelts?"
She thought about it for a minute and said, "Nope. It doesn't have doors or seatbelts. Just a big pole in the middle that I have to hold onto."
And that's when I passed out and dropped my bowl of newly acquired vanilla extract.
We walked back across the street as I breathed into a paper bag and were barely in the house when I asked P, "Does that helicopter not have doors or seatbelts?" He looked at me like he felt sorry for me and said, "Of course it has seatbelts, why would you think it didn't?"
I looked at Caroline and she looked back at me with a sheepish grin on her face. Apparently she appreciates the art of creating some drama to make a story better.
They left the house about 6:00 a.m. on Friday morning. I wanted to be worried but I fell right back asleep thanks to the hefty dose of Benadryl I'd taken the night before in an attempt to fight off the pollen. A few hours later I woke up to the sound of a text message on my phone and was relieved to see this.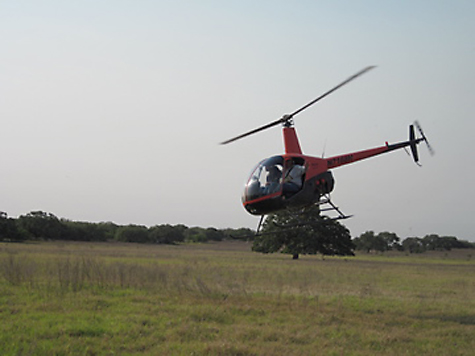 And this.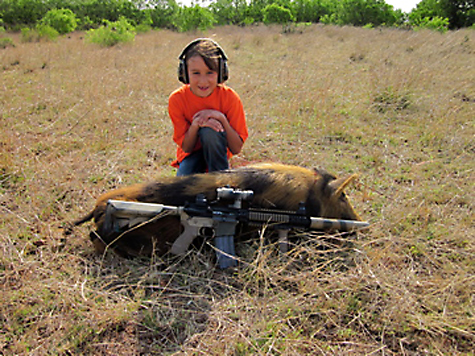 What does it say about me that it makes me want to say, "That'll do, Pig. That'll do."?
They returned home at the end of the day, dirty and exhausted, but with big smiles on their faces and one of them was jumping up and down with excitement over all the fun. That P. He gets so keyed up.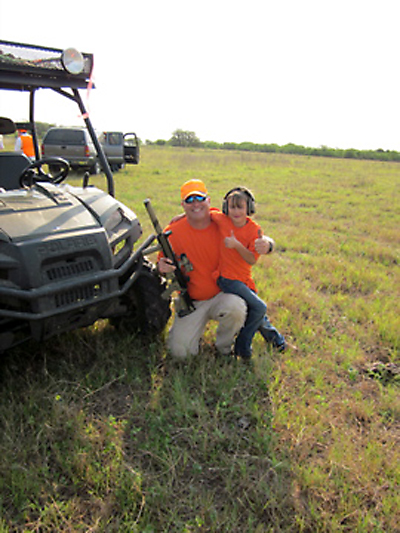 That'll do, Pig. That'll do.
Copyright secured by Digiprove © 2011