I so appreciate your understanding about my need to take the day off yesterday. Well, at least nine of you understood. The rest of you may have been all TO HECK WITH THIS I'M NEVER COMING BACK TO THIS LAME BLOG AGAIN. In which case you're not reading this anyway.
It was such a fun weekend, but it was non-stop action and the introvert who lives inside me was all talked out. I just needed about three hours on my couch to sit and listen to the sound of nothing. That's what I did yesterday after I dropped Caroline off at school. And then I cleaned our toilets. I bet somewhere Gwenyth Paltrow was doing the exact same thing.
I spent most of Friday recovering from my trip to Minneapolis because apparently it is very grueling for me to sit on an airplane and read InStyle. And then Friday night we went out to dinner with some friends and their daughter, Sadie, came home with us to spend the night with Caroline.
Naturally, the girls needed a pedicure. Second grade is rough. Sometimes a girl just needs a little downtime.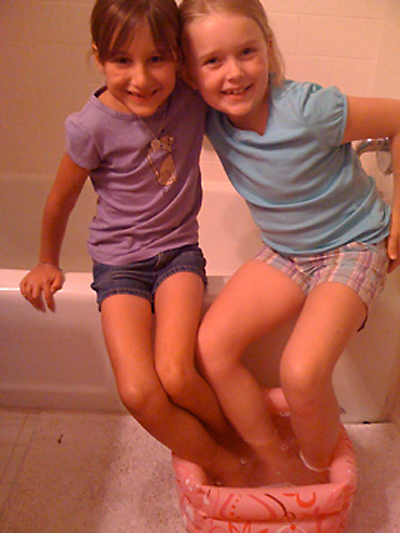 The sleepover was big fun until sometime after midnight when all of our personalities took a turn for the worse. Specifically, mine.
Thankfully, the girls seemed to realize I was minutes away from putting them out in the backyard for the night and went to sleep. But they were up bright and early the next morning, ready for homemade cinnamon rolls. If you consider cinnamon rolls that make a POP sound when you open the can to be homemade. And I do because those things don't ice themselves.
Mimi and Bops picked up Caroline to take her to watch my niece, Sarah, play soccer while I dropped off Sadie and went to a baby shower for my sweet friend, Mary Emma, who was one of our high school students once upon a time when P worked for Campus Life. But now she is all grown up and expecting her first baby. And so I spent the morning catching up with some dear friends and passing around swaddling blankets and burp cloths and baby monitors.
The rest of the day was spent trying to not anger Caroline who was going on about six hours of sleep, which is about six less than she really needs to function as a delightful human being. When I went to pick her up from Mimi and Bops's house, she got frustrated with me because I didn't understand what she was trying to tell me and finally said, "I AM TRYING SO HARD NOT TO LOSE MY TEMPER RIGHT NOW". And then I think she may have spit some pea soup out of her mouth.
But she did hand me the sweetest thing ever late Saturday afternoon.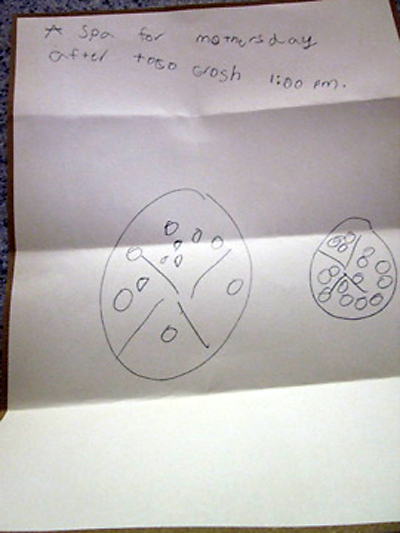 In case you can't tell, it says "A spa for mother's day after taco grosh 1:00 pm" which translates to "A spa for mother's day after Taco Garage at 1:00 p.m." As for the illustrations on the invitation, I'm not entirely sure. Originally I thought maybe she was planning to serve pepperoni pizza at her spa, but in hindsight I think it was a picture of a bowl full of water and bubbles.
After she handed me the invitation to her spa, she escorted me in her room to give me the tour.
First, she had provided a selection of jewelry for me to choose from.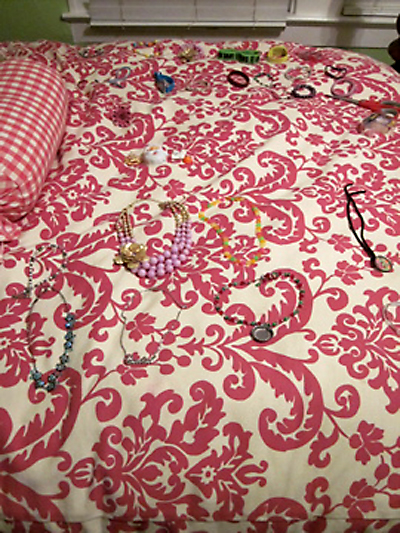 Then she showed me the mani/pedi station.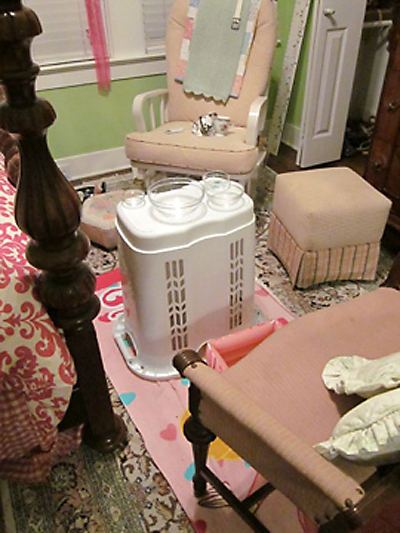 I thought the overturned laundry hamper as a table was a nice touch, although I wondered what she'd done with all the dirty clothes that had been in there moments earlier.
Also, please note she'd already prepared various spa treatments in advance.
That would be a bowl of soap snowflakes that dissolve in water, some lotion and some green crystals that I wasn't entirely sure about until she explained she just thought she'd use the green sugar we use to decorate Christmas cookies to do that "scrubbing thing" on my hands.
I hugged her and told her I was so excited about my big day at the spa for Mother's Day and, honestly, I couldn't believe the effort she'd put forth. I mean, there were a lot of dirty clothes for her to dump out of that hamper.
So after church on Sunday morning and lunch at Taco Grosh, we headed home to begin my day at the spa. She filled all her various bowls with warm water and then dumped in the sugar cookie crystals for maximum effect.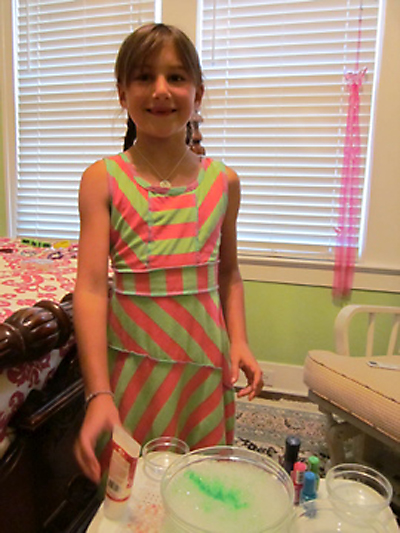 I was able to choose my jewelry, but the nail technician was a little bit of a color nazi and rejected my choice of nail color. She had something else in mind.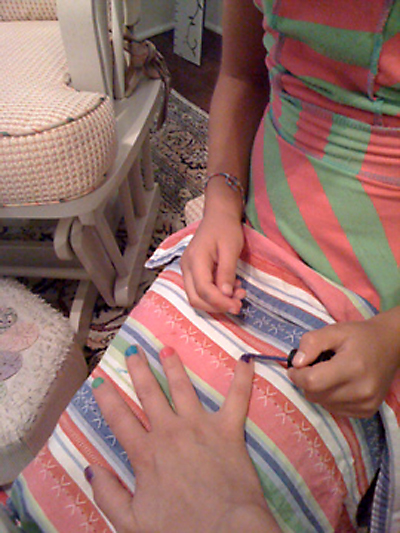 It's a little bit brighter and more flamboyant than my normal style. Of course it may also be a little brighter and more flamboyant than Lady Gaga's style.
I tried to take advantage of a teachable moment and told her, "Nail polish really works best when you wipe the excess polish off the brush and do a few light coats". However, I'm not sure she really listened based on the way she let the polish drip from the brush onto my nails and then smeared it around while she announced, "It's so much easier to just put a bunch on at once".
After my nails were finished, she moved on to my pedicure.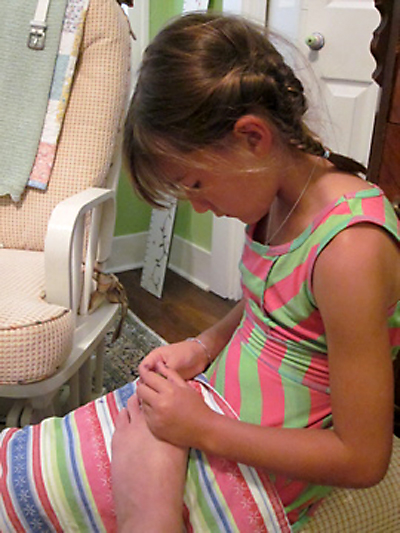 It is every bit as colorful as my manicure, but with the addition of several flower stickers on each of my big toes. I'm sure to either be a hit or labeled as "a little off" at the upcoming PTO meeting.
This is the final product. I think my nine-year-old U.S. Olympics t-shirt really adds a nice touch.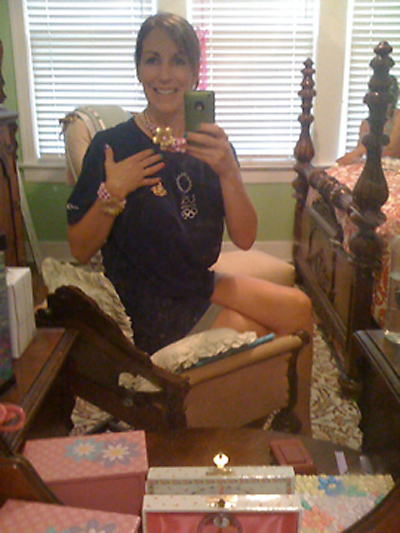 Finally, my time at the spa was over. Largely because she wanted me to take her swimming at the neighborhood pool. I have that same problem at my local nail salon all the time.
But before the spa day was over, she told me there would be a special Mother's Day performance. An innovative production called THE WATER CYCLE. Complete with paper stick figures.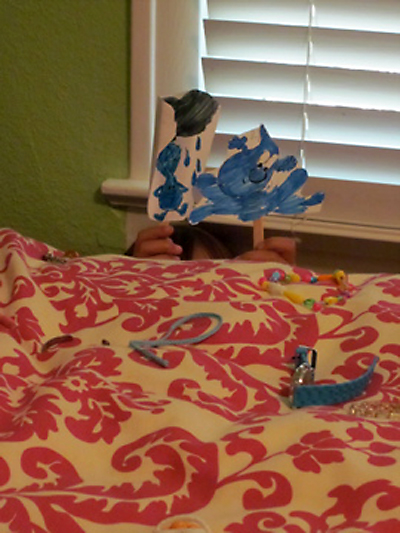 I always like to blend my relaxation in with some scientific knowledge so this was perfect.
After a brief lecture on the water table, the show quickly deteriorated into the sun attacking the clouds for reasons that are unclear. Then I was told it was my job to clean up the spa while she put on her bathing suit. And that's why I didn't leave her a very big tip.
Not to mention that when I tucked her into bed Sunday night, I said, "Baby, you made my Mother's Day so special. Thank you for everything that you did. It was the best one ever."
And she replied, "Well, it was more work than I thought. How about you pay me five dollars?"
Hallmark would be so proud to know that capitalism is still alive and well on Mother's Day.
Copyright secured by Digiprove © 2011