I'm sitting here right now enjoying the glow of my fully lit Christmas tree. Before P left for the ranch last Friday, I pleaded with him to please, SIR, figure out what is wrong with the illumination on our tree. So he switched out the fuses and BEHOLD there was light. And then he grabbed his hunting bags, kissed me goodbye and said he'd see me sometime before next Thursday.
Great.
Thanks for being specific.
So I started off the weekend at Caroline's class Christmas party. This is Caroline before she left for school that morning. Please note the constant motion. And the wee elf jeans. And the poor photography.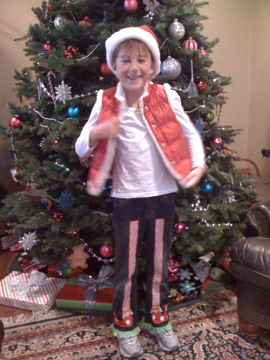 The party is where I discovered that it isn't the best idea in the world to give a room full of second-graders a bunch of green icing and ice cream cones and tell them to make trees. Unless of course your end goal is to see how many things you can stain with green food coloring, in which case ACES.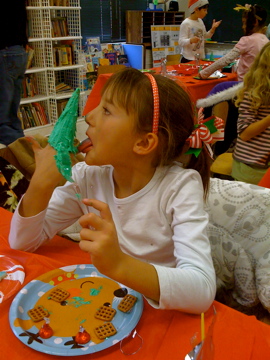 To my credit, it wasn't my idea.
On Friday night we ate Mexican food with Mimi and Bops because that's what we do on Friday nights. And then Caroline decided to kick off her Christmas vacation by waking up at 6:30 a.m. Saturday morning. And I kicked off Christmas vacation by handing her the remote control and telling her to find one of her recorded Christmas movies to watch while I spent the next two hours drifting in and out of sleep. Which probably explains why a fear of claymation figures and abominable snowmen has now embedded itself into my subconscious.
A little bit later, I dropped Caroline off at a birthday party for one of her friends and then I sped off to MJM Shoes in a desperate quest to find her some red shoes to wear for Christmas because she has inherited a narrow foot from her father's side of the family and it's darn near impossible to find pretty little flats that fit her feet and cost less than her first semester at college. However, I totally scored the cutest little Michael Kors red flats for $19.99 and they actually fit. And she actually likes them. It's a Christmas miracle.
Later that afternoon I called Gulley to see if her boys wanted to go with us to see Voyage of the Dawn Treader. Will wasn't sure at first because he'd just set up what promised to be a lucrative pecan stand in their front yard and hated to leave his business venture. However, he was swayed by the promise of buttered popcorn and still managed to make $5.00 before we arrived to pick him up.
We all loved the movie and the popcorn and the Dr. Pepper and the assorted boxes of Sour Sprees, Sour Patch Kids, and Sour Straws. Apparently all we want for Christmas is some dental work.
(Oh, I just realized that I totally forgot the part about organizing my shirts. I did it in between the birthday party and the movie and realized that I own eleven white tank tops. I don't even understand.)
(Yes. That's all I have to say about the shirts. I'm sad that I used it as a ploy on yesterday's post because it's confirmation that my life can be kind of dull.)
Anyway, Gulley and I originally planned to load the kids up in the stay wag on Saturday night, stop by Starbucks for hot chocolate and drive around and look at Christmas lights. But by the time we got back to Gulley's house after the movies, I was starving and in desperate need of a meal. I guess half a bucket of popcorn wasn't filling enough.
(On a side note, Caroline and I saw a commercial for this disturbing game called Pop the Pig where you feed the pig these little hamburgers until he pops. Allegedly, it's the number one selling game in Europe. Or maybe it's just marketed by the same people as L'Oreal Elnett and they just use that as their primary marketing scheme for every product. Anyway, Caroline told me she wanted that game and I told her at the rate I'm currently eating she'll have a real live version by Christmas. Seriously. I'm off the rails. I'd blame PMS but P says I blame everything on that.)
So instead of picking up hot chocolate, we drove through Church's Chicken and cruised around in the station wagon eating fried chicken and looking at Christmas lights while Gulley and I took turns yelling things from the front seat like, "QUIT FIGHTING ABOUT WHO'S GOING TO SIT IN THE BACK ON THE WAY HOME AND ENJOY THE BEAUTIFUL LIGHTS" and "WE DON'T NEED TO TALK ANYMORE ABOUT WHO TOOTED BACK THERE. JUST LOOK AT THE BABY JESUS IN THE NATIVITY!" The whole thing kind of felt like a punchline to a Jeff Foxworthy joke.
The kids all wanted to have a sleepover so I said the boys could come over to our house. As Gulley went to pack their sleeping bags, Will looked at me and said, "Mel, I'm a little afraid of what your breakfast might look like. Maybe you better just take us to Shipley's for donuts in the morning."
Later on I told P what Will had said and he told me Will was right to be afraid because breakfast around here usually looks like nothing. Which totally isn't true. I keep a box of granola bars on hand at all times. But I realize there are some snobby breakfast-types who don't feel that counts.
And so we went to Shipley's the next morning. For the children. It was all for the children. And maybe for the chocolate iced donuts and sausage kolaches.
Then, later that day, Caroline and I left town to go meet P at the ranch for the night.
And that was the weekend.
The end.
___________________________________
Don't forget to click over to my giveaway page to read about Chef Boyardee's Club Mum and for a chance to win a $200 gift card.