The other night I'd gotten Caroline out of the bathtub and sent her into her room to put on her pajamas. I was busy whipping up a nutritious dinner of sloppy joes and Ore Ida fries (I know. Pitiful.) so it took me a few minutes to realize she'd been in her room for a really long time.
I'm always a little suspicious when too much time passes without her wandering into the kitchen and delivering a thirty minute monologue without taking a breath.
About the time I started to wonder if she'd packed her bags and left for college, she walked into the kitchen and asked if she could have two pieces of paper. I handed them to her and she headed back to her room with the paper and some Scotch tape she'd managed to find in the junk drawer.
A few minutes later it was time for dinner and I walked into her room to let her know she needed to come eat only to discover that she was in the midst of an organizational frenzy. She'd arranged all her shoes neatly in her closet. She'd put all her hair accessories in a plastic container. She'd folded her clothes and put them away. She'd put the lid on her laundry hamper.
I couldn't believe what I was seeing so I asked, "Baby, what are you doing?"
She said, "I'm organizing all my stuff. It was one of my goals for the summer and I've finished it already."
Then she handed me a stack of headbands and said, "Will you please get me a Ziploc bag to put these in?"
"Well, I think they'll be fine just loose in your drawer."
I also think that aliens have invaded your body.
"No, Mama. I really prefer a Ziploc. It keeps things neater."
Dazed and confused, I went to retrieve a gallon-size Ziploc from the kitchen. I'm usually stingy with the gallon-size Ziplocs but I felt like she'd earned it.
(Also, what has happened to me that I even think about things like our usage of Ziplocs? Next thing you know I'll be running my foil through the dishwasher to get a second use.)
When I returned she thanked me and said she needed to show me something. (What? That the real Caroline is tied up in the closet?) She walked over to her chair and pointed out two shoeboxes, neatly labeled and stacked on top of each other. This is what they looked like.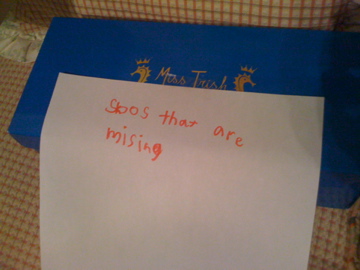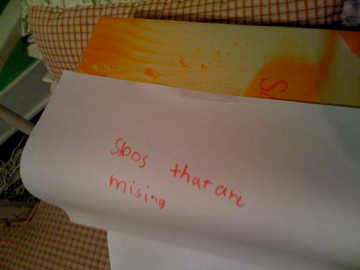 And this is what was inside.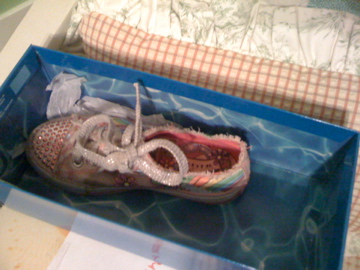 Those are "shoos" that are missing their mate and they now reside in a labeled shoebox. Of course their mate is probably somewhere under her bed, but she was so proud of her organizational system that I didn't want to screw it up by finding the matching shoo.
As we sat down to our nutritious dinner I told her how proud I was of her efforts and how great it was that she'd already achieved one of her summer goals. She looked at me and said, "What I'd really like to do is clean out the refrigerator. Can that be one of my new goals?"
Of course I said yes. Because I believe there's nothing more important than helping my child achieve her dreams.
And if she thinks she can get our refrigerator clean, she's clearly reaching for the stars.