Well, after reading some of the comments on yesterday's post, I was thoroughly freaked out about the possibility that the acorns Caroline brought home for me might be the host vehicle for some type of worm as opposed to little tiny oak trees that never reached their full potential. So I explained the situation to her and said it might be in our best interest to use them somewhere outside. Like maybe the trash.
She completely agreed with my decision but I'll have you know that she didn't offer me any sort of refund. That's two dollars that I'll never see again.
I'm just thankful that I didn't buy into her sales pitch on the way to school yesterday morning when she tried to convince me the acorns might be worth the same amount as a new game for her Nintendo DS. Listen, if I wanted to pay $25 for fifteen acorns I'd shop at Pottery Barn.
(Speaking of Pottery Barn, have y'all seen the Catalog Living blog? Hilarious.)
As I bagged up the little worm-infested acorns, I felt that it was just one more example of why my house will never be like the homes featured in Southern Living. In all the years that I've perused the latest issues of various home decorating magazines, I have never once seen a dining room table that featured rotten, worm-infested acorns as a centerpiece.
Understandably so.
Here are a few other things you'll never see in Southern Living:
The charming tableau that P has arranged using our toaster as a focal point.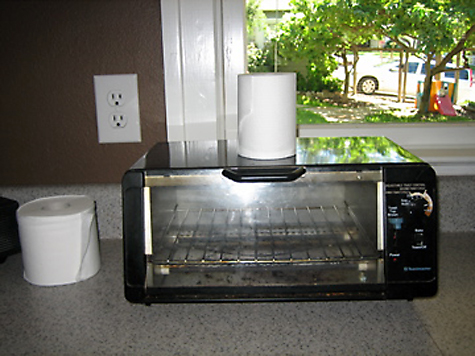 Sure he could use a box of Kleenex to help him through fall allergy season, but that's such an obvious choice. And if the half-used roll of toilet paper on top of the toaster doesn't send the message, I think the spare roll off to the side says WE ARE EXTRA-CLASSY.
Along those same lines, I think these bright orange soccer cones really add a little something extra to our office area.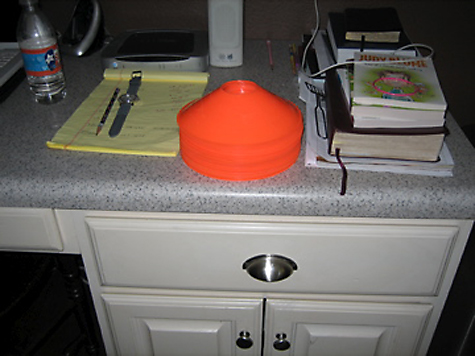 Before Caroline was born, I bought these darling little canister-things at Restoration Hardware. So you can be certain that I paid too much for them. But I felt like they added just the right decorative touch to the bathroom.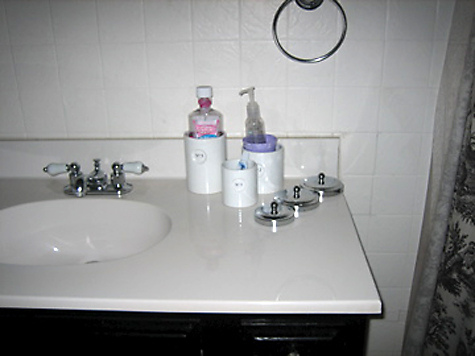 So you can imagine my delight that Caroline has decided to use them as various receptacles for her mouthwash, toothpaste, toothbrush, hand soap and whatever else she decides to stick in there on any given day. I'm sure that's exactly what the folks at Restoration Hardware had in mind.
And then there is Caroline's bedroom that has become P's temporary lodging while he fights a cold and snores loud enough to wake the dead.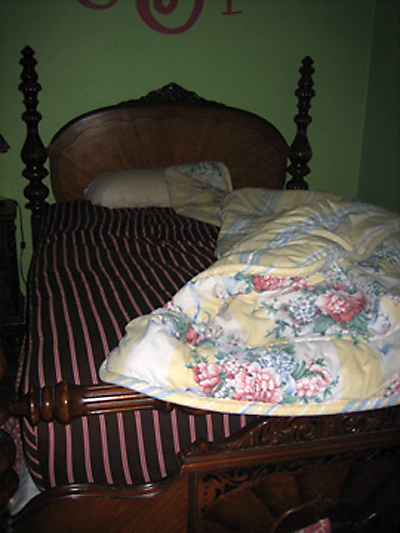 I blame myself for this really. I brought that yellow floral comforter into our marriage. It belonged to me in college. Never could I have imagined that, twenty years later, my husband would use it every single night. And that it would become a replacement for the beautiful hot pink bedding I picked out for my little girl's bedroom.
But you know what's worse than that comforter crumpled up on her bed? Trying to sleep while he breaks the sound barrier.
Finally, there is this.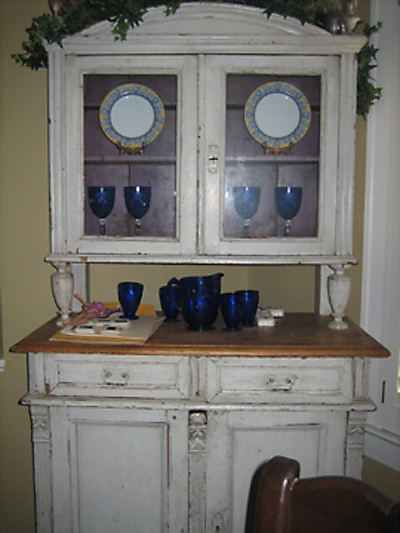 You can't really tell from my stellar photography, but that's an album full of slides P pulled out about three weeks ago with the goal of going through all of them and getting them turned into a DVD. And then headless Butterfly Barbie joined in on the action about a week ago.
I'm not sure why.
But I can guarantee you that those acorns will hatch, the worms will complete an entire life cycle and those slides will still be right there.
As will the toilet paper on the toaster.
It's how we roll.
(Yes. I just went there.)