Last Saturday morning, Caroline and I woke up bright and early so that P could drive us to the airport to catch our flight to Birmingham. Actually, I woke up early but not very bright because Caroline has had a terrible cough and we'd been up on and off all night between the coughing fits and the dispensing of various medications. In fact, I'd called our pediatrician the day before to see if they thought I should bring her in before we left the state and all, but they told me to go buy some Mucinex D and prepare myself that the cough might last as long as two weeks.
Apparently they did not share my concern that this was the onset of bronchitis.
And I don't know why I'm telling you all this except that I've been out in the sun all day and am slightly delirious and oblivious to things like relevance.
So we headed to the airport with one carry on bag, a backpack and a Pillow Pet. I managed to pack our swimsuits, clothing, toiletries and various power cords, cameras and battery chargers in one carry on bag and a backpack. Oh, and did I mention that I also packed a pool float? A POOL FLOAT. If you think I'm not adding PACKING GENIUS EXTRAORDINAIRE to my imaginary resume, you could not be more wrong.
After we walked through the terminal and made it through security I introduced Caroline to the way her mama travels. Which is to say we stopped immediately at Starbucks. She got a yogurt parfait and I got a grande iced coffee. (Again with all the pointless details!) And since I have a long-standing fear of arriving at the airport too late, we sat at the gate for the next hour while Caroline conducted a scientific experiment involving how many times she could ask how much longer and the velocity with which my head might spontaneously combust.
Finally it was time for the travelers holding boarding passes A31-A60 to get on the plane. (We were A32 and A34 because I refuse on principle to cave in to Southwest Airlines early bird check in offer and pay an additional $10 to be one of the first thirty people on the airplane.)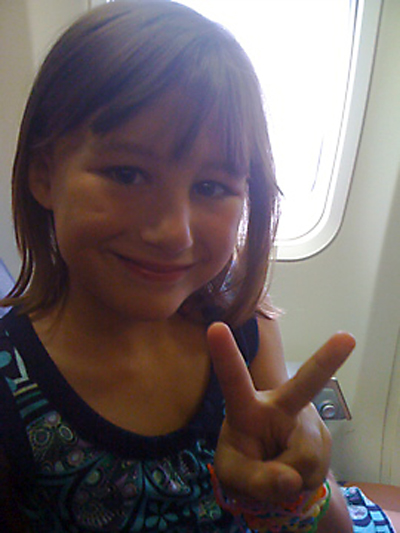 Peace, sister.
I'm not sure why she felt the need to flash the peace sign. Although I kind of suspect that she may have been doing rabbit ears because when you're six and a half you are ALL ABOUT giving people rabbit ears. Also, I have to note how much I adore that dimple. It only shows when she smiles a certain way and I love it so much that I'd like to carry it around in my pocket.
After a brief stop and a plane change in Houston we finally landed at the Birmingham airport where Sophie and Alex were waiting to pick us up. We made a quick drive through Chick-Fil-A because PRIORITIES and then we drove straight to the beautiful Florida beaches. And by straight, I mean that we stopped again for Icees and a few more times for potty breaks.
We arrived at the beach about four minutes shy of me putting Caroline in a timeout until college if she asked one more time, "HOW MUCH LONGER UNTIL WE GET THERE?" It was pouring down rain but that didn't really deter her from wanting to get out on the beach. I figured it wouldn't hurt to go walk on the beach in the rain so I told the kids to put on their suits and I'd take them down there while Sophie finished getting things settled. But then it began to lightning and even though I learned from Sweet Home Alabama that lightning can make some kind of beautiful glass when it hits the beach, I also know from the evening news that it can kill people. Which isn't really an ideal start to a vacation. So we ended up staying inside.
Honestly, we weren't sure how the beaches were going to look or if we'd even be able to swim because of the oil spill, but the next day dawned clear and the beaches looked beautiful and oil-free.
And there was great rejoicing.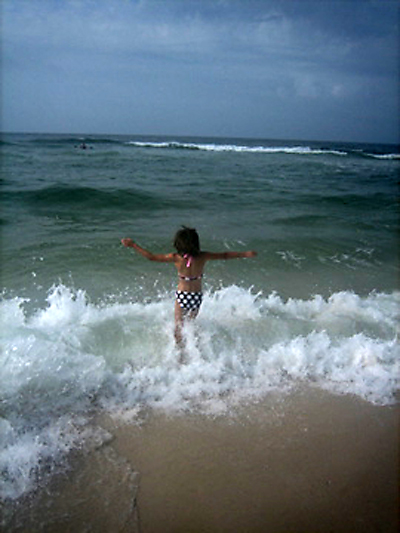 I'll be back with more tomorrow, but I have to go to bed now because the salt air and the crashing waves have made me very sleepy. Or maybe it's the five pieces of olive bread I ate earlier.