As most of you probably know, yesterday was Veterans Day. But what you may not know, unless you have ESP or live in my neighborhood, is that Caroline's school had a little patriotic program in honor of the occasion and we received a note home asking that our children wear red, white and blue to school.
I wasn't really sure what she had in her closet that would be appropriate, mainly because I don't tend to purchase a lot of red clothing for anyone in the family. I like the red clothing in theory. I like it on other people. But when it comes right down to it, I sometimes go to try on a red sweater or what have you and it just makes me feel like RED! HERE I AM IN MY RED CLOTHING! And then I project my red issues onto my family.
I'm sure P is just sick that he doesn't have more red in his closet.
(I'm willing to bet a box of Hot Tamales that P couldn't even tell you what color the shirts are that currently hang in his closet. However, he cleaned out the guest room closet that holds all his hunting clothes on Wednesday and I promise you he waxed eloquently over what he described as a "vintage pair of tiger-striped camo pants".)
Anyway, I found the red shirt I bought for Caroline to wear last year on Veterans Day and laid it on her bed with a pair of jeans and a pair of jeggings. Then I looked through her closet again and found a red, white and blue patchwork outfit consisting of a tiered ruffled skirt and a halter top that Mimi and Bops brought her back from Italy this summer. I pulled out a long-sleeve white t-shirt and laid it out next to the ruffled skirt and then called her into her room to make a decision.
(This was all the night before, by the way. I knew the patriotic clothing choice would be fraught with way too much drama to save for the a.m.)
She walked in her room, perused the items on her bed and said, "Oh, I see what you've done here."
"Yes, those are your choices for tomorrow."
"Okay. I'll wear the jeggings under this skirt with the white shirt under the halter-top and red bows in my hair."
"That's a lot to have going on. What about just the white shirt with the skirt?"
"No way. That would be so lame."
Yes, lame.
And speaking of lame, the holiday season is upon us. Not that the holiday season is lame. Unless you're me and have little to no social life to speak of and most of your holiday festivities will consist of a red plastic cup filled with eggnog that you drink while you sit on the couch in your fleece jammies and watch reality show marathons on Bravo.
Until you realize you don't really even like eggnog.
My point is that you don't want to wear a lame outfit to all of your holiday parties. Or maybe just your one holiday party. So today is all about things you can wear to add a little sparkle to your holiday season.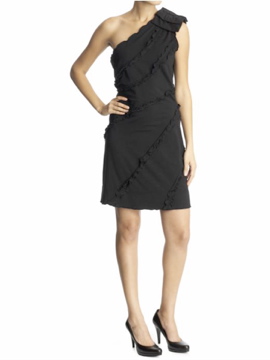 I think I've actually featured this dress before.  The difference is that it is now on sale.  And it remains extremely adorable.  I wish someone with a life that goes with this dress would purchase it and tell me if it's as cute in person as it is in this picture.
You really can't go wrong with a black dress and, while I don't agree with some of the items the fashion gurus believe should be in every women's closet, the black dress is a staple.  It can take you from a day at the office to a night on the town by just swapping out a few accessories.  It's true.  I have a black dress I bought years ago from Banana Republic and I've worn it for just about any occasion you can imagine.  Funeral? Check.  Wedding?  Check.  Bar Mitzvah?  No.  But only because I haven't been invited to a Bar Mitzvah in the last ten years.
If you need a dressy black dress, you may want to look for something like this strapless tulle/velvet dress or this French Connection dress with sequins.
I also adore this one-shoulder side tie dress and this matte jersey dress with a ruffle could be very versatile.
For something a little more low-key, I love the idea of a cowl-neck sweater dress or this A-line knit shift dress because they can be dressed up or down depending on how you accessorize them.
Or for some drama, there is always the  long black dress.  Charming Charlie's actually has a version of this in their store right now and I think it would look so great with some gold bangles and big gold earrings.
Lastly, for a lot of flash for a little bit of cash, this Tinley Road sequin party dress is to die for.  It makes me want to go to Las Vegas even though the only time I've ever been to Las Vegas was for a Beth Moore conference and this dress would probably be a little over the top for that sort of thing.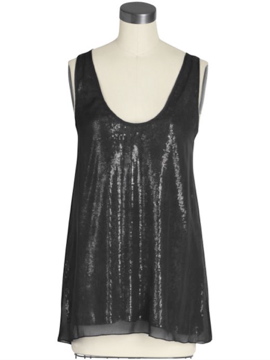 The sequin tank is everywhere in every price range right now.  There is this sequin splendor tank or a cashmere jersey sequin tank or this one from Express or this tank from Forever 21 is a total bargain.
You can also search the racks at places like TJ Maxx, Marshalls and Kohls for one.  They have taken over the world and are so versatile and perfect for holiday parties.  You can wear it with skinny jeans and boots with a pretty, drapey cardigan thrown over it.  Or with black pants paired with a cropped military-style jacket or a denim jacket or a leather jacket.   Or with a pretty shrunken cardigan.
It would also look great with a velvet blazer worn over it or even by itself if you feel daring.  Or if you live in Australia or South Texas where it might be 85 degrees on Christmas day.
3. The dressy top or jacket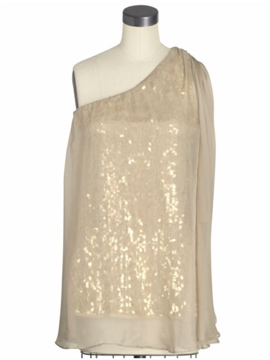 I'm sorry but I will dream about this gold top.  It is beyond beautiful and I feel like it's disappointed in me because I only require velour sweatpants on the weekends.  This would be so perfect with jeans or some black pants or  basically anything because it stands alone.  Like the walrus.
***Edited to add that apparently the gold top is now sold out.  The brand is Aryn K.  You might want to try this top instead.
I also like  this beaded sweater tunic or this embellished chiffon tunic.
Or something along the lines of this bohemian lace top or great ruffled top.
And how cute would the crushed velvet tunic be with a pair of leggings and a long-sleeve shirt layered under it?  Think of all the party food you could inhale wearing something this loose and flowy.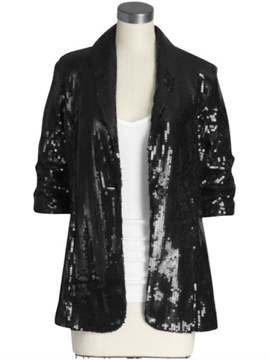 Ability to moonwalk and white glove sold separately.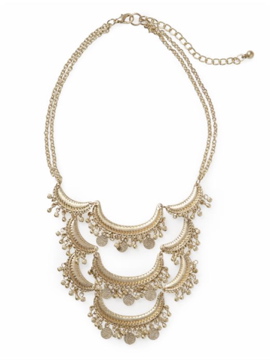 Pretty jewelry can transform anything.  In fact, it's the best way to create a party outfit without spending a lot of money.  You can get a tonal flower necklace or something like this rhinestone pearl necklace and immediately make a plain top or dress look ready for Christmas cheer.
I also love these sparkly studs and  this high shine bracelet or chunky faux gem bracelet are perfect pieces to add to an outfit to make it pop.
Or you could always add  a scarf with a little bit of shiny.
That's it for today.  I feel like I need to come clean and confess that as I write this I'm wearing black yoga pants with a big bleach stain down the front and an old shirt of P's that has "ALLIGATOR FARM" written across the front.
I'm just trying to keep it real.
And classy.
Y'all have a great Friday.