You know what's so weird? Jennifer Aniston and I both got our hair cut this week. However, she made the national news for getting a blonde bob while no one in my life even noticed I had my bangs trimmed. It's like no one even cares that my hair is two inches shorter than it was two days ago. This is probably because no one even cares that my hair is two inches shorter than it was two days ago.
Anyway, guess what? The folks at Big Mama, Inc. have gotten together with the nice folks at Ruche again. And I'm so excited because the item potentially up for grabs is the adorable winter cabin sweater leggings I have coveted ever since I first saw them.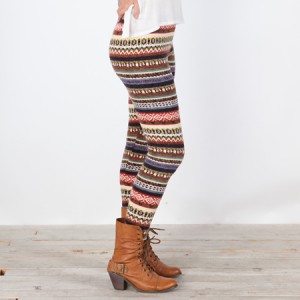 Aren't they darling? The only thing I'd like to make clear is that I do not EVER advocate wearing leggings without a top that covers the entirety of your booty region. In fact, I think you need something that hits at a minimum of mid-thigh.
If you want a chance to win a pair of these leggings, click on over to my giveaway page for my information.
In the meantime, here are a few cute things I've seen this week. Or at least found while I furiously scoured the internet over the last ten minutes.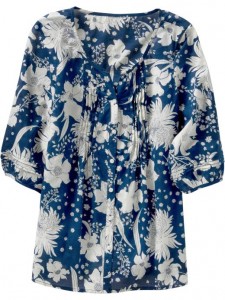 While I do think this floral pattern is adorable and would look great paired with white jeans this spring, the Old Navy store also had these in solid colors. I don't know why they aren't online. But they're not. I know this because I spent three seconds looking for them.
2. denim blazer
You may be thinking to yourself WHAT? A DENIM BLAZER? That's madness. Pure madness.
And, honestly, the picture of this one (yes, the picture that I didn't post because I forgot to upload it and was entirely to lazy to rectify my mistake once I noticed it) does not do it justice. I saw this denim blazer in my local Gap store and fell in love with it.
But everyone else must have loved it too because they only had one left in an XL.
If I had this beach bag I would go to the beach every day. Or maybe I would just carry a beach bag every day. Because that would be easier. And cheaper.
I love cute cotton shirts that you can just throw on in the spring and summer. This one fits the bill.
5. beyond vintage embroidered blouse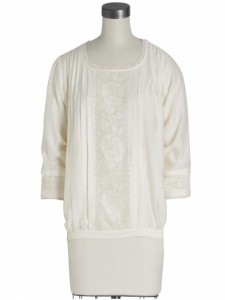 Okay, so the lace top that I told y'all about earlier in the week is now completely sold out. And I can't really find another one exactly like it. But I do really like this top from Beyond Vintage. It's a similar look and, best of all, it's on sale.
I saw this in Old Navy this week and thought it might make a cute swimsuit coverup. Or maybe just the perfect summer dress to throw on and head to the HEB.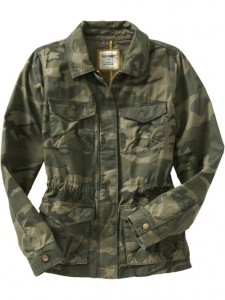 I realize a camo jacket might not be everyone's cup of tea. But there was a day last fall when I looked out in our backyard and saw Shorty, who worked for P's landscape business at the time, wearing a camo jacket and I thought to myself MAN, I WISH I HAD SHORTY'S JACKET.
I then said it out loud to P and after he quit laughing at me he told me I could probably find one just like it in any Army Surplus store in town. Which is true. But I bet none of those have "SHORTY" written in calligraphy across the back.
Neither does this one, but I like it anyway. I tried it on in the store last week and it even fits cute. Now I just need to work on my calligraphy.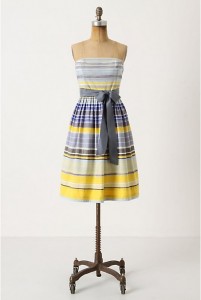 What's not to like about this?
I'm always a sucker for a raincoat from Boden.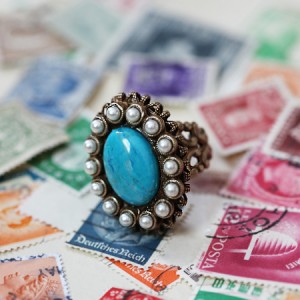 Several of you mentioned your love of turquoise this week and how you'd like to add more of it to your wardrobe. I think this ring would be a good place to start.
That's it for today.
Don't forget to enter the giveaway for the winter cabin sweater leggings.
And don't forget to have a lovely Friday.