I was all prepared to write a long impassioned post in defense of jeggings, but I made the mistake of watching Marley and Me for the second time and now I just want to curl up in the fetal position and cry for the next hour or so. You'd think I would know better considering the last time I watched it I had to sit in the living room trying to gain my composure so P wouldn't mock me for being so invested in a movie. And then when I finally walked into the bedroom, he asked me how I liked the movie and I broke down in tears all over again.
Needless to say, the dogs are getting to sleep in the bed tonight and have ice cream for breakfast.
Anyway, about the jeggings.
I didn't even realize what I'd done last week when I casually mentioned that a plaid tunic would look great with a pair of jean leggings and boots. It was just one of those things you say, like maybe I'll cut my hair above my shoulders. It doesn't mean it will ever actually happen, just that I like to think about it. Hypothetically.
And, yes, I realize that sometime last year I said ugly things about the jegging. They frightened me with all their sleekness and spandex. But then I bought a pair of tall brown boots that were just begging to have jeans tucked in. Which led me to my first purchase of a skinny jean since 1989 because you can't tuck bootcut jeans into boots.
I ended up wearing the heck out of those skinny jeans all winter long for the love of the boots. It was all for the boots.
Thus, I can see the benefit of the jegging. It's all the fashion of the jean but with the comfort of the legging. The trick is to get the proportions right. Unless you are in phenomenal shape, I don't think they should be worn without some sort of long top or sweater over them. And don't forget the importance of the right proportion of top and boot.
I also feel like I need to tell you that I would never wear the skinny jean or the jegging with a pair of flats. Mainly because I don't really like flats, but also because I'm afraid it would make me look like an ice cream cone.
That's my personal issue. I know several people who wear flats with skinny jeans and they look darling.
But enough about that. It's the season of the summer sale and here's some cute stuff I found.
1. Laundry Bell Sleeve Eyelet Shift Dress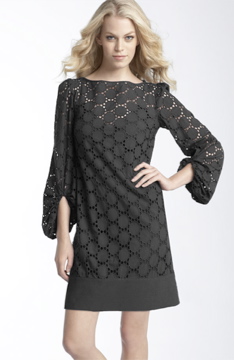 I'd love this with some pretty turquoise jewelry.
Of course I love everything with pretty turquoise jewelry.
2. Candy Coated Tote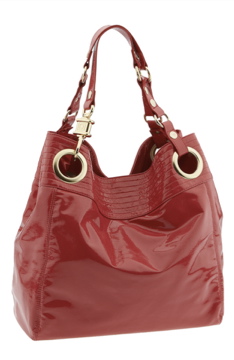 This bag is so cute and comes in several different great colors.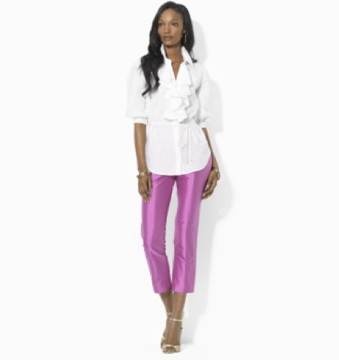 I originally thought the model was wearing pink hot pants, but they appear to be slim-fitting cropped pants which is a relief.
Personally, I'd wear this top with jeans and my cowboy boots.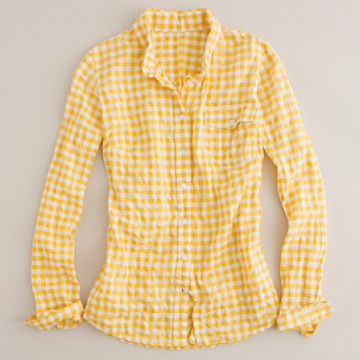 This is the perfect shirt to wear with everything from shorts to skirts to jeans. And I love that it would transition perfectly into fall.
5. Citizens of Humanity Denim Jacket
I don't know what I'd do without my denim jacket. It completes me.
Or at least it completes several outfits in my closet.
I'm tempted to buy this dress just so I could wear it all next summer or even use it as a coverup.
7. Plaid Long Sleeve Roll Tab Shirt
I have a thing for the plaid shirt.
This would look so pretty with a pair of white jeans.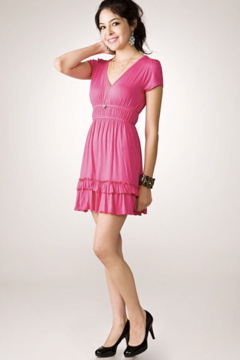 Gulley has a dress similar to this that she wears as a swimsuit coverup and it always looks so cute. I also think it would look great paired with leggings or even over a pair of jeans.
10. Candy Bowl Ring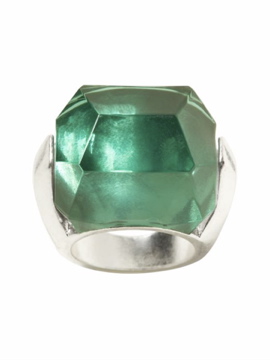 I'm not sure why I picked three things this week with "candy" in the name. It was purely coincidental. But the matter at hand is that I love this ring. But I really need to get a manicure before I have any business calling attention to my fingers.
On a final note, if you happen to live in San Antonio then I need to let you know that Grove Hill is having a huge sale right now. There are tons of things on sale for 75% off and great designer jeans on sale for 50% off. And, not only that, Adelante is also having a big sale. They're taking 30% off all merchandise in the store with the exception of jewelry.
And if you don't live in San Antonio, then I can only console you by telling you that our heat index for tomorrow is supposed to be 110 degrees.
I'll be at the pool.
Eating ice.
And thinking about vacationing in Iceland.
Y'all have a great Friday.