Before I say anything else, I just want to say that my heart breaks for the people of Joplin, Missouri. After seeing the pictures of all the devastation, I just have no words. My thoughts and prayers are with all of you.
Yesterday after Caroline got home from school (only seven days left, hallelujah and amen) she decided that she needed to find some doodlebugs. She'd spent most of the weekend making various bug habitats for all manner of ladybugs, junebugs and snails so that she could hold them captive until she loved them to death. But for some reason the doodlebugs had been spared.
Until yesterday.
She grabbed her super-classy container/very scientific bug habitat and began the search for the doodlebugs.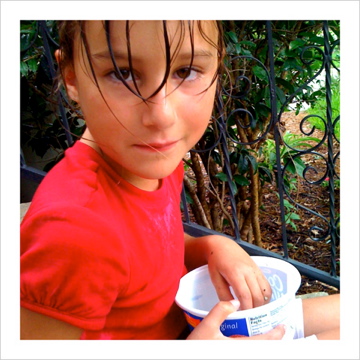 Our bugs live large around here.
Please notice that her hair is soaking wet. And so is the rest of her. I forgot to add "don't get yourself wet" after she offered to water my flowers for me.
Also, we are struggling with the whole growing out the bangs process. And by struggling I mean that she is totally content to walk around like a sheepdog and give me an annoyed look any time I brush her bangs out of her eyes.
She was working diligently to teach her new "pets" how to speak English. Apparently she taught a few junebugs how to speak English over the weekend and believes that doodlebugs should be equally able to master the human language.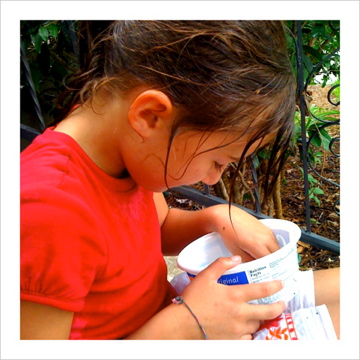 I questioned her about this but she maintains that one of her junebugs was able to answer yes or no questions by nodding its head.
This may explain its early demise because, last I checked, I don't think insects can actually nod their head for fear of their heads becoming detached from their thorax.
Yes, I just used the term "thorax". I cannot guarantee that I used it correctly.
Before I knew what happened, she conned me into finding the doodlebugs for her while maintained her existing "herd". Yes, she told me she had a herd of doodlebugs.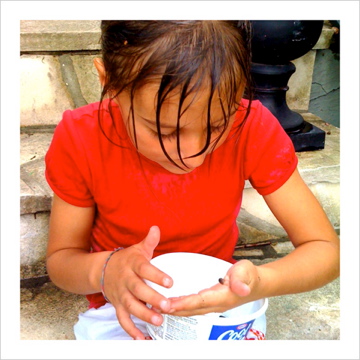 And that explains how I ended up digging through the grass yesterday afternoon while she sat on the porch holding a Cool Whip container and naming her doodlebug minions.
Copyright secured by Digiprove © 2011