I had all intentions of writing some kind of introduction to today's Fashion Friday, but I've just finished watching Real Housewives of New York and I'm pretty sure I just heard the mouse trap go off. And P is already in bed.
I'm sitting here in a state of denial about what may or may not be going on in my kitchen. Which makes it hard to think about fashion or anything else for that matter. I'm just glad no one threw a piece of half-eaten toast at me.
I really didn't know what I was going to talk about this week, but then I started seeing a lot of cute dresses online and thought that might work. So it's all about the dress today.
I think this dress is gorgeous. It's very dressy and is even described as a bridesmaid's dress. All I can say is it doesn't look like any bridesmaid dress I ever got to wear. Of course that's directly related to the fact that most of my friends got married in the late '90's when we all thought our only option was to choose from the selection of bridesmaids' dresses at the bridal store that they make you order three sizes up so they can charge you a sweet fortune for alterations.
Not that I'm still bitter about all the money I doled out on alterations and bad taffeta between 1997-2000.
So, yes, this could be gorgeous for a bridesmaid, but I also think it could just be a great dressy black dress to have in your closet for a special occasion.
2. Daytime jersey scoopneck dress
I know right now you're wondering where all the pictures are. Apparently there are some websites that make their pictures unfriendly for downloading.
I really like this dress because it's casual and comfortable, yet really pretty. It comes in several different colors, but I think I'd go with the navy and accessorize with silver sandals and some silver bangle bracelets.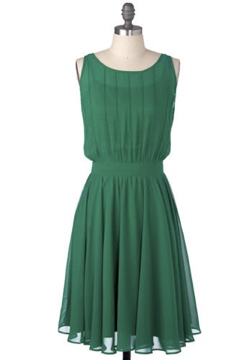 I adore this dress. The green color is gorgeous and I think it would look so pretty with some great gold accessories.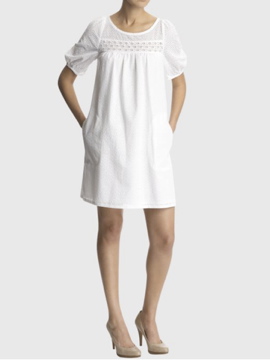 The white dress is really in right now. I think they look so great paired with nude wedge heeled sandals and turquoise jewelry.
This cap sleeved version by Nine West is another really great white dress with a different look.
5. Mia striped strapless dress
My friend Steph called me yesterday to let me know that Neiman's is having a huge sale right now. Sure enough, I looked on their website and there are a lot of cute things that are 30% off, including this dress.
6. Daria dress
My friend Julie called me and we discussed the sale at Neiman's and we also had a conversation about how we thought the maxi dress was going to be totally over by this summer. She even went so far as to give away her maxi dresses.
It turns out that we were wrong. The maxi dress is back and more popular than ever. However, we did agree that while the maxi dress is super comfortable and allows you to eat a lot of chips and guacamole in one sitting, it's not necessarily the most flattering look in the world. Unless you happen to be six feet tall and weigh 100 pounds. In which case you need to quit reading this and go eat a cheeseburger.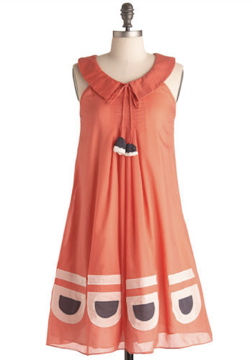 I think this dress is just a fun dress for summer. I love the blue and orange together.
8. 100 tiers of solitude dress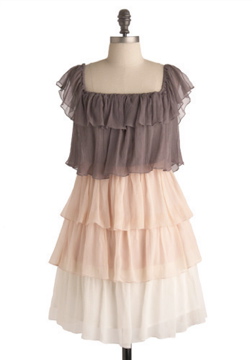 Earlier this week, I saw a picture of Priscilla Shirer on her blog (Did you know she has a blog? She does!) and she had on this outfit that I adored. It was a dress in similar colors to this one, paired with white leggings and silver flats. Adorable.
The dress she had on was cuter than this one but I have no idea where she bought it. Actually I take that back because it just occurred to me that I could go back and look at her comments to see if someone asked her where it was from. The dress she had on was this one from Free People but she had a white t-shirt on under it. LOVE.
This is the perfect dress to throw on all summer long. I think it's so much better than a pair of shorts.
10. Nicole Miller aqua printed jersey dress
I'm a fan of Nicole Miller dresses because they always seem to fit so well. I thought this one was really cute which is really no surprise considering the color scheme.
11. Sundial sleeveless wrap dress
I could not be sorrier about the lack of pictures today. Serious technical difficulties.
However, please go look at this dress. You'll be so glad you did. It's darling.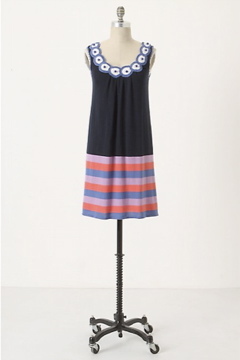 Where do I even start with Anthropologie? I went over to their site hoping to find one dress to round out my list o' twelve and found so much more.
Like this Island holiday dress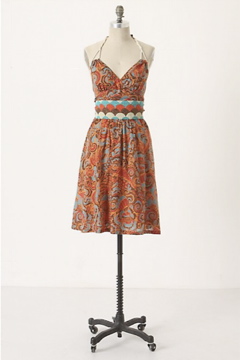 And this Endless chevrons dress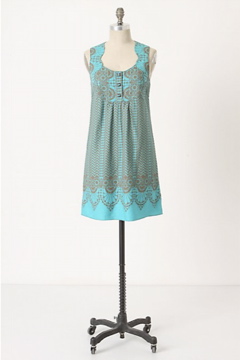 And then this Orange blossom dress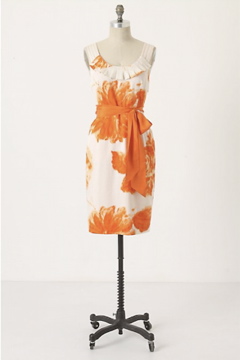 Dear Anthropologie,
You never write. You never call. You never even offer coupon codes for free shipping or 15% off. I really believe you think you're better than me.
Yet I cannot quit you.
Love,
Melanie
Y'all have a great Friday.
For more thoughts on fashion, go visit Jo-Lynne. She's talking about the importance of a good fit today.