On Friday, P and I went to Caroline's school for a Thanksgiving Feast. And I'll just go ahead and confess that my expectations were low. So imagine my surprise when I found the instant mashed potatoes with faux gravy to be delightful. If that isn't a prime indicator of PMS, then I don't what is.
Of course, considering that I'm a huge fan of Hormel chili and the occasional can of Spaghetti-Os, it's not like anyone can accuse me of being a culinary snob even in the best of times.
Shortly after the feast was over, P headed south for the ranch and I went home to finish packing for the big road trip Caroline and I had ahead of us. There is nothing like the feeling of power that comes over me when I can pack a suitcase and limit Caroline's wardrobe choices.
A little after 3:30, Gulley and the boys showed up at the house to pick us up and, after insisting everyone make one more stop in the bathroom, we hit the open road. The kids did not disappoint us. We'd only been in the car about six minutes before one of them asked, "How much longer until we get there?"
I replied, "We'll get there when we get there. Don't ask us that every five minutes."
"Okay…but how much longer 'til we get there?"
The good news is they only asked about forty-two more times over the next three hours. And in between times they alternated which two of them were going to annoy the other one until that one decided to tell on the other two. Then they'd interrupt Gulley and me so they could rat out their fellow man. What they didn't know was that Gulley and I decided before the trip began that we were going to have a strict policy of telling them "WORK IT OUT YOURSELVES" because we were too busy discussing wrinkle creams and the Aggies chances against Nebraska.
We finally arrived at Honey and Big's house and I have never been so happy to be greeted with homemade chicken salad and some incredible artichoke cheese dip. I think I was in my pajamas in about 10.3 seconds with a plate of food in front of me.
The next morning the kids woke up at the crack of dawn and rode with Big to pick up Shipley's Donuts. They came home with enough donuts to feed all of us and at least twelve of the neighbors. And then they went outside so Jackson could teach Caroline some of his sweet football moves as I reminded them, "REMEMBER THAT HE IS THREE TIMES YOUR SIZE. DON'T BE TOO ROUGH." Because Caroline is a little bit like one of those pint-size fluffy dogs that thinks she can take on a German Shepherd and win. And then she's surprised when she gets leveled.
By mid-afternoon we headed out to Kyle Field for all the pre-game festivities. Big and Jackson had tickets to go to the actual game, but the rest of us decided to just enjoy all the fun and then go home to watch the game on T.V. Not to mention that since there were 90,000+ people there, extra tickets were a little hard to come by.
When we showed up at Kyle, it was literally a sea of maroon. I have never seen anything like it and I kept Caroline's hand in a death grip because I would have never seen her again if she'd gotten away from me.
We watched the band get ready to lead the football team into the stadium.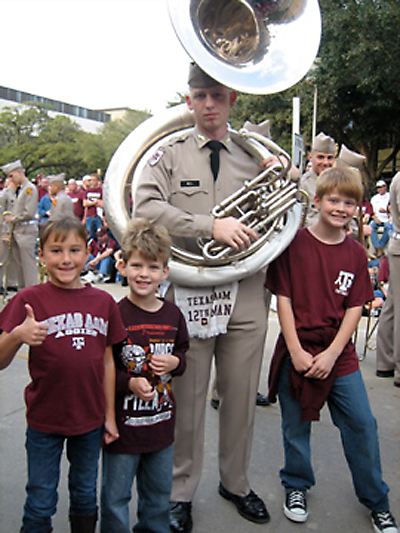 Then Gulley and I posed for a picture because we almost felt like we were nineteen again. Except for the kids. And the fact that our hair is significantly flatter. And neither of us were wearing a Leslie Lucks dress.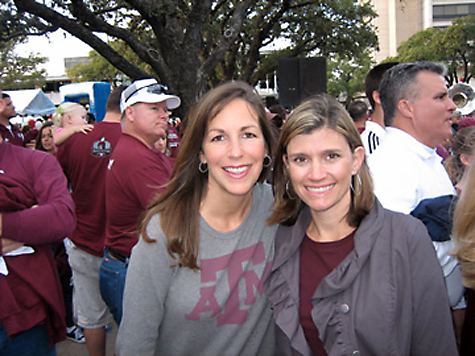 After a few minutes we heard the sirens of the police motorcycles escorting the team bus. The band began to march and the team made their way into the stadium while the kids lined up to give them high-fives.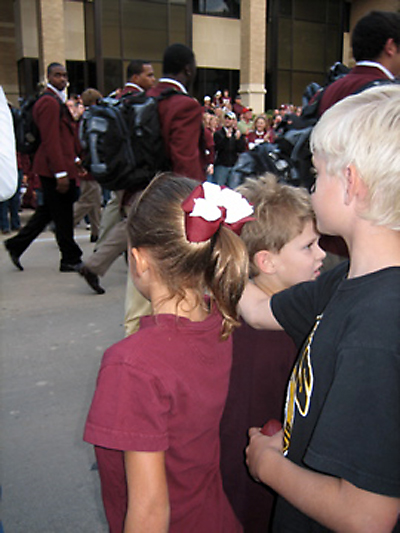 That's a terrible picture of the whole thing and I have no idea who that blonde kid is. Just thought you should know the whole thing was much better in person.
About that time, three fighter jets flew right over us and the kids were in complete overload that there were so many blessings to be had all in one moment.
After that, Will and Caroline insisted they needed to get their bounce on.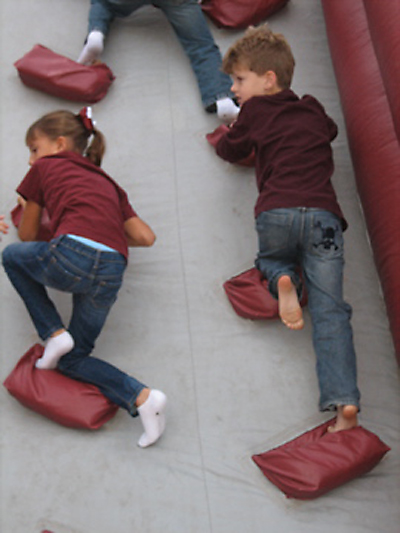 Then it was time to watch the Corps of Cadets march in. Caroline and Jackson stood at attention the entire time.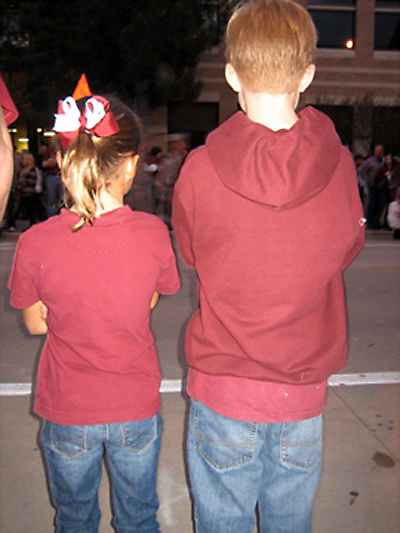 And then Jackson and Big went in to Kyle Field while we walked around a little bit more and then finally headed back home to make sure we got there in time for kickoff. I don't know that I've ever been more proud to be an Aggie than when I saw how incredible Kyle Field looked on T.V. It was a vast ocean of maroon with Twelfth Man towels waving so much that it looked like snow falling.
We sat on the couch, we jumped up and down, we screamed and yelled and we watched the Aggies pull off the upset. It was glorious. I even used exclamation points on my Facebook status and I rarely use exclamation points. Especially in triplicate form.
But THE AGGIES WON!!! We are ranked. In November. And it feels pretty dang good!!!
As we drove into town on Friday night we were on University Drive, which goes right by the A&M campus. I looked over at Gulley and asked if she remembered that night almost twenty years ago when the Aggies had just beat the Longhorns and we were on University Drive in a car filled with friends and a trunk-load of Frito-Lay chips doing some serious backseat dancing to Groove is in the Heart and eating Cheetos Paws and maybe drinking cheap beer.
(I feel like I need to give a brief back story. Gulley has an uncle that used to drive a Frito-Lay truck and he always had mass quantities of chips to dole out. And we were poor college students and took full advantage. Her daddy had shown up at the game that night with his trunk full of chips to pass on to us if we wanted them. Which, OF COURSE, who turns down free chips?)
(Also, the Cheetos Paws were a taste sensation. I don't know if they make them anymore but it was some cheesy goodness in the shape of a cheetah paw.
(It was a loose version of a cheetah paw. Kind of an abstract Picasso-type interpretation.)
(Also, if my dad is reading this then I'm just throwing in the part about the beer for literary embellishment purposes. We were actually on our way to the library after the game to study.)
(Oh, and on the way into town, Jackson asked if you have a locker in college and we explained that you don't need one because you only have three or four classes a day and you just bring the books you need. He asked what you do with the rest of your day and we said that we treated it like a full-time job and spent all our free time studying so we could be prepared and make excellent grades. I realize you shouldn't lie to your children but they really don't need to know about that semester their mothers failed golf because we decided it was more important to lay out by the pool and get a good tan.)
Anyway, where was I? I'm just rambling to nowhere.
So I asked Gulley if she remembered that night and we died laughing because of course we remember that night and those idiots with big bangs and Brighton belts throwing back some Cheetos Paws. And I asked, "Would you have believed it if someone would have told us then that twenty years later we'd be driving down this same street in a decidedly family-friendly SUV filled with McDonald's Happy Meals and three kids in the back telling each other to stop humming?"
We both agreed that neither one of those nineteen-year-old girls could have even fathomed such a thing. And it probably would have sounded terrible to us at that time.
But you know what?
It really is the best.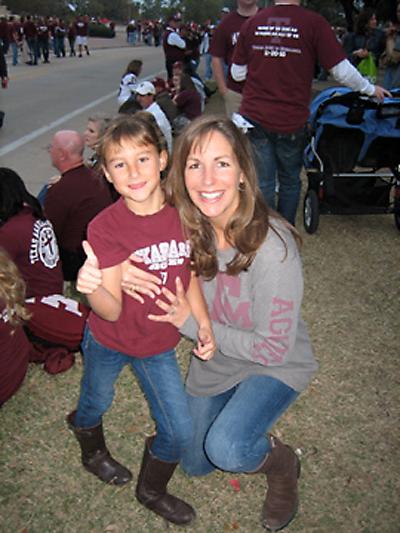 We wouldn't trade it for anything.
Not even a bag of Cheetos Paws.
Gig'em Aggies. Beat the hell outta t.u.