Have I mentioned that we went on a road trip for Spring Break? I can't really remember.
I solemnly vow that after today I will never speak of it again.
Here are Caroline's thoughts on our Spring Break.
Spring Break from Big Mama on Vimeo.
Here are my thoughts on her thoughts:
1. Yes, it's hard not to notice that she's wearing camo, but she always likes to note what she's wearing. I don't know where she gets it.
Also, for those of you familiar with Waco, TX (you have my deepest sympathies) that is a shirt from George's Bar. I realize it's probably a little inappropriate for my child to wear a shirt advertising a bar, but it's rare to find hot pink and camo living together in peace and harmony so we had to buy it.
2. Jackson really was her first friend. However, I'm not sure Will was her third considering that she really wanted nothing to do with him until he started to talk.
3. Yesterday was my day to help out in her classroom and I arrived in time to hear the kids go around in a circle and tell about their Spring Breaks. When it got to Caroline, she said, "We went to Houston and I bought these new shoes."
I'm so glad that's what stands out.
Also, it's hard to tell from the video, but she chose the most understated, simple shoes she could find.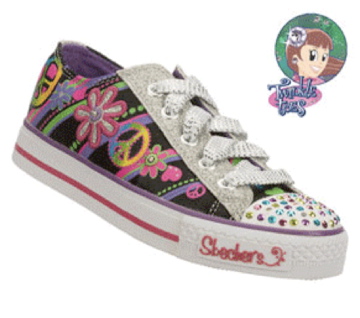 They're very subtle. Did I mention they light up and provide enough illumination for incoming aircrafts to land?
4. Is it just me or does she totally channel Salley O'Malley there at the end? She can kick. She can stretch. She can kick.
That's what I thought.