On Caroline's second birthday, two momentous things happened. The first was that Mimi and Bops moved from Houston to San Antonio. You can't appreciate this if you don't know them, but the fact they left their beloved Houston with its many fine restaurants and other cultural offerings is akin to a miracle. Caroline will never understand how much she totally caused her grandparents to become people they didn't even recognize. And I'll try not to think about the fact I lived in San Antonio for ten years prior to having Caroline and they never once mentioned relocating.
The second momentous thing was that Mimi and Bops gave her a little bicycle and a helmet for her birthday. I wish I had a picture of her trying out her new bike in her little zebra-print dress, but that would require me to get off the couch, locate the right photo album and scan the picture in. Then I'd see all the other pictures of her at two years old and get caught up in a wave of nostalgia and the passage of time and P would find me in the morning, passed out with a photo album clutched to my chest with dried tears on my cheeks.
When she first got that little bike she could barely reach the pedals, but eventually grew into it and was completely happy to pedal around with training wheels. The thing is, we don't really live on a bike-friendly street. There aren't cul-de-sacs or endless sidewalks like we had when I was little. Not to mention that the world doesn't seem as safe as it used to back in the days when I would hop on my bike and ride the eight blocks to the pool wearing just my swimsuit with a towel wrapped around my neck.
(Was there really a time when I was so confident that I felt free to ride a bike wearing only a swimsuit? Because that sounds like a scenario that I might have nightmares about tonight.)
When she started first grade last year we realized it was probably time for her to learn to ride a two-wheeled bike. We pulled the little bike out, took off the training wheels and discovered that KIDS GROW over the course of four years and the bike had become a wee bit small.
Mimi and Bops bought her a new bike that Christmas and I began last year with a renewed determination to teach her to ride it. It lasted for about two minutes, which is how long it took me to realize that she viewed riding a two-wheeled bike as an activity comparable in danger to feeding live sharks while wearing a suit made of tuna.
The bike issue didn't come up again until about a month ago. I knew that most of her friends had left their training wheels behind and began to encourage her it was time to do the same, especially if she wanted to participate in the Bike Rodeo this year. I picked her up from school one day and told her I was going to teach her to ride her bike.
The whole thing went very differently in my head. In short, the "lesson" lasted approximately four minutes before I decided I was not mentally or emotionally equipped to teach my daughter how to ride a bike. Largely because she said, "I DON'T WANT YOU TO TEACH ME HOW TO RIDE A BIKE" and I may have had to put my head between my knees and count backwards from ten.
When P came home from work that day I handed him a Xanax and told him the good news. He was now solely in charge of Caroline's bike riding lessons.
And that's when it got serious.
He took the pedals off her bike and began to teach her how to keep her balance. But she had a total mental block. She was so afraid she might fall that she couldn't make herself balance. I told P that I had NO IDEA where she gets her ability to get so worked up over something that hasn't even happened yet. NO IDEA.
She said she wanted to be in the Bike Rodeo but would just ride her scooter instead. We explained they don't allow scooters because it's not a Scooter Rodeo. She said she'd wait until she was eight to learn to ride her bike. She said it was too cold outside to practice. Or too hot outside to practice. The Bike Rodeo form came home in her folder and I threw it away. I did. I'm a betting girl by nature and my money was on the bike to win this round.
(I'm not really a betting girl by nature. I don't even know what that means.)
Sunday afternoon P came in and announced it was time to practice on the bike. And she said she didn't want to. But he said she had to learn sometime and today was as good a day as any.
And so the bike-riding lesson began.
I don't think I can do this.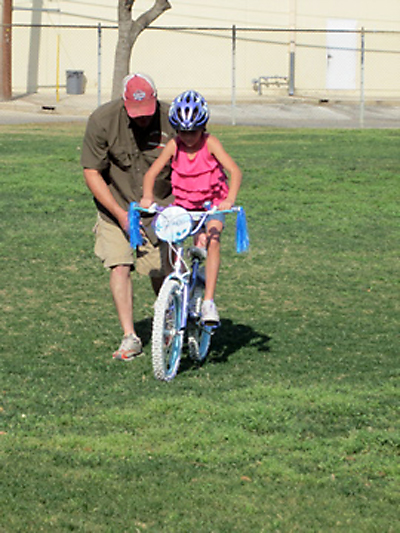 Are you letting go? Don't let go. Are you letting go?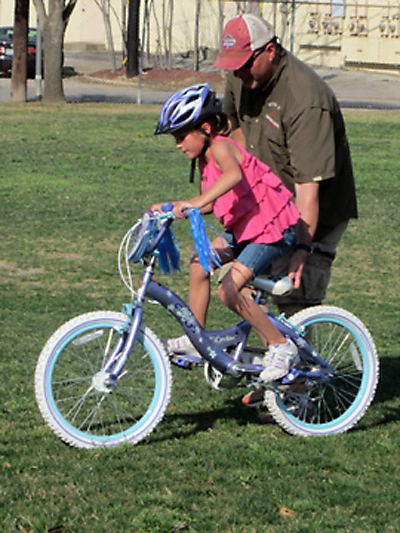 I'm scared.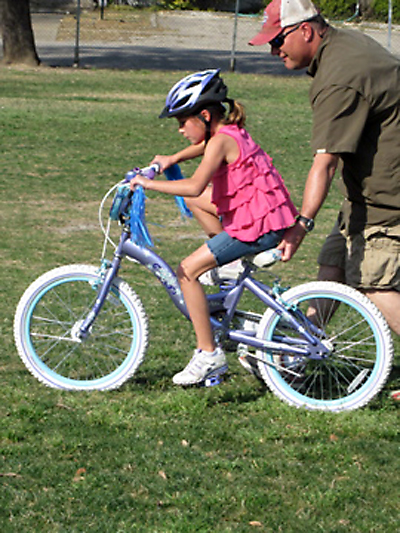 Wait. Am I doing it?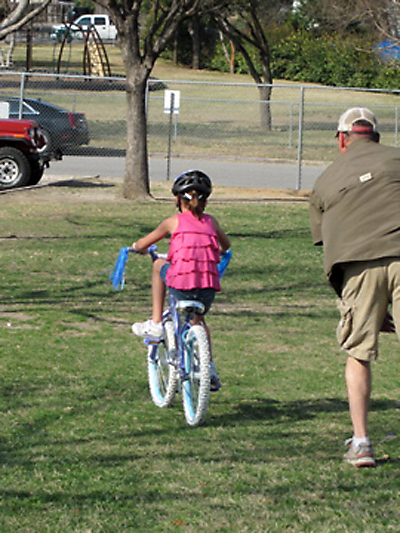 I'm doing it! My streamers are whipping in the breeze just like God intended.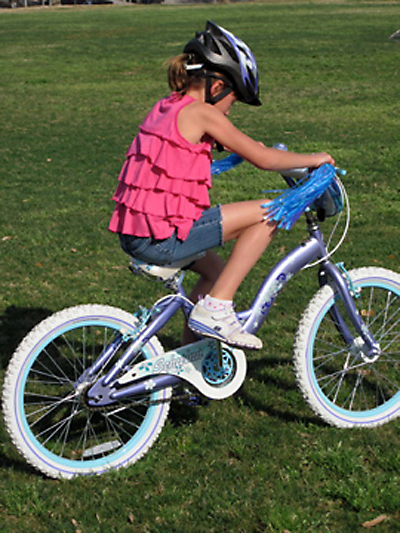 She is so proud of herself. And we are so proud of her. It was a big day.
And I might have cried a little.
P was proud of himself too. He took a celebratory lap.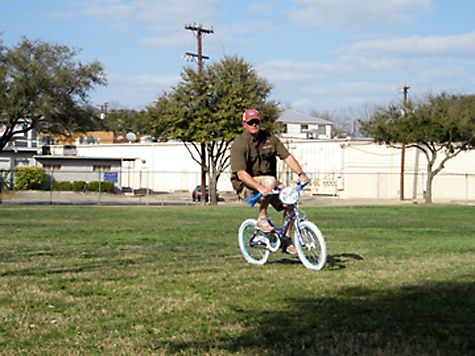 Just like The Bandit. He did what they said couldn't be done. The purple Schwinn Dee-Lite did not beat him.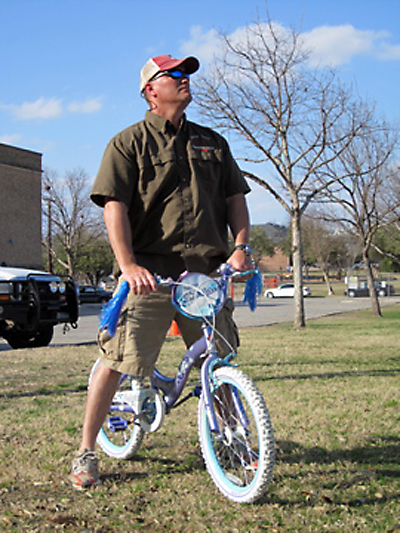 (If I ever write a book I want that picture to be on the cover.)
When I tucked Caroline into bed last night she was reliving the glory and said, "Mama? I know how to ride my bike now, don't I?"
"You sure do! I'm so proud of you!"
"All I have to do now is learn not to be afraid of the dark and I'll be finished with all my little kid stuff."
And then I might have cried a little again.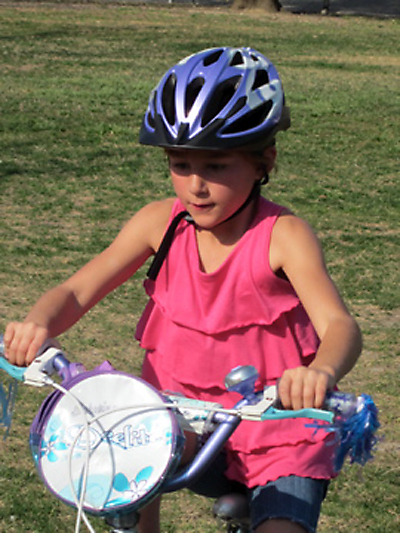 And reminded myself to pick up a new form for the Bike Rodeo.