Well, I just watched the Aggies lose in the bottom of the ninth inning to South Carolina. Which totally bums me out. And then I was excited to turn on the Miss U.S.A. pageant until I remembered that Miss U.S.A. doesn't have a talent competition. Just a bunch of tanned girls in their early twenties with perfect bodies in swimsuits. Frankly, my self-esteem doesn't need that kind of hit right now.
It would just bring out an ugly side in me that would desperately hope to hear one of them say something about "the shortage of maps in the U.S. of America and the IRAQ" to prove there are some flaws that perfect thighs can't hide.
So on to things that don't involve pageants or baseball.
Caroline was in VBS all last week and so we had a reason to get up and be productive every day. However, all that comes to a screeching halt this week because we have between zero and two plans on the calendar. And that is fine with me. Saturday morning was the first morning in two weeks that we didn't have somewhere to be at any certain time. Which is why we were in our pajamas making pancakes around noon. It was delightful. And much needed after our Friday evening.
What? What went wrong on Friday evening?
The pool grill.
P's back has been bothering him for the last few days because he tried to lift a flower pot that appeared to be one of those foam-type pots but was actually made of cast iron or titanium or something equally heavy. And so he spent most of Thursday and all of Friday popping a steady stream of muscle relaxers.
None of that has anything to do with the pool grill.
But now I kind of wish it led into some fantastic story of how P ended up at the pool grill all hopped up on muscle relaxers and made a huge scene. Because that would be such a more interesting story than what you're actually about to get.
So, since P was down in the back as my Me-Ma used to say, Gulley and I decided we'd just take Will and Caroline to the pool Friday night and eat dinner there. Jackson was with another friend but, there again, that has nothing to do with this story.
Gulley had been at the pool on Wednesday and reported that it took FOREVER for them to get their food after they ordered and that Will's nachos never showed up at all. Which is understandable because it takes virtually SECONDS to melt cheese on some chips in a microwave. But since we are optimists, we chose to believe that it was a fluke. Especially since we've been enjoying the chicken fingers at the pool grill for seven summers at this point. And while the service can occasionally get a little spotty around the end of July when the teenage cooks become cranky and surly, June is usually a banner month for the grill.
(As long as your definition of banner is fairly mediocre food served in a timely manner.)
We arrived at the pool around 5:30 and decided to order dinner at 6:30 because we figured it would probably be ready around 7:00. And I realize what I'm about to say is a FIRST WORLD PROBLEM of the ultimate kind, we still had no chicken fingers or nachos at 8:05. There was some story going around about how one of their fryers broke, but this didn't explain the multitude of families who were waiting on their hot dogs to be ready. There were toddlers crying for their grilled cheese sandwiches and mothers crying because WHAT GOOD IS THE POOL IF YOU CAN'T GO HOME WITH KIDS THAT ARE TIRED BUT FED?
It was the closest thing I've ever seen to pure suburban mutiny.
I realize the grill is under new management and they're trying to get all fancy with their offerings of ceviche and soft pretzels. But you know what moms want? Chicken fingers and hot dogs in a timely manner. We are a simple people with simple desires.
And so I kind of feel like I'm grieving the loss of the pool grill dinner strategy while simultaneously hoping they pull it together before the entire summer is a wash. If not, I'm researching ways to sneak in ham sandwiches or Chick-fil-A.
Needless to say, we avoided the pool on Saturday. Caroline went to see a production of Pinkalicious with a friend and I attempted to catch up on laundry. Then Sunday morning we all went to church and spent most of the day hanging out.
Later that evening, Mimi and Bops came over and I cooked a big Father's Day dinner. I loved spending time with my two favorite dads.
The one that raised me.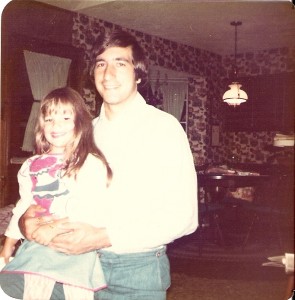 (That's me as Henrietta Hippo for Halloween. My daddy is dressed as a man from the mid-70's. Please note the sweet hair.)
And the one that's raising Caroline.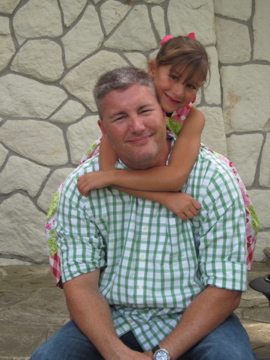 I could not love either of them more.
Hope y'all had a great weekend.
Copyright secured by Digiprove © 2011