So I never really finished recounting all the details of our Road Trip Extravaganza last week because exhaustion set in sometime around Wednesday evening and I needed to reserve all my strength to maintain any shred of control. Also, Gulley and I were spending our nights contemplating how we feel about jean leggings, Frank turning into a woman on The Bachelorette, and our thoughts on the new financial regulations passed by Congress. I'll let you guess which topic took up the lion's share of our discussion time.
But I feel like I need to complete the recap of the trip for posterity. And also because I have nothing else to write about.
We kept things fairly tame on Wednesday because Will was recovering from his stomach bug and we weren't entirely sure the rest of us weren't going to be struck down at some point. However, that didn't stop us from taking the kids to Gattiland to eat lunch and accumulate massive amounts of tickets in the arcade to be traded in for toys that make Happy Meal toys seem like Faberge eggs by comparison.
Caroline had never experienced the Gattiland buffet before and was fascinated that you're required to get a new plate every time you go back for more food. By the end of our lunch we had twenty-seven used plates on our table and I think fourteen of them belonged to her. I'll spare you the picture I took of the table filled with plates because I just looked at it and it made me feel like I might dry heave.
On Thursday morning we loaded the kids in the car for a day trip to Brenham to see my Nanny. The plan was for Gulley to take the kids to tour the Blue Bell Creamery while I visited with my ninety-two-year-old grandmother, but Nanny was quick to let us know she'd like for us to take her to Casa Ole' for lunch. So we busted her out of the retirement home to get some Mexican food and everything went swimmingly except for the part where Gulley and I both let go of her walker as we were helping her back in the car and had to chase it across the parking lot.
After lunch, Gulley and the kids headed to Blue Bell. She took a lot of pictures of the kids but I forgot to upload them to my computer so I have no evidence they were ever there. You just have to trust that I wouldn't lie about a visit to a creamery to make our lives seem more exotic and glamorous.
I did, however, get a picture of Caroline with Nanny.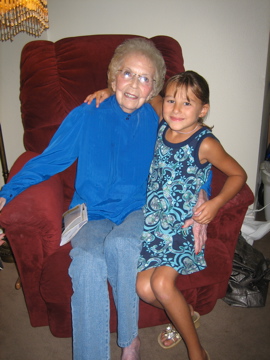 We woke up on Friday morning and weren't totally sure what our plans were for the day. Initially, the kids wanted to go see a movie, but then started to lean towards swimming at Adamson Lagoon. Surprisingly, none of them were interested in my suggestion that we all drink a nice bottle of wine and take a nap.
But then Jackson asked for the Sports page and saw that the Brazos Valley Bombers had a home game scheduled for Friday evening. Caroline and Will were playing outside, but Jackson immediately began to beg us to attend the baseball game. We told him we needed to talk about it (which is Mama code for figuring out if there is a way for us to get out of this) and he took two steps away from us to let us discuss it. Gulley told him to go outside and let us talk privately. Three seconds later he came sweeping through the back door and loudly proclaimed, "ALL THE KIDS WANT TO GO TO THE BOMBERS GAME. WE'RE GOING TO THE BOMBERS GAME!" And then he ran back outside while I yelled at the closed door, "WE ARE STILL IN CHARGE! WE ARE HANGING ON BY A VERY THIN THREAD BUT WE ARE STILL IN CHARGE."
So that's how we ended up going to the Brazos Valley Bombers baseball game on Friday night.
I'll be honest, I love baseball. I particularly love college baseball. But I was not excited about sitting out in the heat and humidity to watch a baseball game in July. However, I was totally wrong because the whole night ended up being magical.
The kids got to have their picture taken with Kaboom the Bombers' mascot.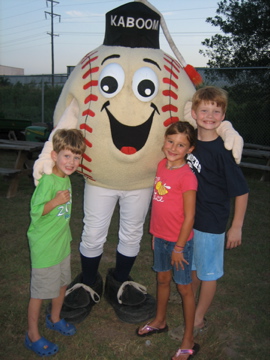 And with Cookie Monster.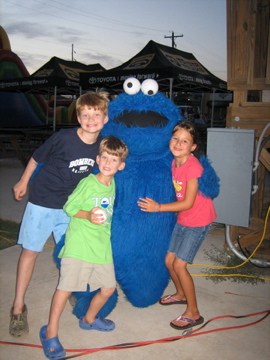 We're not sure what Cookie had to do with anything, but I'd be willing to bet upwards of $5.00 that someone happened to have an old Cookie Monster costume lying around and the team figured kids wouldn't care that a monster who binges on cookies has nothing to do with baseball. (Although both could be considered America's favorite past time.)
The kids even got chosen by one of The Bombshells (the official team hostesses) to lead the crowd in Take Me Out to the Ballgame during the seventh inning stretch.
And I managed to catch a t-shirt and a ball thrown to the crowd. I was en fuego. Although I have to confess I may have let my competitive nature get the best of me and jumped in front of a little boy to catch the ball. I felt so bad about it that Gulley finally told me I needed to re-read So Long, Insecurity.
I also have to confess that I sat back down on Caroline's ice cream after I caught the t-shirt. Nothing humbles a girl in a triumphant moment like some Cookies-N-Cream on the booty.
The evening ended with a spectacular fireworks display after the game. Honestly, the whole night was the highlight of the trip. It was like everything that makes America and parenthood great all wrapped in one package.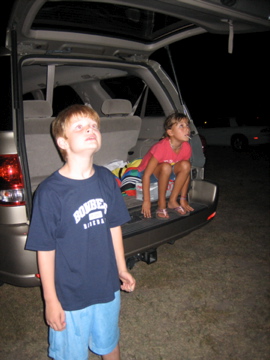 But it was late by the time we headed back to Honey and Big's house. The kids were tired but yet all hyped up from the heady cocktail of kettle corn, baseball and fireworks. Gulley looked at me and said, "OH BRITNEY".
Years ago, on the show Will and Grace, there was a character named Beverly Leslie. He was a marginal character but, in a line that turned out to be totally prophetic, he once said of Britney Spears, "OH BRITNEY. This is not going to end well."
Gulley and I both embraced that line and now anytime we are witness to a scenario that doesn't really bode well for a happy ending, one of us will look at the other and say, "OH BRITNEY" and we immediately know there's a good chance we're about to witness a meltdown.
Fortunately, we were able to get everyone bathed and in bed before the fond moments of the evening were a distant memory.
The next morning we packed up the car after a nutritious breakfast of chocolate-iced donuts and kolaches from Shipley's and began the trek back to San Antonio. Gulley plugged her iPod into the car stereo and we began to sing along to our favorite songs. The kids suddenly realized they were no longer listening to a steady rotation of Crazytown and Party in the U.S.A. and began to call out their song suggestions.
That's when Gulley announced, "WE ARE CURRENTLY NOT TAKING ANY REQUESTS".
The kids all began to whine about our music selections, but we were not backing down. The radio suddenly became a symbol of our need to assert our ability to do what we wanted to do without having any input from three people who aren't even five feet tall. We were giddy with our stereo coup d'etat and as Gulley began to play Michael Jackson's P.Y.T., I looked back at the kids and announced, "IT'S ABOUT TO GET REAL ALL UP IN HERE".
Secretly, it's one of those moments I hope becomes part of their childhood lore. They'll all get together and talk about old times and one of them will ask, "Do you remember the summer we were on that road trip and your mom announced it was about to get real all up in here?" And then they'll all die laughing, but might secretly think Gulley and I were pretty cool.
Of course the fact we chose to listen to You're The Reason God Made Oklahoma immediately following P.Y.T. might hurt our case.