Yesterday I spent most of the day trying to adapt to being back in the real world. A world full of dirty laundry, floors that needed to be swept, bathrooms that needed to be cleaned and groceries that didn't magically appear in my kitchen cabinets. To make matters worse, when I finally emerged from a huge pile of laundry and made it to the grocery store, I went to pay for my groceries only to discover that I'd left my wallet at home. Long story short, reality made me her circus monkey.
But enough about my grocery store woes. At least until tomorrow when I may feel the need to talk about them ad nauseam.
On Friday morning I woke up in New York. Sophie and I had a few hours to walk around the city before we had to head to the airport. So, naturally, we ate some breakfast and then treated ourselves to cupcakes to sustain us as we walked the streets of Manhattan. I took a couple of pictures that seemed to exemplify all that is good and right about the city.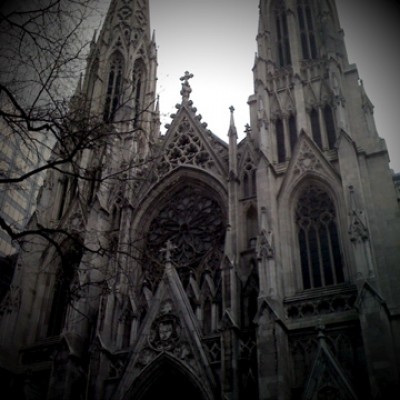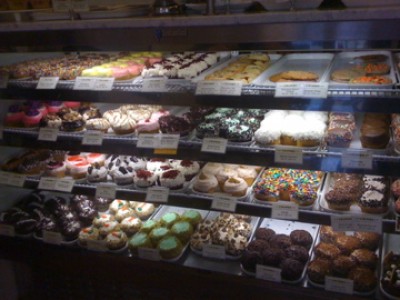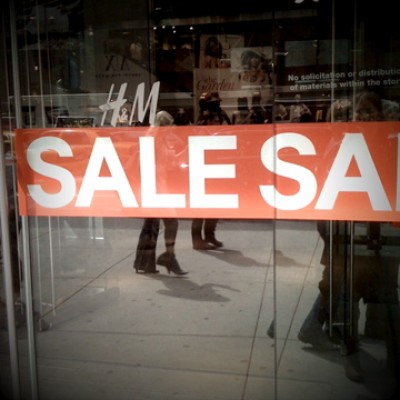 Dear H&M, I think I'll miss you most of all. My only regret is that we didn't have more time together. You have my heart.
But I had a plane to catch.
Sophie gently pulled me out of H&M and we grabbed a cab to take us to La Guardia. I felt fairly certain there was a 42% chance that I was going to die in that cab and deeply regretted that my last moments would be filled with the smell of old garlic and body odor.
Thankfully, we arrived safely at the airport and I boarded a flight to Dallas because one of my dearest friends and college roommate was getting married. Gulley and I had originally planned to drive to Dallas together, but when the trip to New York came up we decided that I'd just fly in to Dallas and then we could ride back to San Antonio together at the end of the weekend. I don't know why I feel the need to include all these travel details because they really have nothing to do with anything but I can't stop myself from typing all the words and already erased an entire paragraph where I detailed what I bought at the gift shop at La Guardia. (Gardetto Honey Mustard Snack Mix, US Weekly, and People StyleWatch!) I have a compulsive need to overshare meaningless details.
But I will tell you about the bride because it's a lovely story.
Jen, Gulley and I lived together for two years in college. Gulley didn't actually pay rent one of those years because her true place of residence was the dorm, but we felt it was our duty to spare her from having to go home to the dorm every night so she just became our unofficial roommate. Jen was everything Gulley and I weren't. She was known to actually study for exams and even miss football games to work on projects. She managed to make it through college without knowing all the characters on Saved By The Bell or having a VIP card to any of the bars in College Station.
After graduation, we all remained close friends. Jen spent the next several years pursuing her career ambitions and I spent that time doling out questionable financial advice to unsuspecting clients until P and I got married in August 1997. Then I switched careers and doled out questionable pharmaceutical advice to unsuspecting doctors.
Eventually all of our college friends settled down, got married and started having babies. Jen remained single. She'd call and tell us about an occasional date, but the right one never seemed to come along. But instead of pouting over her singleness and distancing herself from her married friends, Jen always showed up. She came and rocked our babies and invested in our lives. She took mission trips to Africa, taught Bible study at her church, and began doing inner city ministry work.
About two years ago, she brought a guy named Scott to spend the weekend at AJ's ranch. They'd been dating for a few months and things seemed pretty serious. There was talk of marriage.
But they broke up. He didn't know if he was ready to make a commitment and things just fell apart. She was heartbroken, but trusted that God must have something else for her life.
Eighteen months later, on January 10, I received a text message from Jen that read "Scott and I just got engaged!" And I texted back, "Did I miss something? I didn't even know y'all were dating again." (Because, listen, if anyone is going to miss some kind of major detail, it's me.)
I hadn't missed anything.
Scott and Jen had spent the last eighteen months apart, but he never quit thinking about her. Ultimately, he decided he didn't want to spend his life without Jen. So he went to her mama and asked for permission to marry Jen. He bought an engagement ring. And then a few days later, he showed up and told Jen he needed to talk to her. He said that he knew she was the girl for him, placed the ring on the dashboard of the car and said he was ready to put it on her finger the moment she was ready.
And in typical Jen fashion, she began screaming, "I'M READY!! I'M READY!!"
IT'S LIKE A SCENE RIGHT OUT OF A MOVIE.
So he got down on one knee, placed the ring on her finger and they got married this past Sunday at 2:00. It was a day filled with love and close friends and family. It was a day that we'd all been waiting and hoping for.
Since Jen's dad passed away when we were in college, she walked down the aisle alone. As she got to the halfway point, Scott left the front of the church, went to meet her and walked her the rest of the way. And everyone broke into applause. It was one of my favorite wedding moments ever.
This is Gulley, Jen, Jamie and me after the rehearsal.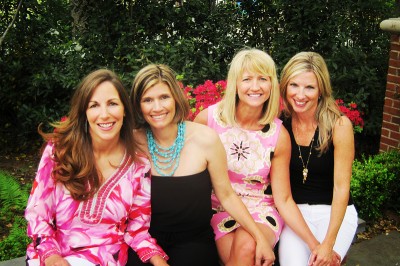 And here's the bride on her big day.
It's hard to tell from the huge smile, but I think she's pretty happy.