Listen.
I am a mere reflection of the woman I was four days ago because Spring Break has beaten me like a rented circus monkey. If there ever comes a time when Caroline questions my love and devotion for her, I'm going to send her the links from this past week.
(I nearly said I'd email her the links, but let's not even pretend that email will exist by then. I'll probably just transmit them through brain waves complete with an Apple logo.)
Yesterday we went to the Houston Zoo. Along with everyone else who happened to be in Houston. And if you've been reading here for any length of time, then you may recall that I don't even like the zoo.
(Although the Houston Zoo holds a special place in my heart because it is the zoo of my childhood. It's the zoo where I went on an elementary school field trip wearing a terry cloth short suit that read "Huff and Puff" in big orange letters across the front. The seventies were a weird decade.)
So after my initial disappointment that the sea lions aren't still in that giant blue pool that used to be the first thing you saw when you walked in, it was a good day. It almost made me forget how much I dislike zoos.
Plus, the weather was gorgeous. If you don't believe me, you can ask any one of the 2,546,987 people that were there at the same time.
And so I don't have a fashion post today because I have to go to bed. Like now.
Although Caroline would like you to know that she heard from the giraffes that giraffe prints are all the rage this season.
(Bless her heart, she is just barely containing her enthusiasm in that picture.)
Oh, and white tiger prints may be in style at some point. But only if you work out at Gold's Gym and wear weight-lifting pants.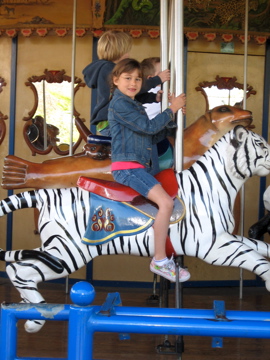 I hope you find this information helpful.
Y'all have a great weekend.