I'm leaving for Birmingham on Thursday morning and so my last few days have been filled with all the random little errands I always run before I go on a trip. I have to stock up on all my travel-size toiletries and make sure I have enough lipgloss and endlessly debate if I can fit four days worth of clothes in a practical carry-on size bag or if I'll just go for the gold and pack an obnoxiously large suitcase instead. There is no in between. Mainly because I don't own a reasonable middle-of-the-road piece of luggage.
And also because I have to pack things like my sound machine and large set of hot rollers.
So I'm just going to mention a few quick things here as opposed to rambling on and on with about 1,000+ words like I've done the last two days.
1. I'm planning on doing some sort of list with various Christmas gift ideas at some point in the next week or so. In the meantime, Sophie has compiled a list of twenty teen-friendly favorites under $20 and a list of fifteen favorites under $15.
I have found both lists to be enormously insightful. I've also discovered that I have the exact same taste as a sixteen-year-old girl.
2. Speaking of lists, I'm trying to talk P into doing another list this year for the outdoorsy-types in your life. He hasn't committed yet, but I haven't started withholding home-cooked meals and Orange Milanos.
Here is last year's list in case you missed it. It is a wealth of information about things I know nothing about.
3. Behold! The Christmas tree! With its vertically-wrapped lights!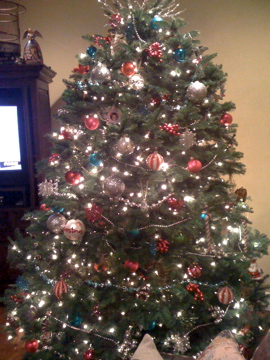 I took this with my phone. But trust me when I tell you the quality would be no better if I'd taken it with my camera. My camera is hurting.
4. My dear friend, Travis Cottrell, has written a book called Surprised by Worship. I think I've mentioned it before. What I haven't mentioned is that you can click over to my giveaway and review page for a chance to win a free copy. And, trust me, you want to read this book.
5. Caroline wore legwarmers to school yesterday. As a preteen of the early 80's, it felt like a full circle moment for me.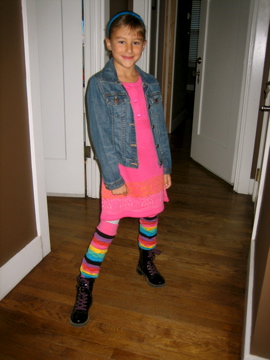 Please notice the unpainted door frame in the background. It has been that way for the last eight years in spite of the fact that it would take all of five minutes to paint it. Somewhere in there is some insight into my personality.
6. Don't forget to check out the NFL Take it to the House program and sweepstakes information.
7. I ordered my Christmas cards on Monday from The Little Card Company. I'll tell y'all more about them next week, but LOVE.
8. I went to the mall yesterday because I had to run in Sephora and also felt like I should make a quick run through a few shoe departments. Did y'all know there are places right in the middle of the mall where people are getting massages and having their eyebrows done? I think we've lost some sense of what constitutes an activity that should be done smack dab in the middle of public.
Or maybe I just have personal boundary issues. It's possible.
9. I saw these pajamas at Target yesterday and can't quit thinking about them. I wanted to buy them for myself but I think we all know that the guilt of buying something for myself did me in and I left Target pajama-less but with a new supply of Children's Benadryl, some snowflake ornaments and a bulk package of paper towels.
10. That is all. I just didn't want to end with 9. It seemed random.
Kind of like this whole list.
And now I'm off to see if I can fit four days worth of clothes into a carry-on bag.
Doubtful.