Here's a direct quote from P, uttered on Saturday night as we watched a repeat episode of Duck Commanders, "It's Saturday night and I've taken my Zantac. The possibilities are endless. Bring on the Double Chocolate Milanos".
And that, my friends, is a glimpse into the glitz and glamour of our lives. Don't hate.
I think you can hold this truth to be self-evident, we had ourselves a pretty uneventful weekend.
On Friday I went to Caroline's school for lunch. They have opened a room by the cafeteria where parents can eat with their children without having to endure the entire school cafeteria experience which can feel a little bit like an insane asylum but without the peace and the tranquility and medication. Not that I've ever been to lunch in an insane asylum, but I'd imagine it might be the only other place where you see people drinking the juice from their pinto beans with a straw like it's a perfectly normal thing.
I brought Caroline a BLT from Subway since it's her favorite right now for reasons I don't really understand. I've never been a fan of Subway because I have a hard time smelling all those different meats when I walk in the door. But I've learned to tolerate their Veggie Delight with spicy mustard. I don't know why I think you want to know all this. Stay tuned for tomorrow when I will list every fast food establishment I frequent and list the items I enjoy from the menu.
As we sat and one of us enjoyed our sandwich, Caroline explained to me that this room was one of the rooms they would use "in case the school goes into lockdown". She asked me if I knew what lockdown meant. I said I didn't because I wanted to hear what she'd say and find out her understanding of a lockdown situation. She explained, "Well, we have to go into these rooms if the alarm goes off because something bad is happening. Like maybe a wild skunk or a robber has walked into the school."
You cannot be too careful when it comes to wild skunks.
Friday night she spent the night with Mimi and Bops. P was at the ranch so Gulley and I ended up having a last minute girls' night out where we caught up on all the things we hadn't talked about during the last sixteen times we'd talked in the previous two days.
On Saturday we didn't do much of anything until it was time for Caroline's basketball game. I continue to think that watching seven-year-old girls play basketball may be one of the most entertaining things ever. The sweet socks the team wear as part of their uniform definitely adds to the experience.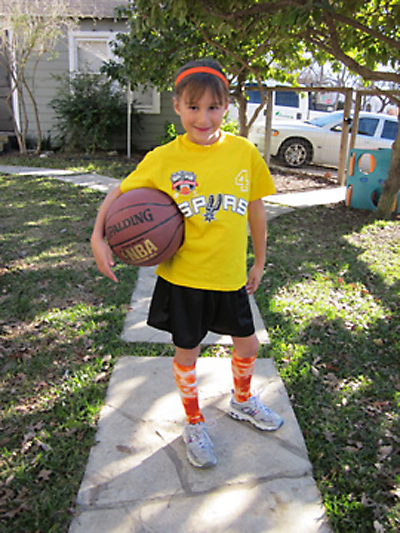 Later that night we picked up Mexican food because I am embarrassed to say that I couldn't even remember the last time I ate it and that's completely unacceptable. It's like I didn't even know who I was. But I remedied the situation with some chile con queso and puffy tacos and the world seemed like a happy place again.
And I believe you already know that P enjoyed Double Chocolate Milanos with wild abandon. That's not even a euphemism for anything.
Caroline had a cough all day Saturday and it got worse when she went to bed. I gave her some cough medicine and ended up sleeping in her room. Or, more appropriately, not sleeping in her room. Because when she wasn't coughing, she was grinding her teeth. I don't know why she grinds her teeth when she's congested, but it happens every time. And I laid there and daydreamed about how peaceful it would be to sleep on the landing strip at an airport or anywhere else that might be quieter than next to my snoring, coughing, teeth-grinding princess.
She felt totally fine the next morning and didn't seem fazed by all her nocturnal respiratory goings-on, so I decided we should go ahead and go to church even though I felt like a lesser version of death on a paper plate. Truthfully, there might have been a moment when I bowed my head to pray during worship and realized five minutes later that I was in the middle of a catnap, as evidenced by the fact I'd begun to have a dream. I don't think God took it personally.
After all, between the Double Chocolate Milanos, the coughing, the reruns of Duck Commanders and the teeth-grinding, we'd had ourselves a pretty wild Saturday night.
Albeit the version of wild that only applies to middle-aged married couples with children.