I really can't thank you enough for answering so many of my questions yesterday. Sometimes a girl just needs some input on important things like hair color and underwire.
You'll be glad to know (That's probably overstating it. Chances are good you're not really going to care one way or the other.) that I've decided to get the jeans hemmed to wear with flats and flip-flops. It seems like the right choice given the time of year and the fact that I have a few other pairs of jeans that I can wear with heels. Plus they were only $30.
(For those of you who asked, I found them at a boutique that was going out of business and bought the last pair in my size. Trust me, I tried with all my might to be a different size in order to acquire more bargain-priced jeans but my efforts proved fruitless. And kind of painful.)
I also downloaded a few new apps for my phone and have reconciled that I might have to sacrifice some wrinkle prevention in favor of some color on my face this summer.
The turkey is still in the back yard.
Mocking me.
Anyway, it was a little hard to come up with material for today's Fashion Friday because I am in the midst of a full-blown obsession. FULL-BLOWN.
About a week ago, I decided that I might want to paint my kitchen a kicky shade of turquoise. I can't really explain why, but it just feels right in my soul. I waited a few days to mention it to anyone because I thought the feeling might pass. However, my obsession only grew and I found myself googling "turquoise rooms" and looking at paint chips. Then, last night, I mentioned it to Sophie and she told me I had her full support for Project Turquoise.
And then I mentioned it to P and he asked if I was going to hang some neon beer signs in the kitchen, convert one of the windows to a drive-through, and start serving bean and cheese tacos.
He is hilarious.
My thought is that it's just paint. If I hate it then I can paint over it and laugh about that one time I was dumb enough to think I wanted a turquoise kitchen. I'll keep you posted on the matter. And if you happen to know a great shade of turquoise paint that says "Tasteful and trendy" as opposed to "Bean and Cheese Tacos only 99 Cents", please let me know.
I'm envisioning something along these lines.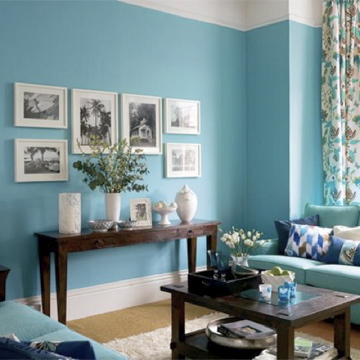 Okay, other than turquoise paint chips, here are a few great things I've seen this week.
I know not everyone is a fan of the ruffled tank thing, but this one is so cute that you might change your mind. It's thirty-one flavors of adorable.
2. Linen-blend Boyfriend Shirt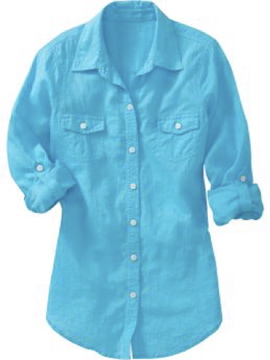 The website says that these shirts are $24.50, but they're on sale in the stores for $12.00 and they come in a delightful array of colors, including turquoise. It's the perfect shirt to wear alone or to layer over a tank top.
Sam Moon, the home of cheap jewelry, is now selling Big Buddha handbags. I'm a big fan of the Big Buddha bags and really love this one, but don't know if I'm really meant to own a white bag. It feels a little bit like tempting fate to rain down cherry-colored Kool-Aid.
4. One Shoulder Side Ruffle Dress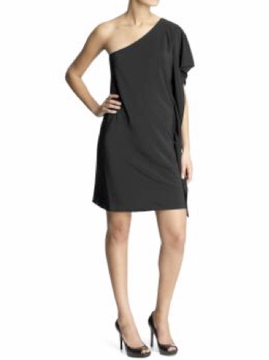 I don't have anywhere to wear this dress, but maybe you do.
I also love this knit top with rosettes in the black or the yellow.
The only thing better than a comfortable t-shirt is a comfortable t-shirt with a little something extra.
I realized the other day that I have a few outfits that could really benefit from a pair of cute shoes in the silver/pewter/metallic category. I have some silver flip-flops, but I wanted something with a heel. My chances of finding what I was looking for didn't seem great because I figured most heeled shoes in the silver family would be dressier than what I wanted. But I was wrong.
Pewter/silver/metallic shoes are everywhere. It's a shoe revolution and I almost missed it.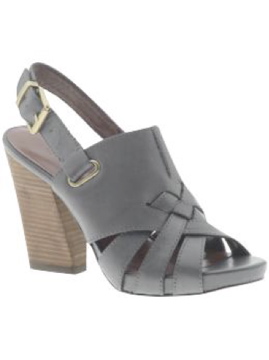 I love these wedge sandals
And these sandals are really pretty if I didn't need something with a heel. They'd look great with summer dresses though.
7. Bamboo Shoes
Speaking of something that would look cute with summer dresses and really anything else, I love these flip-flops by Bamboo. Best of all, they're only $20.00 and come in a wide variety of colors.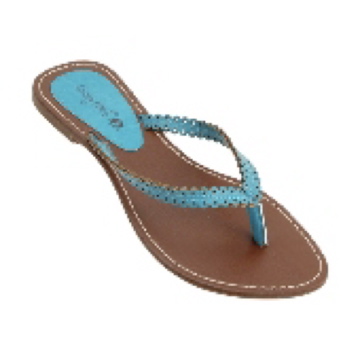 You'll notice that I featured the turquoise.
Shocking.
Y'all have a great Friday.