Before I talk about whatever it is I'm going to talk about today, I kind of want to throw out a disclaimer. I'm not even sure that disclaimer is the right word, but let's go with it. I really struggle with what to write after any sort of huge natural disaster has occurred. On the one hand, I feel like we all need a few moments of levity, but on the other hand I would never want to appear cold-hearted or like I'm not incredibly saddened by everything that is going on in Japan right now. Truthfully, I hadn't watched much footage until last night because we've been with the kids non-stop and haven't had a chance to see many of the images. It's heartbreaking. I know it probably goes without saying, but let's all continue to pray for the people of Japan.
And remember that just because I'm talking about nonsense doesn't mean I'm not thinking about the bigger picture.
With that being said, I'm sure you will all be fascinated to know that I bought a new power cord for my Mac today. It had been a long time coming, but when I realized my existing power cord was officially in two pieces there was no denying that it was a safety hazard even though I could technically get it to work if I wrapped it just right in masking tape and jiggled it periodically while it was plugged in, I knew it was time to pony up at the Apple store.
The only problem is that it's zero fun to walk into the Apple store (two days after the release of the iPad 2) to just buy a power cord. It's like buying a new bra. Or renting a shovel. It's practical. And boring. And doesn't come with a 17-inch screen and a shiny new keyboard with no brownie crumbs buried in its depths.
(Oh to be able to make a smooth transition right here.)
Caroline and I are in Houston now. We wrapped up our time in Bryan with a trip to the bowling alley. A trip where I managed to keep my score under 30 after a full seven frames of bowling. Had we been playing golf, it would have been a stellar score. But instead I got trounced by everyone, especially Will who came in first with a score of 128. He said, "Mel, you are really bad at bowling. I'm beating you half to death."
On a positive note, while I don't really advocate the denim jacket with the denim jeans for everyone, Caroline was rocking a denim on denim ensemble.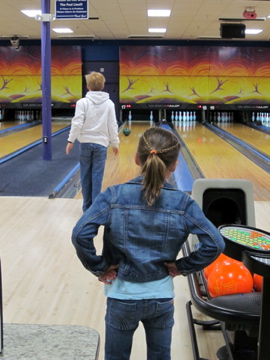 I think I had that exact outfit in 1978. Except I had Luv-it jeans with a patch on the back that read "FOXY". Totally appropriate for a seven year old.
She was also very enthusiastic about her game.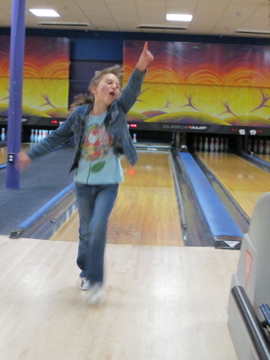 But all good things must come to an end. We had to say goodbye to the boys. There were a few tears and Will declared, "Everything is funner with Caroline". Gulley and I were sad it was over but agreed it's always a good thing when we leave with all of us wanting more instead of with declarations of "YOU'RE NOT INVITED TO MY BIRTHDAY ANYMORE!" Ultimately, I always end up inviting Gulley to my birthday party.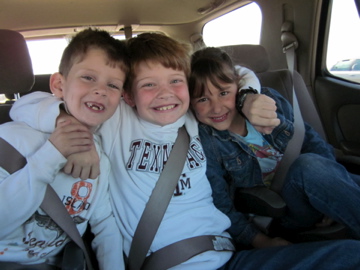 Caroline and I drove to Houston and met up with Mimi, Bops, Amy and Sarah. Our hotel rooms weren't ready yet so everyone hopped in the stay wag and we headed out for a quick bite to eat. Which is when Sarah got carsick in the back of the car. The saving grace was the 44 oz styrofoam cup rolling around in my back seat. God has placed many children in my life with weak stomachs. I believe it's to teach me compassion and the importance of always having an empty, disposable receptacle in my vehicle.
After we ate lunch, we agreed it would be better for me to sit in the way back of the stay wag with Caroline. Which was when I discovered that it is extremely uncomfortable to sit in the way back if you're over four and a half feet tall. Plus, it's so awkward because I could never figure out if I was supposed to make eye contact with the cars behind us or just look away. It also didn't help that driving in Houston brings out the side of Bops that makes him feel that traffic is a competition.
Our initial plan was to go to the downtown aquarium. But we pulled up and realized half of Houston had the same idea so we left and went to the Children's Museum to hang out with the other half of Houston.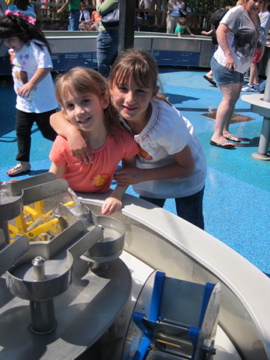 The girls had a great time, but I could have benefited from some sort of prescription medication. It was enough to turn me into a raging agoraphobic.
After being herded around with the crowd and possibly contracting a communicable disease, we went to my happy place.
The Galleria.
Bops hung out with the girls while they waited in a forty minute line to bungee jump and Mimi, Amy and I walked around to do a little shopping.
We walked past Zara and Dior and all manner of beautiful shops until we reached the Apple store. Where I bought a power cord and composed a sonnet about the shiny 17-inch Macbook Pro.
Tomorrow we will head back to San Antonio to make sure P hasn't forgotten about us and possibly try to come up with more Spring Break fun.
I'm thinking a nap sounds perfect.