I'm over at my sister's house right now babysitting my sweet nephew, Luke, while she gets a few things done. Like taking a shower and brushing her hair. I brought my computer because I thought it would be a great opportunity to work on Fashion Friday and it totally would have been if we had any idea how to get me on her wireless network.
I also managed to break her T.V. which is something I manage to do every time I visit. It really is a shame because it's a very nice flat screen television that makes watching Regis and Kelly a delightful experience, but I have no idea how to work it and I always push the wrong button on one of the six remote controls.
And, while I'm making confessions, I'd also like to say that I have no idea how to work her baby swing. It says it swings eight different ways on fifteen different speeds, but how that actually happens is a mystery to me.
Anyway, I'm glad I'm here because Luke and I have been discussing all the trends for spring. He's a little unsure if the striped look with a dinosaur emblem is going to take off.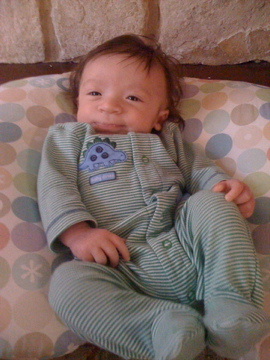 But he's positive that the hottest look for spring will be a sweet, sweet mullet.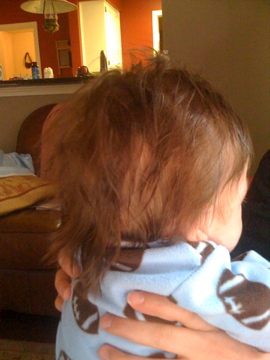 His Uncle P will be so happy to hear this news because he was all about sporting a sweet mullet back in the late 80's.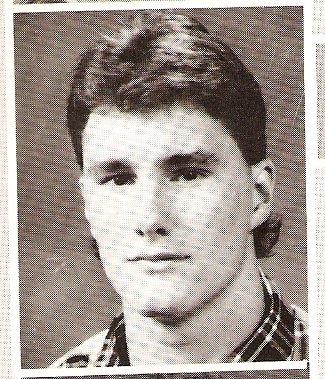 Sadly, I've only known him since he got rid of the party in the back.
The mullet isn't for everyone though. So with that being said, here are a few other trends for spring.
1. Denim
Denim is everywhere right now. If the trend continues, it may just be a matter of time before we're all back to wearing denim shirts paired with Santa Fe inspired wrap skirts with loafers and socks. Man, that was a good look.
But I've always been a fan of denim. There were about eight consecutive years of my life (okay, ten) where I always purchased some sort of denim dress and/or shirt.
And this year there are a plethora of denim items to choose from. Old Navy has a great dress and/or tunic made of denim's stepsister, also known as chambray.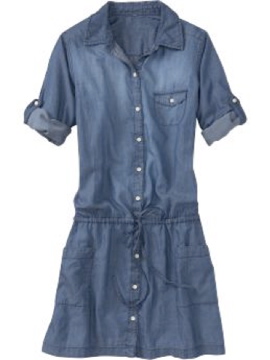 Gap also has a cute chambray drop-waist dress but it has some questionable pocket placement that may not work for everyone.
But there is still plenty of good denim to be had. There are so many great denim shirts that it makes me wish I'd saved one of the eighteen I used to own.
You could always go with a denim jacket. Or a fun skirt. Or (Jillian Michaels help me) denim leggings.
I hear they even make something from denim called jeans.
2. Neutral colors
Think soft shades of sand and taupe because that sounds better than beige.
I think this top from Nordstrom is so soft and pretty. It would be great paired with jeans or with nice pants and a jacket for a dressier look.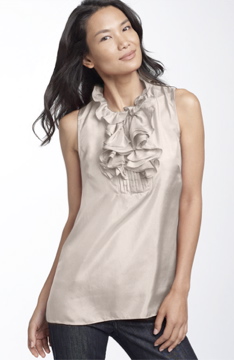 I love this dress even though I'd have to wear something under it. Or over it. And I also like this silk shirt and this ruffled tunic.
This outfit from Banana Republic really shows off how you can incorporate neutral pieces into your wardrobe without looking too plain and washed out.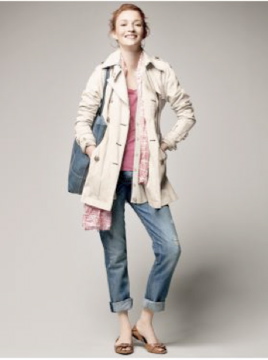 And I've always been a huge fan of neutral colored shoes like these or these. They really elongate your legs and look great paired with dresses or skirts. But you can totally wear them with jeans, too. I don't discriminate.
You may also want to find yourself a great neutral handbag. It will go with everything and eliminate the need to constantly switch purses. Not that I ever take the time to do that because what if I forget to move my wallet? Or worse, my lipstick?
3. Embellished tees
It all seems a little vague after the cold, wet winter we've had (Did you not see the five flakes of snow??) but if memory serves, it gets really hot here in the summer. And when it gets really hot there's nothing better than just a nice cotton t-shirt or tank. Bonus points if it's actually cute like this one from Boden.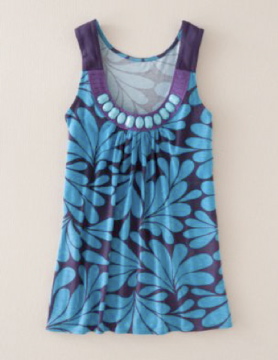 You can go with something like this or this ruffled scoopneck tee. This one is really cute and I love this one from J.Crew.
Or if you're a tank top kind of girl, there's this petal trim tank, or a rosette tank, or this gorgeous garland tank.
4. Wedge heels
I seriously can't count the ways that I love wedge heels. Maybe it's a residual effect from a childhood spent wearing Yo-Yos or maybe it's just because they come in so many cute variations like these from Piperlime.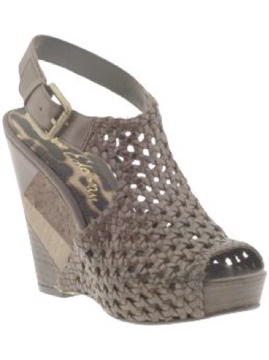 And how about these darling ones in hot pink? Hello summer.
Love these colourblock wedges from Boden and that they're British and spell color with a u. Speaking of color or colour, how cute are these bright orange ones?
This is totally off the subject, but does anyone have any thoughts on these?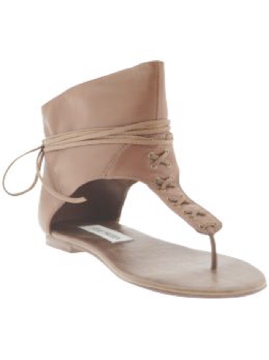 I'm seeing these everywhere and I'm conflicted. On one hand, kind of cute. On the other hand, "My name is Maximus Decimus Meridius, commander of the Armies of the North, General of the Felix Legions, loyal servant to the true emperor, Marcus Aurelius. Father to a murdered son, husband to a murdered wife. And I will have my vengeance, in this life or the next."
So I'm torn.
5. Printed skirts
I think it was last summer that I declared it to be my summer of the skirt. The only problem was that I didn't really have enough skirts to make it through the summer.
Oh but this year it's going to be different because the skirts? They are plentiful.
I love this printed whirly skirt from Old Navy.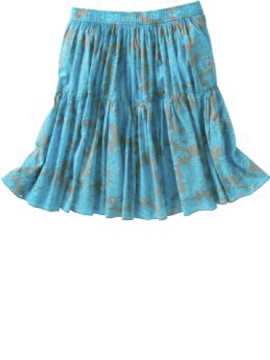 There are polka dot skirts, scenic skirts, and floral skirts.
There also happen to be some really cute plain skirts too. Nothing wrong with a little less is more.
Which is advice that would have served me well many, many words ago.
We'll save the next five trends for next Friday. A sequel!
Y'all have a great week.