Before I get all wrapped up in recounting what was a truly non-eventful yesterday, I wanted to let y'all know that the outfit Caroline had on in that last picture is from Naartjie. Which, frankly, I'm a little obsessed with right now. Mainly because I know she'll probably only agree to wear stuff like that for about another year before it's all Justin Beiber t-shirts or some similar horror.
So yesterday morning was pretty cold. At least cold by Texas standards and all I wanted to do was drop Caroline off at school, drive to Starbucks, order a Peppermint Mocha in a festive red holiday cup, and then go back home and spend the rest of the morning reading about Prince William and Kate because there is really nothing I can get behind so much as a royal wedding. I am a sucker for some British royalty for reasons I don't even understand myself.
But I didn't get to do any of that. Well, later I spent more than several minutes reading all about Prince William and how he gave Kate the ring that Charles gave Diana. It looks very similar to those costume jewelry rings they sell at Steinmart but, you know, it's real and is probably worth more than my house. Or my life. I'm also willing to bet she isn't going to have to worry about her finger turning green.
The point is I had to run. As in exercise. Because, even though I haven't mentioned it lately, I am still in the process of moving from the couch to a 5K. I took a three week hiatus back in October due to my bronchitis because it's hard to exercise when your lungs are trying to abdicate from your body, but I've been back at it since the end of October and I think that puts me at week 5 even though I accidentally did day one of week six last Friday and ran for eight minutes without stopping before I realized my error. And so now I know that I can run at least eight minutes without stopping and OH THE PRESSURE to keep up that momentum.
Between you and me, I have yet to experience anything resembling a runners' high. Although I have experienced several instances of runners' side cramps that make me want to head back to my couch TOOT SUITE to recuperate.
Anyway, I put on my new fleece with my running shorts and decided I was going to need to kick it old school if I was going to find the proper motivation. (Yes. I just wrote "kick it old school".) I added a little Don't Stop Believin' by Journey and some Bobby B. And possibly Marky Mark and the Funky Bunch.
It totally worked because I ran the farthest I've ever run. Plus, I almost didn't want to kill the lady inside my iPhone that condescendingly says, "Halfway There" during the middle of it all and that is huge progress. It just goes to prove that sometimes nothing will get you through like Steve Perry or Bobby B. or Marky Mark and his Funky Bunch.
After I got back home, I made a list and went to HEB. When P got back home on Sunday night, the first thing he asked me was when I planned to go to the grocery store and I said, "When I feel like it" because I am a giver by nature. He said he was going to start a list because we were out of several things. I waited until he'd left the room to look at his list and, I'm not even kidding, this is it:
Orange Milano Cookies
razors
I believe both those things fall into the category of WANT, not need. He owns a landscaping business which means he can totally grow a beard.
So I held out for two days and then went to the store to get razors and Orange Milano cookies and milk and toilet paper because NEED, not want. And I decided to go ahead and buy the stuff I'll need to contribute to our family's Thanksgiving dinner. I turned down the baking aisle to load up on semi-sweet chocolate and sugar, then I began to make my way through the rest of the store.
However, the floor was so gritty all of a sudden. And I was wearing my cowboy boots and the gritty sound and texture was more than I could bear. I was raging internally about HEB and their gritty, dirty floor and composing a letter to the manager in my head, when I looked down and realized that the sugar I'd put in my cart had a hole in it and I was the one trailing sugar all over creation. And then stepping in it and making an even bigger mess.
So, yeah. Never mind on that letter to the manager.
I spent the rest of the day meeting Gulley for lunch, picking up Caroline from school and trying to decide if I want to grow my bangs back out or get them cut again. We also worked on memorizing some animal poems because, apparently, memorization is a big thing in second grade.
Finally it was time to make dinner. I planned to make chili because it was slightly cold outside and I figured everyone (Everyone? All three of us!) could make a Frito pie or a chili dog or maybe combine the two together like the brilliant folks at Sonic have done.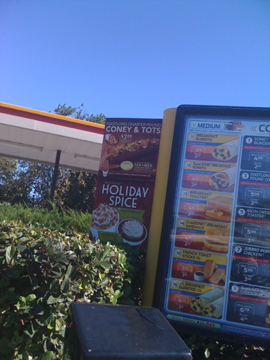 (Yes. I took a picture of the menu at Sonic. Because I have been obsessed with the combo chili dog/Frito pie. Depending on the sophistication of your palate, it is either brilliant or disgusting. I happen to think it is the food group I've been looking for all my life. Clearly, I am sophisticated.)
But here's a cooking tip you can take to the bank or wherever else you like to take things that are worth keeping. I'm not claiming to be any kind of master cook. I'm not Pioneer Woman throwing down with Bobby Flay, but I can tell you this one thing.
If you plan to make chili for dinner, it really helps if you remember to buy the ingredients to make the chili when you're at the grocery store.
Thank you and good day.