So it wasn't all bike riding around here this past weekend, but before I recap the whole shebang in mind-numbing detail I have to share what I dreamed about last night. John Adams. That's right, I said John Adams. And maybe you're thinking that John Adams is a neighbor or a family friend, but you would be wrong. I mean John Adams as in the second President of the United States, John Adams.
I don't understand.
P and I watched the HBO miniseries about John Adams last summer in a fit of 4th of July patriotism, but I haven't given him much thought in recent months because, well, he was the second President of the United States and doesn't really fit into my day to day life. Sadly, I don't really remember much about the actual dream but only that I woke up around 3:00 a.m., remembered I was in the middle of a dream about John Adams, and wondered if being almost forty years old means your brain is so bored that your subconscious finally says, "What the heck, let's dream about American history".
Or maybe it's because John Adams was such a piece of eye candy.
That must be it.
Anyway, back to the weekend. Or the days prior to the weekend.
I realized I never mentioned that last Wednesday night I went to the rodeo with a group of friends. My friend Julie invited our Birthday Club group to see Miranda Lambert at the rodeo and rented us a limo to get there. The best part was it ended up being a gigantic, white limo and felt a little bit like something from a Madonna video. Naturally, I took no photos of the limo because that would have made too much sense.
Here's a picture of us before we left though.
The cute two year old grabbing his mama's leg did not go with us. Although he really wanted to. And I can't speak for the rest of the girls but I immediately regretted my decision to wear my hair down. The humidity wreaked major havoc on it by the end of the night. Not even my Freeze It hairspray could save it. Pitiful.
We all loved Miranda (like we're on a first name basis) and she put on a great show. After it was over we decided that the corn dogs and gorditas hadn't filled us up and asked Norm the limo driver to take us to Taco Cabana. Sadly, they were just about to close but Norm came to the rescue and talked them into opening the doors for us. I'm sure they were totally disappointed to see that the limo only contained six middle-aged mothers and approximately zero celebrities, but they served us some tacos anyway.
Saturday morning we woke up to drizzle and rain. Caroline wanted to go play with Jackson and Will so we headed over to their house. Will and I were visiting in the living room and somehow the subject of my age came up. Gulley asked Will how old he thought I was. He looked at me for a second and answered, "Fifty-nine". I was already in the midst of some self-image issues so Gulley said, "Don't pay any attention to him. He doesn't know." She even pulled out our old favorite, "REJECT IT". Then, in an attempt to prove her point, she asked, "Will, how old do you think I am?" He looked at her and said, "Thirty".
It's like he knew I was going to start having dreams about former Presidents.
Caroline had a basketball game later that afternoon and she scored a career high THREE baskets. (I know, I know. It's not called a goal. It's a basket.) After that, the boys came over to spend the night because they'd spent the entire earlier part of the day informing us that we NEVER let them have sleep overs. NEVER. Caroline even told Gulley she was going to give her a THOUSAND BOOS for the lack of sleep overs.
So the boys came over and they all climbed in my bed to watch a movie.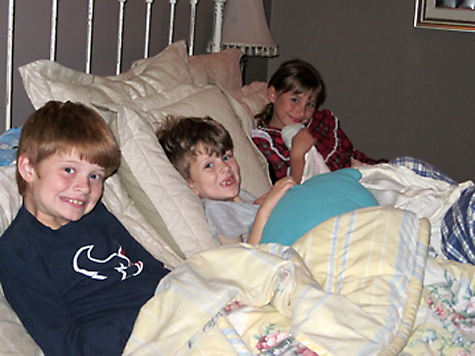 The movie ended about 9:30. And that's when Jackson decided he wanted me to call Gulley to pick him up, while Will announced that he was STAYING. He said, "MEL, I'M ONLY SIX YEARS OLD, BUT I'M STAYING!" Gulley showed up to get Jackson, asked Will if he was sure he wanted to stay, and he said, "YES!" By the time I walked back inside, Will was sitting on the couch crying and said he'd changed his mind so I called Gulley, she made the block and came back to pick up Will.
This happens almost every time we agree to let them have a sleep over. Which is why we are the meanest mothers around and almost NEVER let them have sleep overs.
That was the weekend.
And now I need to go to bed.
Fingers crossed that tonight I dream about Grover Cleveland.