You'll probably be glad to know that today isn't any kind of celebration for my family because, seriously, how much more IT'S MY CHILD'S BIRTHDAY, IT'S MY BIRTHDAY, IT'S MY ANNIVERSARY can you stand? This happens every August and I start to feel like it's all me, me, me and then I remember that technically this is my blog and it stands to reason that it's about my life and all the major events of my life are crammed into a two week span in August. Had I known that I'd have a blog one day I might have spaced them out a little better. Nevertheless, all the celebrations are over until it's time for our family's big Arbor Day blowout.
Yesterday Caroline and I went shopping for back-to-school shoes. I'll have to tell you about it in more detail some other time, but we canvassed the entire San Antonio area looking for a pair of flats to fit her narrow little foot and by the time we arrived home we were exhausted and hot to the point of melting.
Caroline said, "Mama, you know what I really need? Some cucumbers to put over my eyes. I really need to relax."
And so.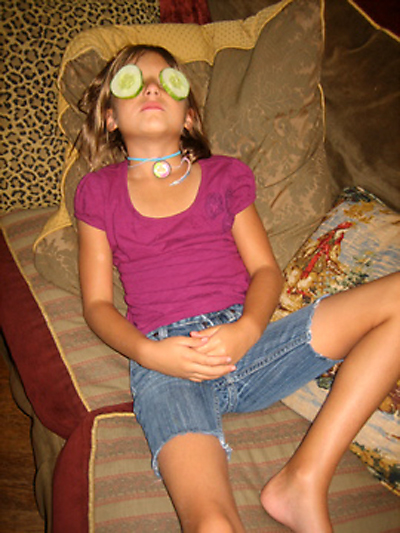 Help me.
I think I'm raising Zsa Zsa Gabor.
________________________________________________________________
My second post is up as part of the Kellogg's sweepstakes. Don't forget to click over to my latestKellogg's page for a chance to win $100 gift card.