I spent a few hours shopping yesterday. Technically, I said that I was on a shopping sabbatical, but that was before I realized I still haven't found a pair of black booties. So I went on a search yesterday and I have absolutely nothing to show for it.
Here's the issue. The booties I like best in person are the open-toed booties. I just haven't found a pair of closed toe booties that look like I want them to look when I picture them in my mind. But, yet, the reality of owning a pair of open-toed booties perplexes me for a few reasons.
Reason #1: I assume I can't wear them with any sort of tights. That would be wrong on several levels and might cause me to have flashbacks to third grade and an unfortunate fashion decision involving Yo-Yo sandals and pantyhose. There may have also been a red dress made out of terry cloth. But I've blocked out that part.
Reason #2: The winter pedicure. I can't deal.
Reason #3: My feet are cold even in the dead of summer. I enjoy wearing socks when the temperatures drop.
All of which have led to my dreadful inability to find the right bootie.
(Clearly this is what is known as a first world problem.)
Okay, so today's Fashion Friday is filled with some really cute things and, BEST OF ALL, everything is under $100.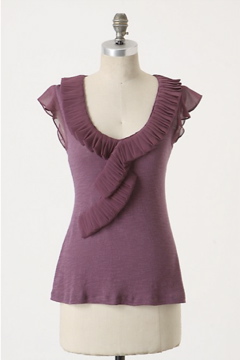 There are so many great things on sale at Anthropologie right now. I think that Trickle Down top is adorable. But I also love this First light tank and think it would be great with a jacket thrown over it.
But wait! There's more! This Mottisfront top is so great and I'm also loving this Setting Sun tank.
Dear Anthropologie,
I have a love/hate relationship with you. I hate that you never acknowledge my existence or send me any sort of coupons. But I love the way your stores smell. I adore most of your clothing. I have long desired a few of your kitchen towels. And you do have some good sales. Call me!
Love,
Melanie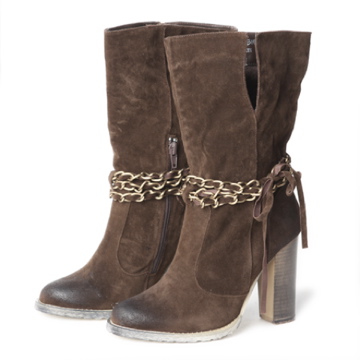 I don't know what it is about these boots, but I saw them online yesterday and couldn't quit thinking about them. I think it may be the chains.
But if chains aren't your thing, you might want to check out these Rocket Dog cozy knit clogs. They look like winter in a shoe.
And I'm also a big fan of these Tall Whiskey fold rugged boots. They're cute and versatile. It's like a Transformer in a shoe. Or a boot. Or whatever.
3. Wanigan coat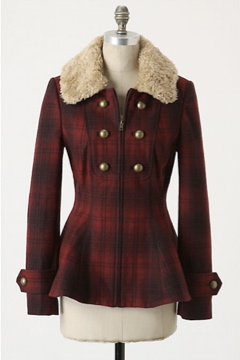 And we're back to Anthropologie. But this time it's about coats.
I think I featured this coat a while back. The difference is now it's on sale for $99.99. And I've also realized that the fur collar is detachable which just makes me love it more.
I also really like this Kirklees sweater coat and can vouch for the fact that it's prettier in person.
And then I saw this Dollhouse jacket and thought it would be great paired with jeans or pants or a skirt for holiday parties. It's very festive.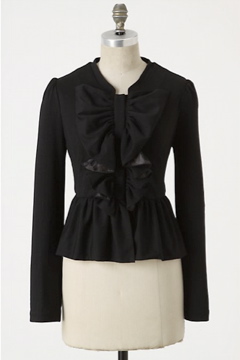 Oh, and I'm intrigued by this Pattern Maker's coat. I'd have to see it in person to know for sure, but I think it has real potential.
4. Mad for Plaid long tunic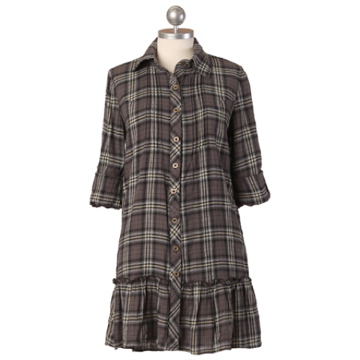 This is the kind of thing that draws me in like good reality television. It's casual and comfortable and I could throw it on with leggings three times a week.
On a totally different note, I also adore this Cute as a button ivory wool peacoat. It's the buttons. They make me want to be a better person. A person who could wear an ivory wool peacoat.
I went in our new Forever 21 yesterday, which used to be a Mervyn's, and was totally overwhelmed. It's enormous. And I didn't see this coat in person. But that could be because I couldn't quit looking at the racks and racks of bargain-priced jewelry and flowered headbands and crocheted beanie-type hats that make me want to be a person who can wear crocheted beanie-type hats.
6. Tinley Road Sergeant jacket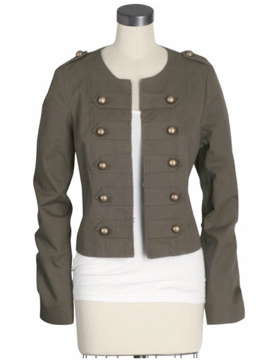 Piperlime has a whole section of items right now that are all less than $75 and there are many, many cute things on featured. But I chose this jacket. Because I like it.
I don't know where the picture of this dress is located. Somewhere in cyberspace.
But I really like it.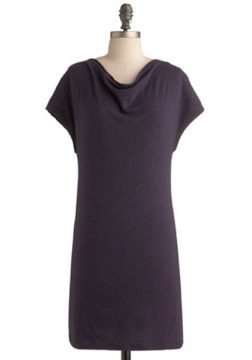 I'm never sure how I feel about purple, but I can just picture this tunic with some charcoal gray leggings and some gray boots or black tights and black booties. And maybe some big, chunky silver bracelets? Is anyone else seeing that or is it just me?
9. Lettuce-edge v-neck sweater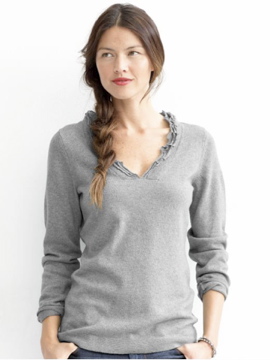 I tried this on in the store the other day and really liked it. But I didn't buy it because I am in the midst of a spending hiatus. It comes in several colors and is on sale for $49.50. However, when I was in the store the other day it was an additional 30% off.
Dang my spending hiatus. I should have bought this sweater.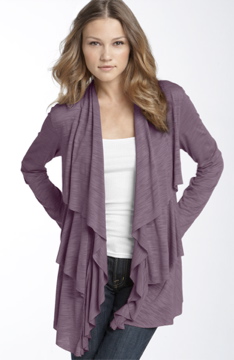 It's one of the best times of the year. Yes, it's Fall and the leaves are turning and the weather is chilly and I had to put an extra blanket on the bed last night. But, more importantly, it's time for Nordstrom's half-yearly sale and there are so many good deals to be had. Like the flyaway cardigan. And several great coats.
It would also be a good time to buy a new pair of jeans if you're in the market for such a thing. There are some really good prices right now.
And that is it for today.
I wish I could say I was heading back out to continue my bootie search, but I'm not. I have to clean my house. Because I can't stand it any longer.
The dust. The dust is out of control.
And the toothpaste on Caroline's bathroom counter. There is perpetually toothpaste on the bathroom counter. Someone help me understand why it's so hard to put the toothpaste directly on the toothbrush.
Y'all have a great Friday.
_______________________________________
Don't forget to check out the LG TextEd posts over at BlogHer. There are some great posts about monitoring your teen's cell phone usage. I don't really want to think about that yet.