I'm writing this while I sit on Caroline's bed because P is in the living room watching T.V. and I can't concentrate for all the gunfire. But it's important because he's watching In the Line of Fire with Clint Eastwood and he's only seen it about twenty-six other times.
And Caroline isn't in her bed because she's in our bed. So, basically, I am a woman without a country.
Although I did watch The Patriot and part eight of The Pacific tonight and have never felt more patriotic and proud to be an American than I do at this moment. But there is a high probability that I will suffer from some sort of fake war flashbacks in my sleep tonight and wake up screaming, "I'VE BEEN HIT! I'VE BEEN HIT!" Which shouldn't be disturbing at all and if people don't like it then maybe they should sleep in a different bed. Like the one that's decorated in hot pink and in their own room.
As for P, he has only himself to blame for sucking me into the vortex of war movies.
Speaking of war, the Cheetah Girls just barely survived our weekend of soccer. You may think that soccer is nothing like war and I shouldn't even try to make that transition, but to you I say that you obviously didn't see us get completely destroyed by the Red Dragons on Sunday afternoon.
Our weekend of soccer started on Saturday morning at 9:30 a.m. We played the Dragonflies who had beaten us earlier in the season. P and I wore matching lavender shirts that our players' parents bought for us. The fact that we were dressed alike, IN LAVENDER, can only be described as a total gift of self-sacrifice and love. I asked him if he'd ever felt closer to me than at that moment and he just rolled his eyes, which I'm pretty sure meant NO. But I do love a man who isn't afraid to wear a lavender shirt and coach some six-year-old girls.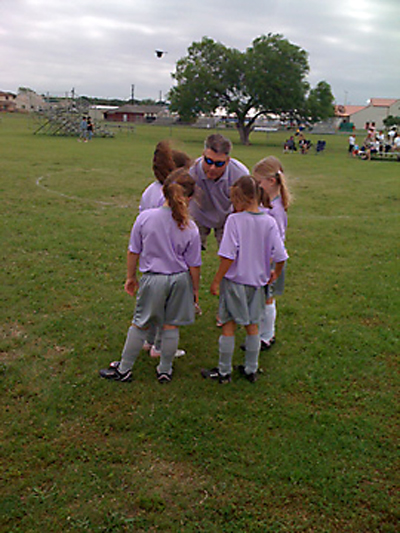 Six-year-old girls who never quit moving.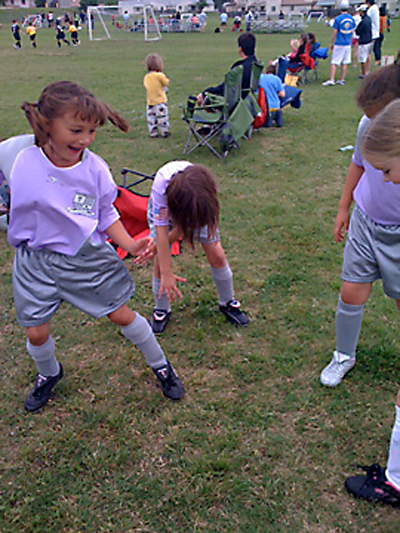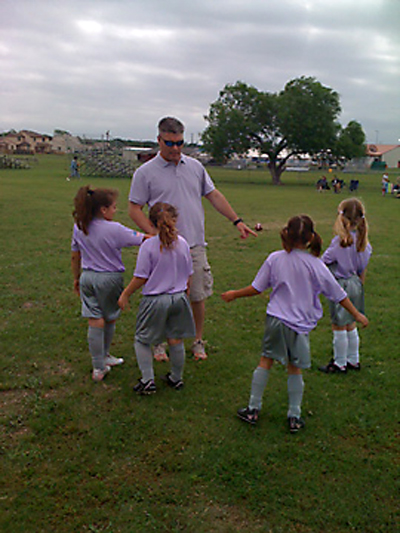 Or talking.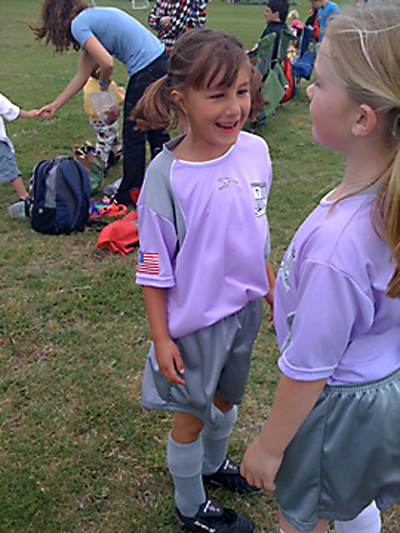 "I really like your hair today."
"Thanks! I like your hair, too!"
"What do you think we're having for snack after the game?"
"I don't know. Is the game over yet?"
"Did you know that a million plus one gazillion equals infinity?"
"Why is Coach P yelling at us to get on the field?"
After the game was over I declared that we beat the Dragonflies (even though there is no official score or any official winners or losers), but P corrected me and said that we'd only scored two goals. I could have sworn we scored three and I don't know why he couldn't just let me live under that delusion. He believes it was a tie, but between you and me I still think we scored three goals.
But, ultimately, the glory of the victory or the tie or whatever was short-lived because we faced the Red Dragons at 12:30 on Sunday and were promptly destroyed. Of course I feel I should mention that we were missing half our team due to prior conflicts so we only had one substitute while the Red Dragons had a full team. Don't get me wrong they still would have killed us, but it was hot and our girls were exhausted.
During the last few minutes of the game Caroline twisted her ankle and came out crying. She said she couldn't even walk on it, but, while she inherited her daddy's eyes, she inherited my flair for drama and we weren't totally convinced if she was actually hurt or just completely frustrated by the game. As it turns out, she limped the rest of the day and was treated to my inspirational rendition of Kerri Strug doing the vault to lead her team to Olympic Gold in 1996 as an example of mental toughness. I figure it will give her a lighthearted anecdote to share with Bob Costas someday when he's ninety-six and interviewing her for the 2020 Olympics.
"One time when I was six I twisted my ankle during a game and my mom thought telling me some story about Kerri Strug would make it better when all I really wanted was an ice cream sandwich. I mean, I WAS SIX."
Listen, Bob Costas, I did the best I could.
I'd also like to note that I believe I will retire from coaching after this season. I just think some folks are meant to wear the lavender and others aren't. And I'm okay with that. In fact, I will embrace my role as a parent on the sidelines. Even though I'll probably still give lectures about Kerri Strug and mental toughness in my spare time.