It was 92 degrees here yesterday. Which really has nothing to do with this post. Or it may have everything to do with this post. I really have no idea since I'm not exactly sure where this post is headed. All I know is that is was hot here yesterday and I am officially over the heat. I need to wear boots. I need to feel the warmth of a sweater wrapped around my shoulders. I need to be able to drink my signature hot choffee in the morning and not break a sweat.
Dear Summer,
Go away.
Love,
Melanie
About two months ago, P and I finally broke down and ordered a new front door. It was something we had been meaning to do for approximately forever and, if you think I'm kidding, let me direct you to this post I wrote about it way back in June 2007. We are nothing if not masters in the art of procrastination around our house.
But in all fairness, it's hard to get excited about buying a new front door. I'd rather spend the money on things like faux fur vests and new cowboy boots and some Ugg moccasins to get me through the winter if it ever shows up. And P would rather spend the money on ammo or just bury it in the backyard because he still has his doubts about any sort of economic recovery and we don't need to be so dependent on traditional banking institutions when a coffee can buried in the backyard will suffice.
Anyway, we loved our old door. As did the termites who ultimately destroyed it.
This is the old door from the inside.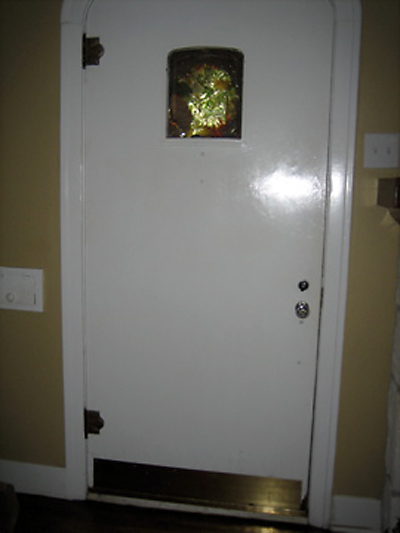 And the outside.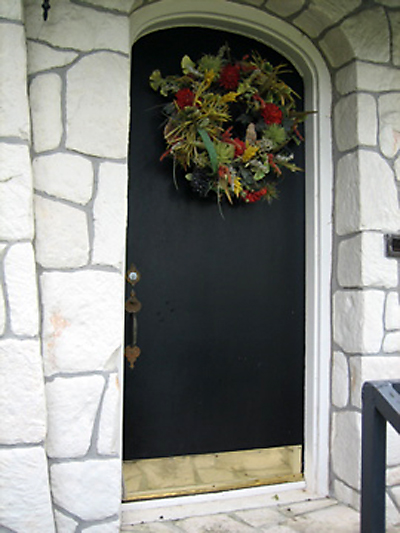 I told the door guy that I basically wanted the exact same door and really wanted to use the existing piece of beveled glass in the old door because it is as old as the house. Or I should say it was as old as the house. Because as he went to put it in the new door on Thursday, it totally cracked. I wanted to cry, but I didn't since it was obvious that he already felt terrible about it.
And then it dawned on me (because I am very quick) that the new door would be made out of wood. Which meant that I could just have it stained instead of painted. It was a revelation.
So, here's the new door with a piece of temporary plywood where the little window will be once the new glass is finished.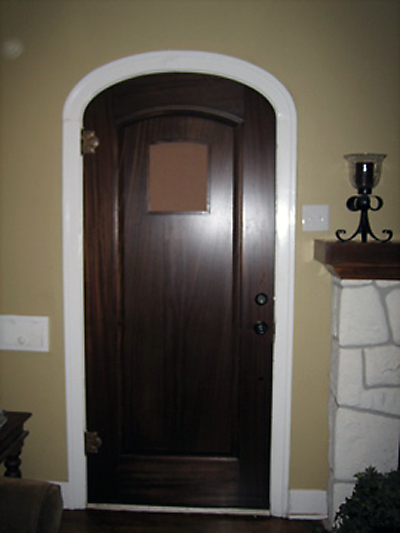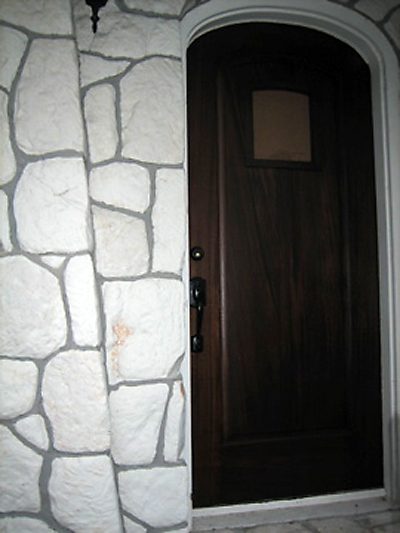 I know. The plywood kind of takes away from the whole look. It looks a little ghetto fabulous right now. I also haven't hung my wreath back up because I can't bring myself to put a nail in the door yet. But the stained wood looks so much better in the living room and kind of anchors the room.
(I say that like I know what I'm talking about. I don't know if it anchors the room. It just looks better.)
And I still have other things I want to do in the living room. I have yet to hang a black and white picture above the mantle. I'd love to have a vintage map of Texas on the wall. I think we'd be well-served to reduce our number of deer heads down to one. But I keep getting distracted by other things I want to do. Like painting the kitchen turquoise and then not liking it and painting it chocolate brown.
Not to mention that Holly (who may or may not regret ever telling me that she does online decorating consultations) is trying to help me come up with ideas to redo Caroline's bathroom since Caroline keeps telling me the black and white toile is "way too old-lady" for her and wants to decorate the whole thing with some sort of Hawaiian theme. Which isn't going to happen.
And then P tells me that there's no point in doing anything to her bathroom until we do something about the tile floor in there that is cracked and needs to be replaced. It's all my fault because we never should have put white tile in there. It has been a thorn in my side for twelve years.
I guess my point is that sometimes y'all ask me if you missed the post where I decided on the fabric for my kitchen windows or if I found pillows for the living room or if I ever found a lampshade I liked. Always know that the odds lean heavily on the side of I haven't gotten around to it yet because I just like to talk about things for a very long time. I enjoy the talking very much. It's the actual doing part that kind of brings me down.
Not to mention that stores actually want you to pay for stuff like new flooring and lampshades and fabric for windows.
But if the new front door is any indication, I should be getting all those things accomplished sometime around 2013. I'll keep you posted.
Get it?
Posted.
Because I have a blog.
(I'm sorry. I blame the heat.)
________________________________________
The LG TextEd campaign is going on over at BlogHer. There are some really good posts from moms about how they handle issues related to texting. I especially like the posts on the dangers of texting and driving. DoSomething.org will donate 50 cents for every comment left on the LG TextEd posts, so you can join the discussion and make a difference, too.