I feel like I need to confess that yesterday morning was not my finest hour of motherhood. And it all came down to wardrobe issues.
Call me a fool, but it seems like days where the temps aren't going to get above freezing might be an ideal time to wear a few of the sweater dresses that you begged your Mimi and Bops to buy for you last Fall. But, OH NO, why would you wear a beautiful little sweater dress when you can wear a long sleeve tee from Old Navy, hand-me-down jeans, and a sparkly blue poncho that you bought at a garage sale?
This scenario may have been what led me to utter the time-honored phrase, "Well, I'm going to sell all your sweater dresses on Ebay after you leave for school today".
Which was a totally empty threat for two reasons:
1. She doesn't really care if I sell them on Ebay because she enjoys wearing ponchos from garage sales.
2. No way would I sell them on Ebay this time of year. I'll wait and sell them next Fall to maximize my dollar.
Honestly, I think I'm just a little on edge because I suspect the weathermen might have led us astray with all their talk of snow. If I don't see snow in my yard in the next 12 hours, heads are gonna roll. And by that I mean I will complain bitterly about overeager meteorologists while I drink hot choffee.
But I want you to all rest in the assurance of one thing that will hold true. No matter how cold it gets, I can guarantee with 100% accuracy that you won't see any photos of Caroline playing in the snow while wearing a sweater dress.
I also have to confess that I left the house yesterday to pick up Gulley's boys and Caroline from school and P asked me if I was going in anywhere or just going to be in the car. I told him I planned to stay in the car and he said that was for the best because there was a good chance I might be mistaken for a homeless person. So maybe Caroline comes by it honestly.
I think this is a great piece because it looks great on its own, but would also look snazzy under some type of jacket.
I don't know why I just used the word snazzy.
I'm sorry.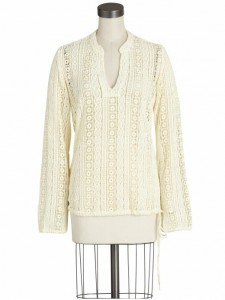 I am a sucker for a lace top. I can immediately envision it with a great pair of jeans and some cowboy boots.
It's kind of got a whole 1970's thing going on. And the 70's are dear to me because it was the decade of my childhood. And the decade that gave us the television show Good Times.
3. citizens of humanity wide leg jeans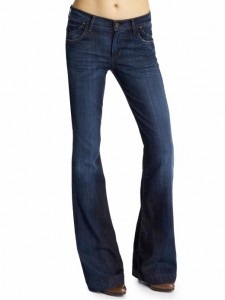 Speaking of the 70's look, I am beside myself with joy that the wide-legged jean is making a comeback. I adore skinny jeans tucked into boots during the winter, but when the weather turns warmer I prefer my denim to be wide-legged and paired with some wedge sandals.
And if the Citizens Of Humanity jeans are a little pricey (and they are), check out these 7 For All Mankind that are on sale right now.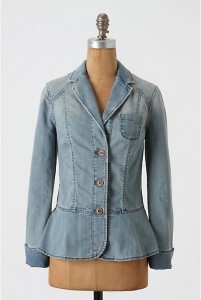 I really like this and think it could be so darling paired with something like these courier cargo pants or a great pair of skinny fit tan cords tucked into boots. Or maybe just worn over a dress as an alternative to a standard denim jacket.
For a similar look, but not in jacket form, I also like this light denim shirt.
5. hive and honey border stripe cardigan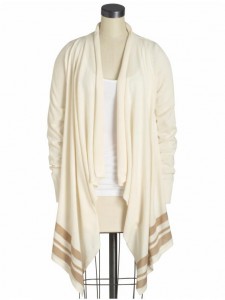 I just really like this.
6. michael antonio wedge sandal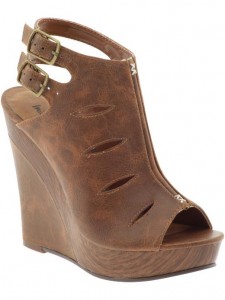 I've been eyeing these for a few weeks now. I don't know that they're the exact pair I'd like to own, mainly because there's a 65% chance I might break my ankle trying to walk around in that heel, but they're pretty darn close.
Also, I originally typed "hell" instead of "heel". And all I can say to that Freudian slip is if the shoe fits…
***Updated to add that I fixed the link. Sorry about that. I was all caught up in the snow drama and made a careless error.
Oh how I adore anything with turquoise in it. Or on it. Or around it.
This week has caused me to reevaluate my winter coat situation. And it's not good, my friends. It's not good.
In fact, I have one camel coat circa Banana Republic 2004 and a white puffy down jacket from J. Crew's 1999 winter collection that I bought back in the days when I used to pretend to snow ski. I mean, yes, I have other jackets, but not good heavy duty coats. Just a bunch of posers that I've realized are totally useless once you wear them out in the elements.
Granted, this is the first time in the almost 18 years I've lived here that I really need a good winter coat, but that's beside the point. I really like this chocolate brown down coat.
Of course part of the reason could be that it claims to have a REAL COYOTE FUR LINED HOOD. As if that makes it super exotic. I could walk down my block right now and have about an 85% chance of seeing a coyote. But I guess if I lived in New York, I might feel that the coyote fur is a luxury item as opposed to the pelt of an animal that's responsible for the death of an untold number of house cats in our neighborhood.
Still, CUTE JACKET.
I've always enjoyed seeing yellow and gray together. And I always enjoy a scarf. Thus, I like this scarf.
I love Lisa Leonard's jewelry designs so I occasionally hop over to her site to take a look at what's new. I saw this necklace today and thought it might make such a sweet Valentine's Day gift. But, hurry, you have to order by February 8th to get it in time.
Alright. I'm off to go put on my eleven-year-old down jacket and check the yard for signs of snow.
Y'all have a great Friday.