I could go into some big elaborate reasons for why I'm talking in bullet points today. That is, if big and elaborate could be qualified by BECAUSE I FEEL LIKE IT.
1. I'm sure you'll all be relieved to know that the tooth has landed. I repeat, the tooth has landed.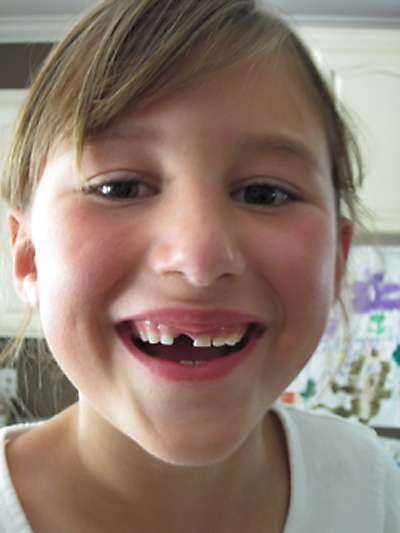 It was still hanging on when I picked Caroline up from school yesterday so we drove to HEB and bought some Orajel. I put some on her gums, she gave the tooth a good tug, and out it came. She was so excited that she knocked over a full glass of water and dropped the tooth on the floor. Chaos and pandemonium ensued.
But, in the end, the tooth was located and all was well. It is currently awaiting pickup by the tooth fairy.
Caroline looks so dang cute with her little snaggletooth I can hardly stand it. I could sop her up with a biscuit.
2. I'd been keeping Gulley apprised of the tooth situation for the last few days, so I called her to tell her the news. As soon as she answered the phone I said, "THE TOOTH IS OUT".
She gasped and asked, "ABOUT WHAT? WHAT HAPPENED?"
It would seem she thought I'd said, "THE TRUTH IS OUT" and thought I was on the verge of some sort of confession. Which is hilarious considering that if Gulley doesn't know something about me, it's only because it isn't true. She knows it all. The good, the bad, and the ugly.
But I appreciated her enthusiasm for some potential drama.
3. Last night I dreamed that the message light came on in my car to notify me that my tuxedo was ten years old and I needed a new one. I woke up completely stressed out over the thought of having to buy a new tuxedo.
Needless to say, I was so relieved when I became conscious enough to realize I don't own a tuxedo and, furthermore, don't need one.
4. I've recently gotten on a sparkling water kick. I pour it over ice and then squeeze in a ton of lime juice. It's become my nightly mocktail.
My sparkling water of choice has been Topo Chico because I like the way the bottles look. Kind of retro and vintage-y. But then P pointed out that most people don't typically think of Mexico as the source for great water, much less do they pay for it in bottles no matter how cute they may be.
He makes a good point.
5. I finally committed to a pair of neutral-colored wedge heels. We can all breathe a sigh of relief.
They look like this except mine have cork wedge heels which I think makes them much cuter.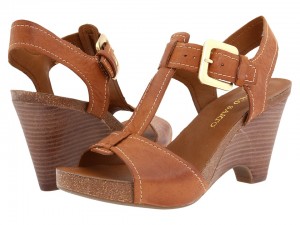 I bought mine at Rack Room. And of course I only paid $15.00.
6. Sometime last week my friend was complaining about getting hormone-related blemishes (Yes, blemish. It's the only word I can tolerate for facial issues. The other ones gross me out.)
I made a huge error in judgement and said, "You know, I have other hormone-related issues such as wanting to throw the toaster out the kitchen window on occasion, but I don't really get many blemishes". And less than 24 hours later, I had something on my face that looked like a third eye. When I looked at it in the magnifying mirror it growled at me.
Gulley helped a sister out and told me about a miracle in a tube. Neutrogena On-the-Spot Acne Treatment. She said it would be gone the next day and I didn't believe her. That's just what people say to make you feel better.
But it was. IT WAS GONE THE NEXT DAY.
(This is not a paid endorsement. It's just love.)
7. Friday Night Lights starts tomorrow night at 7 p.m. on NBC. If you've never watched, you need to go get the first four seasons and watch them before then. Or you could pace yourself, whatever.
8. We still don't have beveled glass in our front door. Is anyone surprised?
9. I realize I haven't announced the next book club selection. That's because I haven't decided on it yet.
10. There is no ten. Except now there is. But there's nothing here.
Have a great day.
Copyright secured by Digiprove © 2011