If there ever comes a day when you hear rumors that I've ended up in some sort of institution, there's a good chance it will be directly linked to helping Caroline learn her spelling words for the week. I try, I TRY, to be so patient and understanding but when she starts in with the deep sighs and the "I KNOW HOW TO SPELL IT" yet continues to write "allreade" instead of "already" and insist that's the way it's supposed to be spelled? Let's just say that I have to channel Frank Costanza and start telling myself "Serenity now, serenity now, SERENITY NOW".
So I'm just going to do a quick rundown of a few things because I need to take a nerve pill and curl up in the fetal position.
1. Yesterday I made homemade salsa in the blender and was just about to pour it into the container when I accidentally hit the power button again. I'm sad to report that the lid was not on the blender at the time. Honestly, as I surveyed the salsa carnage, I thought it might be easier to just burn the whole kitchen to the ground and start over rather than attempt to clean it up.
And while we're talking about my kitchen, it's still not turquoise.
2. On Tuesday I burned my thumb while I was putting hot rollers in my hair. I'm not sure how I made such a rookie mistake considering I've hot rolled my hair at least three times a week for the last thirty years (with the exception of a few years in the late 80's when I just rocked the spiral perm) but I think it was because I was experimenting with a new roller method where I roll the crown of my hair under and then use a curling iron on the bottom layers.
Anyway, I tweeted about my burn because I needed to share my pain and someone named Jenny tweeted back and said that I should put toothpaste on it and cover it with a band-aid for a few hours. I figured I had nothing to lose because it had to work as well as what I was currently using to try to ease the pain, which was a mixture of sticking ice on it, cursing the day hot rollers were created, and complaining about the pain to anyone who would listen.
And y'all. It totally worked. The blister went away and my thumb will live to see another day.
3. A few of you asked how I make my choffee. It's a seriously complicated recipe that involves making half a cup of hot chocolate with Ghiradelli's Double Chocolate hot chocolate mix with milk and then pouring it into a half cup of coffee. It's usually just my winter time drink, but for some reason it has made the transition into spring with me this year.
4. I was going to save this for a future Fashion Friday, but I'm doing a whole thing on cover-ups and beach accessories tomorrow and I cannot wait another week to show you what I found.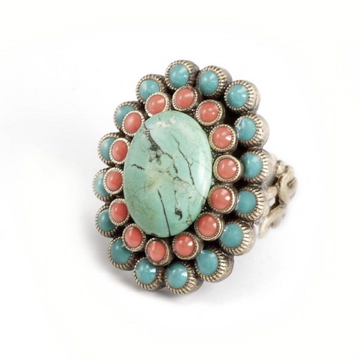 I'm in love with all of them, but I think that one is my favorite.
5. It seems like I had something else to tell you or another question I was going to answer, but I'm drawing a total blank. I guess it's allreade time for me to call it a day.
But if you think of something I forgot to mention, feel free to leave it in the comments and I'll add it to this list before the day is over.