About seven years ago, we did some renovations on our house. And by we, I mean that P contracted the entire job and worked tirelessly to make sure everything turned out the way we wanted while I cried every night because I was worried that the house wouldn't be ready on time and OH MY WORD what if we have to bring our new baby home to this rental house instead of her new pink nursery?
I'd like to blame pregnancy hormones on all the obsessing over when the house would be finished, but I know I'd act the same way tomorrow except I wouldn't be able to sing a chorus of "In the Ghetto" by Elvis Presley to drive home my point because the words "and a baby cries…in the ghetto" wouldn't have the same impact now that the baby is six years old.
We moved back into the house exactly two weeks before Caroline was born, in spite of the fact that we had no kitchen countertops or any other necessary components that make up a kitchen but we had the pink nursery and that's all that really mattered. Who needs an oven when you have darling whimsical letters that spell CAROLINE hanging on a pink wall and a fresh, white crib that the baby won't actually sleep in for several months?
The countertops were finally installed the day before I went into labor along with the sink and the kitchen faucet. Everything was installed, the baby was born, and, approximately one week later, the sprayer component of our new faucet quit working. Actually, that's not totally true. It worked fine if you didn't mind the fact that it got stuck and would randomly decide to spew water all over the kitchen. It created a surprisingly non-hilarious situation when you factor in a newborn baby and sleep-deprivation. The kind of situation that is like shaking up a bottle of crazy sauce and then watching it explode.
Ultimately, P worked his plumbing magic to unhook the sprayer and so it has remained a non-functioning component of our sink for the last six and a half years.
Until he decided on Tuesday morning that TODAY WAS THE DAY to fix the sprayer. I don't know why it was the day because I don't bother to ask those kinds of questions. Why is the sky blue? Why do people watch Jay Leno? Why does Lionel Richie never age? JUST BECAUSE.
All I know is that he asked me to help him get everything out from under our kitchen sink and our kitchen looked like this.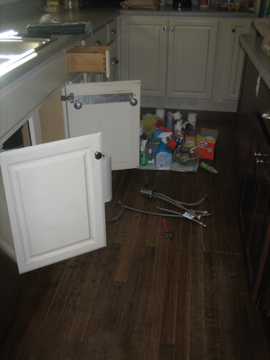 It has continued to look like that for the past 48 hours. I try not to look directly at it because that would be like throwing a match on a powder keg just to see if it would explode. It would. It totally would.
And it certainly doesn't help matters that, in addition to being a haven for amateur plumbers, my house has been transformed into some sort of Valentine's Day sweat shop. Caroline's only homework for the week was to sign her name on Valentine's cards for everyone in her class. But, OH NO, she wanted to hand make her cards and write "Happy Valentine's Day! Love, Caroline" inside every single one. It was barrels of fun for the first two cards, but quickly became some kind of Hallmark factory gone awry as I stood over her and insisted that WE MUST CONTINUE TO MAKE THE CARDS. YOU CAN HAVE A SNACK WHEN YOU FINISH ANOTHER CARD.
But oh she is SO TIRED of shaking the silver glitter. It's exhausting.
Anyway, P wasn't sure that he was going to be able to fix the existing faucet because the something was leaking into the something and the bottom line is that my new bag of Pledge Grab-its got damp along with our last roll of Viva paper towels. I was out running errands to distract myself from the plumbing when he called and asked me to meet him at Home Depot so I could pick out a new faucet.
I don't go to Home Depot very often because it is my kryptonite. One loop around Home Depot and I begin to dream about new toilet seats, granite countertops, and fancy showerheads that make you feel like it's raining on the inside. (Shout out to Amy Grant) But I met P on the kitchen faucet aisle and found a faucet I liked. He asked, "Do you want to go ahead and buy it or do you want to see if I can fix our existing one?"
"I don't know. I really like this one but I'm not sure it will work if we end up getting granite countertops and a farmhouse sink."
"Well, realistically speaking, in light of all our other financial obligations, I don't really see that there's going to be a time when we'll spend money on granite countertops and a whatever-you-just-said sink."
Why does my husband want to kill my dreams of granite countertops and a farmhouse sink on Aisle 6 at Home Depot?
So I said, "I don't want the new one. Just see if you can fix the old one." And then I walked out of the store and past the granite displays with a wistful glance.
He bought approximately 782 parts that were supposed to fix the sink, but none of them worked. I went back to Home Depot yesterday and bought the new faucet. Which I actually really love because it's got the sprayer thingy that pulls right out of the faucet and, yes, that's exactly how it was described on the box. It's pretty and shiny.
And it would look great on a farmhouse sink.