It's not easy, but someone has to do it.
Okay. Y'all. Here's the thing about motherhood. Before I had a child of my own, it was super easy. I had a lot of opinions about the right way to discipline, the way my child would dress, and how she would never throw a fit in public or embarrass me at the grocery store. I also believed the entire experience would be sweet and clean and beautiful, like one of those baby lotion commercials. (Bless my heart.)
Then I had Caroline.
And you know what? Real motherhood is different. It's messier. It's complicated. And it is … So. Much. Better.
It breaks your heart and makes you laugh harder than you ever could have imagined. It's a little frightening. A lot gut wrenching. And quite possibly the most important thing you will ever do.
That's what this book is about—my story about those fleeting moments that get swallowed up in the daily routine of car pools and soccer practice but come together in an indescribable way to make you a mama.
If you're looking for an expert on the subject of motherhood, then I suggest you put this book down immediately. But if you just need to know you're not the only person who has debated running away to a five-star hotel after spending hours "helping" your child with a school project, this is for you. (You are my people.)
If nothing else, I hope it will keep you warm at night knowing someone else shares your brand of crazy.
Melanie (aka Big Mama)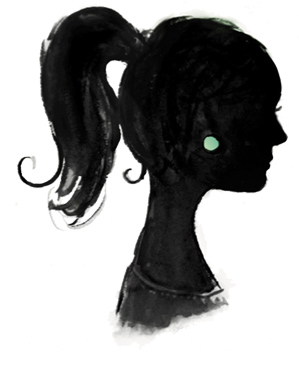 "Profoundly insightful, witty and relatable…Relish this ride—you won't be sorry you took it!"
–Beth Moore



is the author of TheBigMamaBlog.com. She is also a regular contributor to ThePioneerWoman.com, and she serves as the emcee for LifeWay's annual DotMom conference. She lives in San Antonio with her husband, Perry, and their daughter, Caroline.


Every chapter of Sparkly Green Earrings—actually, every page—is a splendid journey through sudden, side-splitting laughter and utterly relatable tears…and back to laughter again. She captures every fear, crazy notion, nervous breakdown, and desperate moment of new motherhood so expertly and hilariously that I actually wondered if she'd tapped into my memory of having my first child. Her memoir was nothing short of a delight.
—Ree Drummond, New York Times Bestselling author of The Pioneer Woman Cooks
I love Melanie Shankle and every page of this book shimmers with her fabulous voice, honest hilarity and the light of a Savior that makes even the wackiest, hardest days of motherhood somehow glimmer with something grand. Sparkly Green Earrings — the perfect accessory to be dazzled by grace and more than a glint of God."
— Ann Voskamp, author of the New York Times Bestseller, One Thousand Gifts: A Dare to Live Fully Right Where You Are
I love Melanie Shankle. She is a beautiful conglomeration of so many things I appreciate and each of them are obvious in these pages. She's profoundly insightful, witty, relatable, wide-open, and passionate about Jesus. She likes people and I like that in a person. In this book, Melanie lives her life with us and invites us to live our lives with her. Relish this ride, Sister! You won't be sorry you took it.
–Beth Moore, New York Times Bestselling author of
So Long, Insecurity
I dare you to read it without laughing, without seeing your own life embedded in its corners, and (if you are incredibly disciplined) in less than two sittings. What a joy Melanie is to all of us who have the blessing of knowing her, and what a ride you are in for if you have just picked this up. You're in for a journey with a beautiful woman who, in my estimation, has a lot more light-catching to do around a million more turns. Her wit, humility, and true writing ability will make you want to chase her as she goes.
–Angie Smith, author of What Women Fear
"Melanie's writing is insightful, hilarious and full of encouragement for the journey. Sparkly Green Earrings is refreshment for the soul. For all the reasons thousands of people love her blog, you will be smitten with her book. Mostly because you will fall in love with Melanie through its pages, and more importantly with the God she serves."
—Kelly Minter, Bible Study Author, Writer and Speaker
What to Do Next?
Copyright secured by Digiprove © 2012