On Wednesday, I met Gulley and AJ for lunch. We went to this little Mexican restaurant that we enjoy because they have the best migas tacos ever. And for those of y'all not familiar with the migas, it's scrambled egg, cheese, and tortilla chips all cooked together and wrapped in a fresh flour tortilla.
I am fairly certain this taco is the answer to world peace.
Anyway, I like to order my taco with a side of refried beans. I enjoy dipping the cheese and egg combination into the refried beans. And that type of culinary dedication will probably make some cardiologist very wealthy some day. But in my defense, I drink a Diet Coke with this cholesterol-laden combo. I'm saving myself, like, 140 calories right there.
Maybe I've just never paid attention before, which is always a highly likely scenario, but when I got my check I realized that my side of order of refried beans cost $2.25. My taco cost $1.75.
How is a spoonful of smashed beans more expensive than an entire taco? Is there some kind of bean shortage that I'm not aware of? Is there a bean cartel that's driving up the price of legumes?
And I obviously can't get over it since I'm still talking about it almost 48 hours later. I realize I need to let it go and move on with my life. But seriously $2.25 for beans?
I realize that y'all are wondering how my highway robbery in the form of beans ties into Fashion Friday and, honestly, so am I. It's a big leap from refried beans to fashion…but not as far as you may think.
And I have no idea what I'm talking about when I say that, it just sounds good.
I have decided that what my wardrobe is lacking, other than that coat from Anthropologie (I know. Stop with the coat already.), is some good accessories. I tend to go plain and simple. Diamond earrings, wedding ring, and an occasional necklace. That's it.
The necklace decision is based on whether what I'm wearing looks good with one of the two necklaces I own that I actually like. It's highly scientific.
So, I've been on the search for cute, CHEAP accessories. Sometimes quality counts, but right now I'm in search of quantity. Target and Forever 21 both have some good trendy jewelry for low, low prices. Yet, I sensed there was more out there.
It was this need that drove me to Walmart on Wednesday after the refried bean incident. I usually make it a policy to avoid Walmart like the plague because I feel it is an atmosphere similar to a carnival held in a parking lot. There may be some fun to be had, but you're going to have to deal with a lot of carny-type folk to see it.
When I leave a Walmart I always feel like I need a good hot shower or perhaps to be hosed down with antiseptic.
However, I discovered that they have an impressive display of cheap jewelry. I bought the cutest pair of earrings that were on sale for $2.00. Granted, they may make my ears rot off, but what can you expect from a pair of earrings that cost less than a spoonful of refried beans?
Do y'all see what I just did there? I tied it all together.
On to the questions.
1. Amy asks: I found this dress at Target the other day, what can I wear with it other than the standard white button down shirt? Also, jewelry and shoe suggestions would be appreciated.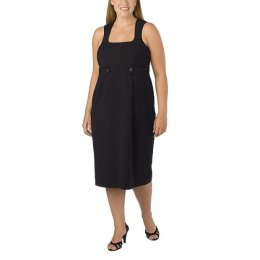 It may shock y'all to know that I would not wear a white button-down shirt under this dress. It's too much bulk for me and I'd spend the day constantly running to the bathroom so that I could adjust the shirt under the dress. It's not that I don't like the look, it's just never worked for me because I am compulsive.
I would wear a turtleneck or even just a long sleeve knit shirt under it. You could do black or charcoal gray, which is really in right now. And if you're more adventurous than me, you could go for a color.
As for shoes, I would suggest tall black boots or black tights with some cute black shoes. I will tell you that the hem of this dress concerns me. As it appears on the model, it looks like a length that's universally unflattering. Depending on where it hits you, you may want to have it hemmed to your knee or just right above your knee. It's a much better look and won't make your legs look frumpy and shapeless.
With jewelry, anything goes. I think you could wear a long, chain-type necklace or maybe some fun silver hoop earrings.
Consider the dress a blank slate. You can make it work with just about anything that appeals to you.
2. The Lucky One asks: Now you had to go open the whole foundation garmets can of goldfish … can you elaborate my dear?
Last week, I mentioned the importance of foundation garments if you're going to attempt to wear a sweater dress. However, good foundation garments apply to any wardrobe choice. Ladies, I'm talking about lycra and spandex.
And yes, those words often have terrible implications and can trigger memories of almost passing out at a dear friend's 40th birthday party because your stomach is being held in so tightly that breathing is a distant memory and you definitely shouldn't have tried to eat that fifth or eighth stuffed mushroom, but you just couldn't help yourself. All that is true. They can be the worst kind of evil, but they can also be the stuff that makes dreams come true.
Smooth lines and flat tummies under jersey dresses. Bras that make your girls look like they haven't seen the ravages of motherhood. Skirts that appear to skim saddlebag-free hips.
It's like Fantasy Island.
Tell me something that looks like this isn't going to cure a multitude of sins.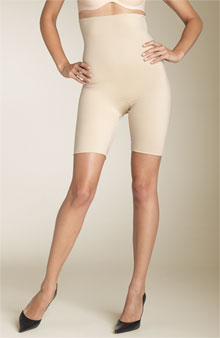 But I'll be honest. Use it sparingly. This kind of torture isn't for everyday use. Save it for high school reunions, weddings, birthday parties. If you try to wear it everyday you will most certainly become angry and bitter.
And I don't know what this has to do with anything, but it made me audibly gasp when I saw it.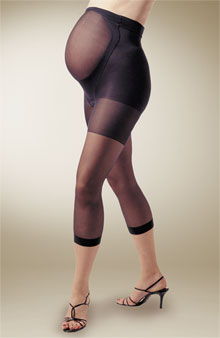 Why does this woman dislike her unborn child this much? It hasn't even kept her up at night for 4 straight years yet. Do not subject your unborn child to this kind of suck-innage.
Unless you want to pay for years of therapy later on.
3. Marcy asks: What should I do with all these bridesmaid dresses in my closet? I have about 10 of them and they're taking up lots of room. I haven't gotten rid of them b/c they each cost at least $150, but I seriously doubt I'll ever wear them again. Should I just toss them?
Yes, yes you should.
Here's what you need to ask yourself. If you were to all of a sudden find yourself invited to a Regatta Gala type thing, would you ever in a million years wear one of those dresses? I'm thinking DOUBTFUL.
I know that we are emerging into a friendlier bridesmaid dress era with dresses that are a little more fashion forward, but even so, no one is ever going to wear those dresses again. Have you ever seen any scenario where someone has on a fabulous dress and when complimented on it says, "Thank you. I wore this when I was a bridesmaid in my cousin Myrtle's wedding. I just love teal!"
That's what I thought.
But before you just throw them out, you may want to see if you can donate them. I know there is something called The Glass Slipper Project that looks for donated dresses that can be given to inner-city kids for prom dresses.
4. Yet another Amy asks: Maybe you could include the importance of lipstick in a future Fashion Friday? I could use the inspiration.

Mary Kate Olsen is a pretty girl. Here she is without lipstick.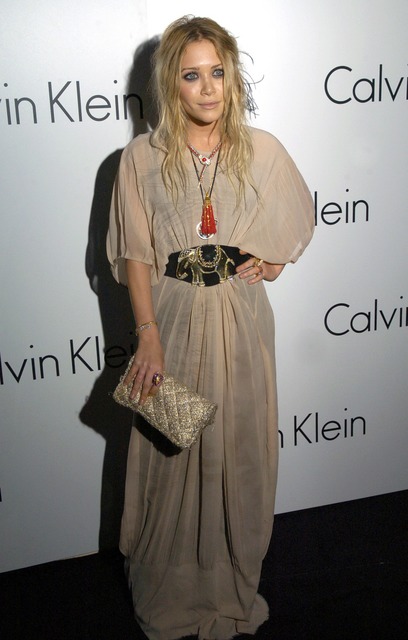 Lipstick is your friend. Embrace it.
Y'all have a great Friday.