Seriously, eight Fashion Fridays? Because it feels more like thirty-eight.
And if y'all thought yesterday's post was lame, just wait. Today will probably be worse.
Caroline has her Thanksgiving program and feast at school today so we spent a good portion of our day yesterday baking gingersnap cookies. It shouldn't have taken up such a large chunk of our day, but let me let y'all in on a little secret. If you're making a recipe that calls for shortening and you open your tub of Crisco and notice it smells similar to a pure petroleum-type product, otherwise known as horse's rear end, then it's a safe bet that you probably shouldn't cook with it.
This realization, sadly, didn't dawn on me until after I had mixed in the rest of the ingredients and noticed the dough still smelled more like the devil's armpit than the makings of a gingersnap cookie. I actually had to taste it before I accepted that, yes, Crisco can go rancid.
Just the memory of the taste makes me throw up in my mouth just a little.
So, we pitched the entire batch of gingersnap dough and started all over again. And it wasn't so much the remaking the dough that was unpleasant as it was getting the petroleum-type substance off my Kitchenaid mixer and bowl. It rivaled the Exxon Valdez.
I kept thinking that something like this would never happen to Ree at Pioneer Woman.
But anyway, as we were finally rolling the dough into little balls and coating them with cinnamon and sugar, Caroline looked at me and said, "You're my BEST MOM."
I said, "Well, you're my best girl."
She said, "I looked down from heaven and saw you and knew you would be the BEST MAMA EVER."
And I'd be lying if I said it didn't make me get all teary and weepy at the sweetness of it all.
Which is kind of how I felt when I saw this dress at J. Crew the other day.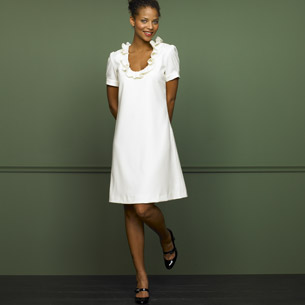 Except in black. Because, as my closet will attest, I can't have enough black clothing.
And do you see what I've done? I've brought it around to fashion, my friends.
It's a gift.
1. Lora asks: I need sensible, comfortable, yet stylish every day shoes. I wear mostly jeans and khakis. Suggestions?
Is it possible to wear skirts in the winter? I'm in Alabama, so it's not like it's sub-zero temps here. What sort of style would they need to be? Any ideas? I need just a few pieces that I can mix and match and rotate because, let's face it, I don't dress up any other time of the week. I prefer skirts on Sundays, although I can appreciate a good dressy pant on occasion.
This series of questions has been sitting in my inbox for a few weeks now because, frankly, it overwhelms me. But rumor has it that Lora is waiting on my answer before she goes shopping, so now the pressure is on.
Let's start with shoes. If you're looking for comfortable, stylish shoes to go with jeans and khakis, I'd look for a cute flat, a tennis shoe or flat boots. Flat boots are really in this year and that would probably be my personal preference because I enjoy wearing socks in the winter time.
Here's an example of a cute flat.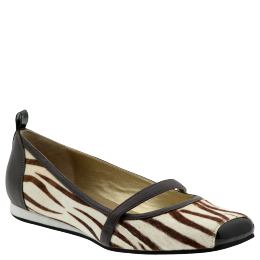 Or this.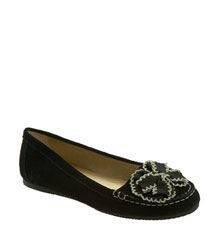 Here's a good tennis shoe.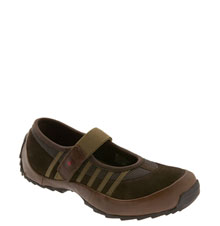 And here is a flat boot that I would love to have greet me in my closet every morning.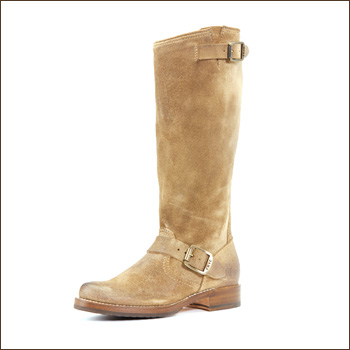 Hello Lover.
Remember, these are just a guideline. So, figure out what works best for your lifestyle and adapt as needed.
On to the next part of the question. Yes, it is possible to wear skirts in the winter. I think a wool skirt with boots and tights is just about the cutest thing going.
Think about something like this.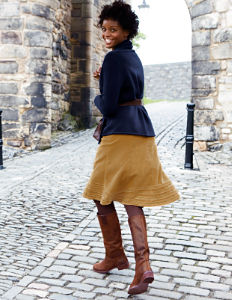 Or this.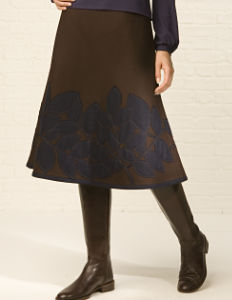 Or how about a sweater dress?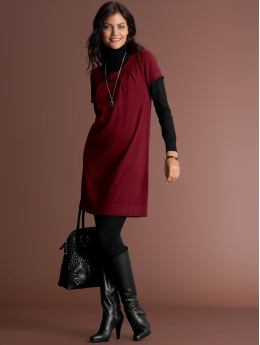 And definitely go check out Target. They might have some really cute skirts. I wouldn't know if they do because I have temporarily banned myself from Target because I always leave there at least $100 poorer with nothing really to show for it.
I definitely like the dressy pants option for church because you can mix and match it with some cute sweaters than can also be worn with jeans throughout the week. Here are a few nice sweater options.
This.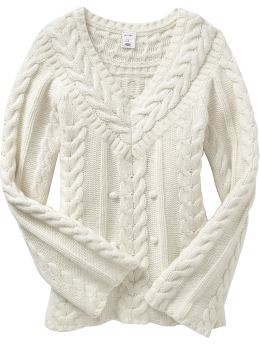 Or this.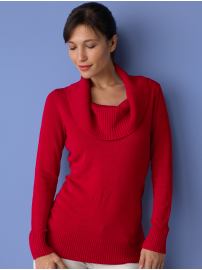 Or for a little something different, this.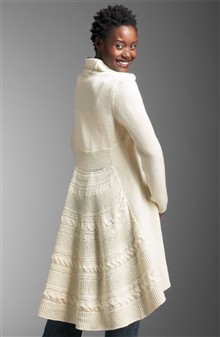 God speed as you shop for a winter wardrobe. I hope I helped just a little.
2. Darlene asks: "I've been wondering this for awhile now. How do you feel about sweaters/sweatshirts with characters on the
front? For example, snowmen, Mickey Mouse, Pooh and such. Are they in or out? Personally, I don't wear them… anymore. I have been known to sport an occasional Hundred Acre Woods character or two in my time!
I have never been a fan of character shirts. Well, unless you count those three years in elementary school where I would beg my mom to buy me a new t-shirt at one of those iron-on transfer t-shirt shops.
Remember those days? A bright blue t-shirt with a unicorn jumping over a rainbow and "Follow Your Dreams" written in cursive?
People used a lot of illegal substances in the 70's.
If a person enjoys wearing character shirts then, by all means, wear on my friend. But I think it's safe to say that you won't see any character shirts on Project Runway or Tim Gunn's Guide to Style.
Maybe it's their loss.
But probably not.
That's all I've got for this week. If I haven't gotten to your question yet, I promise I will at some point.
It's just hard to keep up, especially when I'm busy trying to live up to my title of BEST MAMA EVER.
I wouldn't want Caroline to second guess the selection she made in heaven.
***Edited to add: Gulley called and asked me where I found the brown tennis shoes. I realized that many of y'all may not realize that if you click on the colored words in the text that they will take you directly to where I found the sweaters, shoes, etc. It's usually the word "this" that's in blue and will take you to the site. Hope that helps.