So here's something great. Caroline's out of school for this entire week to celebrate Thanksgiving. Which means I won't have to be up at 6:45 a.m. packing ham sandwiches and carrot sticks in a lunch box.
Instead I'll be up at 6:45 a.m. growling, "GO BACK TO SLEEP. IT'S ONLY 6:45 IN THE MORNING. WHY ARE YOU AWAKE?"
I know this to be true because it's what I did on Saturday and Sunday morning and I see no reason why it should be any different at this point. Even though it's 10:33 p.m. right now and she's still awake playing some game involving a barking Chihuahua on my iPhone.
I've never wished more that I didn't own an iPhone.
Anyway, I picked her up from school on Friday afternoon and we went straight home to finish packing our suitcases so we could meet up with Gulley and her boys and hit the open road. We've had tickets to go see the Aggies play Kansas since August when I was naive and optimistic enough to believe the Aggies would be going into that game undefeated, ranked in the top ten and about to win a final Big XII Championship.
Bless my heart.
Hope springs eternal.
But we were still excited because it's become a tradition for us to go see Honey and Big the weekend before Thanksgiving and it was going to be Caroline's first Aggie football game and she doesn't care if they're ranked. She just cares if there will be popcorn and large snow cones.
We ended up taking two cars because Gulley's husband was going with us and Caroline and I planned to drive to Houston on Sunday instead of home to San Antonio. (I realize this post is chockfull of unimportant details but we all know I have a fondness for over-explaining.) This led to much debate about who was going to ride in which car and with whom. For some reason Gulley's husband didn't go for our suggestion that he drive the car full of kids and let us ride together and so the journey began with me all by myself in the stay wag and Caroline in the car with Gulley, Gulley's husband, Will, and Jackson.
It was a blissful forty-five minutes full of much loud singing to whatever I wanted to listen to.
(On a side note, I can't explain how disturbing it is to me that I can remember ALL THE WORDS to any song by Juice Newton or Alabama even thirty years later. Yet I threw away my car keys in the trash last week. The human brain is a mystery.)
(Just call me Angel of the Morning.)
(Just touch my cheek before you leave me.)
We made a quick pit stop in San Marcos because Gulley and I are both at a point in life where we have to go to the bathroom every hour. It's very glamorous. And while we were taking a bathroom break, Gulley hopped in the car with me along with Will and Caroline. Unfortunately Will had spent the previous forty-five minutes eating an entire bag of gummy bears and began to feel a little queasy right as we got to Bastrop.
Which led to Gulley having to climb into the backseat of the car and hold an empty bag of Doritos while he threw up in it. Needless to say the entire experience caused me to suffer from post-traumatic Ecuadorian bus syndrome. The bag of chips, the car sickness, the crying. It was a dark time for me. And I had to MIND OVER MATTER myself to not pull over and get sick right along with Will.
I called Gulley's husband to let him know we needed to stop again, chiefly to dispose of the offensive Doritos bag but also to procure a Sprite to settle Will's stomach. We pulled over at a Shell station and Gulley and Will got back in their own car. Caroline chose to stay with me because we both know that once Will blows there's a good chance it will happen again.
When we finally pulled up in Honey and Big's driveway an hour later, Gulley told me that she'd sat in the back seat with Will the rest of the trip and stroked his hair until he fell asleep. He woke up about five minutes outside of College Station, lifted his head from her shoulder and said in an accusatory tone, "Next New Year's Eve if we go to the ranch I wish you'd remember to bring my jacket. I was so cold last year because you forgot my jacket."
Isn't motherhood full of special moments that warm your heart and make you consider throwing your own child out of a moving car as you yell, "I JUST HELD AN EMPTY DORITO BAG FULL OF VOMIT FOR YOU. YOU CAN REMEMBER YOUR OWN JACKET."
Fortunately, Saturday brought a day full of great memories and good football. The game started at 11:00 but the kids got up early to go to their first tailgate party with Gulley's husband.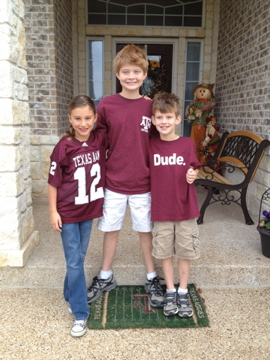 They practiced sawing Varsity's horns off before they left.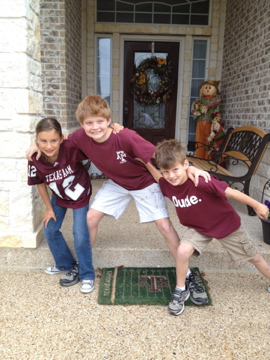 And then Gulley, Honey, Big, and I met them at Kyle Field right before game time. I'm all about tailgating, I just prefer to do it at an hour that I don't consider the crack of dawn. The Aggies had a 35 point lead going into halftime and, even though we've shown we can blow a halftime lead like no one's business this year, I felt like we were probably safe.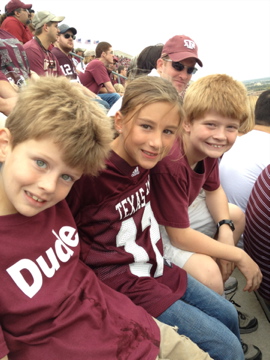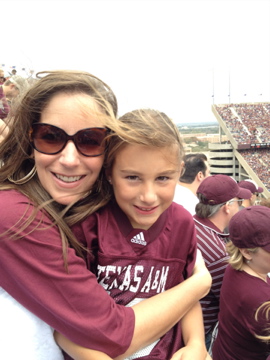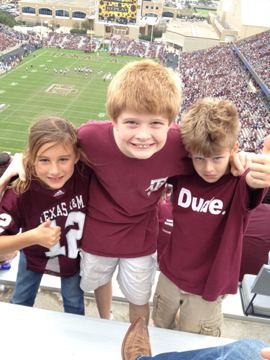 And then, to our great delight, the entire Aggie band plus the Corps of Cadets formed a block T on Kyle Field for the first time since 1956.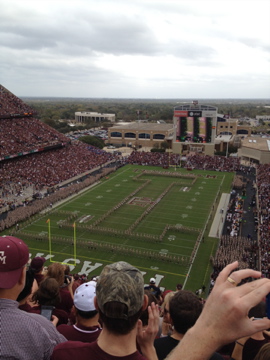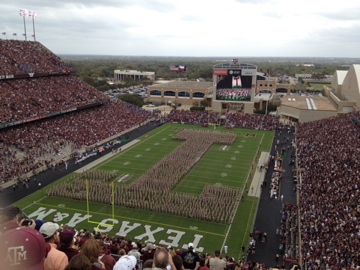 After the game we all decided we were up for a little tailgating and were so excited to meet up with AJ for just a little bit.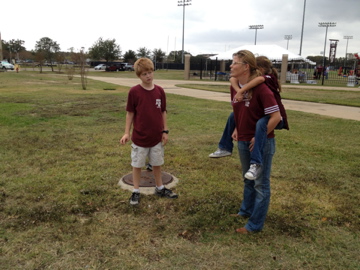 And our friend, Michelle. Even though my hair is so unfortunately windblown in this picture. Easy on the hairspray, Nancy.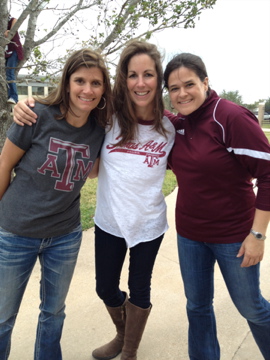 I cannot explain why my hair appears to be the only one affected by the wind. But that's my story and I'm sticking to it. Michelle was kind enough to say it was a windblown look like in a magazine, but it's rare to see a magazine featuring hair that looks like it could make a nice home for a small bird.
We eventually made it back to Honey and Big's house. Honey had cooked a huge dinner and Gulley and I went to pick up Nena so she could join us. Nena lives in a retirement center that's full of activities and she asked to live there about two years ago because so many of her friends are there. They are constantly getting together plus Honey visits her almost every day whether it's to take her out to lunch or to do her laundry. Nena is self-admittedly a social butterfly and even enjoys happy hour at the retirement center on the days when Mrs. Herzog doesn't kill the mood by coming in and playing hymns on the piano.
But Nena decided that she was going to serve up some guilt along with the ham and beans Honey made for dinner. And as we sat around the dining room table we were talking about someone who was all alone. Nena said, "That's like me. I'm all alone. All the time. I'M JUST ALL ALONE."
Honey piped in and said, "Mother, that's not true. You have friends all around you. Your children visit you almost every day. Most days you eat three meals a day in the dining room with all your friends."
Nena replied, "Yes and it's exhausting. I feel like all I do is dress for dinner."
Which kind of contradicts her earlier statement about being all alone.
And that's when Gulley looked at Honey and said exactly what I was thinking, ""Next New Year's Eve if we go to the ranch I wish you'd remember to bring my jacket. I was so cold last year because you forgot my jacket."
Because guilt really is the gift that keeps on giving.
No matter how old you are.
Copyright secured by Digiprove © 2011