For reasons I can't explain I have the song Truly, Madly, Deeply by Savage Garden stuck in my head. I wasn't even sure of the name of the song and certainly couldn't have told you who sang it until I googled it a few minutes ago. And so it is a complete mystery why I can't quit humming it.
I don't even know why I'm telling you about it.
I also think I have some kind of arthritis thing going on with my wrist.
Basically I'm ringing in a new year singing bad music and taking a lot of Advil.
2012 is awesome so far.
We spent New Year's Eve with Gulley's family. There were tamales and queso and guacamole and even some jalapeno hummus. And I ate until I could eat no more because it was my last unhealthy meal until I lose my resolve to eat healthier in 2012.
The kids all ran around the backyard, roasted hot dogs and marshmallows and topped off the evening by playing with sparklers.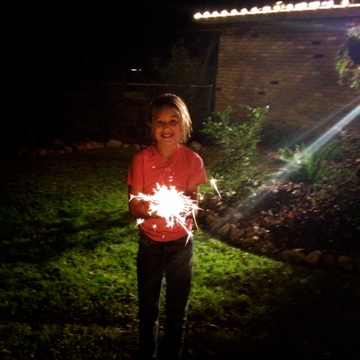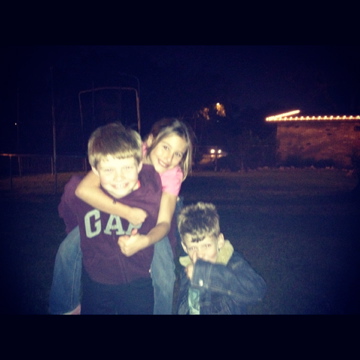 Then they gathered around the T.V. to watch some nutjob named Levi and some other guy attempt to jump 412 feet on a motorcycle and a snowmobile. The adults all felt certain this was going to end in a New Year's Eve tragedy, but the kids had faith in Levi and his ability to leap tall buildings in a single bound. And they were right. He made it. I have no idea why this was on ESPN on New Year's Eve but I guess after 834 bowl games it was time to shake it up a little bit.
P, Caroline and I left to go home around 11:00 because we are just that lame. Sure we could have tried to make it one more hour and bring in the new year but we were tired. And have I mentioned my arthritis?
Not to mention that it was time for me to drink my Ensure.
We ended up sleeping in on Sunday morning because it was our last official day of vacation since Caroline goes back to school on Monday. Never mind that banks are closed and mail won't be delivered, I have to pack a dang ham sandwich at 7:00 a.m. and send my child off to school. And while I'm kind of glad to have some time to get things done and actually be a productive member of society, I'll miss the lazy mornings on the couch watching Elf. But I guess if we were still doing that in July we might become those neighbors that people talk about.
Anyway, I slept in until about 10:30 (I know. But I'm not even ashamed.) and it was probably around noon when I decided it might be a good day to take down all the Christmas decorations since P had the attic open and was busy cleaning out the back house and storing stuff in the attic so we can forget we own it until we go back up in the attic this time next year and feel so thankful that we own a really nice leather saddle even though we don't have a horse. Or even have access to a horse. Or even watch T.V. shows about horses.
So I began the arduous process of removing all the lights from our Christmas tree. And let me tell you that undecking the halls isn't nearly as festive as decking them. No one wants to help take the lights OFF the tree. People want to sit on the couch and watch The Lion, The Witch and The Wardrobe and tell you that you're in their way as you sneeze and sniffle and unwind lights that some idiot wrapped fastidiously around the trunk of the tree in a fit of Christmas enthusiasm combined with a bad case of OCD.
And when I had finally gotten most of the lights off the tree, this is what it looked like.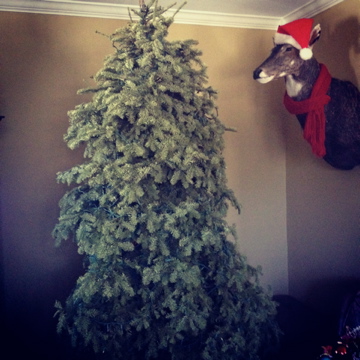 A sad, deader than dead tree being mocked by a festive antelope.
Just so you can appreciate how bad it really looked, this is a picture from the day we brought it home.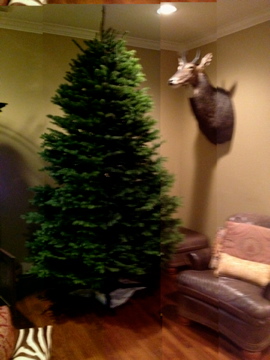 So P and I threw it out the front door into the front yard where I continued to wrestle with it to get off the remaining strands of lights because all these scratches from pine needles will be totally worth it when I save that $4.00 on lights next year.
Normally P hauls our dead tree to the ranch and throws it in the lake because he says the fish like the structure. And by structure he means they like to live in its branches, not that fish need a good stable routine. Just wanted to clarify.
But he decided to cut off a few branches and throw them into the fireplace to see how dead the tree really was because a few years ago we tried to burn our tree in a firepit in our backyard and all it did was smoke and smolder and cause me to come down with a bad case of allergy-induced bronchitis. It was that episode that made me think the whole thing about Christmas trees going up in flames was a gross exaggeration. But, let me tell you, P threw those branches into the fireplace and those suckers went up in FLAMES. FLAMES. Like Caroline screamed with delight and maybe some fear kind of flames.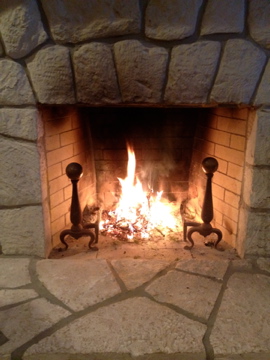 The picture doesn't do it justice. But how is that different from all my pictures? I just thought you might want a visual aid.
And so that was our first day of 2012. I'm happy to report that all of our indoor decorations are down and stored in the attic. Normally I'm always a little sad to see it all go and the house seems bare, but this year it feels good. It feels clean and minimalistic and I'm happy with that.
Although I like the antelope better with the Santa hat.
Oh. And I still have Christmas lights and red bows on my front porch. Because Rome wasn't built in a day.
I don't know how that relates here necessarily but it's late and I have to make ham sandwiches in six hours and so it's going to have to do.
Happy New Year.
Truly, madly, deeply.
Copyright secured by Digiprove © 2012