Well this week hasn't really gone as planned.
I kept Caroline home from school on Monday because she seemed tired and congested and just wasn't acting like herself. Which is to say that she was content to just lay in bed and do absolutely nothing. And then Tuesday morning she woke up and announced that her throat still felt "googly" and "scritchy" and so she stayed home again.
On Wednesday morning she was still complaining of a sore throat but didn't have fever and I was a little suspicious that she might just be enjoying her ill-health and repeated viewings of Mr. Popper's Penguins while I waited on her hand and foot and fetched her additional ice cubes because "this orange juice isn't quite as cold as I like it, Mama". So I sent her to school but told her she could go to the nurse if she didn't feel good.
Which is why my phone rang at 9:24. It was the school nurse. And so I went and picked Caroline up from school and immediately called the pediatrician to make an appointment to find out if she had strep.
The strep test came back negative but she was diagnosed with a sinus infection and we left with a prescription for an antibiotic.
And so that's what we've been doing for the last three days.
In fact, I'll go ahead and admit that I hadn't worn anything but pajama pants until I had to go to school and pick her up yesterday. Three days in pajama pants might be some kind of record. But if you combine the fact that I'm trying to meet a book deadline with a sick child and rainy weather? Well, that's just a pure laziness trifecta.
P ended up being home most of the day Tuesday because the weather was wet and rainy. (It's so odd how rain is wet. Wet and rainy? Lamest description ever. I blame too many viewings of Mr. Popper's Penguins.) We spent some of the day reading a few chapters of Harry Potter and ate a lot of soup.
(We could talk or not talk for hours and we both enjoy soup.)
(So many bowls of soup have been consumed at our house over the last three days that I went to serve chili tonight and discovered we'd completely run out of clean bowls.)
(I ate my chili in a plastic Tony the Tiger bowl.)
(None of that is important. I don't know why I'm talking about our bowl shortage.)
Anyway, we were all slightly stir crazy by late afternoon and sitting in the kitchen when P called to reschedule an appointment he had to get his hair cut.
He hung up the phone and lamented changing the appointment and said he couldn't stand one more day with his hair so long. (He's been growing it out since early December at Caroline's request. It was a mass of gray cowlicks.) I jokingly said, "I'll cut it for you." And Caroline piped in and said, "Me too! Let me cut it, Daddy!".
And he said, "Okay".
Really?
You're going to let our eight year old cut your hair?
Yes. Yes he was.
And so Caroline began to cut his hair while she occasionally said things like, "OOOH! HERE'S A BIG PIECE RIGHT HERE, DADDY! I'M GOING TO CHOP IT!" with just a little too much enthusiasm in her voice.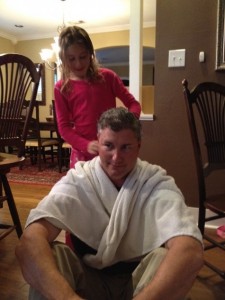 His reasoning in allowing her to do it was that you can't really screw up his hair.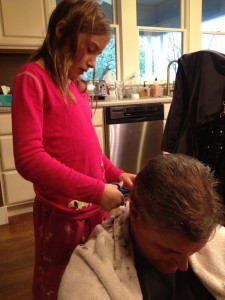 But he was wrong.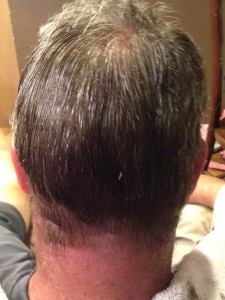 It seems that the person who was supposed to be supervising the haircut got caught up in the new Boden spring catalog and might have forgotten to pay attention to the child with the scissors.
The good news is it looked pretty good from the front. Good being a relative term. And assuming you're nearsighted.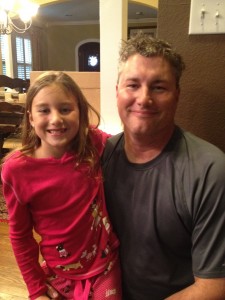 The best news is he got it cut by a professional yesterday. And she managed to even the whole thing up. Although he said there were a few times she would remark, "Oh, you're kind of missing a chunk right here."
Of course the lesson I've learned from all this is I have two people in my house who should never be left alone with scissors when they're bored.
Or maybe the lesson is the Boden catalog can wait until after your daughter finishes cutting your husband's hair.
Copyright secured by Digiprove © 2012