I think it was sometime a few years ago when I looked in a super-magnifying mirror for the first time in a long time. And I didn't like what I saw.
Where did those wrinkles come from? What were all those dark, splotchy places on my face? Why was I an idiot who spent my high school summers teaching swim lessons and neglected to wear sunscreen because I wanted a nice, tan face?
The sun damage piper had come calling, and it was time to pay. Or time to find some products with a sufficient amount of retinol. It was also time to buy a large sunhat, SPF 150, and sunglasses that covered my entire face.
I can't even talk about the summer after I had Caroline when hormones caused me to develop what appeared to be a mustache on my upper lip but was really just a series of dark patches from the sun. It was a dark time. Literally. A kid at the pool concession stand might have called me "Sir".
Anyway, ever since those days I have been slightly obsessed with discovering the magic elixir of skin youth. I'm a sucker for anything that promises a glowing complexion and the ability to turn back the hands of time. Even though, let's be honest, even Cher couldn't figure out how to do that. I've tried the organic oil cleansing method. I've tried retinol. I've tried every brand you can imagine. I've tried petroleum jelly.
I've finally come to love the combination of facial cleanser with electric face brush and some retinol. It's removed a lot of the dark places on my skin and helps it have more of a glow. But I was so excited when Best Buy sent me the PMD- Home Microderm Abrasion Device. This microdermabrasion device features body and facial caps for wide-ranging use, suction that promotes blood flow to help renewal, and recovery creams (not included) that penetrate your skin.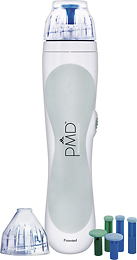 I've always wanted to try microdermabrasion but didn't know if it would be worth the money, and so I couldn't wait to try this. Unfortunately I had to wait a few days because you can't use it within 48 hours of using retinol or alpha-hydroxy on your face. I use a lot of both of those things.
I tried it last week and loved it. My face felt so smooth and soft, and it easily absorbed the face cream I put on afterwards. I'm not sure what improvements I will see over time, but it looks promising based on my first use. I'll let you know.
The good news is you can win one for yourself. All you have to do to be entered for a chance to win is leave a comment on this post letting me know what skin care products you love the most and whether or not you've ever tried microdermabrasion. Here are the rules.
Rules:
No duplicate comments.
You may receive (2) total entries by selecting from the following entry methods:
a) Leave a comment in response to the sweepstakes prompt on this post
b) Tweet about this promotion and leave the URL to that tweet in a comment on this post
c) Blog about this promotion and leave the URL to that post in a comment on this post
d) For those with no Twitter or blog, read the official rules to learn about an alternate form of entry.
This giveaway is open to US Residents age 18 or older.
Winners will be selected via random draw, and will be notified by e-mail.
You have 72 hours to get back to me, otherwise a new winner will be selected.
The Official Rules are available here.
This sweepstakes runs from 2/1 – 2/7.
Also be sure to visit the Inspiration to Fitness page on BlogHer.com where you can read other bloggers' reviews, get great fitness tips and find more chances to win! You can also roll over the Best Buy image at the top of my blog to view a calendar of all the Inspiration to Fitness content. Good luck!
Best Buy does not sponsor, endorse, approve, or have any responsibility for this promotion.
_____________________________________
Today the LifeWay Women are doing a special webcast with Kelly Minter at 11:00 a.m. (central time) to celebrate her new Bible study on Nehemiah. You can click here for the link. Rumor has it there will be special guests, music, cooking, prizes, and more.