On Tuesday, Caroline and I met Mimi and Bops at Luby's for lunch. We always meet at Luby's because Bops is a big fan of the cafeteria in spite of that fact that he isn't 85 and has all his teeth. Caroline loves Luby's because she can get Jello which for her is one of the major food groups.
York Peppermint Patties for breakfast and Jello for lunch. We are an organic household.
Except I will tell y'all that the other day, when we were at HEB, I asked her if she wanted to get a donut and she said, "No thank you, I'd rather have a carrot." So we're having her DNA tested later in the week.
While we were at Luby's, Mimi pulls something out of her purse and hands it to me. It's a page from the Neiman Marcus Christmas Book. And look what it features.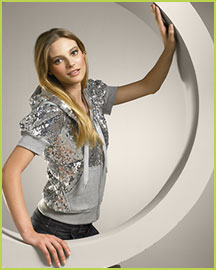 Is it just me or does that look a whole lot like this?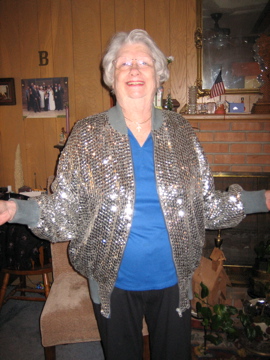 That's what I thought.
And this isn't just any jacket being sold at Neimans. It is a Juicy Couture jacket designed exclusively for Neimans and is featured as one of their HOT 100 GIFTS in this year's book.
It retails for $400.00.
SHUT UP.
The Neiman Marcus Christmas Book is like hallowed retail ground. It actually featured his and her jets one year. And between you and me, P and I weren't that impressed with them after they were delivered.
So, of course I had to call Nena and let her know. I called her around 1:00 p.m. yesterday because if I called any earlier than that there's a high probability that Granddaddy would have answered the phone saying "SEVENTY-SIX DEGREES!" and then hung up on me when he realized it wasn't someone from the local news station calling as part of their daily contest to see who just watched the weather report.
When she picked up the phone we exchanged the normal pleasantries and then I said, "Nena, I got the Neiman's Christmas Book in the mail today."
"OOOH HONEY, YOU DID? GOOD FOR YOU!" (Do y'all see why a version of her jacket being in THE BOOK is going to blow her mind? She was just thrilled I got THE BOOK in the mail.)
"Yes, I got it and you won't believe this but they have a silver sequined jacket that looks almost just like the one you showed me. It's one of their HOT 100 items and it costs $400.00."
"FOUR HUNDRED DOLLARS? HONEY, LISTEN, I paid $5.00 for mine. I can't believe it's in the Neiman's Book. I JUST CAN'T BELIEVE IT! OOOH you have MADE MY DAY!"
"I know. You could probably sell yours and make some money.
"OH HONEY, LISTEN, I am not going to sell my jacket. I'm going to wear it shopping! So most importantly, what is the model in the picture wearing with her jacket? I just need to know what to wear with it."
"She has on black jeans."
"BLACK JEANS? Well HONEY, LISTEN, I don't know about BLACK JEANS."
Which I actually think is a good call by Nena. BLACK JEANS are precarious fashion territory.
Neiman's might want to listen to her because she is obviously ahead of the fashion curve.
Not to mention she saved $395.00 by finding that jacket in the back of her closet.