Well. It's happened. I've totally burnt myself out on fruit smoothies.
My only solace is that I never went and bought a Ninja blender.
A few weeks ago I grew a little tired of the smoothie so I took a break. I hoped it was just a passing thing and I'd be able to get back on the smoothie bandwagon after a week or so. Then I made one for breakfast yesterday and drank the whole thing. I felt healthy and good. Maybe even a little smug to have that much spinach in my system so early in the day.
Then I made one this morning and couldn't finish it. Which means the smoothie has gone the way of the veggie tacos and Julio's chips and all other foods that I once ate obsessively and now can barely tolerate.
I don't know why I think you even care about this.
But while I'm telling you useless information I might as well go ahead and share that my front tooth finally quit hurting. So there's that.
And in light of this incredibly lame introduction, I think it's safe to assume there isn't much going on here right now. I'm going to blame it on the fact that I got back the edits on my book and my brain is tired from all the thinking.
In any case, here are a few quick things I wanted to tell you.
1. Some of you asked about Caroline's Easter dress. It's a brand called Mimi and Maggie. I actually found it on sale several months ago and bought it for a steal. I think it must be a few seasons old because I can't find it anywhere online. However, I did find this darling Mimi and Maggie dress at Chasing Fireflies.
2. A few of you also asked about the wreath on our front door. In San Antonio there's a ten day celebration called Fiesta that happens at the end of April. The wreath with ribbons are a Fiesta thing.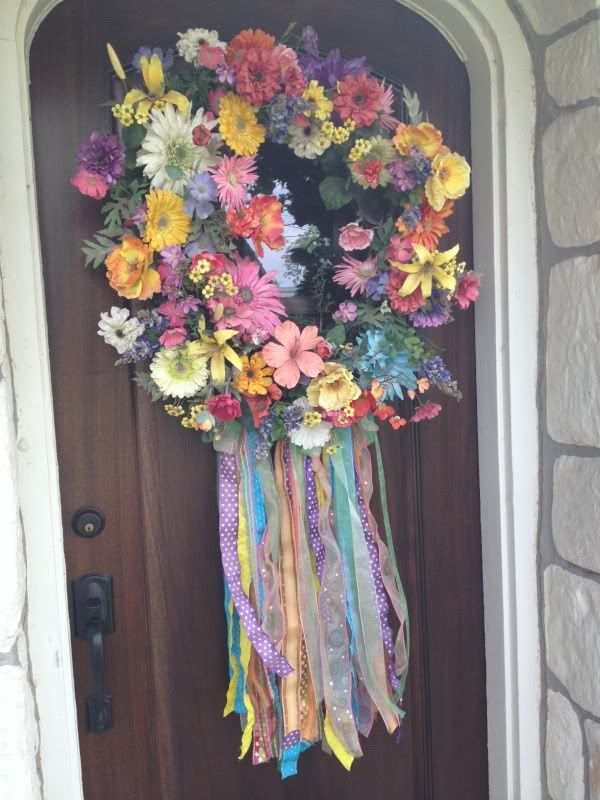 It's actually just a grapevine wreath with a bunch of bright fake flowers. The ribbons are attached at the bottom with wire and can be removed. But I usually leave them all summer because I'm a fan.
Some people add things to their wreaths like maracas or a tiny sombrero. But I've never done that because I'm afraid a rat might steal the sombrero in the middle of the night and then where would I be? Up a creek without a tiny sombrero with a rat running around impersonating Speedy Gonzales.
And I bought mine so I can't give you any kind of tutorial. However, I bet if you're crafty it would be fairly easy to make one. I'm guessing you need a hot glue gun.
3. A few months ago I read a book called Almost Amish: One Woman's Quest for a Slower, Simpler, More Sustainable Life by Nancy Sleeth.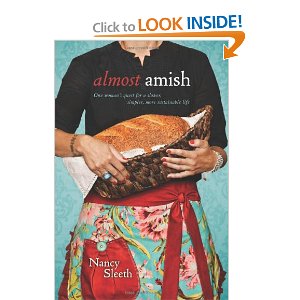 I think we all know that I'm pretty much the polar opposite of almost Amish. In fact, I could write a book called Almost Totally Not Amish. But I thought it was interesting. And it made me think about how fast everything moves and ways to slow down, declutter and make life simpler.
Just thought I'd share in case you're interested.
4. In other books news, (Is this a book blog now? What is happening?) Pete Wilson's new book Empty Promises released yesterday. I haven't read it yet, but here's the synopsis from the back.
We all long for more of something in our lives. In our endless pursuit to feel worth and acceptance we find ourselves sacrificing everything for the promise to be a little more beautiful, a little richer, a little more powerful and successful, a little more loved.
How do we break free from these empty pursuits and start chasing the only Promise that will ever satisfy? How do we uncover the hidden idols that are driving us and turn our devotion toward the one true God?
Yes. That.
5. I loved this post by Jen Hatmaker. Trisha Yearwood on the Back of A Harley.
I had the Rachel haircut, I had the high-waisted jeans, I belted out Faith Hill as if my life depended on it.
And that's all I have for today. I'll be back tomorrow with something novel like paragraphs and a real story and that sort of thing. I'm sure it will be fascinating.
Or maybe it will just be okay. I don't want to get your hopes up.