So, yes. The blog is undergoing some renovations. It's still a work in progress, so what you're seeing isn't the finished product. Right now it's the beauty equivalent of having on some foundation, but knowing you're going to look better once you have on a little bit of lipstick and perhaps some mascara.
And, no, the staff at Big Mama, Inc. is in no way involved in writing any html, or css, or what-have-you for the new look. Well, other than completely outsourcing the entire project to Jules at Everyday Design.
We here at Big Mama are big fans of the outsourcing. Stay tuned for the finished product.
In other news, thank you all for your well wishes for Caroline. The little midnight hacker is doing much better today and a trip to the pediatrician found her lungs clear and healthy.
She is no worse for the wear.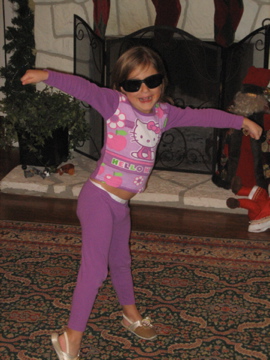 I, on the other hand, after three different steam baths in the wee, small hours, feel much like I have been run over by a very large truck. A truck that after running over me, backed up to do it again.
On the bright side, my pores have never been clearer.
And as I sat on the toilet (LID DOWN) last night and rocked my baby girl, the thing that worried me the most was that I couldn't get the theme song from "Diff'rent Strokes" out of my head. It's like I have opened some type of Pandora's box that will ultimately cause my friends and family to abandon me one by one because they won't be able to take the constant repeating of "it takes diff'rent strokes, it takes diff'rent strokes, it takes diff'rent strokes to move the world".
Or is it "rule the world"? I couldn't really remember last night at 3:00 a.m. while I was sitting on the toilet (LID DOWN) with sweat running down my forehead, watching beads of condensation trickle down the tiles due to the high humidity.
Anyway, last night before Cough Fest '07 began, I planned to take Caroline with me to Bible Study over at Gulley's house. P had to leave on an emergency hunting trip, the babysitter was sick, and so I told Caroline she could just go with me with the stipulation that she and Jackson had to QUIETLY and CALMLY watch movies in Gulley's bedroom while we had our Bible Study.
The fact that this announcement was met with yelling and jumping up and down should have been an indication of how well this plan was going to go.
I got Caroline bathed and in her jammies. Then I noticed she was packing up her Hello Kitty! purse with a variety of things that didn't seem to go hand in hand with QUIET and CALM. So I said, "Caroline, I don't want you bringing a bunch of toys over there. The deal is that y'all will rest and watch T.V."
She replied, "Don't worry, Mama. I'm just taking the things Jackson and I will need. Guns and jewelry."
Which is so weird because that's exactly what J.Lo used to take on dates back when she was still with P.Diddy.
It just proves that it does, indeed, take diff'rent strokes to move and/or rule the world.
Last but not least, Happy Birthday, Mimi. We here at Big Mama hope you have a wonderful day complete with some good Italian food and a nice bottle of wine.