Before I say anything else I just want to say thank you for all your sweet words and prayers about the loss of Nanny. It was all very much appreciated. Last week was a hard week and I was thankful for all the love.
I can't remember if I've mentioned this before but Caroline has the same teacher for third grade that she had for first grade. And in first grade this teacher helped the class host the sweetest Mother's Day Tea party for their mothers and grandmothers. Secretly, I'd been hoping that she would do it again this year and so I was thrilled when Caroline came home a few weeks ago with a little decorated invitation to the Mother's Day Tea.
Although I would have totally understood if Miss C. didn't want to do it again this year because it is a lot of work and I can't even imagine how many hours she puts into the whole thing because there is a huge cake and glittery cards and actual tea and a photo slideshow that always makes me cry. Not to mention the whole herding of third graders who have the attention span of rabid guinea pigs.
When I picked Caroline up from school on Wednesday, she tried to con me into buying her a new dress for the party. She told me that she was "pretty sure" Miss C. wanted them all to wear white dresses but she underestimated my ability to text and get confirmation. It turned out that Miss C. said they should wear a fun dress, but not a white dress.
Of course Caroline still wanted a new dress but I turned her down because she has somewhere in the neighborhood of WAY TOO MANY dresses that have only been worn once. And I felt validated by my decision to not buy the new dress when she told me on Thursday night that she wanted to wear this brown maxi dress we bought on sale at Target last year. The problem is she's grown about sixty-four inches and the maxi dress is no longer a maxi dress but more like an awkward length dress. It also looks like something from Little House on the Prairie.
Thankfully she decided on something else and we were both happy with her second choice.
The tea was Friday afternoon and it was just as sweet as I remembered. There was a slideshow and cake and everything was decorated. Caroline had made cards and written a little thing about me that not only said I was athletic but also the best cook in the universe. Which totally validates all the chalupas and sloppy joes and frozen pizzas we've eaten over the last few weeks because BEST COOK IN THE UNIVERSE.
Here's my secret. Preheat oven to 400 degrees. Take pizza out of box. Place on rack.
You're welcome.
She also said that one of my greatest wishes is to see Scotland. I have never expressed a desire to visit Scotland, but I've also never been called athletic so I'm just going to go with it.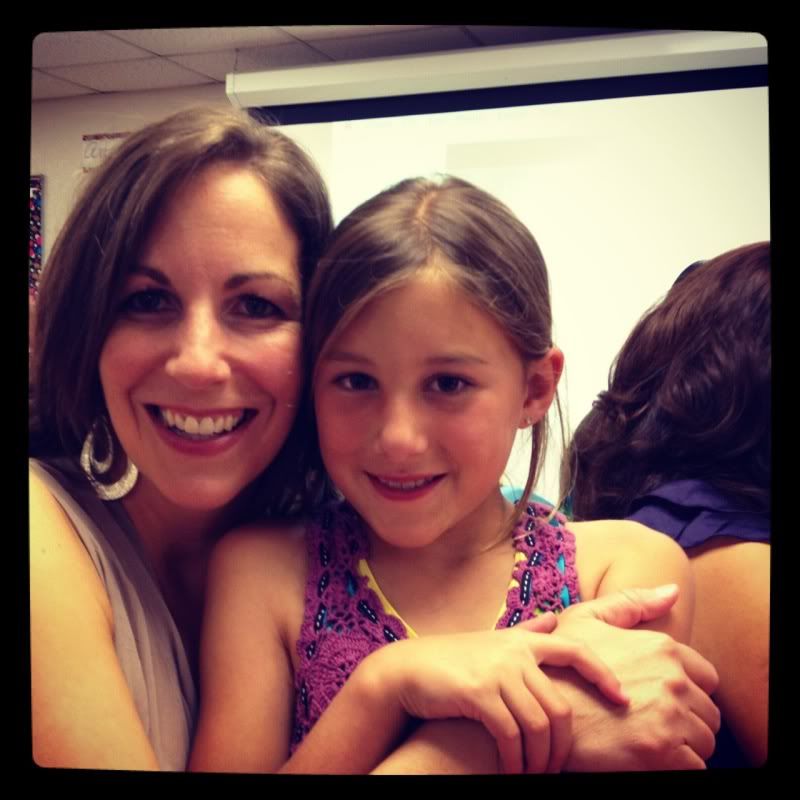 On Saturday morning we had the last soccer game of the season. Caroline scored two goals and played her little heart out so it ended on a good note. And then we went to the end of the season pool party even though it was only 82 degrees out with a north wind. I realize some of you call this summer but here we call it TOO COLD TO SWIM. Actually, I call it too cold to swim. Caroline and her friends thought it was perfect and they assured us all repeatedly through blue lips that the water was FINE.
Then Sunday morning we went to church and then to lunch with Mimi and Bops for Mother's Day. Caroline had warned me not to go in her room and when we got home from lunch, I discovered why.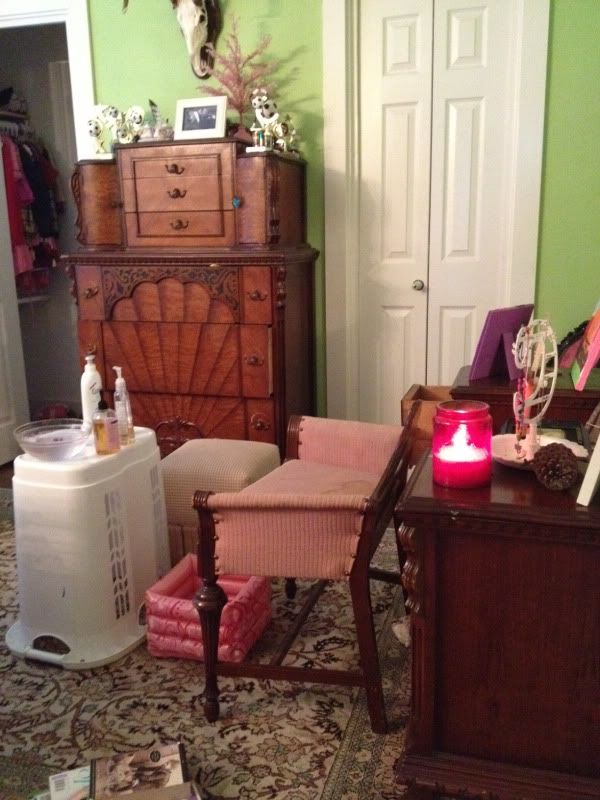 She'd set up a little spa just like she did last year. Her spa is very special because it's hard to find a place that offers a soaking solution of purple glitter, cucumber antibacterial soap and Tressemme hair mousse.
I soaked my hands in the glitter while my feet soaked in another tub of water that I'm pretty sure was a combination of Curel lotion and more hair mousse. Then she gave me a manicure that can best be described as not subtle. She also believes that if a little polish is good then more is better. Even eight hours later I'm still not sure my nails are dry.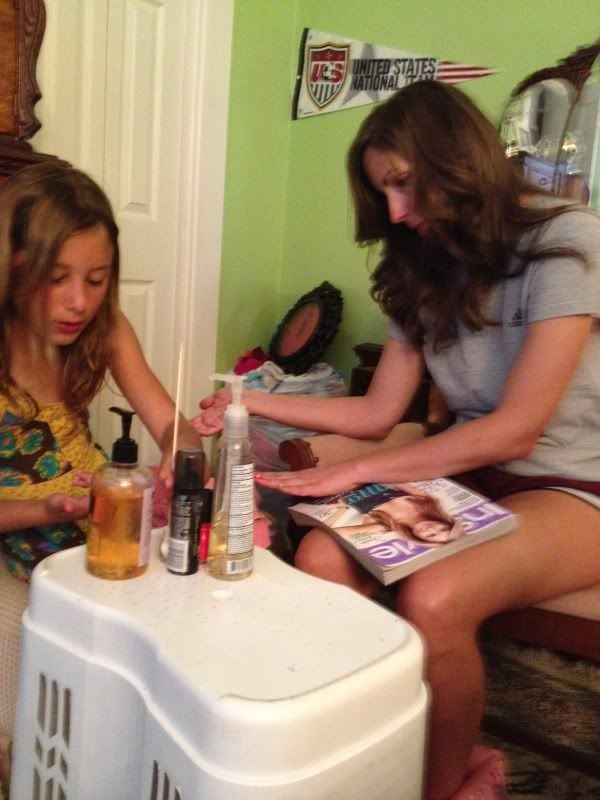 She also offered to give me a pedicure and I agreed but asked if we could not paint my toenails since I just got a fresh pedicure on Friday. I was torn because I didn't want to hurt her feelings, but I also hated to ruin a brand new pedi. And so she looked my toes over and said, "Is this even a color on your toes right now?"
"Yes. I just wanted a light, natural color."
"Oh", she said as she dropped my foot with disdain, "Some people will never learn."
I think I should have been offended, but instead I just agreed that my pedicure was totally boring compared to my fresh, new manicure. Of course, Cher would be boring compared to my fresh, new manicure.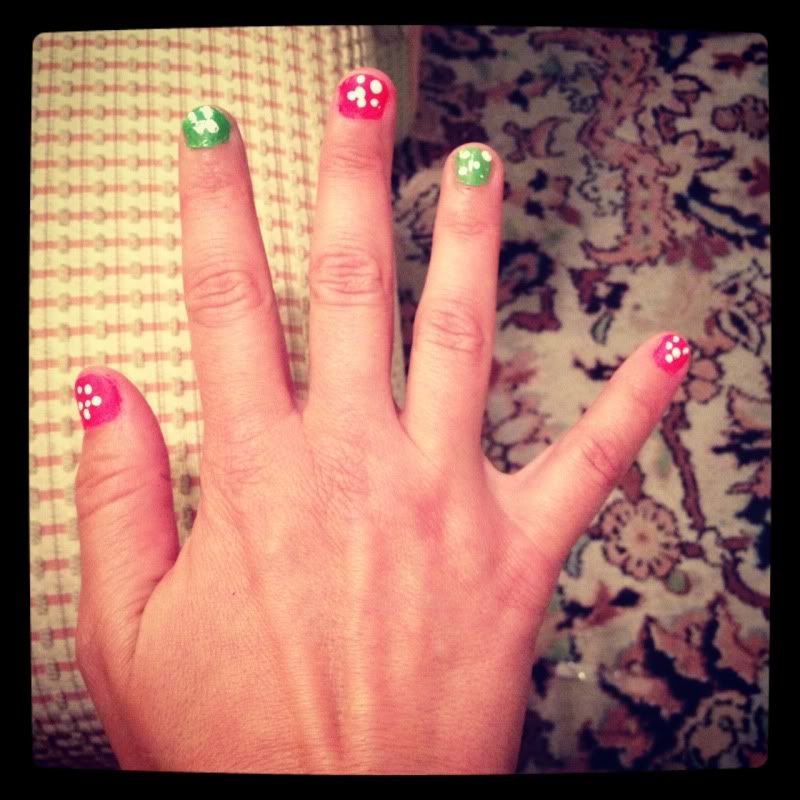 And life would be boring without Caroline.
Hope you all had a wonderful Mother's Day.
Copyright secured by Digiprove © 2012