Where do I even begin to talk about the last week?
The smart money would be at the beginning.
And the problem is I'd love to do just that but the truth is I've barely had one minute to myself in the last week. Which is fine if you're a normal person but not so much if you're an introvert.
That's right. I'm an introvert. I've felt better about it ever since I read something that explained it's not that I don't want to be around people ever, it's just that I need time by myself to recharge and regroup and not drink a bottle of tequila while rocking back and forth in a corner.
So the good news is I'm not a complete anti-social hermit. The bad news is I sometimes just need to be an anti-social hermit for about six hours in a row.
And the really bad news is that summer time doesn't really allow that unless I stay up until 3:00 a.m. Which I'm not above doing except that I'm tired from all the summer fun. Plus I really want to write on the blog but sometimes I'm just OUT OF WORDS by the time I've spent all day "MOM! WATCH THIS!" "MOM! LET'S PLAY A GAME!" "MOM, ISN'T BEETHOVEN THE FUNNIEST MOVIE EVER?"
(No. It's not. The answer is NO.)
(I also realize that someday I will look back on these days and be sad they're over. Sunrise, sunset and all that. I adore my child. I just sometimes need five minutes of quiet.)
(I'm also sad to put my selfishness on display.)
But enough about my first world tale of woe.
I'll just tell you about the last week. And now I'm going to feel ridiculous because it starts with a ton of fun.
Last Monday, Sophie flew in from Alabama. And then on Tuesday morning my friend Angie came in town and then we drove to the lake to meet up with Jen and Vicki.
Here we all are in front of The Bluebonnet Cafe in Marble Falls.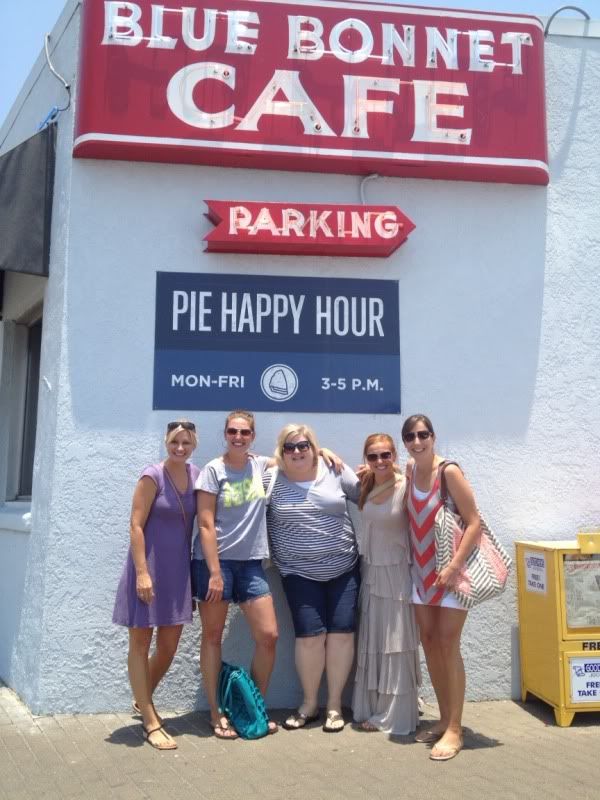 Yes. They have a Pie Happy Hour.
Which I'm also pretty sure they have in heaven.
It was the first time Angie had ever eaten chicken fried steak. I was sad for her, but the good news is we took charge of the situation and she has now experienced true culinary greatness.
And then we floated out on the lake and talked about books and kids and hair and books and life.
Sadly it was a quick trip and by Thursday everyone had flown home or driven home or dragged their sorry behind back to San Antonio to write boring blog posts about how they are an introvert at heart.
Then the weekend arrived and P went fishing. Caroline and I spent most of it hanging out with Gulley and her boys because the boys had been at camp the whole week before and they missed each other. And now you just died of boredom because who needs to know all that?
On Sunday afternoon we went to my niece Sarah's birthday party at the bowling alley and a good time was had by all. Caroline helped my nephew, Luke, bowl and you'd be shocked at how enthusiastic a two-year-old is to just watch a ball roll down the lane and not knock down a single pin.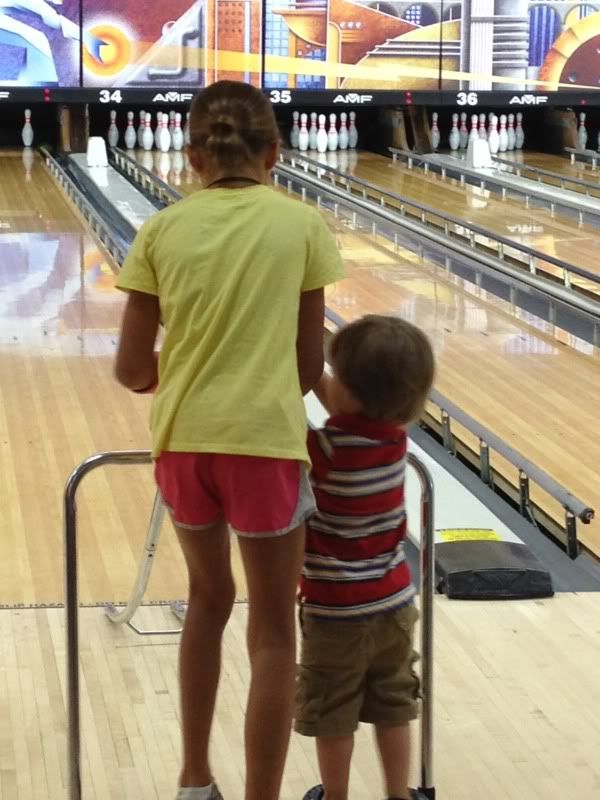 And on a day in between or somewhere thereabout, Caroline and I made a trip to the mall because my new iPhone has been temperamental since the day I bought it about six months ago. Which I guess means it's not really new but it still shouldn't die every three hours. At least that's what I believe.
The girl at the Apple store was nice but didn't really seem all that sympathetic to my plight. Her answer was to reset my entire phone. And as much as I appreciate that solution, I'm not sure it helped.
The mall is also where Caroline discovered the hermit crab kiosk. I mentioned this in the podcast so feel free to skip this part if you've heard it already. But Caroline bought two more hermit crabs with her own money. Bringing our hermit crab total to FOUR. Including a crab that can only be described as The Incredible Hulk of hermit crabs.
He frightens me. It's like a small dog with pinchers.
In a hermit crab power play, he pinched Caroline a few days ago and is now dead to her. Except I'm not sure about the logistics of relocating a hermit crab. Sure, I could just set him free in the front yard but that seems wrong since we're three hours from the nearest beach. I'm looking into a hermit crab rescue program.
We've also watched some of the Olympic trials and in related news I've discovered I suffer from a high level of performance anxiety even when I'm just sitting on my couch eating Nilla Wafers.
And that's what's been going on around here.
Today we're going to the grocery store. I'm sure I'll use 1,000 words to tell you all about it tomorrow.
Copyright secured by Digiprove © 2012