About a month ago (maybe longer but I've lost all sense of time and possibly sanity as the summer has gone on) Sophie's sister (who I'll now refer to as Sister) was in France. And she emailed me to ask if I'd like to know what the French women were wearing around town. Which, OF COURSE.
Because everyone knows it's just a matter of six or eight years before the trends in Paris make their way down to South Texas and I don't want to miss the boat.
Now I said "miss the boat" and that makes me think of a cruise and I'm wondering if I've ever shared my complete aversion to cruises. I've never actually been on a cruise but you'll never convince me it's a good idea to get out in the middle of the water on a long ship.
And if you try to convince me otherwise I will trump you every time with the word TITANIC.
There isn't enough Dramamine in the world for some situations.
Anyway, here's an excerpt from Sister's email update:
"Here's what I've been seeing for the past week, even with the overcoats:
Stripes, as in Parisian horizontal: black and white striped tops are a staple here, but I've seen tops in all colors (e.g., the orange/white)
Scarves: very long scarves that you wrap around and around and twist and create a work of art; I've also noticed long, sort of crinkled fabric scarves that have tiny flowers, almost Provencal looking. Scarves are a must if you are in Paris. Hot or cold weather.
Shoes in all colors
Purses/bags in all colors
The colors I saw most today were all shades of orange, anywhere from reddish/orange to a pale peachy-peach. I saw orange and red trench coats (yes, even though it was warm 'cause they looked darling!), jackets, pants, jeans, shoes, purses and scarves. Orange was everywhere!
There was another lady on the Metro who had on orange shoes that looked like these penny loafer top-siders that I had in 1980. Her shoes looked darling with her outfit; it was her only splash of color.
I also saw some adorable black and white striped (horizontal) tiered short skirts today (sassy/flirty styles); saw one on a girl Caroline's age, too. The other evening I saw a woman with a kiwi green long jacket, black top w/white stripes, slim black ankle pants, and red/orange shoes. Killer outfit – and she was probably going to the grocery store. I also saw a woman walking her dogs with a great looking mermaid green top, white pants and red shoes."
And so there you have it. The latest (even though it was about a month ago) report from an on scene observer straight from the streets of Paris.
Here are a few things I saw this week even though now I wish more of them were orange or had cute stripes or included a kiwi long jacket.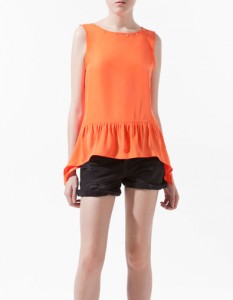 Perfect! A cute orange top. I totally planned that.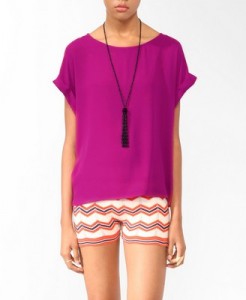 I love the color of this top. It also comes in a pretty blue. Perfect to throw on with white shorts or pants.
I realize this is the kind of tank that requires a strapless bra and that's never going to happen around here. But it can also be worn with another tank under it or maybe just thrown on over a swimsuit.
I know I'm trying hard to make it work but I just really like the stripes.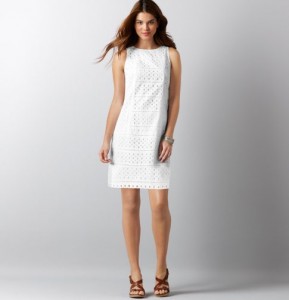 I am a sucker for a white eyelet dress.
This is one of my favorite things I've seen in a while. It's a shame that it's more than $15.
6. diagonal print stripe skirt
I love a good skirt in the summer and this one is really cute with its aqua stripes. Plus it's an extra 40% off.
7. cotton shadow stripe smocked neck peasant top
And this top is really cute. I wish I could post a picture but for some reason the pictures won't work now even though I totally posted a pic of that dress from Ann Taylor Loft just five minutes ago.
I don't understand.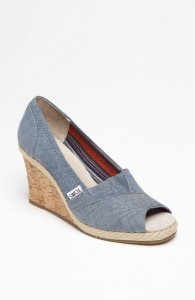 There was a time when I thought I would never again own any item of clothing that could be described with the word "chambray". But fashion is a fickle thing and I found myself drawn to all manner of chambray and denim right now.
Which is why I'm in love with these wedges.
9. nike free run 3 running shoe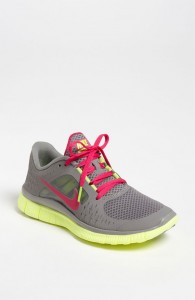 Listen. I realize a woman in Paris wouldn't be caught dead in some Ugly American running shoes. But I'm in need of some new running shoes and I think I like these.
Has anyone tried them? Or have any better suggestions?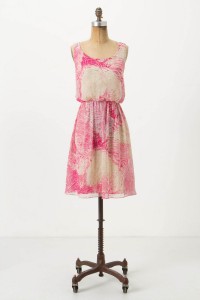 This would be just perfect for a summer wedding. Unfortunately I'm not invited to any summer weddings. But maybe you are.
That's it for today.
Y'all have a great Friday.