My mind is a vast wasteland at the moment. I'm just going to blame it on the new season of "American Idol" because why not? Everyone knows reality t.v. is a symbol of all that is wrong with America and is numbing our minds until there is nothing left. But if loving it is wrong, I don't want to be right.
Plus, "American Idol" is different because it is a very scientific process of finding the next person in America who may or may not make a CD that anyone will want to buy.
In other scientific news (because it's all about the science here), several people emailed me the link to this article yesterday. Apparently, on some subconscious level I knew what I was talking about, the black plague is actually making a comeback (unlike Taylor Hicks) which just goes to show those people at the Medical Clinic had no idea what they were talking about. I sensed in my heart that Black Plague was a possibility.
But, can we take a minute to talk about something that is weighing on my mind?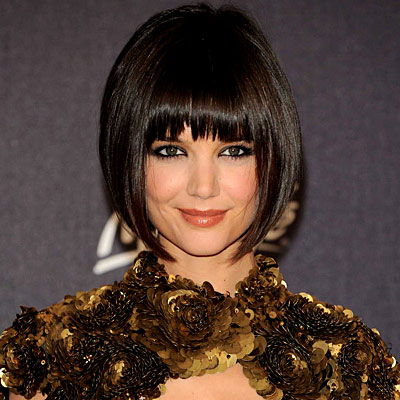 Now, I realize this haircut would be a colossal mistake for me for several reasons. Number one, the bangs are no longer my friend. I discovered post-pregnancy hormones did horrible, unspeakable things to my bang potential when I tried to imitate Reese Witherspoon's hair last year. And number two, I do not have the stunning bone structure of Katie Holmes so there is a good possibility this haircut could cause me to look like a mushroom cap. And resembling fungi is so out this year.
Truth be told, this is just something I do every six months or so. I cut out pictures from magazines, I scour the internet, I stop strangers on the street and ask who cuts their hair.
And then I go to my hairdresser and get my split ends trimmed.
Because I am daring and adventurous.
But maybe this time will be different. Maybe I'll walk in and tell her to cut off 8-12 inches. I'll throw coiffure caution to the wind.
Or probably not.
But if I were brave enough, I might try this.
Or this.
Or this.
Yes, I realize this is basically three versions of the same haircut, but humor me please.
And, of course I've already tried this and it failed. Yet it calls to me in it's sleekness and sophistication.
What about y'all? Is there a new haircut you're dying to try? Are you a hair adventurer or do you get stuck in a rut?
And what about gray hair? I mean, HYPOTHETICALLY, if a person is starting to see more and more gray pop up, how should they handle that?