Y'all.
There are people who believe that college football is just a game. And to those people I say…well…I don't say much because we don't have anything in common.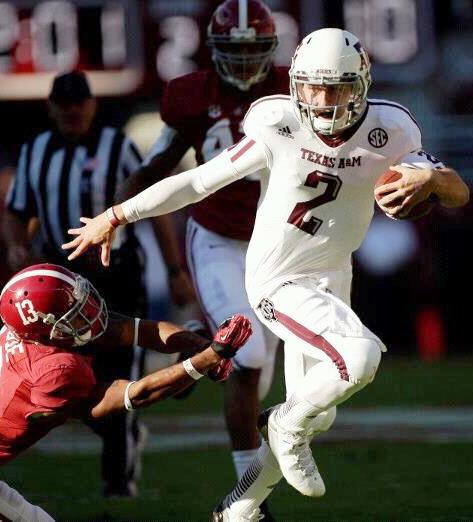 After the game on Saturday, I got so many texts and emails from y'all congratulating me on the big win over Alabama and reminding me that I believed it could happen. But here's the thing about being an Aggie, I always believe it can happen. That's what Aggies do. We believe in each other even when everyone else says the odds are stacked against us.
And, sure, this has led to some heartbreak over the years. It was just as recently as last Thanksgiving when I had to console Caroline as she cried after the Aggies lost in the last minute to t.u. I stroked her hair and said, "Having great expectations and being disappointed is part of being an Aggie. We are loyal to our team. It's what we do. It's because we always believe the best is going to happen and sometimes it just doesn't."
But on Saturday it did.
It all came together in one of those perfect moments that people will talk about for years to come. We went into Bryant Denny Stadium against the #1 team in the nation and walked out of there with one of the biggest victories in Aggie football history.
At some point during my high school years, I decided I wanted to go to Texas A&M. We didn't have any family ties or anything like that, it just seemed like a good choice for reasons I can't even remember. Then I went to visit campus at the beginning of my senior year in high school and that sealed the deal. I'll never forget watching an introductory film on the Spirit of Aggieland before taking a campus tour and getting chills at the legacy of spirit and heart and tradition.
My point is that I have loved Aggie football for over twenty years. During those years I've experienced some major football highs: Aaron Wallace holding up Andre Ware's helmet as we shocked the University of Houston, destroying Ty Detmer and BYU in the Holiday Bowl, the 1998 Big XII Championship game when we beat Kansas State, the emotional win over the Longhorns after Bonfire fell in '99, and beating #1 Oklahoma in 2002 at Kyle Field.
I have jumped up and down and cheered and yelled until I've lost my voice. I've said words you'll never hear in Sunday School and probably let way too many of my Saturday evening moods be determined by how bad or good the Aggies played. There have been countless times that P has had to tell me to TAKE IT DOWN A NOTCH, GLADYS.
Because there have also been some serious lows. Standing in the freezing cold, possibly hungover, at The Cotton Bowl in '91 with six of my friends as we watched the Aggies lose 10-2 to Florida State and shared one hot dog since we'd spent all our money the night before celebrating New Year's Eve in Dallas because college kids are smart. Then doing the same thing the next year, but watching us lose to Notre Dame. And the next year as we lost to Notre Dame again. And basically the entire Dennis Franchione era.
But my love for the Aggies has never wavered.
Because it's about so much more than just football. Texas A&M has given me some of the best memories of my life. I arrived there as a scared eighteen-year-old way back in ye olden days of 1989 and left in 1994 (shout out for a victory lap and an extra football season) with memories I'll have forever. To this day, all of my closest friends are the people I met at A&M. I met P there. And I began to turn my life around there, thanks to Breakaway Bible study. Being an Aggie has left an imprint on my life forever in all the best ways.
I mean, I went to see the group Digital Underground in concert at DeWare Field House. That alone was worth whatever my dad paid in tuition money. "Stop whatcha doin', 'cause I'm about to ruin the image and the style that ya used to." It was The Humpty Dance, y'all.
That's why I love Aggies. And that's why I love Aggie football. It's been over twenty years of throwing cotton on the field and wearing cotton in my gold hoop earrings. It's yelling until I'm hoarse and freaking out and getting tears in my eyes every time I hear the announcer say, "Now forming at the North End of Kyle Field, the nationally famous Fightin' Texas Aggie Band" and the crowd goes wild. It's getting a job at the ticket office as a student so I could get fifty yard line seats to every game. It's reading all the message boards and tailgating and following every step of recruiting to see what high school players will decide to come play at A&M.
Like our school song says, "There's a spirit that can ne'er be told".
So all that to say, I was half-psychotic on Saturday during the game. (Actually, I was fully psychotic but I'm afraid you'll judge me.) My hands were shaking in that way they do when I'm running on nothing but adrenaline. I could have lifted a school bus and thrown it down a city block. And I believed we could win, but I never imagined we'd score twenty points in the first quarter. It's Alabama. Nick Saban would cut out a player's liver if it meant he wouldn't lose.
And, sure enough, they started to come back in the second quarter. I was concerned. I was mentally preparing myself for a potential heartbreak. I told Gulley I hoped Sumlin was giving the team a halftime speech reminiscent of the scene in Rocky IV when Rocky is fighting Ivan Drago and Duke says, "You see? You see? He's not a machine, he's a man, he's a man. You made him bleed."
Then maybe I had a moment where I thought it was odd that my brain still automatically references Rocky IV with that much ease.
By the third quarter, my stomach was in knots. I stood up. I sat down. I paced. We told the kids to quit eating their chips so loudly. We may have permanently scarred the dog. Gulley's dad called at one point to tell us he got a cramp in his foot during the third quarter and was worried he was having a stroke from the stress.
And, frankly, we'd been worried about the same thing. The human body can only take so much.
When we missed the field goal in the fourth quarter, my heart sank. I prayed we weren't about to see a miraculous Alabama comeback. And when it finally came down to fourth down and goal and A.J. McCarron threw that interception to Deshazor Everett, I'm pretty sure I blacked out for a good three seconds.
And I'm not even going to lie. Gulley and I jumped up and down until we wet our pants. That's the downside of being a fanatic football fan when you're a woman over forty who's had a child. But it didn't even matter.
Because, y'all, the Aggies beat the hell outta Alabama.
I'm also pretty sure I sustained a fairly significant rotator cuff injury from flailing my arms about wildly.
Totally worth it.
It was a golden day. There have been other victories, but after a year of hearing how the Aggies weren't ready for the SEC and that the Aggies were going to be a lamb to the slaughter and how we were making a huge mistake, it felt like vindication.
But the thing is, Aggies aren't surprised. We always believed it would happen. We knew we could compete in the best conference in college football. Granted, I don't think we expected it to be this year, but Coach Sumlin and Johnny Manziel and the effort and heart of our entire team made it happen.
And, y'all, it is so much fun.
Which is why, immediately after we counted off the last ten seconds of the game, we loaded the kids up in my station wagon, grabbed Gulley's Aggie flag and made several victory laps around the neighborhood honking the Aggie War Hymn.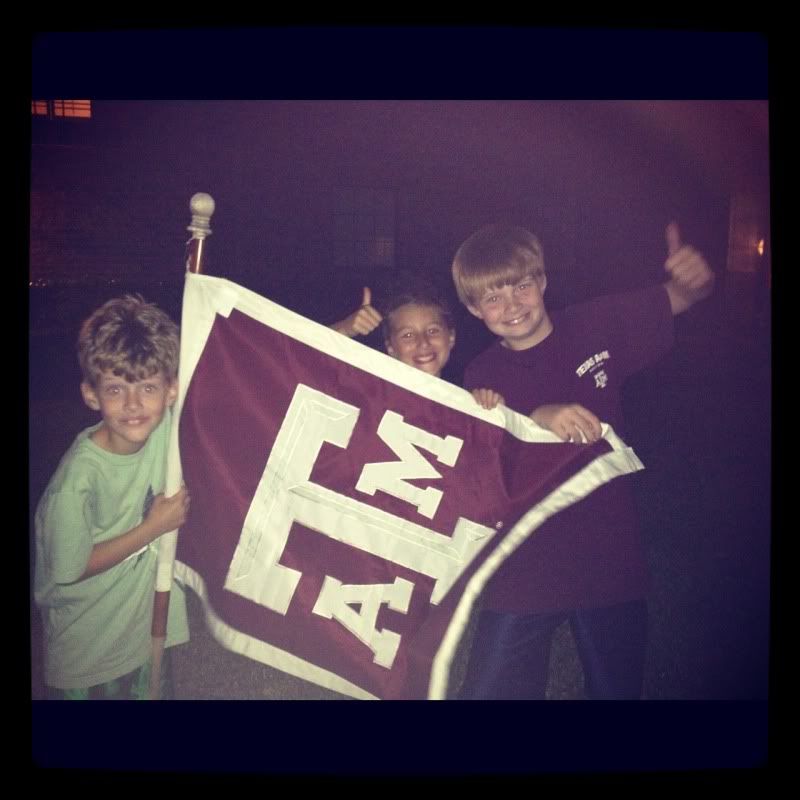 We wanted them to always remember the night Aggie football opened the page on a new chapter. The night that a new era of Aggie football was on display nationwide.
And the night they saw their mamas lose their ever-lovin' minds as they yelled "GIG'EM AGGIES" all through the neighborhood while Will kept asking, "Is this legal?"
Yes. Yes it is.
Gig'em.
Also, a huge thank you to our Veterans. Thank you for your brave service and sacrifice. We owe you all a huge debt of gratitude.
Copyright secured by Digiprove © 2012