Well, I didn't mean not to post yesterday.
Which isn't exactly true because I'm in Bryan with Gulley and the kids at Honey and Big's house and we were too busy laughing at a random assortment of things for me to take time to focus and write. Not that I really ever focus but, you know, there's always a first time.
This trip wasn't originally part of our Thanksgiving week plan, but Gulley and I went to lunch last Tuesday and agreed we were both a little sad that a trip to Bryan/College Station wasn't on our agenda because we sometimes forget that a road trip with the kids is less relaxing than a trip to Walmart on Black Friday.
Because of soccer games and football games and end of season sports parties, we weren't going to make it in town for the Aggie game. However, we would make it in time to eat homemade soup at Honey's and eat brownies and that made it seem worthwhile. Plus, we really wanted to take the kids to Santa's Wonderland because we have to face the reality that they may not be that into that whole thing for too many more years.
Actually, I don't really want to face that reality. I find denial is a lovely place this time of year because passing of time LA LA LA LA LA I CAN'T HEAR YOU.
Anyway, we left town about three on Saturday. As usual being in the car with the kids made the trip feel at least an hour longer, largely because they like to spend the last hour asking "Are we there? Are we almost there?" and ten minutes later, "ARE WE THERE YET?"
And Will always enjoys waiting until we're about five minutes from our destination to announce "I HAVE TO GO TO THE BATHROOM SO BAD RIGHT NOW AND I CAN'T HOLD IT". Truthfully, I think he just does it to mess with me. But I don't want to bet the upholstery on my back seats on it so we have to pull into the DQ parking lot.
On Saturday night we stayed up late visiting with Gulley's Aunt Diane and had the best time. Diane cooks Thanksgiving dinner and we spent some time discussing various Thanksgiving side dishes because I was a little puzzled by a few of you that mentioned noodles in Friday's comments. I have never heard of a noodle for Thanksgiving. Now, my Me-Ma and Pa-Pa used to serve spaghetti and meatballs on Thanksgiving in addition to turkey, but they were Italian. Spaghetti and meatballs are pretty much an option at every meal.
But just a noodle? Like a plain noodle? Or an egg noodle? How does the whole noodle thing work? I don't understand.
As for me, my favorite Thanksgiving side dish is a tie between broccoli-rice casserole and dressing with just the right amount of homemade cranberry sauce on the fork with it. I couldn't care less about the turkey. I don't care if it's fried or smoked or baked or whatever. I think poultry is kind of foul. Get it? Foul?
I'm so sorry.
(I don't really think it's foul as much as it's just not my favorite. But the pun worked.)
We also watched Baylor beat K-State and Stanford beat Oregon and wondered if the world was ending. Between that and the whole Hostess cupcake thing it doesn't seem out of the realm of possibility. Although now it appears that the Twinkie may live to see another day. I have to think that all those people freaking out and buying up all the Twinkies haven't actually eaten a Twinkie recently. Or ever.
On Sunday morning we slept late and then went to see Nena at the assisted living home. We visited and she was especially interested to hear about my visit to the eyebrow specialist. She told me she has always gotten her hair cut by only well-known hairdressers who cut famous people's hair. (This isn't exactly true, but she likes to say it because the woman who used to cut her hair once cut Barbara Bush's hair.) Anyway, she's been debating whether she should let one of the aids at the assisted living home cut her hair. Gulley and I told her she needed to feel free to say no because you can't just trust anyone with your hair.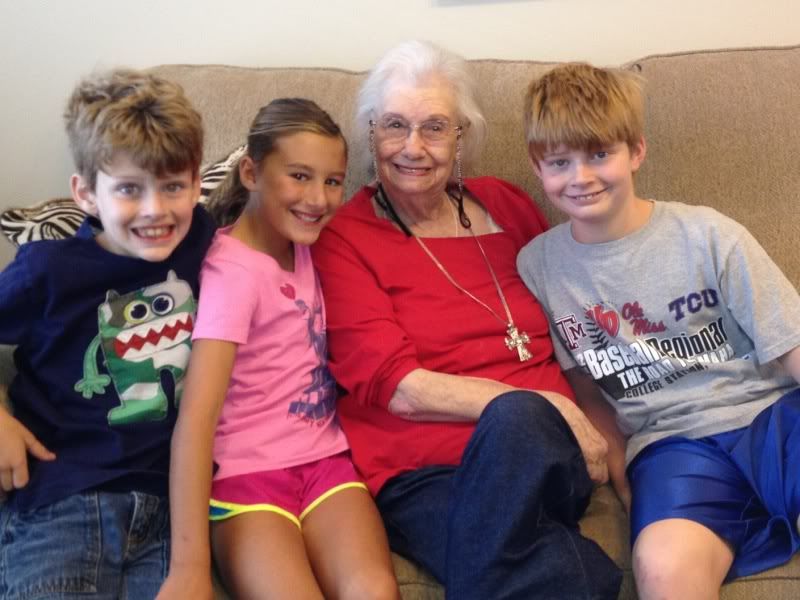 We also got in a discussion about marriage and she told us that she and Granddaddy had NOTHING in common, except, WELL, he really liked to eat and she likes to eat, too. Which, you don't really hear people mention that specific commonality in premarital counseling, but it must have been enough because they were happily married for sixty-six years.
After our visit we got in the car to go eat and somehow we all started telling jokes. I don't really know a whole lot of jokes because I usually hear them and forget them immediately. But my friend Annie Downs just finished doing thirty days worth of jokes on her blog and a few were still fresh in my mind.
I was feeling inordinately proud of myself for remembering the jokes so I asked the kids, "What do you call an alligator wearing a vest?"
Will called out from the back seat, "A PSYCHOLOGIST!"
Which, hilarious, but no.
The correct answer is an Investigator.
But Gulley and I have spent the rest of trip discussing various things going on in our lives and wondering if either of us needs to go see an alligator wearing a vest. And you have to admit that sounds so much more fun than saying you're going to see a psychologist.
Feel free to use it for yourself.
Later that night we took the kids to Santa's Wonderland. I'm happy to say they had a great time and still loved the fake snow and the hayride and all the lights.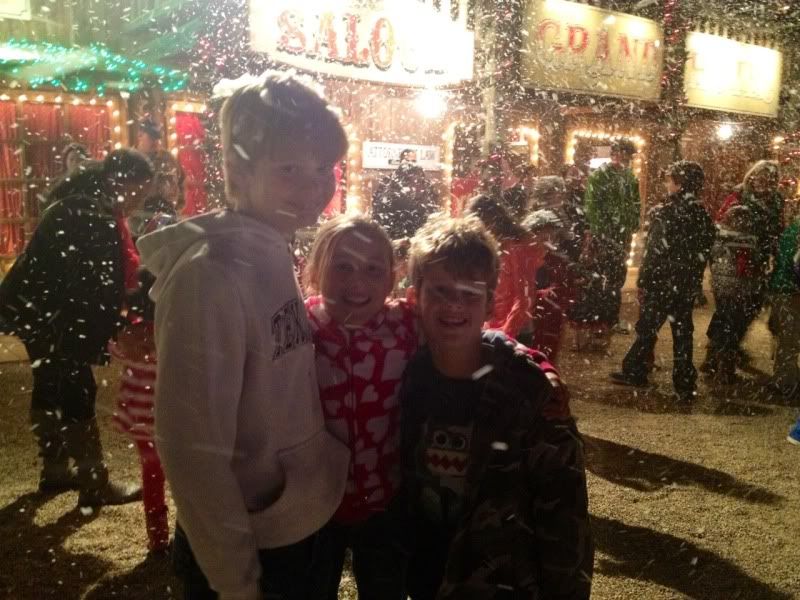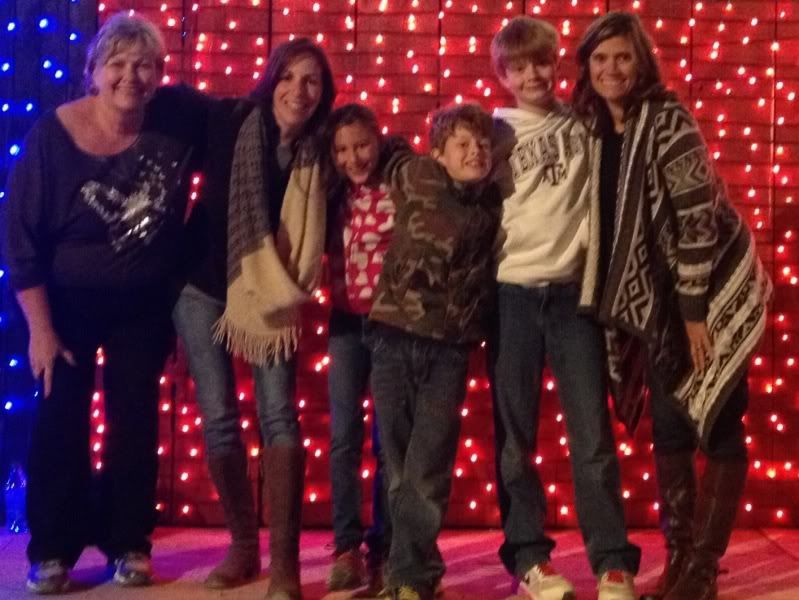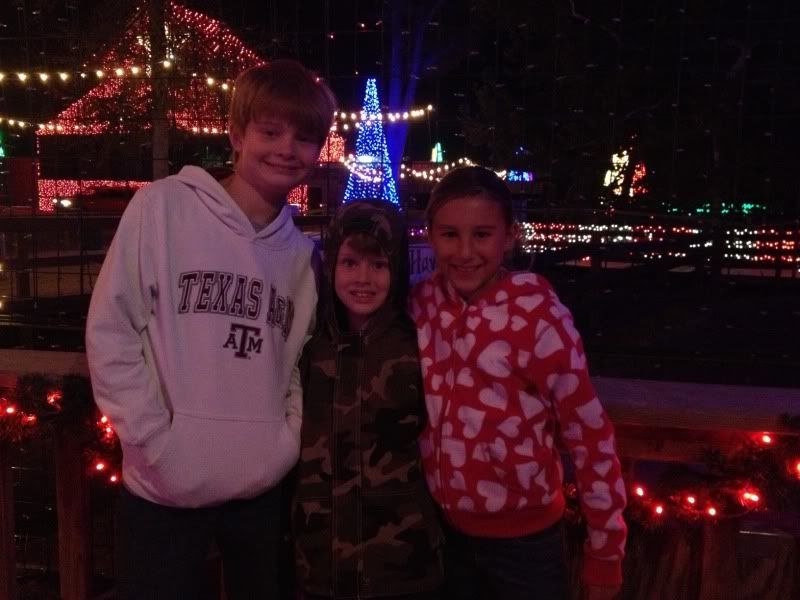 They even sat on Santa's lap and told him what they wanted for Christmas. Caroline wished for a puppy.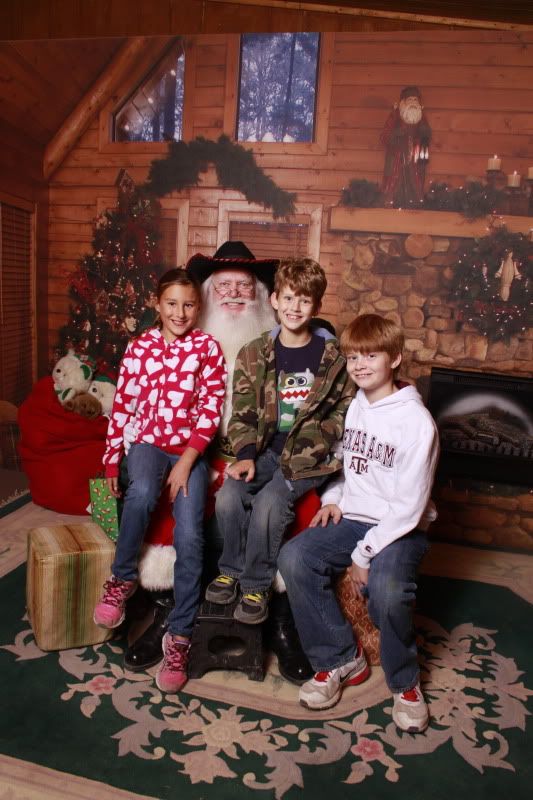 Thankfully, Santa was non-commital on that wish.
Because a new puppy might be enough to send me to an alligator wearing a vest.
Copyright secured by Digiprove © 2012