Well, the tree is down.
And all the Christmas decorations are neatly arranged and/or shoved into plastic bins in the attic that aren't labeled because otherwise how would P and I have our annual "WHAT DO YOU MEAN YOU CAN'T FIND THE NATIVITY?" argument.
(True story. We have a nativity set somewhere in our attic that we haven't been able to find for the last five years. And then this year we couldn't find another one that we've had since we got married.)
(I don't know that there's much worse than not being able to find Jesus at Christmas time.)
And because you know I have to bring it up, the Aggies played an incredible bowl game. I was a little concerned after the first half but I don't know why I work myself up because Johnny Manziel knows how to tiptoe down the sideline into the end zone for a touchdown. He is amazing.
Also, I'm pretty sure Bob Stoops stole the sweatshirt he was wearing out of his wife's closet.
Anyway, it has been a lovely break. Did you notice I said "lovely"? That's because I'm getting ready to watch the premiere of Season 3 of Downton Abbey and feel like I need to be ready. I may even make myself a spot of tea.
The break was nice. I read all three Hunger Games books in a record amount of time which will make me feel better once real life starts tomorrow and I fail to read another book until sometime around April. But it's time to get back to real life.
We made ourselves get up for church on Sunday just to try to get back in some sort of routine. Caroline and I had completely adopted my preferred schedule and spent almost every night reading or watching movies until well after midnight and then sleeping until ten. And then staying in our pajamas until two.
Which is glorious for a while, but at some point you begin to realize that productivity is at an all-time low. And maybe you're out of food. And toilet paper.
It was nice while it lasted. (The break. Not the toilet paper. Although it was fine too as far as toilet paper goes.) After a busy fall I felt like we needed the downtime to just relax and do nothing. And now we'll be ready to face the real world again.
A week ago this past Saturday, I noticed that our dog Bruiser's ear was swollen. This isn't anything new because he had the same problem with his other ear about a year ago. It's called an aural hematoma. Which is just a fancy name for a bruise.
So I knew that we needed to get him to the vet to see about getting it drained because that's what we did last time. Apparently, draining the ear is supposed to help them not get a cauliflower ear even though that didn't work for Bruiser and his right ear is now, in fact, a little misshapen.
But this was his left ear. The problem was it was the Saturday before New Year's and I knew our vet wouldn't be in until mid-week. And so I conferred with P who was at the ranch and we decided I should take Bruiser into the Emergency Pet Clinic.
I dropped Caroline off at Gulley's house so she wouldn't have to wait at the clinic with me and then hauled a very excited Bruiser to the doctor. He weighs about seventy pounds but is freakishly strong. I totally do the Phoebe Buffay run when I have him on a leash. Attractive.
When we walked through the door of the pet clinic, I noticed a couple holding a chihuahua in a festive holiday sweater. According to them, he was having a panic attack. My first thought was how can you tell if a chihuahua is having a panic attack?
My second thought was that his turtleneck sweater probably wasn't helping the problem.
But who am I to judge? The holidays can cause the best of us to feel a little anxious.
(On a similar note, Gulley's cousins once had a chihuahua named Frito. They named him Frito because their dad drove the Frito-Lay truck. He once hooked us up with more chips than you can even imagine when we were in college. Anyway, Gulley always tells me that they swore Frito took on one of the cousin's asthma and she was cured. This story never fails to make me laugh until I cry.)
(For the record, this is apparently a fairly widespread theory because I found it on the google and everyone knows everything on the internet is true.)
(So maybe that chihuahua wasn't having a panic attack so much as he'd taken on someone's asthma.)
After what seemed like forever, they finally called Bruiser back. And the on-call doctor said they could do a surgical procedure where they drain the ear and then put buttons in it so it will look good. It's basically a cosmetic procedure. Umm. Yes. This is a ten-year-old ranch dog who already has an ear that would make Evander Holyfield cry. He doesn't need plastic surgery.
Option B was to just drain it and give him a cone of shame.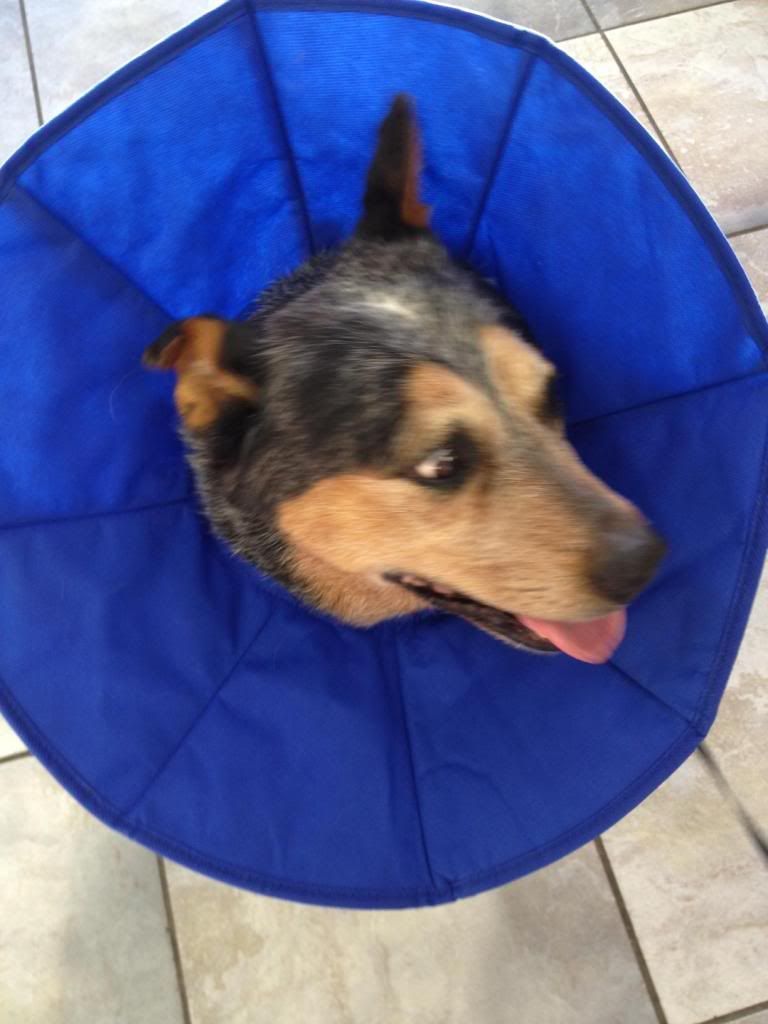 We have a winner.
As I was paying the bill for the painkillers and the cone of shame, an older lady walked in carrying a large flat box that was covered with plastic and some kind of sheet. She looked at the receptionist and said, "I brought kiwi for you today".
I assumed she was just going door-to-door in the shopping center selling fruit. This may seem odd if you don't live in San Antonio, but it's fairly normal here. Tamales, fruit, whatever. And so I was just trying to control Bruiser while I waited for my receipt and discharge orders to print out.
In the meantime, the receptionist began to ask the older lady some questions. I figured she wanted to know more about the fruit. But then I heard her say, "Did he have short hair or long hair?"
And like watching a train wreck, I watch this woman pick up her box, place it on the counter right by me, and pull back the covering to reveal her dead cat. A dead cat who was apparently named Kiwi.
May he rest in peace.
She examined the cat for a few moments while I debated taking a few of Bruiser's painkillers to dull the shock and then said, "I guess he had short hair".
Yes. I guess so.
I also learned that Kiwi was thirty-eight years old. I'm going to assume she was counting in cat years.
It turns out that the Emergency Pet Clinic also doubles as a pet mortuary. Which you have to admit is a fairly brilliant business plan.
As for Bruiser, he should feel lucky he got out of there with just the cone of shame.
Copyright secured by Digiprove © 2013