I watched The Bachelor last night and I'm going to tell you that I realized why I could never be on the show. Other than that I'm forty-one and happily married and wouldn't get in a bathing suit on national television for any amount of dollars.
They would never get me up in a helicopter.
Those girls all "OOH" and "AAH" and "my boyfriend has a helicopter!" (Which NO he does not. ABC rented him a helicopter.) and they seem to have no qualms about getting on in. But I do not like heights. Therefore I would be all CHECK PLEASE.
And so that's why I'd never go on The Bachelor. Other than I'm married and forty-one and also a little bit of a germophobe. Oh, and I wouldn't drink goat's milk. And before you're all "Goat's milk is delicious!", I need to tell you that I don't like cow's milk either. I do not care for milk except sometimes if it's chocolate and/or in a milkshake form.
I feel so much better now that I've got that out there. I'm sure you've all been wondering.
Anyway, I woke up yesterday morning as tired as I was when I went to bed on Sunday night. It was one of those nights where I know I must have slept but I think I was working really hard in all my dreams and so I woke up tired. And then I had to put together a lunch for Caroline using nothing but two slices of ham and a Jedi mind trick.
Normally I would have felt guilty about the sad state of lunch affairs, but I knew I was bringing in Krispy Kreme donuts that afternoon to celebrate her half birthday. I realize most people don't celebrate half-birthdays but her sweet teacher makes sure even the kids with summer birthdays get to have a celebration at school.
So I pulled together a lunch that would probably embarrass our family name and then P took her to school. Then I went to Starbucks in an attempt to get some writing stuff done because I knew if I tried to stay home I would fall into a dead sleep on the couch in ten minutes flat and that tends to be unproductive.
My Starbucks friend (the one I make bets with about important stuff like Kate Middleton's pregnancy and Johnny Manziel winning the Heisman) had asked for a signed copy of my book a few weeks ago. Although he informed me he probably wasn't going to read it after I told him what it was about. Which, HILARIOUS. I admire his honesty.
But I brought him a copy yesterday and he thumbed threw it and declared he was going to read it after all. It didn't look as "religious" as he thought it might. I have no idea what that means, but I'm going to go with it.
And so after I spent a few hours attempting to get something done which really looked more like alternating between checking Twitter and Facebook and reading about Downton Abbey, I drove out to Krispy Kreme to pick up donuts. It was Caroline's idea to bring donuts instead of cupcakes because she's not a big fan of the cupcake and she was very specific that she wanted Krispy Kreme instead of Shipleys.
So I schlepped across town to the nearest Krispy Kreme and ended up buying thirty-six donuts because have you ever been in Krispy Kreme? I was powerless to resist the smell. And even though there are only twenty-two kids in Caroline's class, I decided that extras weren't the worst thing that could happen.
Swarms of killer bees are.
I have no idea where that thought just came from. See? Tired.
I brought in the donuts during the last forty minutes of the day because Caroline's teacher is smart enough to know to let those kids take that sugar high on home with them. And she turned up the music while everyone put on their Krispy Kreme hats and danced around the room.
This was before she'd even had a donut.
And this is after.
Then I tied her to the front of the car and she pulled us all the way home.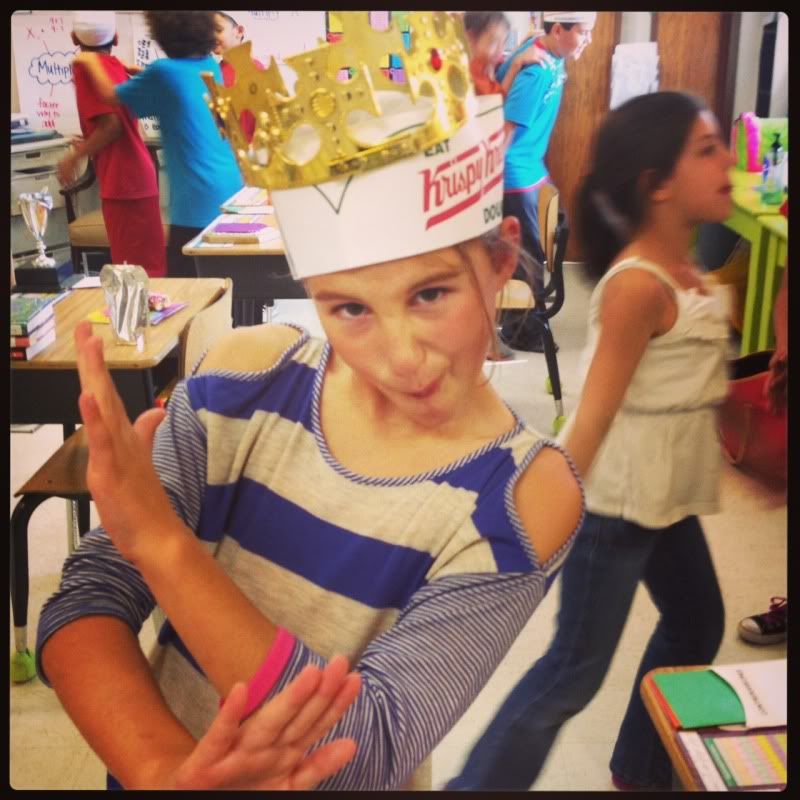 It was good times.
I'm a big fan of nine and a half.
***Edited to add that the mannequin head is Elvis. Not the real Elvis. Just an Elvis head. It got photographed at a bad angle, which happens to the best of us.***
Copyright secured by Digiprove © 2013