Y'all.
First off, I will never ever in a million years be able to thank you for all the kind words and comments and emails. I read through my comments and cried. Several times.
It may have been ugly.
I have never loved you more.
I wish we could all get together for one giant party with a bottomless basket of chips and queso and celebrate the official release of Sparkly Green Earrings today.
And I have loved seeing all the pictures of you with the book on Facebook and Instagram and Twitter and the ones delivered to my door by carrier pigeon. Thank you for that.
I also don't want to keep bugging you but it would be awesome if you could go "Like" it and leave a review on Amazon today. Or this weekend. Or at some point when you have time. Or never. Whatever works for your schedule.
You'll be glad to know that I prepared for the book release just like Hemingway used to, by which I mean that I washed the slipcovers on my couch and spent most of the day wrestling them back on to the cushions. I know. It's all very glamorous.
And then I took my car to the carwash and did laundry all day and swept my house from top to bottom. Gulley said that it really is like I'm having a baby because I'm nesting. Yes, nesting and slightly neurotic. I may be experiencing some adrenaline surges.
Anyway, I'm so excited because I have a special giveaway to celebrate the release of the Sparkly Green Earrings. You have the chance to win a signed copy of the book (I'll sign it however you want) AND your very own pair of sparkly green earrings, specifically my very favorite Kendra Scott Danielle earrings in green.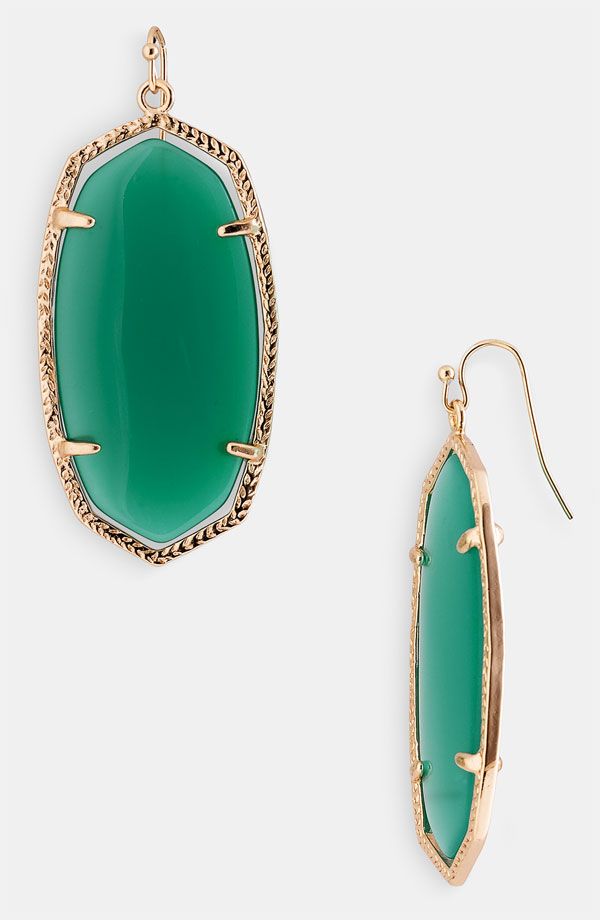 I have these and cannot express how much I love them. You'd be shocked at how many outfits they work with. You will love them and wonder how you lived without them in your life. I promise. Not to mention that emerald green is the color of the year for 2013. That's real. I didn't make it up.
Just leave a comment for a chance to win. I'll leave comments open until Sunday and then email the winner.
In other news, because real life still goes on even on book release day (see above: washing slipcovers), here are some cute things I found this week: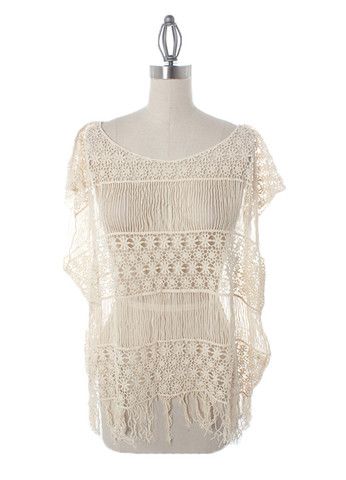 This is the kind of top I just love. Perfect with jeans and cowboy boots. And maybe green earrings.
I saw this and loved it immediately. I like the charcoal color, but I also love that it's the perfect thing to layer over a top and jeans. Or with a skirt. Or over a dress. It's very versatile is what I'm saying.
Nothing in my life requires this dress. But that doesn't mean I don't like it a lot.
4. water nymph scalloped blouse
Love the color. It would be gorgeous with white shorts or jeans for summer.
5. lightweight patterned shirt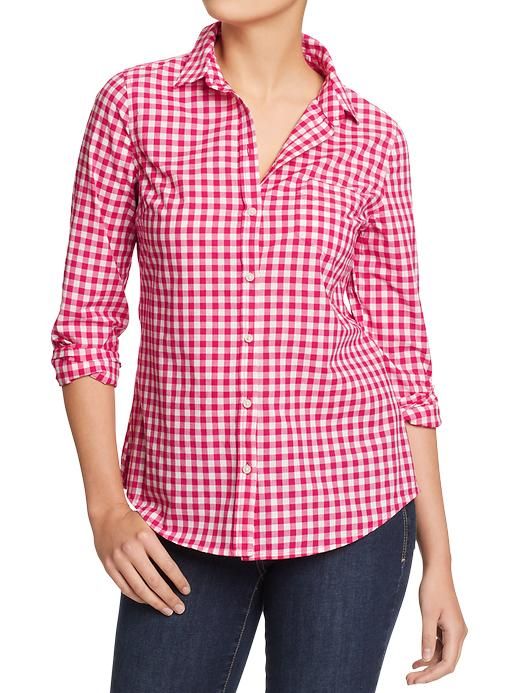 Have I ever mentioned that I am a sucker for a gingham shirt? Not to be confused with a gangnam shirt.
Old Navy had these in the other day and I ran into a girl I know and she was buying one. And then mentioned she was going to get the pocket monogrammed. I may have swooned. Because Laverne DeFazio will always be my style icon.
This may not be long enough to actually wear as a dress. I have no idea. But it's really pretty and would look good even with leggings. And it comes in some gorgeous colors.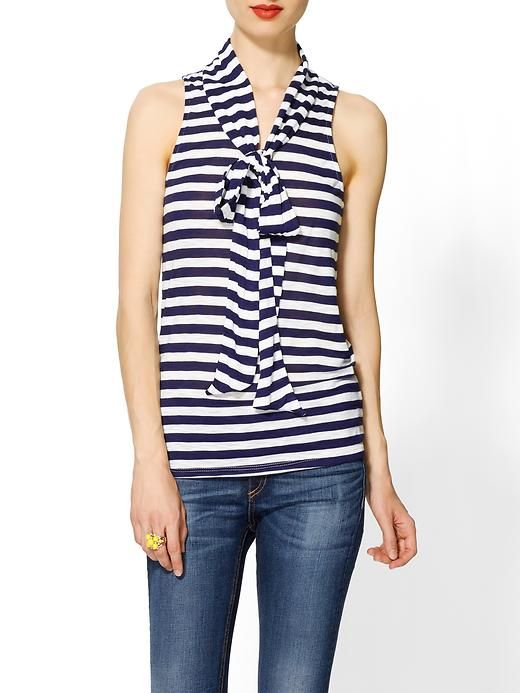 Stripes? Bow? What's not to love? Except that it's sleeveless and my arms have issues now due to a chronic condition called lack of push ups. However, it would be darling under a light jacket of some sort.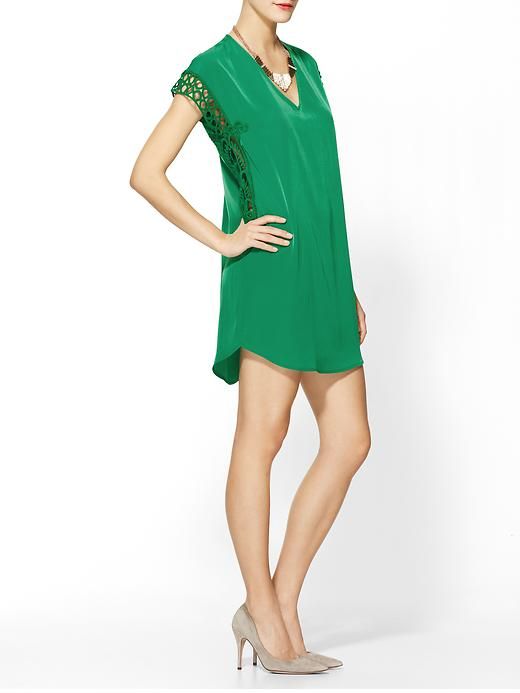 Is it just me or is a lot of stuff crocheted this week? I believe we've stumbled upon a trend.
Obviously I love this because it's green. And obviously most humans will need to wear it with some sort of leggings or pants.
And it would look great with the Kendra Scott earrings while you sit reading Sparkly Green Earrings.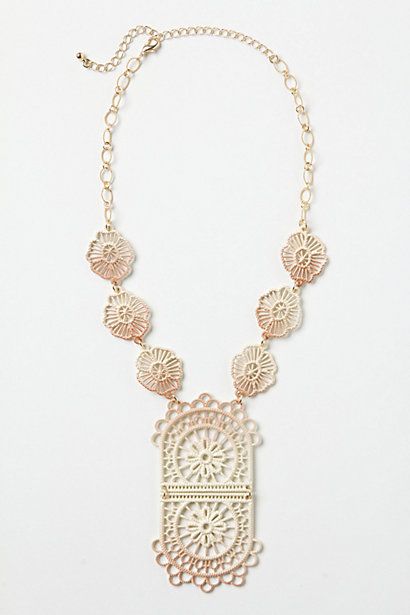 I just really like this. Fun for spring.
Have I featured this before? I can't really remember because I may have killed a few brain cells trying to get the slipcovers back on my couch. Either way, I really like it and it comes in some gorgeous colors.
Including green.
Which would look great with the earrings.
Because if you give a mouse a cookie he's going to want some earrings or something like that.
Don't forget to leave a comment for a chance to win the Kendra Scott earrings and a signed copy of Sparkly Green Earrings.
Thank you so much for everything. I promise next week we'll get back to our regularly scheduled program and it won't be about the book all the time or anything. It will be about important things like my hair.
And if you're new here and thinking, WHAT BOOK? You can click on the widget below to buy a copy from your retailer of choice.
Y'all have a good Friday.