Y'all.
It is May and it's going to be forty-something degrees in the morning. I don't even understand what is happening. Yesterday morning I had a speaking thing at a local school and I had no idea what to wear because it was cold and windy and definitely not spring-like. So I texted a friend and asked, "Can I wear my boots in May since it's cold outside?"
And she replied, "I wouldn't let the weather lead me into a fashion faux pas."
Which is really just pure wisdom. So I wore my wedge sandals and my toes hated me and they may never be warm again.
Anyway, next weekend is Mother's Day. And you know what might make a great gift for your mom/sister/friend/mother-in-law/girl who works at Chick-Fil-A that gives you extra polynesian sauce?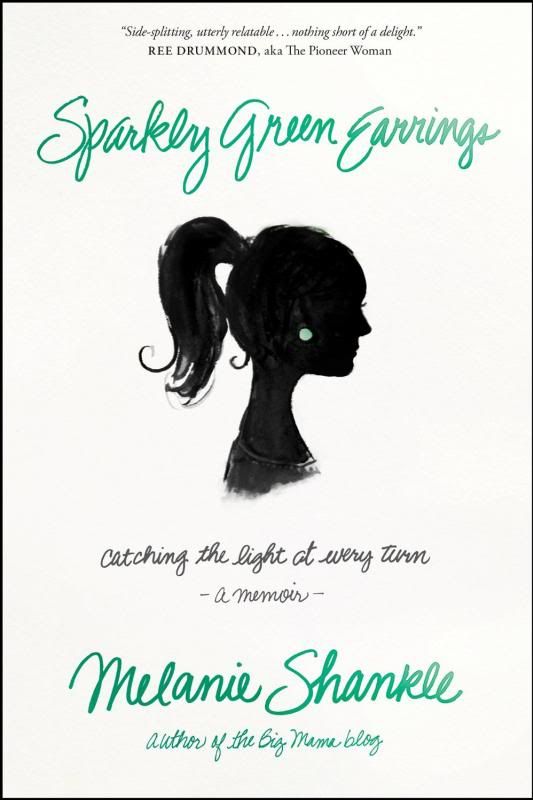 I mean, no pressure or anything. But people seem to like it. Even people who aren't related to me by blood. So maybe some of your people might like it, too.
And if you've read it and loved it, then I would so appreciate you spreading the word to all your friends. I don't want to ever be all BUY MY BOOK, but apparently when you write a book you're supposed to encourage people to buy it. I'm not very good at that part.
It's available on Amazon and Barnes and Noble. You can even walk into a real live bookstore in a city near you just like how people used to buy books in days of yore.
And just in case you want to give it as a Mother's Day gift, I thought it would be fun to give away a pair of Towne & Reese Reynolds green earrings to two of you today.
Aren't they pretty? And, listen, I have become an expert on green earrings.
If you win then you can give them away for Mother's Day. Or you can keep them for yourself. It's totally up to you and I'll never tell your mom.
I'll leave comments open until Sunday and then choose two winners at random. All you have to do is leave a comment for a chance to win.
And now for some other cute things I've seen this week:
The sweet ladies behind Two Funny Girls sent me this darling monogrammed clutch purse. They come in all kinds of colors and are just so cute. I think they'd make a great bridesmaid gift. I mean, unless you're not a bride because then you probably don't need to buy bridesmaids' gifts. Unless you want to say thank you seventeen years after the fact.
They have a ton of really great things and I'm already tempted to get one of these floppy summer hats or a pair of monogrammed running shorts.
And because they are so nice, they're offering free shipping when you use the code BIGMAMA at checkout. Perfect timing for graduation and teacher gifts.
Listen. I have these in gold. I bought them last summer and, I kid you not, have worn the fire out of them. In fact, I may need a new pair. I may also need them in this coral color. Or hot pink. Or blue.
I adore them.
How cute is this top? Perfect for summer with colored jeans or shorts.
4. kendra scott tassel pendant necklace
I think we all know by now that I'm a little obsessed with Kendra Scott. I have this necklace in green and adore it.
This would be a great Mother's Day present and comes in so many pretty colors.
5. fiesta fever swimsuit coverup
I know. Did you just gag when you read the word "swimsuit"? I'm sorry. But I do love this coverup. It's a little Chrissy Snow from Three's Company.
Maybe I'll buy one and then put my hair up in a double side ponytail.
But probably not.
I saw this dress online at Gap and immediately thought YES PLEASE. There is nothing easier and cooler than throwing on a dress all summer long. And this one looks so comfortable.
7. old navy sleeveless tunic dress
And then I saw this at Old Navy and I channeled Rachel Zoe and said, "I DIE". I love a casual summer dress. You could totally wear this at the pool or throw on wedge sandals and be a little more dressed up.
For many a year I have not been a fan of lavender. Or really any color in the purple family. But all of a sudden I'm feeling myself drawn to the occasional lavender blouse.
This would be great with white and maybe turquoise or mint green accents.
Last year I developed a fixation on finding the perfect gold sandal. And I ultimately settled on the Gap ones I featured above because they were cheap and comfortable.
But if I decide I need something a little nicer and more sandal-like, I'm totally getting these. Granted, they aren't as shiny as Caroline's Mr. T sandals because nothing is that shiny apart from the sun. But they are still lovely.
I am a fool for a white crochet dress. But this also comes in black and a really pretty burgundy color.
Personally, I like the white. With sandals. And turquoise jewelry.
Now I just need somewhere to wear it.
That's it for this week.
Don't forget to leave a comment for a chance to win the green earrings.
Y'all have a great Friday.