So by the time most of you read this I'll be on a flight to Atlanta for the weekend. I'm meeting Sophie there and we're going to Living Proof Live to see Beth Moore. And I really can't express how I excited I am about the whole thing.
We'd planned this trip months ago, but I had no idea it would be such perfect timing to get away for the weekend.
Speaking of Sophie, her first book releases this coming Tuesday, June 4th. It's called A Little Salty to Cut the Sweet and I promise you will love it. The perfect book to take to the pool or beach this summer and laugh your head off.
And I also should mention that the audio version of Sparkly Green Earrings is now available. You can also order it from Amazon if that's your preference. I can't promise you won't wish for subtitles to understand my Texas accent.
Anyway, I still need to finish packing and figure out my hair strategy for the weekend. I realize some of you don't understand what I mean by hair strategy so I will tell you. The humidity here right now is about 280% which is even the best head of hair's total nemesis.
And so my dilemma is whether I should wash and dry my hair tonight and wait to curl it right before I leave for the airport? Or do I wait until morning risking that it will be so humid that it will take forever to dry and I won't have time to curl it?
I know. It's a real problem.
I'd appreciate your prayers.
Now for some cute things I've seen this week.
I think these are super cute if you're into shorts for the summer. And they have a four inch inseam which means they're a little longer than some other printed shorts I've seen that can only be worn by Barbie dolls or people who don't eat cheese.
2. milkshake bow wedge green sandals
These are precious. If you've ever thought you might need some green shoes – and who hasn't? – these are for you.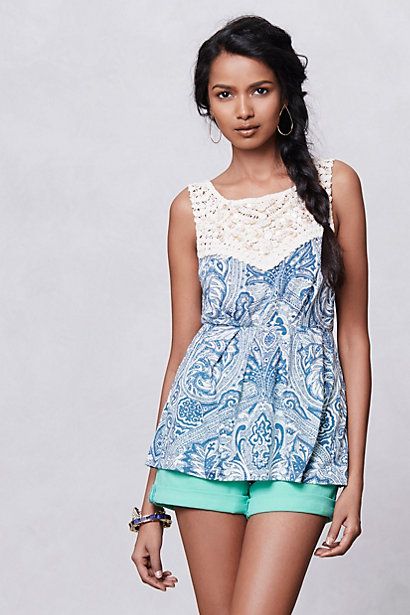 I just think this is really pretty.
4. old navy denim cutoff shorts
Y'all. I have been on an extensive cutoff journey. It has taken me to many dressing rooms and some dark places in my mind as I've weighed the pros and cons of various styles, shapes, and inseam lengths. Last Friday night I even cut off two pairs of old jeans to make cutoffs of my own.
But if you're afraid of that option and still want cutoffs? These denim ones from Old Navy have been my favorites. Bonus? They're only $15.
Sadly, the colored options at Old Navy aren't as great. I'm not sure why there is such a denim discrepancy between the colored and the regular, but it's a real thing. The colored ones feel cheap and have no stretch.
This is a cute summer top. And it comes in blue too.
6. botanical print chiffon top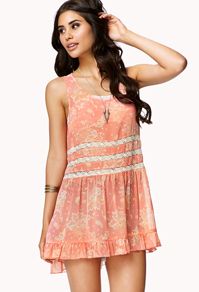 I have long coveted a similar top from Free People but have never been able to justify the price tag. But I saw this at Forever 21 and it's very close to the original but a 1/4 of the price. Which is a good thing.
How pretty are these for summer? Love the colors. They're like sherbet. Which I always think should be spelled "sherbert" since that's the way I say it because I am very sophisticated.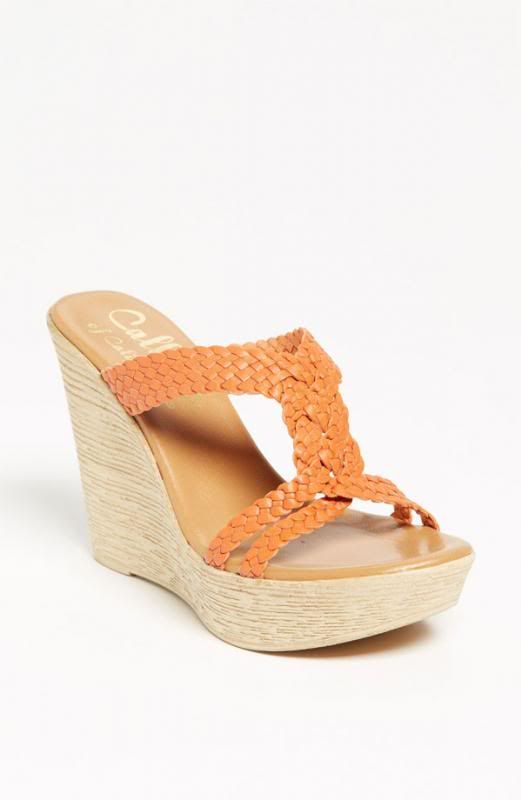 I adore these. Mainly because I'm a fan of any shoe that doesn't have a strap that has to be buckled.
9. michael kors chain bracelet watch
Yesterday the girl who cuts my hair had on this watch and I fell madly in love with it and tried to steal it off her arm. Which was awkward.
(I didn't really try to steal it off her arm but I thought about it.)
I saw this in Gap this week and thought it was cute. I'm a fan of a geometric pattern.
That's it for this week.
Y'all have a good Friday.