This morning P let me sleep in a little and he got up with Caroline. I believe it was around 6:30 a.m., but it's just too painful to think about.
Around 8:30, Caroline came running in the room yelling, "WAKE UP, MAMA! WAKE UP! IT'S TIME FOR CHURCH! WAKE UP!", which is such a relaxing way to start the day, especially when I realized I had about twenty minutes to get both of us dressed and hope that the deep wrinkle that appears in my forehead every night would have time to disappear before we walked through the church doors. (It didn't)
However, Caroline had already taken it upon herself to get dressed. This is what she had on.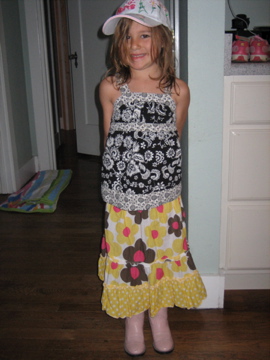 While I admire her attempt to mix patterns, I'm not sure this is really working for her. Although the unbrushed hair topped by a baseball cap is a nice touch.
Here she is after she added a winter hat to fend off the 80 degree chill and I told her that as much as I loved what she had going on here, we were going to make a few changes.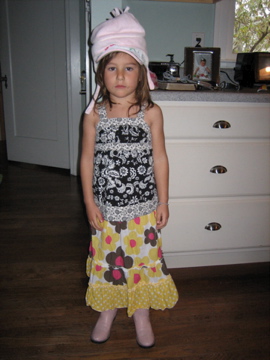 Needless to say, she was not happy with my decision. I wonder how many more times I'll see this look over the years?
Don't answer that.
She let me know that I had "RUINED" her day, but I had an ace up my sleeve in the form of a cute new outfit from CWDKids that she's been dying to wear.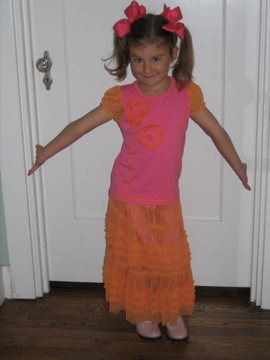 So the four of us headed out to church. P, Caroline, me and my wrinkle.
There will be no photos of the wrinkle.
When I picked her up from Sunday School, they handed me what seemed to be a paper grocery bag and explained they had talked about Joseph's coat of many colors.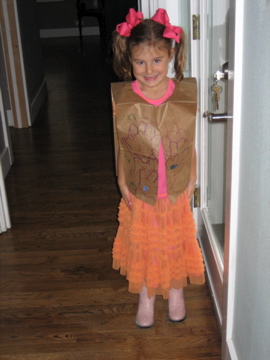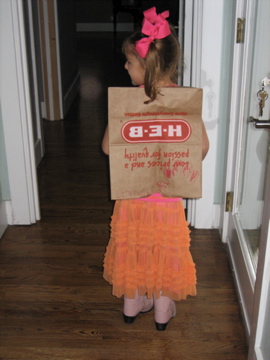 That's Caroline in Joseph's coat of many colors, which is so weird because I never realized they had an HEB.
The irony is that I didn't let her wear her original outfit to church because I was afraid she looked like a bag lady.
If only I had known.