I realize that what I'm about to tell you makes me a small person, but I'm going to share it anyway. You know how I consoled myself after the Aggies lost to Missouri on Saturday night? With the thought that I wasn't even half as despondent as all the Alabama fans.
Because you know what's worse than losing to your biggest rival? Losing to your biggest rival in the last second of a game that was all set to go to overtime on a play that most people didn't even know could happen.
That's rough.
But as someone who didn't have a dog in that fight, I have to say it was the most amazing thing I've ever seen in all my years of loving college football.
Truthfully, I know a lot of Aggie fans are disappointed that we're 8-4 at the end of the season, but those are people with short term memory loss. It wasn't so long ago that we would have jumped up and down at the thought of going 8-4 in the SEC. We got spoiled with Johnny Manziel emerging on the scene last year and forgot that we'd just gotten rid of a coach who didn't know how to recruit defensive players and that we might have to pay for that at some point.
But we've just signed Sumlin for six more years. Our recruiting class is ranked #2 in the nation. And we're making Kyle Field better than ever. The future is nothing but bright. And, for me, football is just a small part of why I'm proud to be an Aggie. So, win or lose, I love my team. And it helps to keep in mind that these are all a bunch of 18-22 year old boys playing a game.
Also, I don't really blame our loss to Missouri on our players. I blame it on this.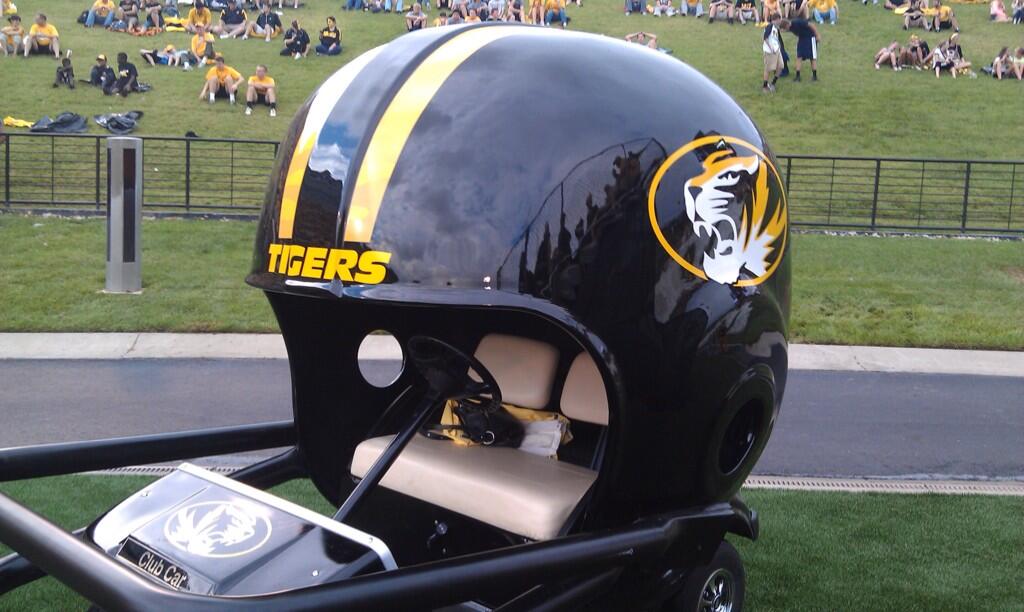 How is anyone supposed to concentrate on football with that thing driving around the field? I want to know how I can get one of my own.
Dear Santa, please bring me a golf cart disguised as an A&M football helmet. Thank you for your consideration.
So Thanksgiving.
It has just been the best week. After our time in Bryan we came back home to San Antonio and pretty much did absolutely nothing. We stayed up late and slept even later. Stayed in our pajamas until unacceptable hours. Built a lot of fires in the fireplace, watched T.V. and read books. It was glorious.
We spent Thanksgiving Day with Mimi and Bops and loved every minute. It's so nice that our Thanksgiving travels consist of a two minute drive down the street. And then Thanksgiving night we watched a little Harry Potter and some football and ate leftovers even though we'd sworn earlier that we'd never eat again.
On Friday morning Caroline and P left for the ranch and Gulley and I decided to go see a movie that wasn't animated. Like a real, live movie for grown ups. We chose Catching Fire and it did not disappoint. In fact, it might have been even better than the book. I have big plans to spend this week dedicated to figuring out how to braid my hair in all manner of configurations, thanks to Katniss Everdeen. Because while I do not care for being placed in a large arena to fight to the death, I do appreciate a good hairstyle.
Saturday, Caroline woke up with a sore throat and was running a little bit of fever so we laid low all day. I honestly changed out of my pajamas to shower and then put on new pajamas. It was that kind of day. And of course we watched football. Although I'm not sure she was paying that much attention because ten minutes after the A&M game was over, she turned to me and asked, "Did we win?"
Obviously she has learned to tune me out. And P wasn't any better because he'd fallen asleep on the couch. I don't even understand.
Then yesterday I made myself go to the store. Mainly because we had nothing to eat that wasn't a Thanksgiving leftover and, well, I'm over it. Plus it's back to the real world of packing a lunch which requires things like lunch meat and bread.
A little later in the afternoon, P got down all our Christmas decorations at my request but then I felt overwhelmed and just sat and stared at all the Rubbermaid containers which did nothing to get our house decorated. I decided to channel Scarlett O'Hara and think about it tomorrow.
Or the next day.
Or maybe on Friday when the weather is supposed to cool off again and make it feel a little more like Christmas.
I'll keep you posted.
How was your Thanksgiving? Are your Christmas decorations up?
Copyright secured by Digiprove © 2013